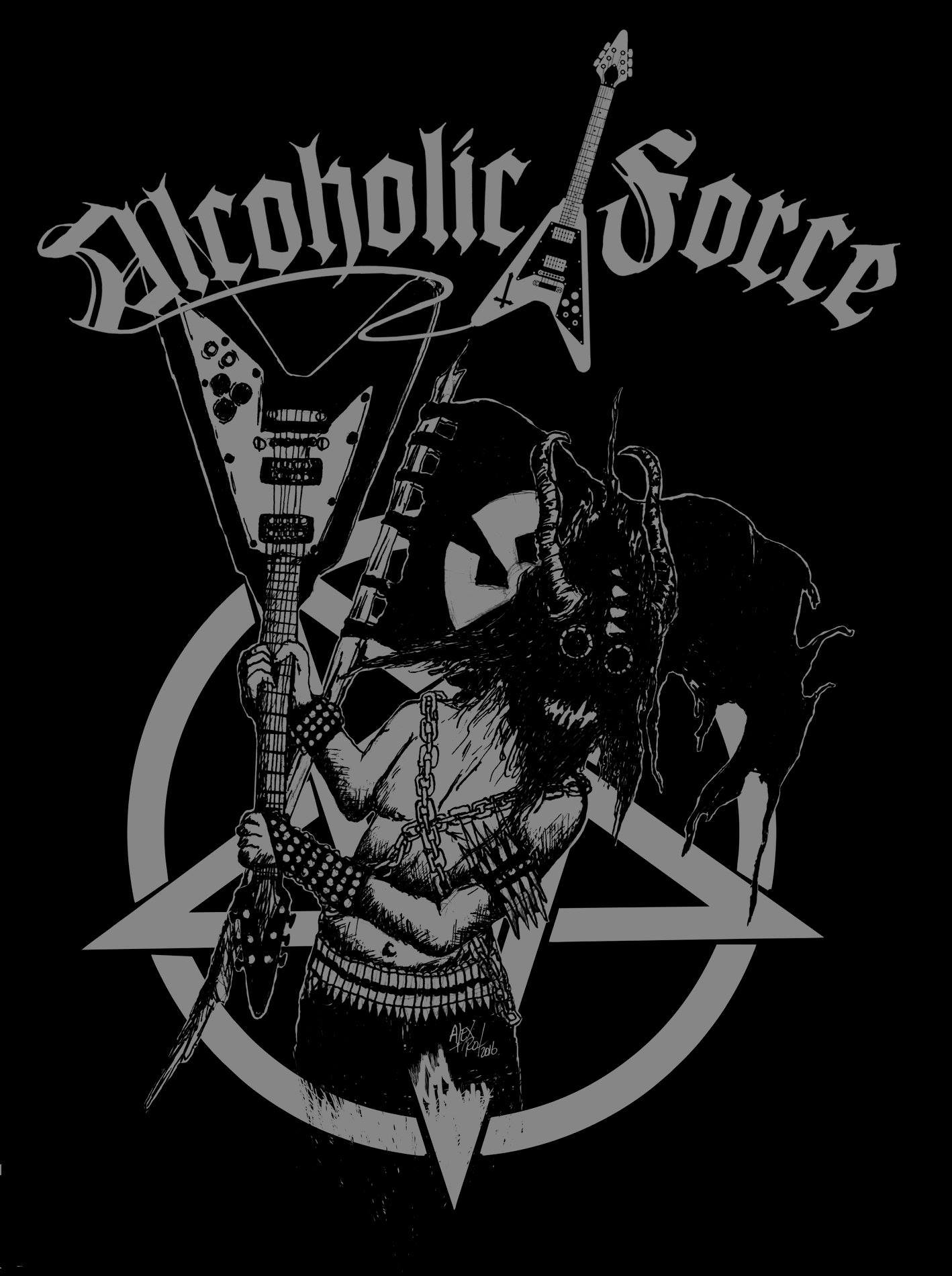 !!!EVIL BLACK SPEED METAL FROM COLOMBIA!!!
We had a conversation with Freddy (Drums). Enjoy!
Welcome to the FILTHY DOGS OF METAL Webzine.
Hello, here Freddy the drummer on behalf of the Alcoholic Force power trio. Thanks for having us on your website and for your interest in us as well. Grab a beer or something ethyl and play some evil metal to make life much better.
Tell us a few things about ALCOHOLIC FORCE (Members, Starting Year etc).
Well, it´s been about 15 years or more since everything started, you know we all were the young guys who wanted to hang out to have some booze, blast heavy metal and why not making a band. The first homemade demo came out with some proposals to put it out onto tape, a lot of weird and tough stuff happened to change line up and making the band heavier, less childish, and more focused on doing the thing we like to do the most (rocking) along with the support of maniacs, allies, comrades and friends everywhere, about 10 releases plus some more licenses have been made so far.
In 2017 you have released your EP ''Alcohol of Satan''. Have you prepared anything new since then?
After Alcohol of Satan we decided to work slowly with the band, we had a few gigs before the pandemic and some offers to release new material, we have prepared a bunch of new tunes for what´s coming next. There have been some offers for splits, EPs releases and a new full-length, but in our principles is not rushing things out or even life itself. We are not into putting a lot of new stuff every year or six months, as metalbangers and band we wholeheartedly believe in giving time to dig the music that we make or even the music we get every day, honestly and personally speaking I don´t get the point of many bands releasing a bunch of stuff that through the time becomes a filler rather than something necessary. Nowadays there seems to be a sense of race of who has the largest discography or the largest number of releases enlisted on Metal Archives even if the bands are still very young, and of course Colombia is not an exception.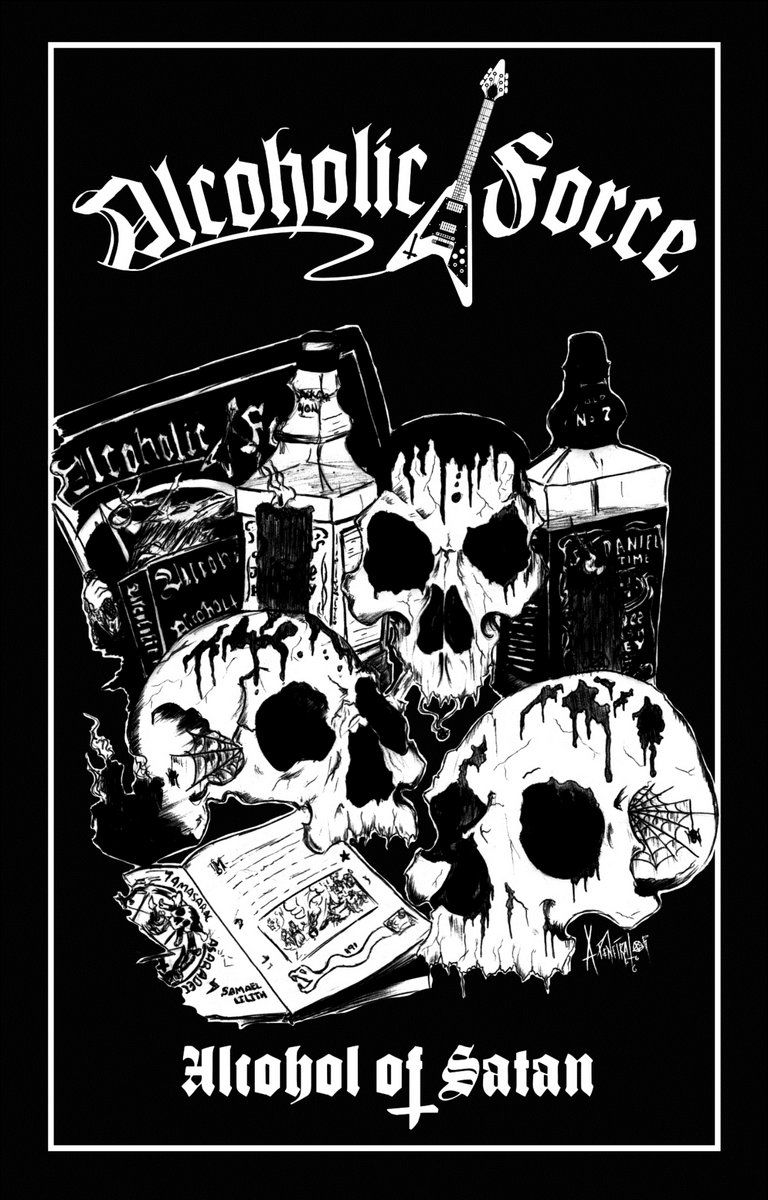 Label or DIY and why?
Both, of course. As many bands in their early days, we wanted to have our stuff released by foreign label on tapes, vinyl or any other physical format. Later, time gave us the chance to understand how things work with labels in the underground metal world, and how hard is to get something done from them If as a band you don´t fit their standards or perhaps you are not close to them. That´s why I decided to give birth to my own label back then (Return the Crusher of posers) to release our own tapes, spread them, trade them and to get in touch with new bands, labels, distros, zines and other activists. It was there when we got in touch with other bands who were looking for some kind of support and we started to release other bands too. We got in touch with people who have supported us a lot putting out our music on different formats and trusting us as people and band. In every AF and Rotten Leather (the current name of our label) release there is a lot of DIY spirit, A. Mutilator (Vocals) has worked on most artwork and visual aspects of the band, we have printed, released and spread our own material too, but of course any help is always appreciated. Last but not least, we have understood that even if it is DIY, professionalism and quality are important too.
Do you prefer Vinyl, Tape, CD or Digital Format and why is that?
We have always wanted to have out stuff spewed on physical formats, we do think that vinyl and tapes rule but unfortunately it is something expensive to do if you are not in Europe or the US. CD´s have worked very well for us. In fact, those physical formats that you mention are welcome. I think digital formats are OK to show what you have but of course, they will never put aside the marvelous ritual of having the artifact in your hands, unwrap it, smell it, lick it, kiss it, store it in your favorite place, etc. The feeling of having the stuff of the band you like, how you got it and how it came to you for the first time will never be replaced by how it took you a few seconds to download it from the internet.
Your music style is Black/Speed Metal. Which are your main influences (Favourite Artists / Bands etc.)
We are all lovers of traditional metal and each one of us have different preferences when listening to music on a daily basis. A. Mutilator (Vocals) and A. Penetrator (Guitars) are die hard lovers of black metal and fast and loud stuff, and so am I although I spend most of my time enjoying old school heavy metal, punk and a lot of 70´s stuff. The main purpose of AF in terms of style has been to play something old school, influenced by heavy and speed thrash metal linked with more aggressive and chaotic sounds, such as first wave black metal. When listening to AF you can figure out influences of bands like Voivod, Bulldozer, Fingernails, Warfare, Running Wild, Holocaust (UK), Tank early Bathory and some heavy and speed metal bands of Latin America. When writing songs, we can get some inspiration from high energy rock to evil black thrash metal.
Which things, do you think, a Band should sacrifice in order to succeed? Have you ever sacrificed anything in your life for a better future of your Band?
"Sacrifice" sounds too tragic though hehehe. I´m pretty sure that a big percentage of the non-eighties bands in the underground have a clear idea that if metal is done by passion and love for the music instead of intending to make a living of it. Well, at least here in south America is like that, and all of us have had to make efforts for the things we love. You know, skipping formal jobs to attend gigs, save part of your wages to pay for a rehearsal room, recordings, saving up for ages to buy decent gear, getting rip-offed, being unpaid at fixed shows or why not leaving personal relationships to a lower scale of importance while working on metal. Well, that is perhaps something normal for most of us here in south America, it´s part of our metallic life rather than a "sacrifice" as we already know where we are and how things are. To be honest I haven´t met the first guy over here saying "hey, look at the car and apartment I bought thanks my success in metal". From this perspective, I would change the words "better future" for "recognition" and being in a temporal heat of the moment to take advantage to sell your merch and why not having the chance of being signed by a big label and going on tour.
Describe your ideal live show as a performance Band. Have you already experienced that?
We are not the kind of band that play quite often, in fact the maximum we have played is two or three gigs a year. We have had fantastic as well as shitty memories such as playing in the biggest free rock festival in Latin America to cheesy gigs in real hellholes with the crappiest gear and audience. But in the end there have been much better times if compared to the worse ones. We have destroyed our guitars, basses, we have fought and taken machetes to the show and a long etc. For us the ideal show is playing for an audience that is enjoying what we do and feeling the feedback when headbanging, fist rising, sharing booze, it doesn´t matter if there is a stage or not or if it is the best venue in town. We prefer simple things.
Which attributes, do you think, that a new Speed Metal Band should have in order to gain identity and be unique?
It´s quite hard to talk about uniqueness in something that has been already done and reached its highest peak. For me, metal music reached its maximum peak in the 80´ and the further years the mission of the metal maniacs has been to enlighten this art and way of life. Metal is an art and art is attached to changes according to everyone´s preferences, principles or way of thinking. I´m very sorry, but I have no clue of a speed metal band of these times that can be considered "unique" without leaving behind the traditional features of metal in general. The most killer speed / thrash metal bands nowadays are those that are still rooted to traditionalism but with a perhaps a wider knowledge to make a more brutal execution. I do believe in the importance of influences and how they help shape the sound in a band. Every band working seriously should work on their identity from the audio visual perspective, being aware of how you want to sound from the very beginning. At least here in Colombia, bands should be aware that we cannot intent to be, sound and look like many of the foreign bands we see on the media, when we already know that things are quite different. The best thing for us to do here in Colombia is to keep on working and trying to do our best.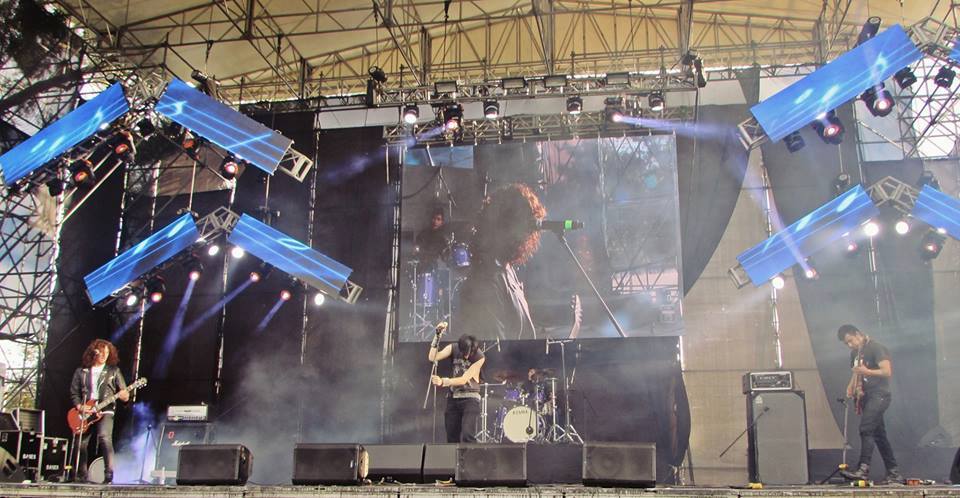 Do you believe that Bandcamp and other Digital Platforms help the new Speed Metal Bands? Which, do you think, is the ideal way for a Band to promote its work?
There is no doubt that things have change, nowadays is hard to talk about underground as in the past. In any or other way, the bands, metalbangers, and musicians are linked to the internet world. The point is that nowadays we can get access to much more music than in the past and although if it´s free, everyone decides what to listen and what to put aside, we have realized that even if the music is on the internet for everyone, one still needs to take time to find something that matches tastes in particular. There are a bunch of really cool bands with no major attention on the internet, backed up with cool releases in a run of 100 -300 copies that haven´t been sold for ages, and there are a lot of crappy stuff with massive attention that has turned into best sellers with a new pseudo cult status in a short time just because they are a sensation on the internet. We are still stuck to our guns in terms of spreading our music as a band and label, it means that we prefer the old way of tape trading and sending promos, we have a Bandcamp profile and a few videos on Youtube but we have no intension of bothering the world with an invasive attitude of "please, look at us and listen to us", in fact, that´s an attitude we hate. I don´t know if Bandcamp is the ideal platform to promote your work but at least you have the chance of selling your physical formats, merch and your music digitally and the largest percentage of the sales go directly to you. Of course We don´t agree with bands that have preferred making a career based on digital stuff rather than putting out actual CD´s, tapes or vinyl, that´s too lazy.
Tell us a few things about the New Underground Metal Scene in Colombia (Bands, Fanzines, Webzines, Metal Clubs etc.)
The current Colombian metal is getting stronger and healthier, there are lots of cool bands releasing their own stuff and getting signed by foreign labels. You can find from AOR, heavy metal bands to extreme metal, there is much more quality and hard work than some years ago. we can quickly mention and recommend the bands that come to our mind right now, such as; Goat, Octagon, Iron Strike from our hometown (Pasto). Bonfire, Attack Fire, Unprocreation, from Cali, Wartime from Bogota, HexCrow and Electroculto (RIP) from Bucaramanga, Strike and Hellripper from Armenia, Bloodlust from Medellin and many more we forget right now, sorry!
Do you know anything about the Hellenic Metal Scene?
We do! We are aware of the legacy of the Hellenic metal and rock, many activists and die hard maniacs that are still feeding the world with ultra-rarities through their labels. We worship Zemial, Agatus, Rotting Christ and we still have a strong link and partnership with some guys of Witchcurse (RIP) who have showed us a bunch of heavy metal and rock bands that unfortunately we don´t know how to pronounce or write due to the language. We are in touch with George from Obscure New Wave of British Heavy Metal who we owe a lot for showing us genuine obscurities of NWOBHM that is one the metal movements we love the most. We have a lot of respect for how metal is lived there with passion and the heavy metal fests gathering cult metal bands. You rule guys!
What are your future plans?
Keep of rocking, of course!
Thank you very much for your time & Keep up the good work! The closure is yours.
Thanks for having us here it was a pleasure to answer this interview. We´d like to thank everyone who is reading this and have supported us. See you next time and hopefully share some beers. Cheers!
By Steve the Filthy Dog.
ALCOHOLIC FORCE CONTACT:
https://alcoholicforcemetal.bandcamp.com/