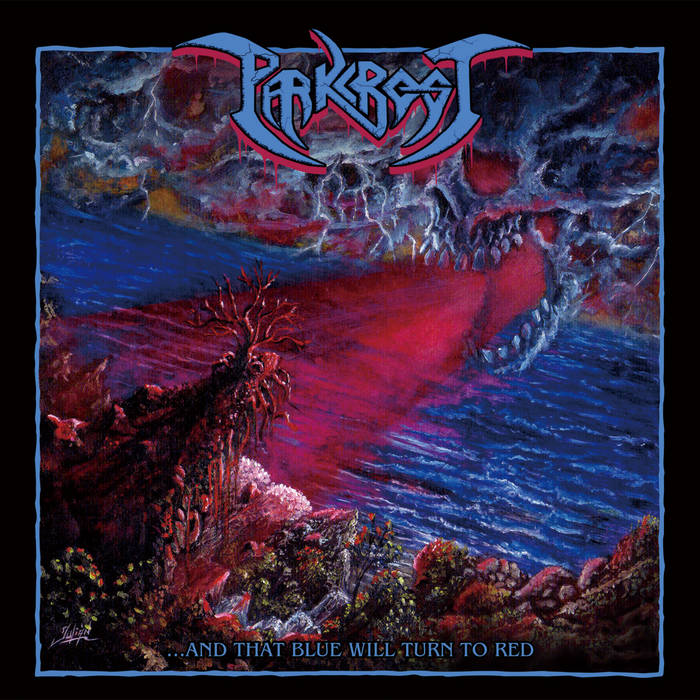 PARKCREST - ...AND THAT BLUE WILL TURN TO RED
Country: Chile
Year: 2020
Label: Awakening Records
There are some bands in Chile that serve and honor the glorious thrash metal scene of the 80's. PARKCREST belongs to it. ''...And That Blue Will Turn To Red'' was released in 2020 by the supreme Chinese AWAKENING RECORDS (Whatever has been released by Awakening Records is TOP). The album starts with a thrash metal holocaust ''Impossible to Hide''. Fuck!!! What a badass song. 8 minutes of hot thrash metal!! Great fucking thrash hard riffs that will take you back in time (about 86-88) when KREATOR, SODOM, SACRIFICE, DARK ANGEL and many more thrash masters were thrashing the world with their masterpieces!! The guitar solo from Javier Salgado is so fucking great!! The album continue and gives pain with badass songs like ''Darkest Fear'' (the drums parts of Nicolás Villanueva are amazing!!), ''Punished In Life'', ''Possessed By God'' (what a beautiful riff in the beginning with double bass drumming, amazing bass work from Cristoffer Pinto & with the atmospheric vocals of a special guest in the middle by Sebastian Gainza), ''Midnight Chasm'' (Pure thrash song!), ''Dwelling of the Moonlights'' (Is the instrumental track of the album. It begins with a beautiful atmospheric riff that changed to a fast and killer song with an amazing solo! Oh Gee, I love the sound of the guitar!). ''Hatred till Die'' fuck this song grabs you by the neck from the beginning. So fast song with an awesome guitar solo by Diego Armijo. ''Tired and Guilty'' (Beautiful and clever lyrics!). The album ends with the same title ''...and That Blue Will Turn to Red''. Fuck what can I say for this song. So technical and clever composition with pounding drumming, beautiful acoustic electric guitars with powerful riffing & aggressive vocals, bass lines (and bass solo!) that shreds. 6 minutes of pure insane thrash metal!! The production is excellent and recorded at Lion's Roar's Studio, Peñaflor, Chile (2018). Mixed and mastered by Cristian León at Lion's Roar's Studio. The cover artwork is fucking great made by Julián Menace & we do not forget the amazing illustration and layout work made by Wang Jiabin (Uncle3 Art). The CD comes in a 12 pages booklet with lyrics, photos and with beautiful illustrations + the beautiful OBI that every release of Awakening Records has! So, all of you thrashers out there, grab your copy (limited edition of 1000) cause PARKCREST is for sure one hell of a band & probably one of the hottest groups in the underground thrash metal scene nowadays!
By Steve the Filthy Dog.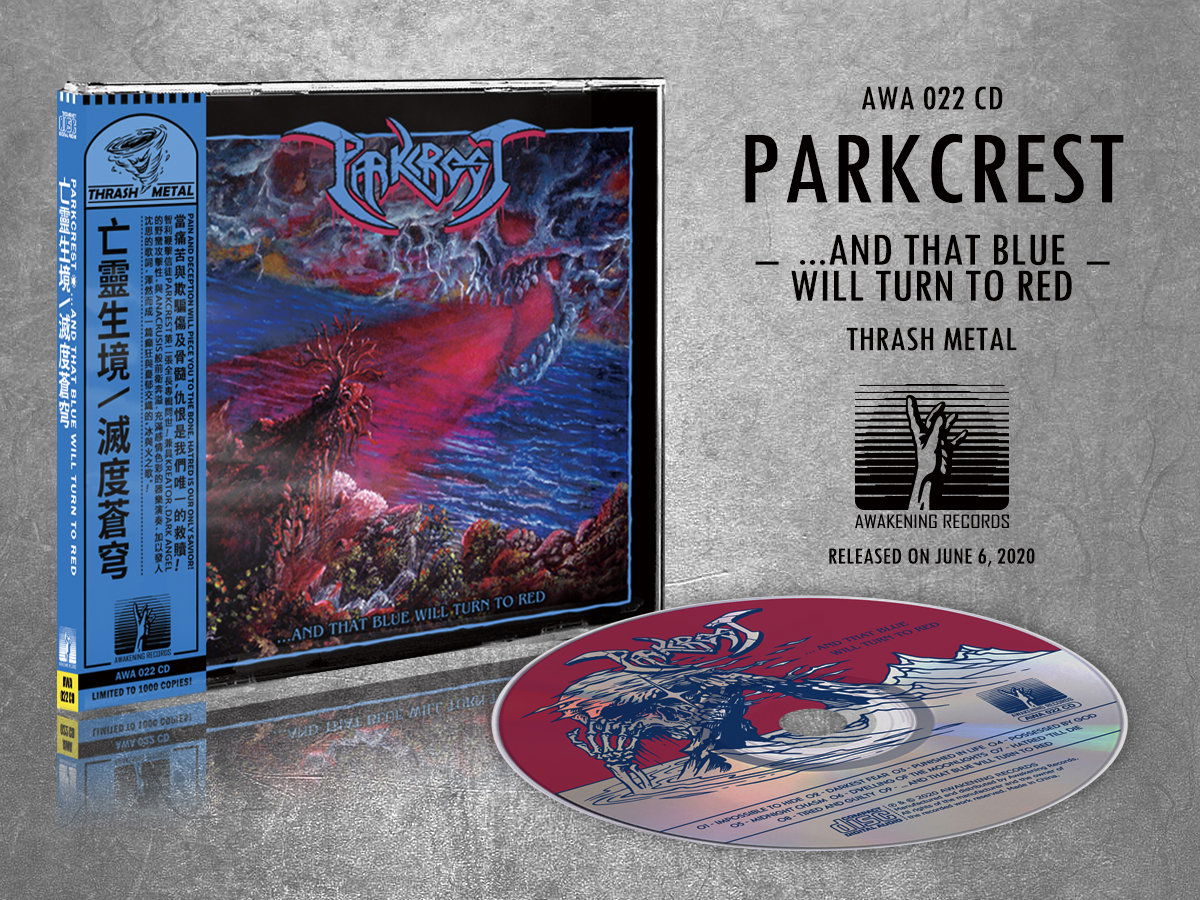 PARKCREST CONTACT:
https://www.facebook.com/ParkcrestOficial
https://www.instagram.com/parkcrest_thrash/?utm_medium=copy_link
https://soundcloud.com/parkcrest
https://parkcrestthrash.bandcamp.com/
https://www.deezer.com/mx/artist/58330592?deferredFl=1
https://open.spotify.com/artist/4BbnO7rZu7AN5Rf4JkwVPs?si=9P-aiwuSRsSYpCCBbQmpkw&nd=1
AWAKENING RECORDS CONTACT:
http://www.awakeningrecords.cn/
https://awakeningrecordscn.bigcartel....
https://awakeningrecordscn.bandcamp.com/
https://www.facebook.com/awakeningrec...
https://www.instagram.com/awakeningre...