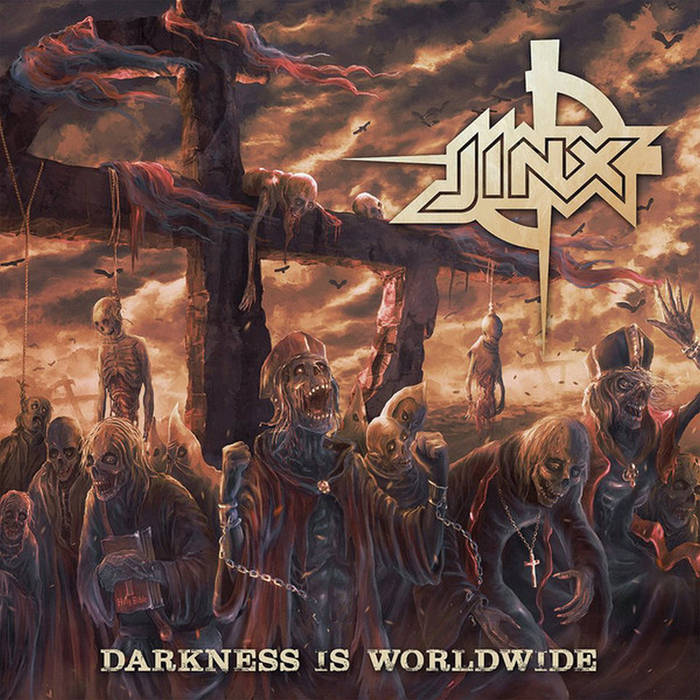 JINX - DARKNESS IS WORLDWIDE
Country: Russia
Year: 2017
Label: Wings Of Destruction Production
''Mother Russia''!! Those are the first words of my invocation in which I prised the land receiving its heaviest and best releases in the amazing parcel that I get from the mighty WINGS OF DESTRUCTION PRODUCTION. One of those CDs was JINX's ''Darkness Is Worldwide''. Wow!! That's what I heard in this album was totally BADASS!! Amazing songs heavy and thrashy with technical drumming and guitar riffs that will blow your mind off!! ''Elizabeth'', ''Voices From the Past'' (my favourite), ''Pitful Existence'' & ''Dogs Of War'' are definitely highlighting points for this album. Also the album contains one big surprise, a cover song of ''Curse The Gods'' by the ultimate teutonic thrashers DESTRUCTION. So fucking well played!!! Well done JINX!!! The band knows how to handle their instruments and how to make quality thrash metal music! So technical, passionate and wild at the same time!! The production is heavy as fuck and solid like a fist in the face! Also, I must mention here the beautiful cover artwork made by ARMAADA ART. There's no boring song included in this album. You'll be amazed..I can guarantee it!! Brilliant release from these crazy Russians!!!
The album contains 8 songs:
1. Elizabeth
2. Voices From The Past
3. Darkness Is Worldwide
4. In Honour Of Our Friends
5. Pitiful Existence
6. Silent Willows
7. Curse The Gods
8. Dogs Of War
JINX are:
Aleksander Ivanov - Vocals
Andrey Kozhekin - Guitars
Aleksander Gorbachev - Guitars
Konstantin Rodin - Bass
Andrey Yakovlev - Drums
By Steve the Filthy Dog.
JINX CONTACT: