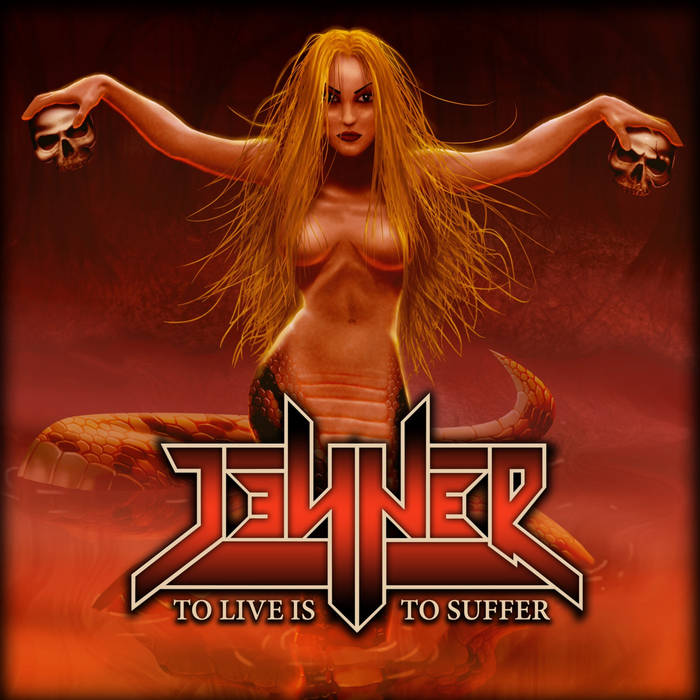 JENNER - TO LIVE IS TO SUFFER
Country: Serbia
Year: 2017
Label: Inferno Records
Jenner is a female Speed/Thrash metal band from Belgrade, Serbia. According to the band, they got their name from Dr. Edward Jenner (1749 - 1823) who developed the world's first vaccine for smallpox in 1796.
In 2015 they released their 2 song demo (Demo 2015) ''On the Judgement Day'' & ''Hear the Thunder Roar''.
After 2 years they released their first full length album ''To Live Is To Suffer''. When I opened the big box that Fabien (He is the Boss, Hail!) sent me I first saw the beautiful vinyl of Jenner. Orange colored vinyl!!!WOW!!!Great!!
The album is a classic speed/thrash metal in the vein of Metallica, Flotsam and Jetsam ,Exodus, Testament, Heathen and generally the American Bay Area thrash metal scene back in the 80s.Aggressive fast songs but with a lot of melodies especially in the guitar work!
The album contains 8 songs:
1.Factory Of Death
2.Hear The Thunder Roar
3.Demon's Call
4.The Heath Is Coming Again
5.On The Judgement Day
6.How Deep Is Your Greed
7.Silent Killer
8.Opened (On The Table)
The production is crystal clear and heavy.Recorded, produced, mixed and mastered at Citadela Sound Studio in Belgrade, 2016.I must also mention that the album was released on vinyl (200 copies black version and 100 copies on Orange colored vinyl).1000 copies on CD and 100 copies on cassette.As you probably realize, all the copies are sold out from the label, so you must search on the web in order to find it.
A must have release for every metalhead out there!
By Steve the Filthy Dog.
JENNER CONTACT:
https://jennerserbia.bandcamp.com/
https://www.facebook.com/jennerserbia/
https://www.instagram.com/jenner_serbia/
https://infernorecords.bandcamp.com/music
https://www.inferno-records.net/