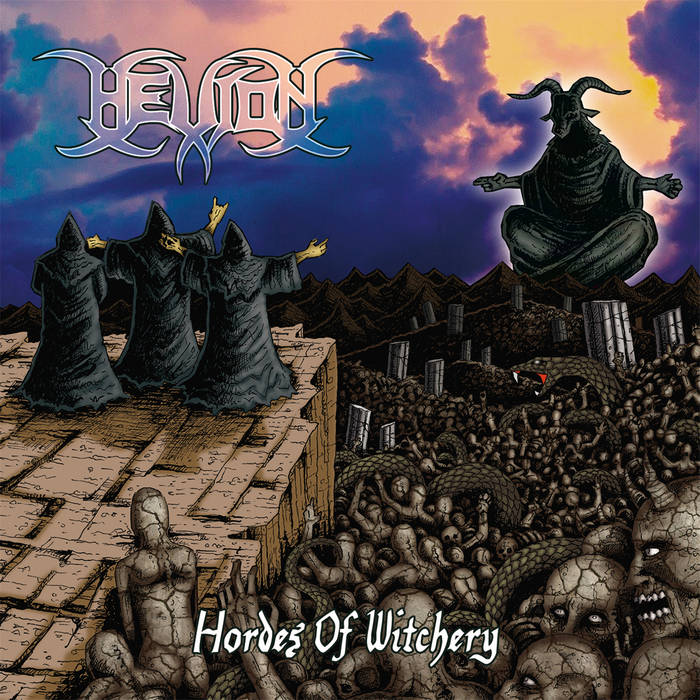 HELLION - HORDES OF WITCHERY
Country: Colombia
Year: 2019
Label: Awakening Records
Yes!! The debut full-length studio album from the Colombian Black/Thrash Metal maniacs HELLION (Hey, brothers still waiting for the answers of the interview...hahaha!!) is the ''Hordes Of Witchery''. The production of the album is one word KILLER!! Top notch Black/thrash metal compositions with pure and evil sound! Some of them are old ones from their demo ''The Rising Of Wizards'' like ''Witchcraft'', ''Freedom on Leather'' which were played much greater than the demo and I would say more mature. The new composition are fucking great!! Pure thrash metal like the old days!! You must listen to ''The Hellish Call'', ''Dirty Ritual'' (awesome drumming!!), ''Witch Lover'' (amazing guitar solo!!), ''Dark Side'' & ''Unholy Death'' (EPIC!!) and you will have ear damage from the catastrophic raw & evil sound that HELLION has! I'm feeling very glad and proud with bands like HELLION. They produce awesome metallic anthems and they keep the metal flame alive!! The edition of Awakening Records is limited to 1000 copies and it comes in a 12 pages booklet with lyrics, photos & evil images + the beautiful OBI!!! Come on thrashers, join the hordes and feel the blasphemous thrash metal holocaust! For fans of KREATOR, SODOM and POSSESSED.
Tracklist:
1. Witchcraft
2. Freedom on Leather
3. The Hellish Call
4. Dirty Ritual
5. Witch Lover
6. W.T.W.B.T.S.
7. Dark Side
8. Danse Macabre
9. Unholy Death
Recording lineup:
Camilo "Warlord" Ramírez: Guitars & Lead Vocals
Pablo "Infernal Wizard" Gómez: Bass & Secondary Vocals
Santiago "Killer Blast" Pérez: Drums
Recorded by Hugo Uribe and mixed by Mario Uribe at Dirty Sound Studios, between March and April 2017.
Band logo designed by Camilo Ramírez.
Cover artwork by Camilo "Alwar" Alvarez.
Photography by Manuela Ramos.
Layout by Maranatha.
All music and lyrics by Camilo Ramírez, except for Dark Side´s Lyrics by Santiago Pérez.
By Steve the Filthy Dog.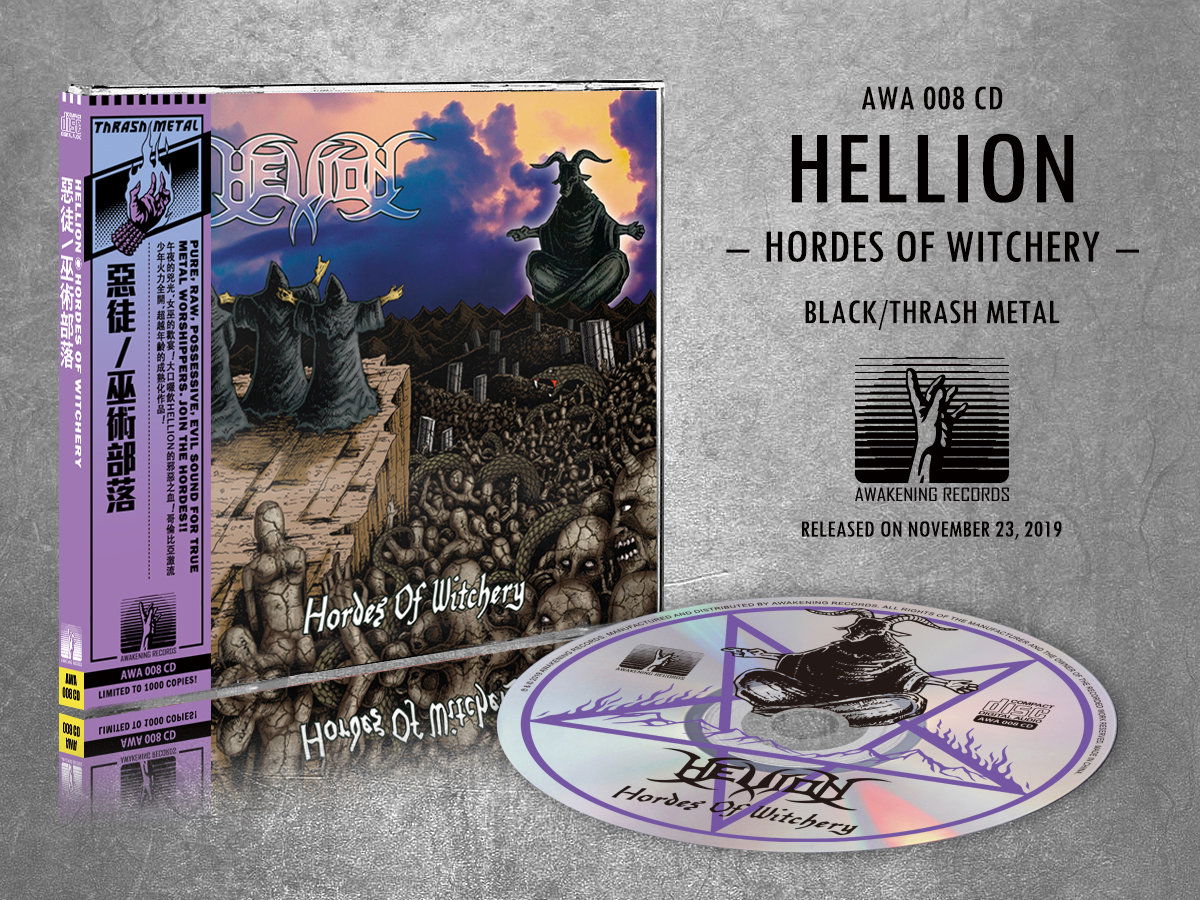 HELLION CONTACT:
https://www.facebook.com/HellionMetalMedallo/
https://www.instagram.com/hellionmetalsudaca/
http://www.awakeningrecords.cn/
https://awakeningrecordscn.bigcartel....
https://awakeningrecordscn.bandcamp.com/
https://www.facebook.com/awakeningrec...
https://www.instagram.com/awakeningre...