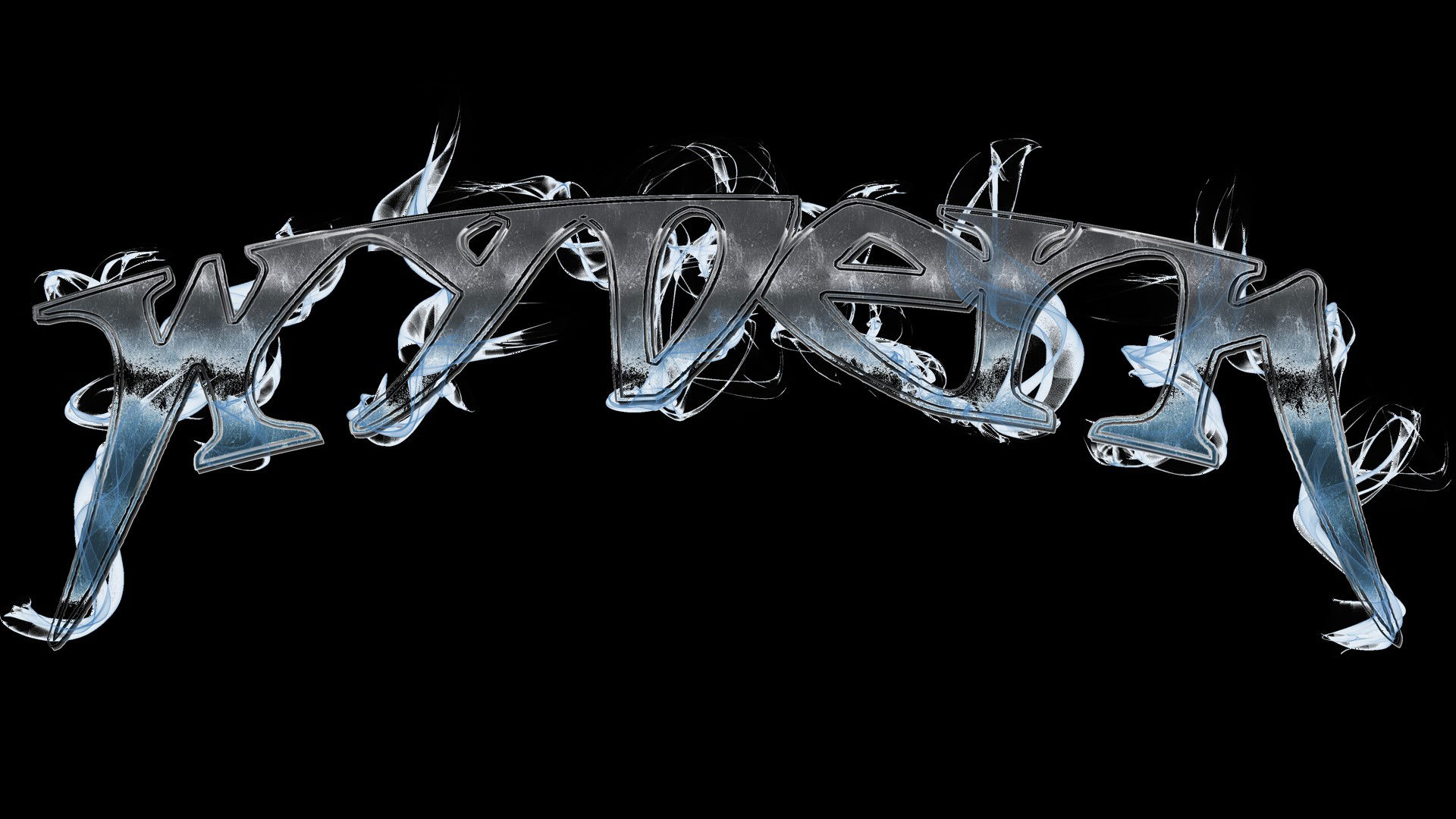 !!!ITALIAN HEAVY METAL HEROES!!!
We had a conversation with Fausto Tinello (Bass). Enjoy!
Welcome to the FILTHY DOGS OF METAL Webzine.
The history of WYVERN started back in 1985. Fausto, which are your memories from these days and which were your main influences back then?
Hi Stavros and Filthy Dogs of Metal!! You said right! We have already formed the band since 1985, Fabio Bonaccorsi and Giorgio Cremonesini already knew each other from school, while Giovanni Cripotos and I played together every now and then and we met Fabio and Giorgio in metal concerts in the city, there were already bands playing in organized concerts from our Fabio, as Black Ghost or Ramses II.
The name Wyvern was an idea of Cripotos, the particular thing was that while also playing covers, we immediately composed our songs, with a style halfway between NWOBHM and American metal, so at the beginning I can tell you that the influences they were Saxon or Motorhead but also Ratt and Dokken.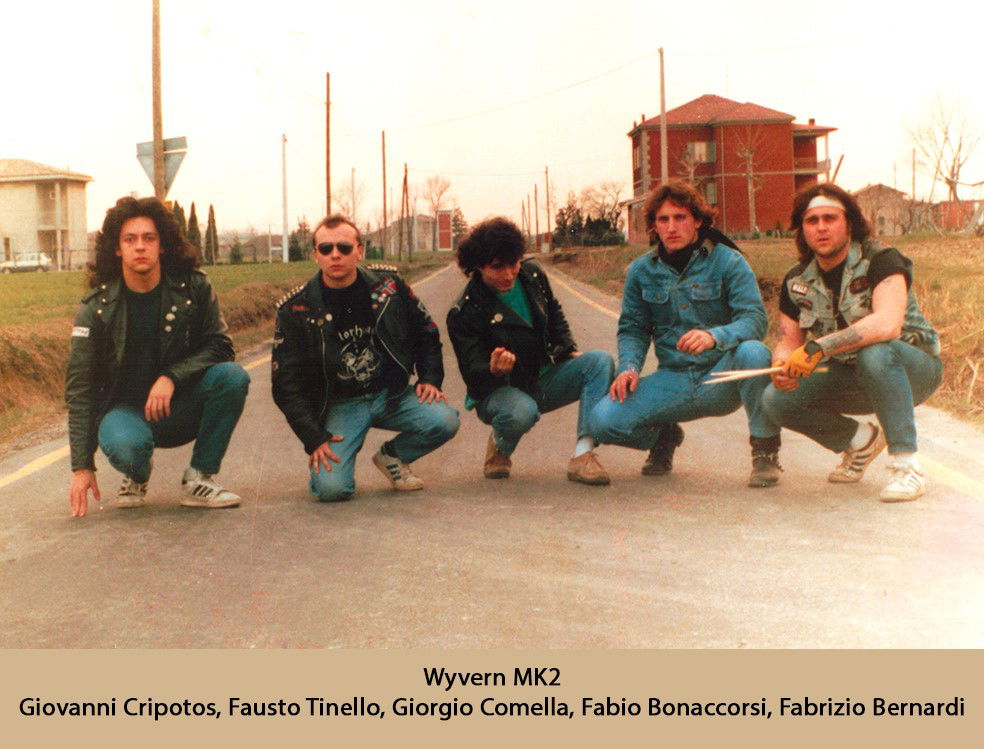 Your first demo tape ''WYVERN'' was released in 1987 and your second demo ''Back to the Ancient Rage'' was released in 1988. Did you sell them or did you have them only for promotional purposes (Radio Stations,Magazines,Record Labels etc.)?
After the first concert in 1986, (we waited a bit before playing live) another guitarist joined the line-up: Giorgio Comella and we recorded the first demo called WYVERN, with the aim of both promotional and selling it at concerts. and by correspondence, we have already taken care of the promotional aspect since then, especially after the release of the second demo, but, we have never looked for a label that produced the songs for us. both works were then published remastered in a CD attached to the first Greek magazine "True Metal" in 2002, the title chosen was "Back to the ancient Rage"
With which bands did you play live concerts between 1985 and 1990? How was the situation between the bands in Italian Heavy Metal scene back then?.
Between 1985 and 1999 we passed from the realization of the first demo tape after which Cripotos left the band, leaving Comella the composition of the second Demo with a style closer to power metal. In 1989 the guitarist Sandro Belledi was added and with this line-up the first LP "The Red Flame of Pain" was composed. This way we started playing outside our region, I remember the concerts, with Black ghost, Undercut, Sabotage, Paul Chain. The Italian scene has given great bands still active today, such as the Strana Officina (Ancillotti & Bud Tribe), Skanners, or the Roman Metal scene or in Milan, Turin. or cult band like "Adramelch".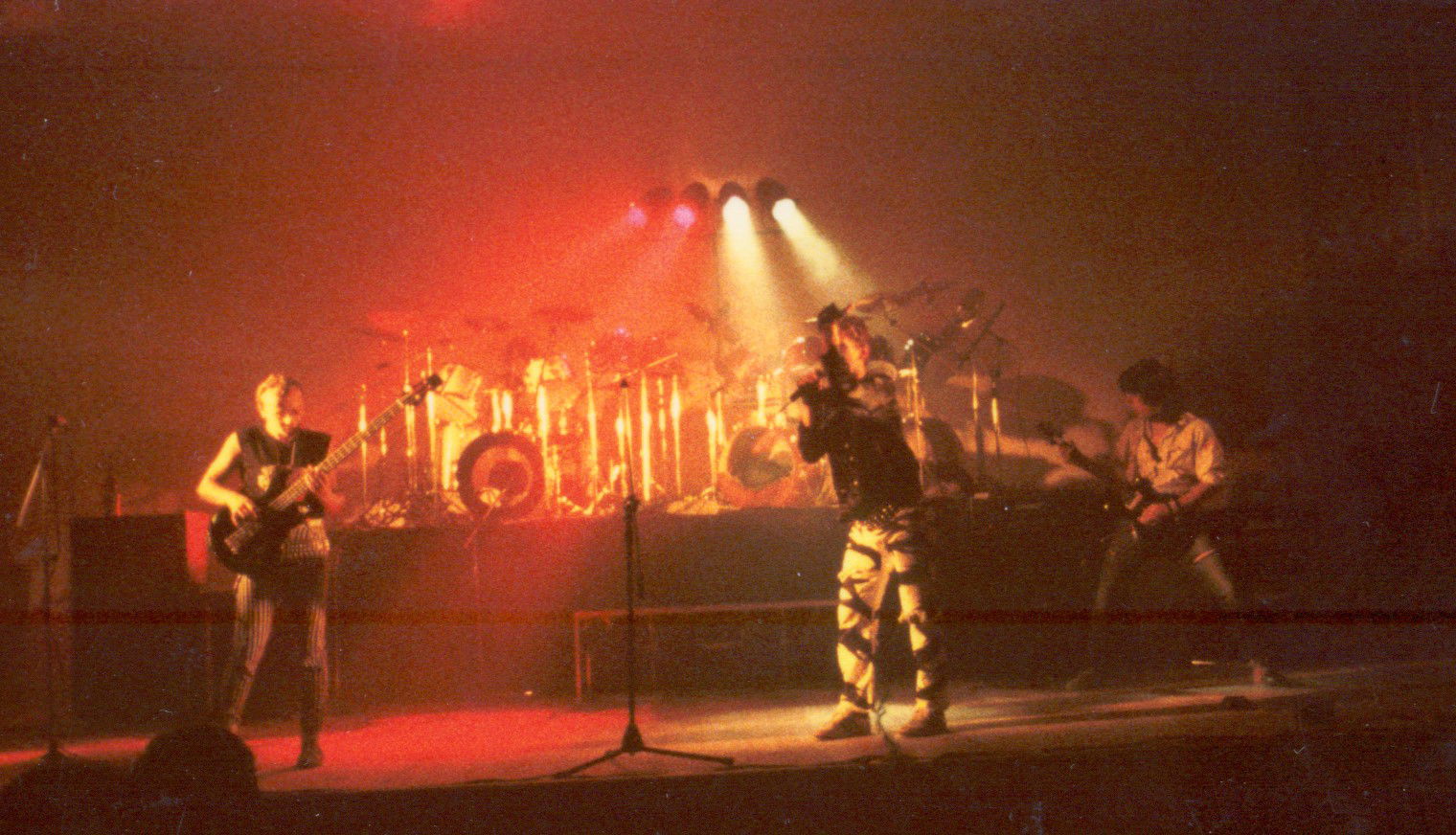 In 1990 you released your 1st Full-length Album ''The Red Flame of Pain'' via Veronica Label. Why did you choose this record label (an Italian record label which released Italo-Disco and Pop Rock bands)?
Were you satisfied with the promotional work? Do you know if any copies of the album were exported to foreign countries?
The album "The Red Flame Of Pain" was ready mixed at the end of '89 and for this reason we understand it as being part of the 80s and after the mix we realized the good level of the compositions and we decided to self-produce our debut album, we did a nice photo shoot in black and white style and the meeting with Veronica Label is mainly because it was based in our city and could be a guarantee to have under control all the phases of self-production, starting from the analog mastering on ¼ of inch tape for vinyl (the final mix was already on DAT Digital Audio Tape, in practice we did the promotional work later in collaboration with Antonio Ferro's Fireball who already took care of the booking for several Italian bands.The album was certainly shipped overseas and helped give Wyvern some prominence among Helloween - Iron Maiden power speed lovers, probably with a better production it would have been more successful even if the songs are still very beautiful and perhaps we were one of the first metal groups to make a song against pedophilia and sexual violence against minors.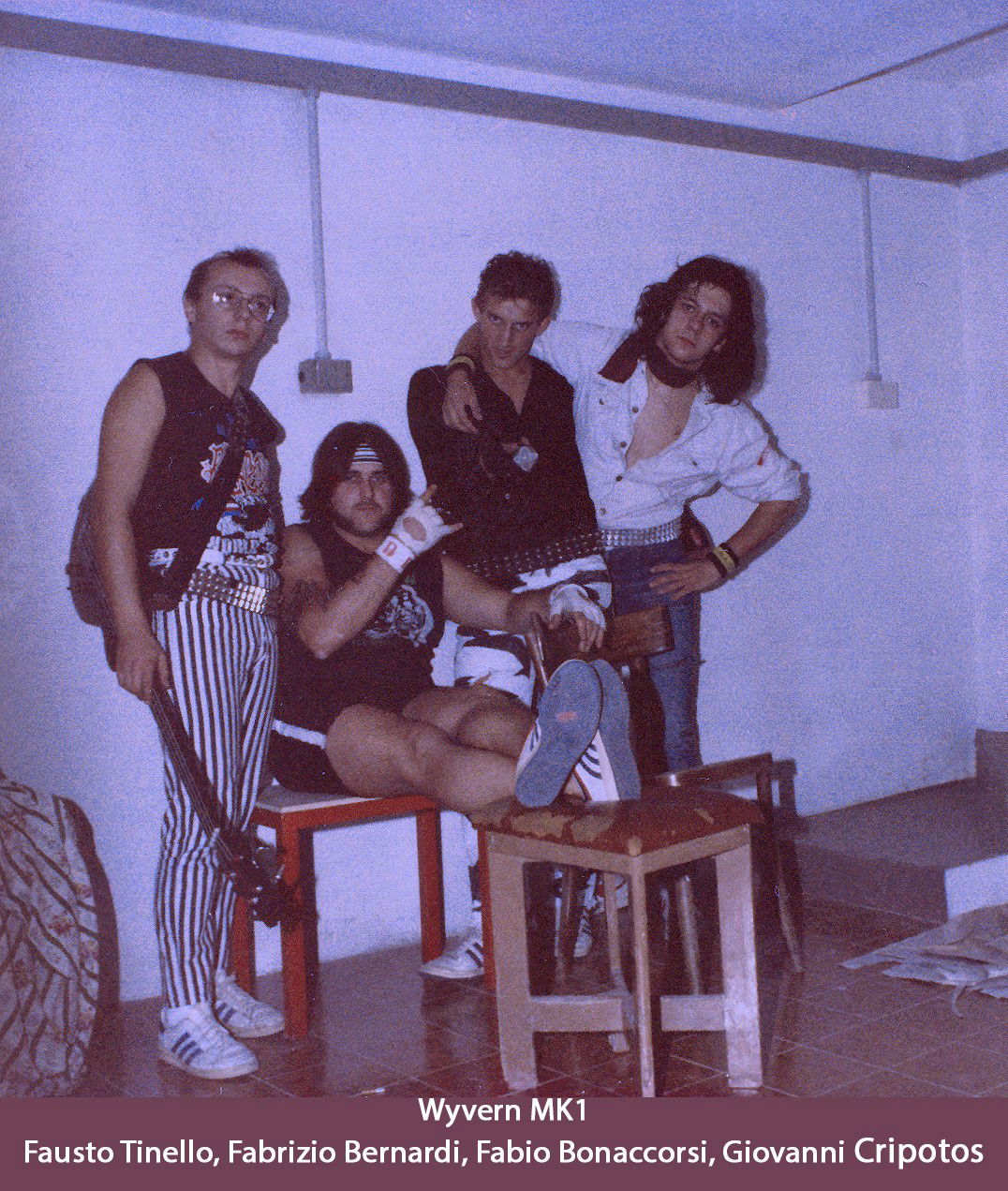 In the same year a compilation under the title ''Pegorock'' with non-Heavy Metal bands (only WYVERN) was released. How did this participation occur and who was behind this project?
I congratulate you! I see that you are well informed even on our darkest record releases. We very appreciate that!! So…we participated in the compilation made for the tenth edition of the Pegorock festival, one of the most popular rock festivals in northern Italy. The organizers of the Festival that took place in the city of Pegognaga near Mantova, proposed us to insert "Behind Bars", a song with a very powerful riff and very European power harmonized guitars ... it is one of the songs that we have always played with all the bands of Wyvern.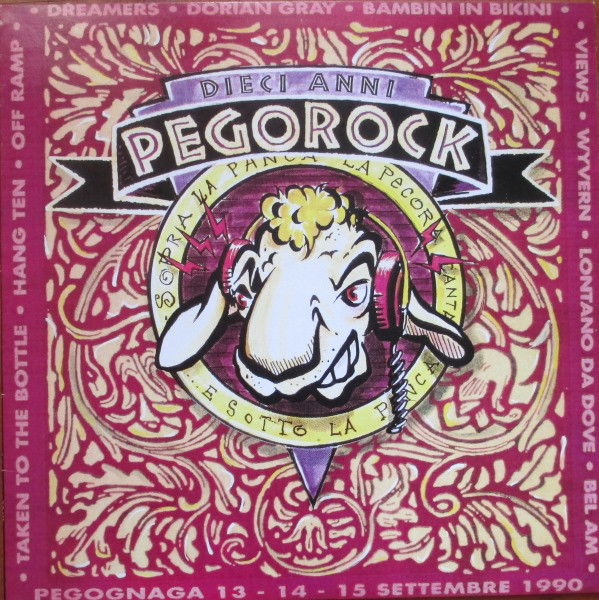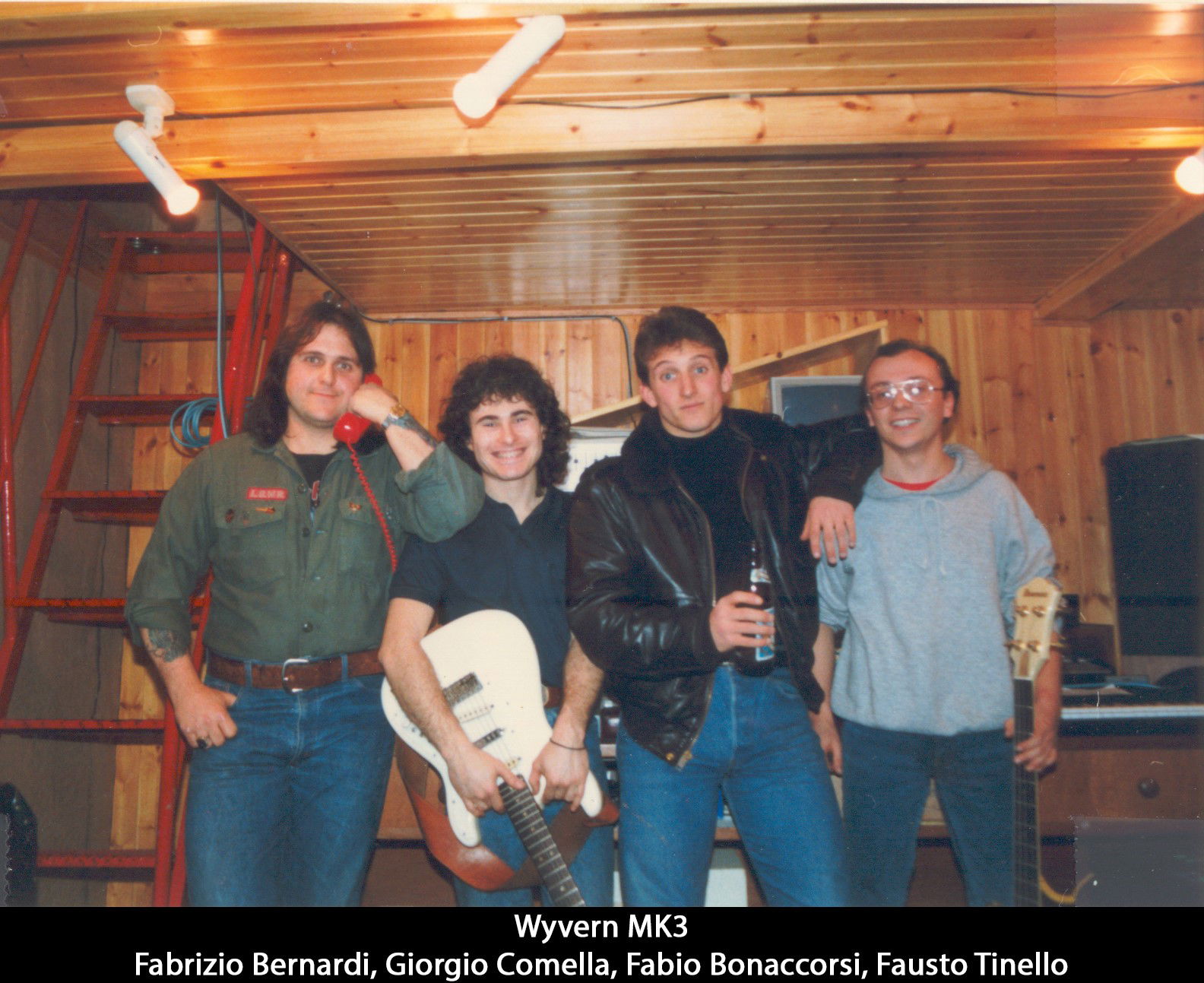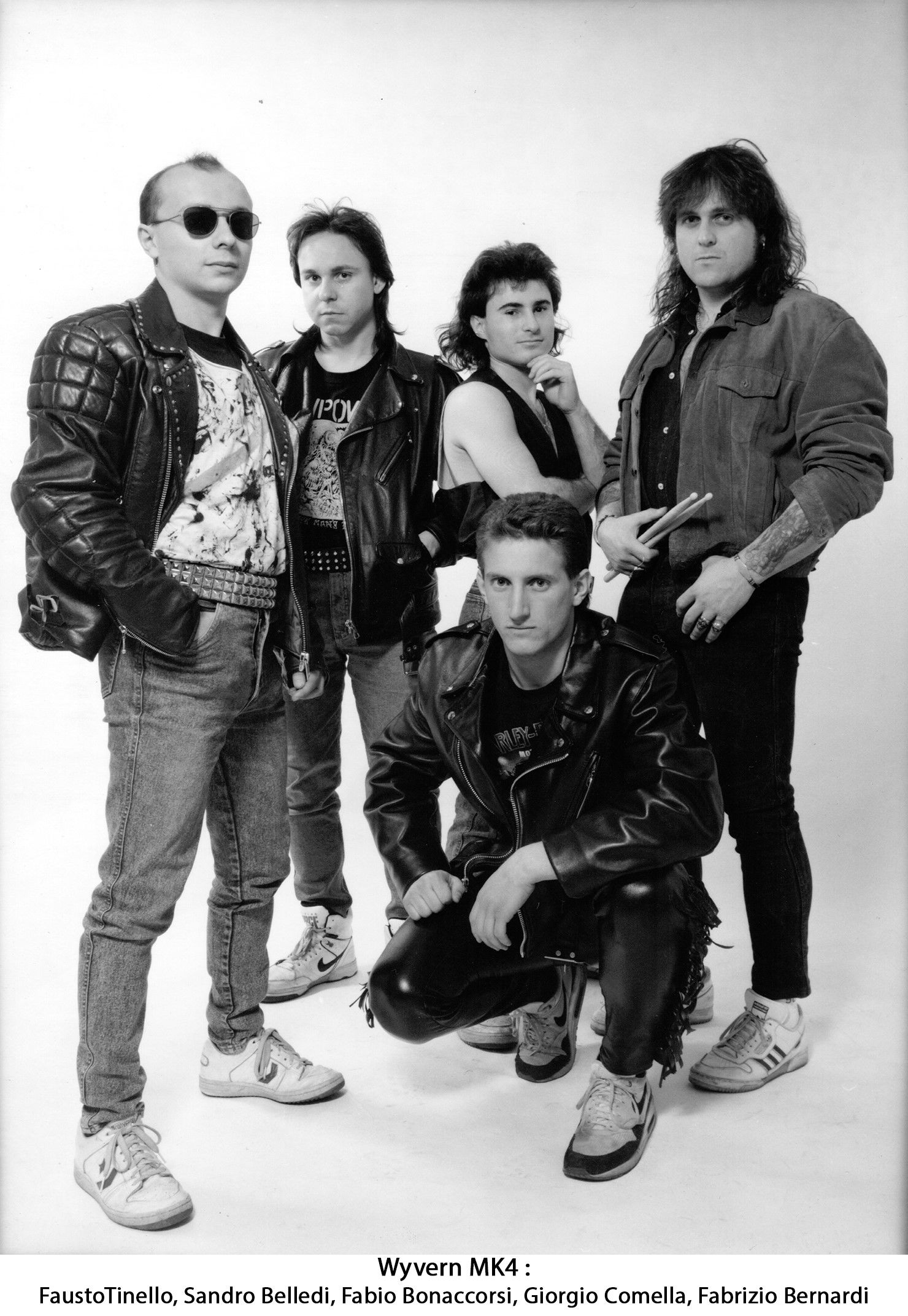 Between 1994 and 2000 you released a few demo tapes and you took part in a few Heavy Metal compilations. Did you have a feedback outside Italy? Did you receive any letters (back then when we did not have the internet) from around the world?
Our Season Of Power demo tape, made in collaboration with the Italian fanzine "Support Italian Promotion" ,was also distributed abroad and helped to make us known among the fans of power-speed metal, even the participation in the Underground Symphony compilation was a result important, then also the participation in the compilation "Electric Minstrels", and as you said, before the internet everything happened using "snail" mail, indeed perhaps it was much better to receive the huge packs with the "flyers" inside, and send them back, creating a real and own network of fans, we have certainly received and still keep the many letters. from the United States to Japan, Greece, Germany… etc
At the same time, our vinyl was starting to be considered a kind of cult band rarity, and traded at quite high prices by collectors. In these 90's we played with a lineup with Simone Ferrari and Marco Gallanti on guitars and later, towards the end of the 90s, and the beginning of the twentieth century, with only Simone Ferrari who also played keyboards.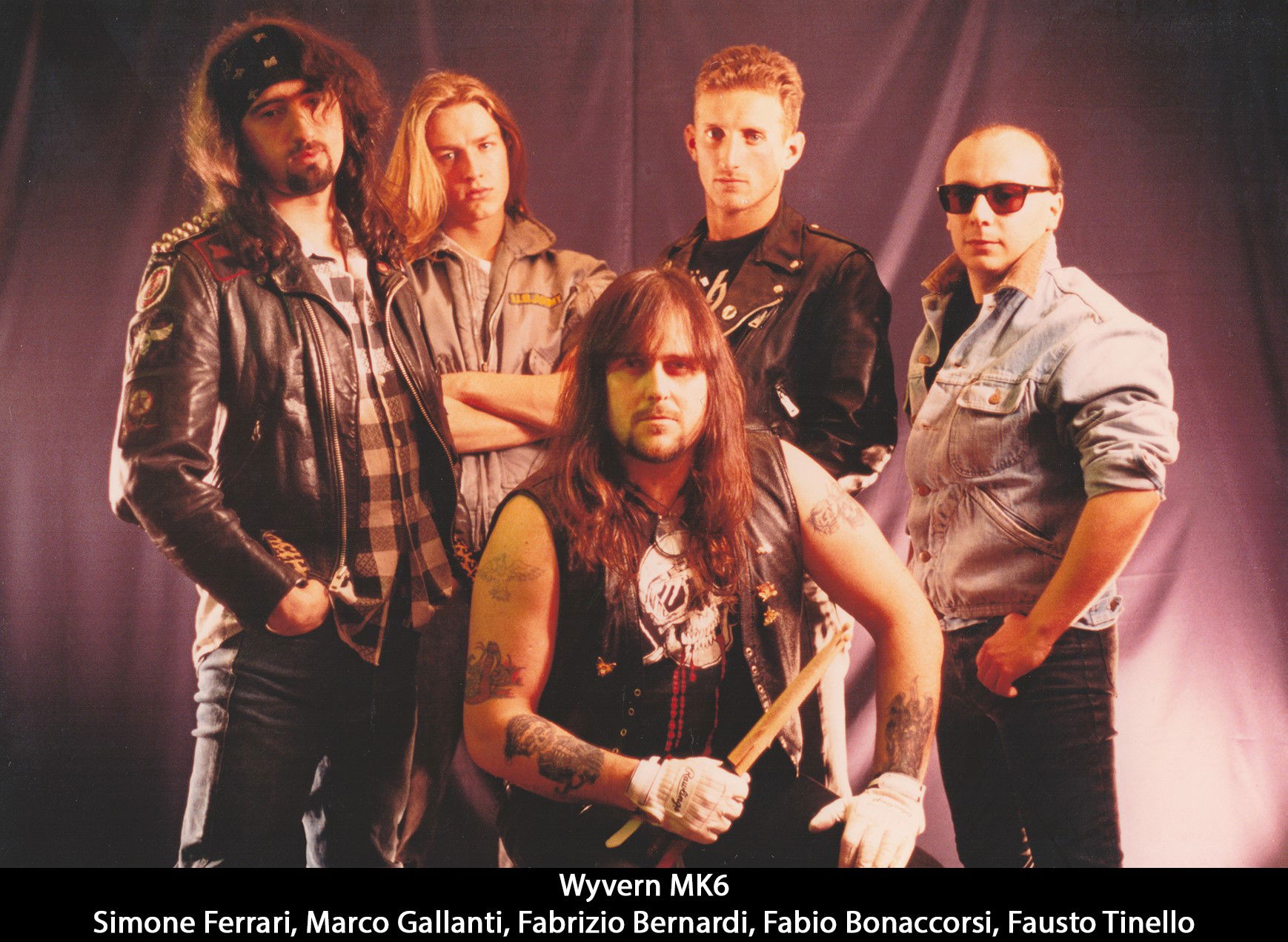 In 2002 a compilation CD with your 2 first demos ''Back to the Ancient Rage'' was released in Greece with the True Metal Magazine via Unisound Records. How did you cooperate with this label? Did you have any plans with this label for further releases?
Unisound Records made us a proposal to attach Wyvern songs to the first issue of "True Metal" magazine. We Wyverns proposed to make a special CD edition containing the first two demos of the 1980s in a remastered version. The collaboration was good as a promotion and as often happened in those years also in Italy (with very rare exceptions) the fee for the license was a certain quantity of CDs that we would then sell at concerts, we did well and so the magazine was released with "Back to the Ancient Rage".We have not subsequently received interest from Unisound rec. which, however, seemed to me oriented more towards extreme metal productions ...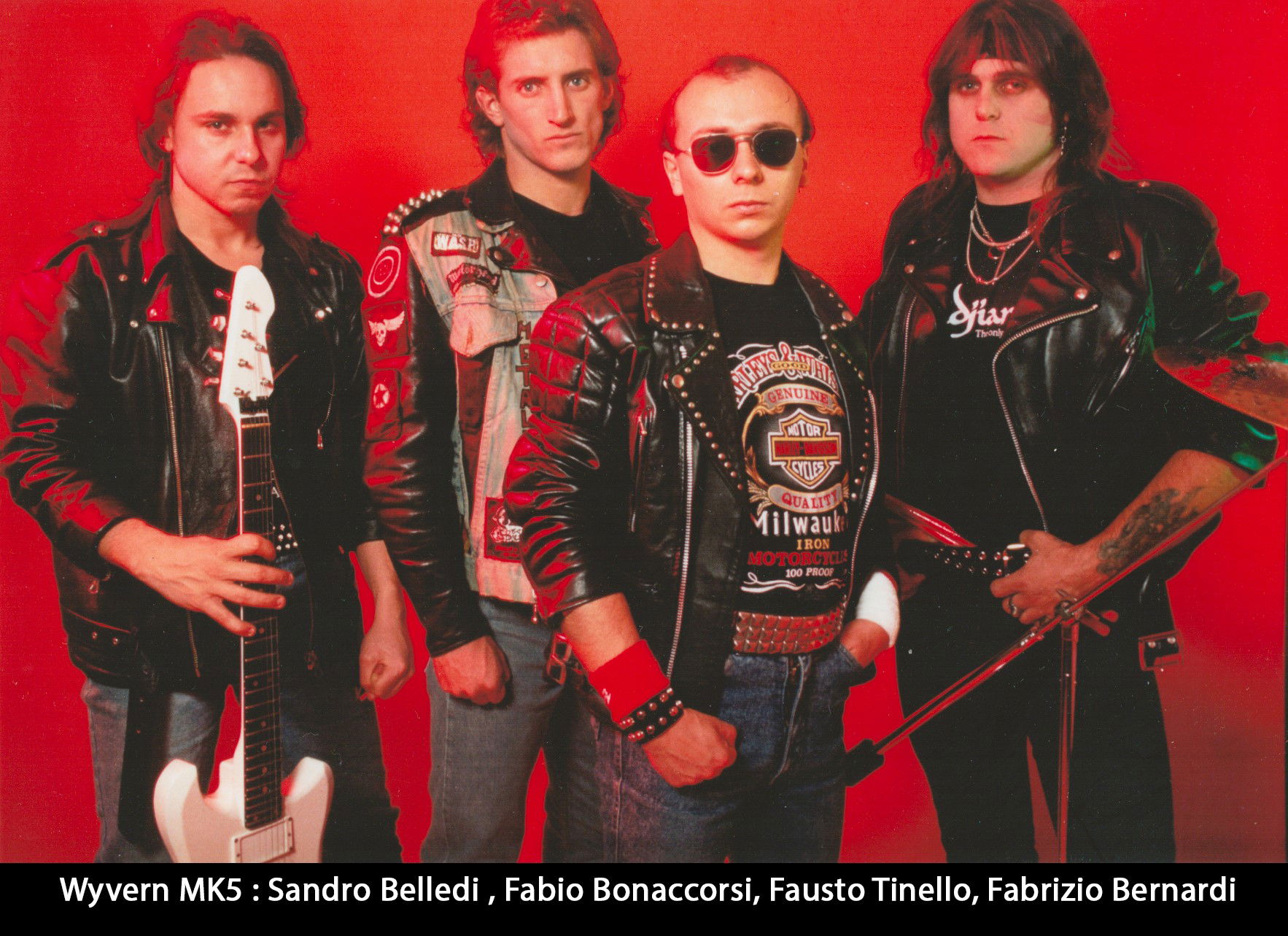 Your latest full-length album ''Lords Of Winter'' was released in 2010 via Jolly Roger Records. Why did you have such a long silence since ''Wyvern compilation 1989 1999'' CD? Did you made some live concerts between 2003 and 2010?
The album was actually recorded around 2000, and contained the songs from the lucky promo "the other one", considered by several magazines to be one of the best demo-tapes made in Italy, the genre has moved more towards power progressive metal, even if some have then noticed the musical influences of Ferrari and Gallanti also closer to Voivod, Prong etc… and this particular way, together with Fabrizio Bernardi's "Bissio" style of very Power German Drumming, created the style of Lords of Winter. An important meeting in the first decade of 2000 was with Jolly Roger Records who wanted to reissue on CD our album "the Red Flame of Pain" and later also "Lords of Winter". In that decade at the beginning of the millennium, we did few but beautiful concerts, the 2000s also opened with an unprecedented line-up with Luciano Toscani (Listeria and now Ancillotti) who gave us a hand with I live after Simone Ferrari's exit from Wyvern. a song from that period was also taken up in the parallel project WYV85 because it was similar to the old and new songs that WYV85 will play. In the mid-2000s there is a great meeting for us, the one with the guitarist, keyboardist and composer: Simone Manuli and then with the guitarist Filippo Dall'Asta (now Filippo is an appreciated guitarist in the acoustic field and Gipsy at European level) for to conclude the events of the many changes of guitarists in 2010, the virtuoso Nicola Denti joined us and supported Manuli in the realization of the new pieces. In reality we could do a mega concert like "the Night of the Wyvern's Guitars" only with the great guitarists we had in the band !!!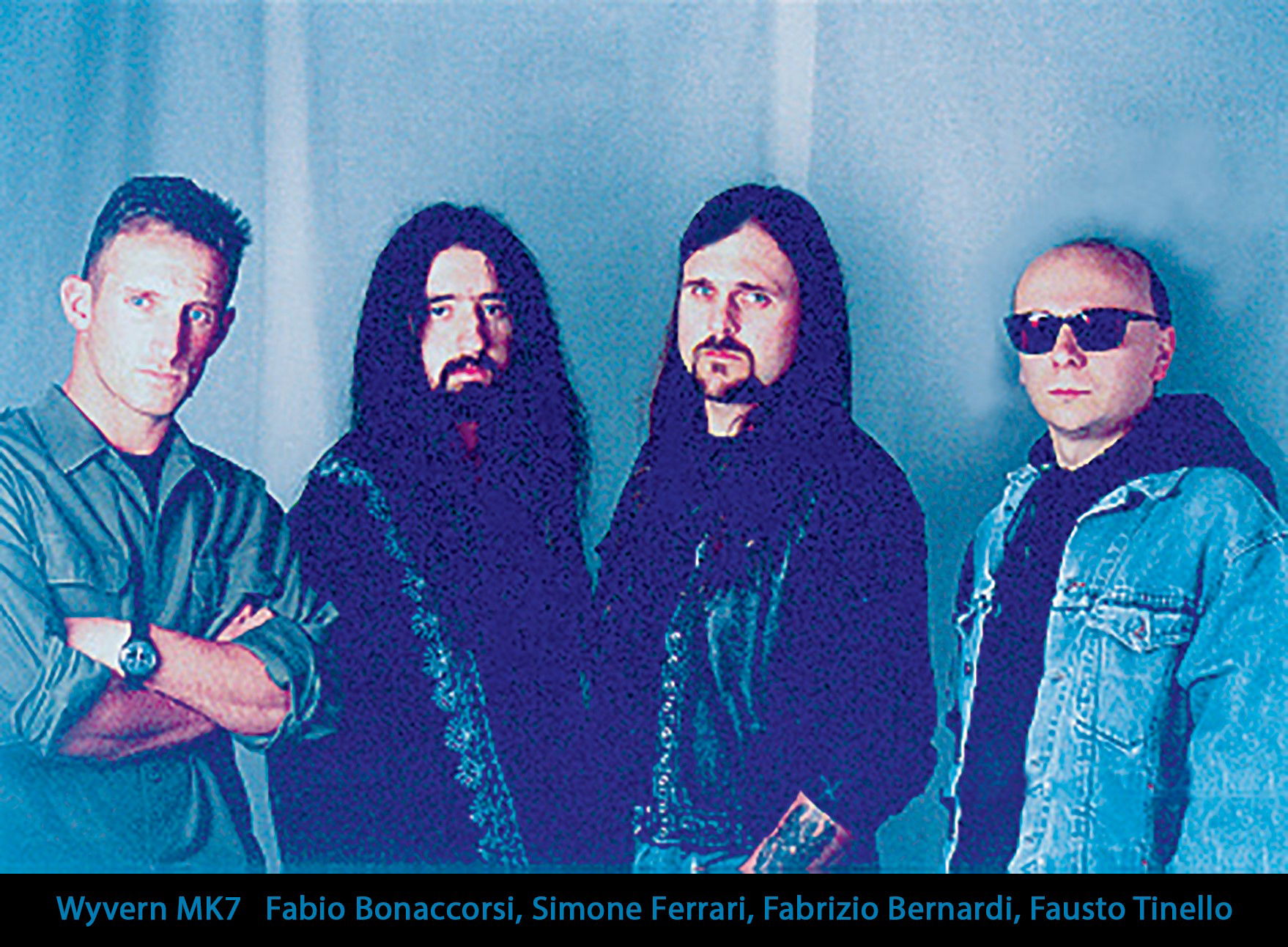 Which are your memories about those great Italian bands from the past:
BERSERKS / MORGANA / ADRAMELCH / HALLOWEEN / BLACK GHOST / GUNFIRE.
The Berserks were a great band but I got to know them later in the years
But I have never known them personally. Morgana, on the other hand, has a story very similar to ours between masterpieces that have remained in the casket for years and a true cult band story also thanks to the incredible Female Singer!! For the Adramelch we have a particular admiration!! and very rare news is that there is a Wyvern studio recording with the lineup of Manuli and Dall'Asta of "Eyes of Alabaster" which was to be released on a tribute album to the band. another thing we have in common is that many vinyl collectors traded "the Red Flame of Pain" at similar high prices to "Irae Melanox" especially in the United States. Halloween were managed by Fireball, who for a while also followed US Wyverns, but we never played with them. Black Ghost are from our area and we know them well and we have often played with them, indeed in my opinion they were one of the greatest Italian bands and Belledi S. , before coming with us, he played and recorded the most beautiful Black Ghost songs. Recently thanks to a local organizer there have been several Band metal reunions and we saw Black Ghost on stage again!! I remember Gunfire in the first editions of the Italian metal festivals but, even with them we have never played in concert…. I am pleased to read that these groups are appreciated, even if I sincerely think that all of us have written such an important and particular page of European metal.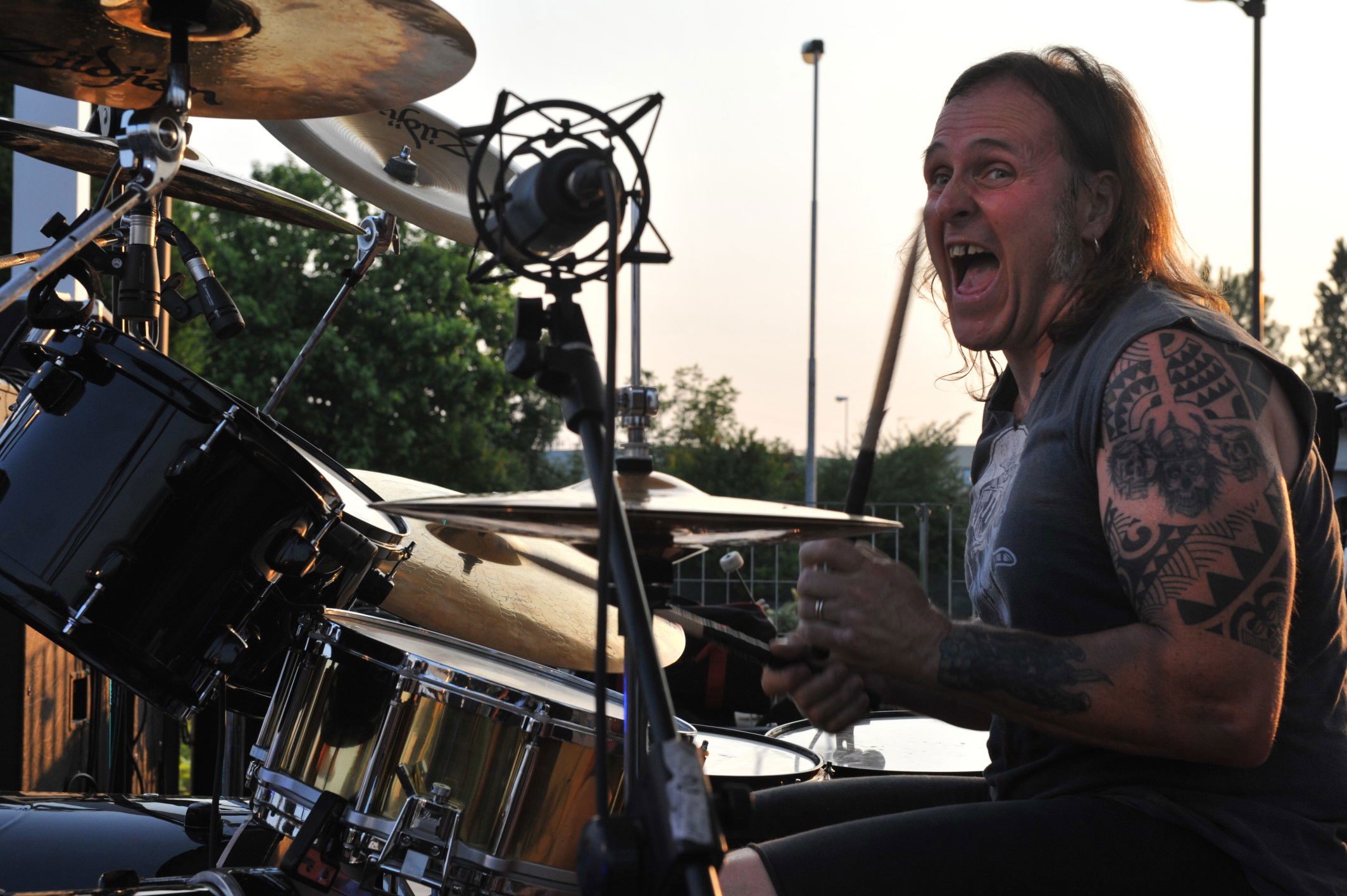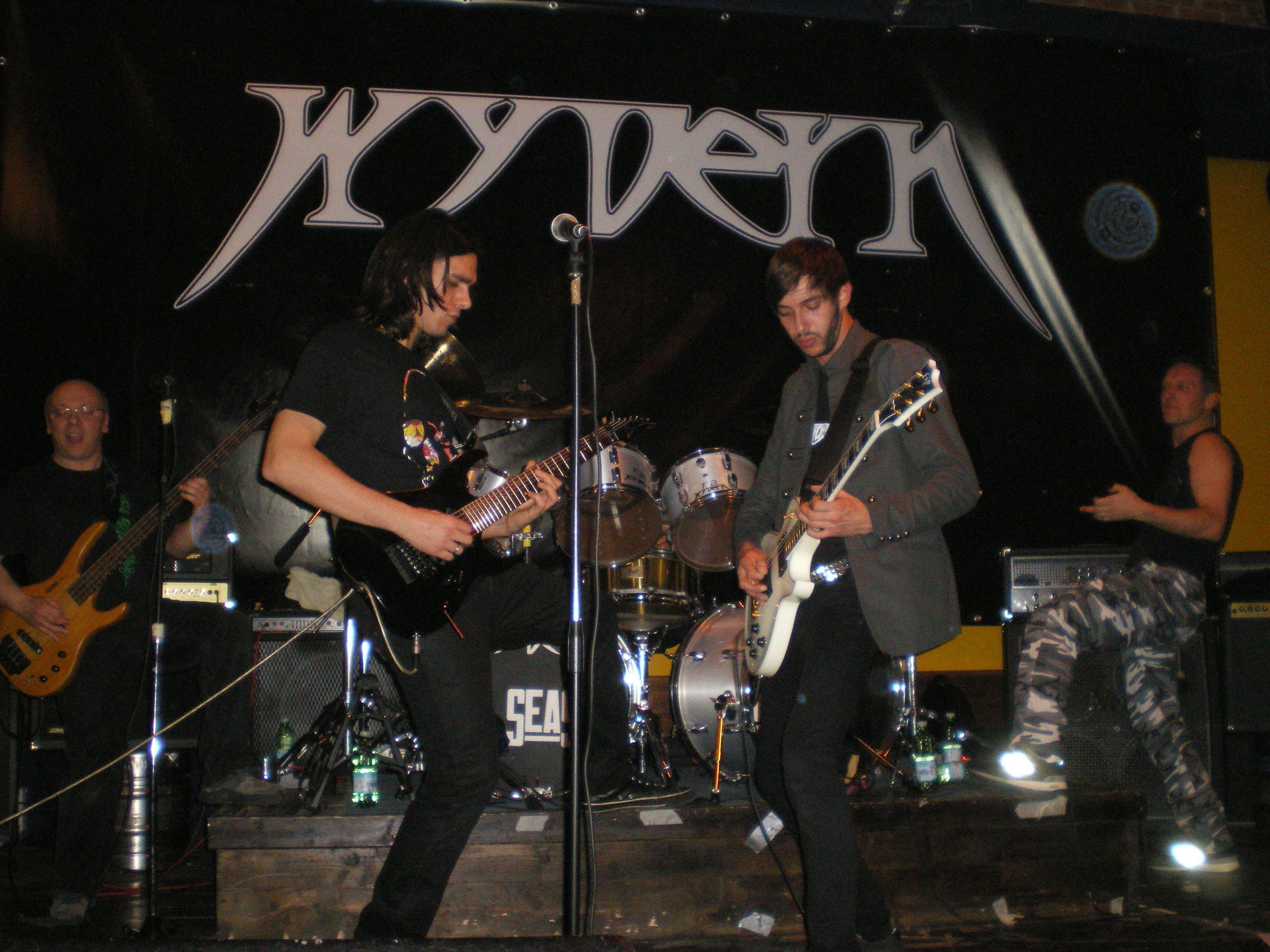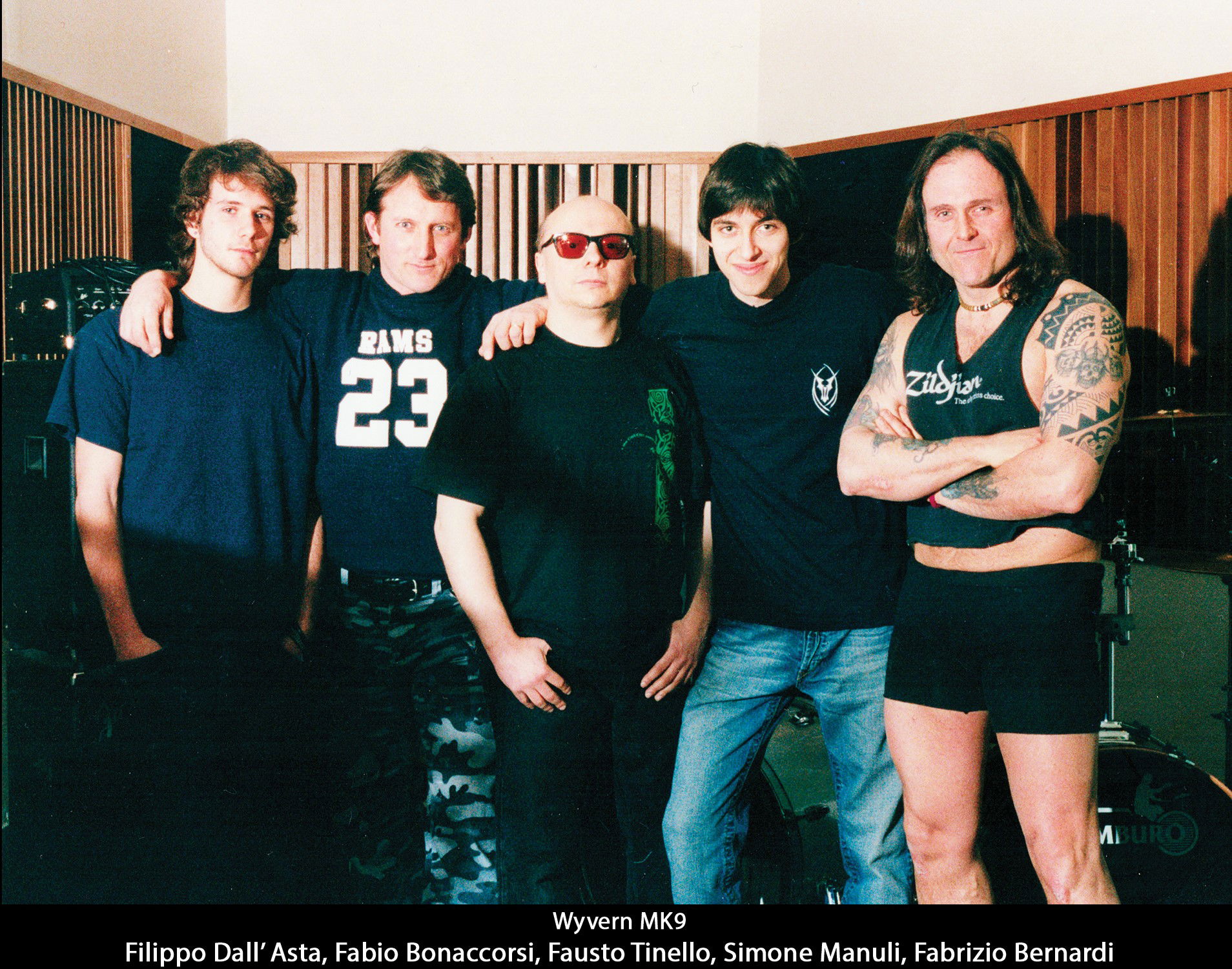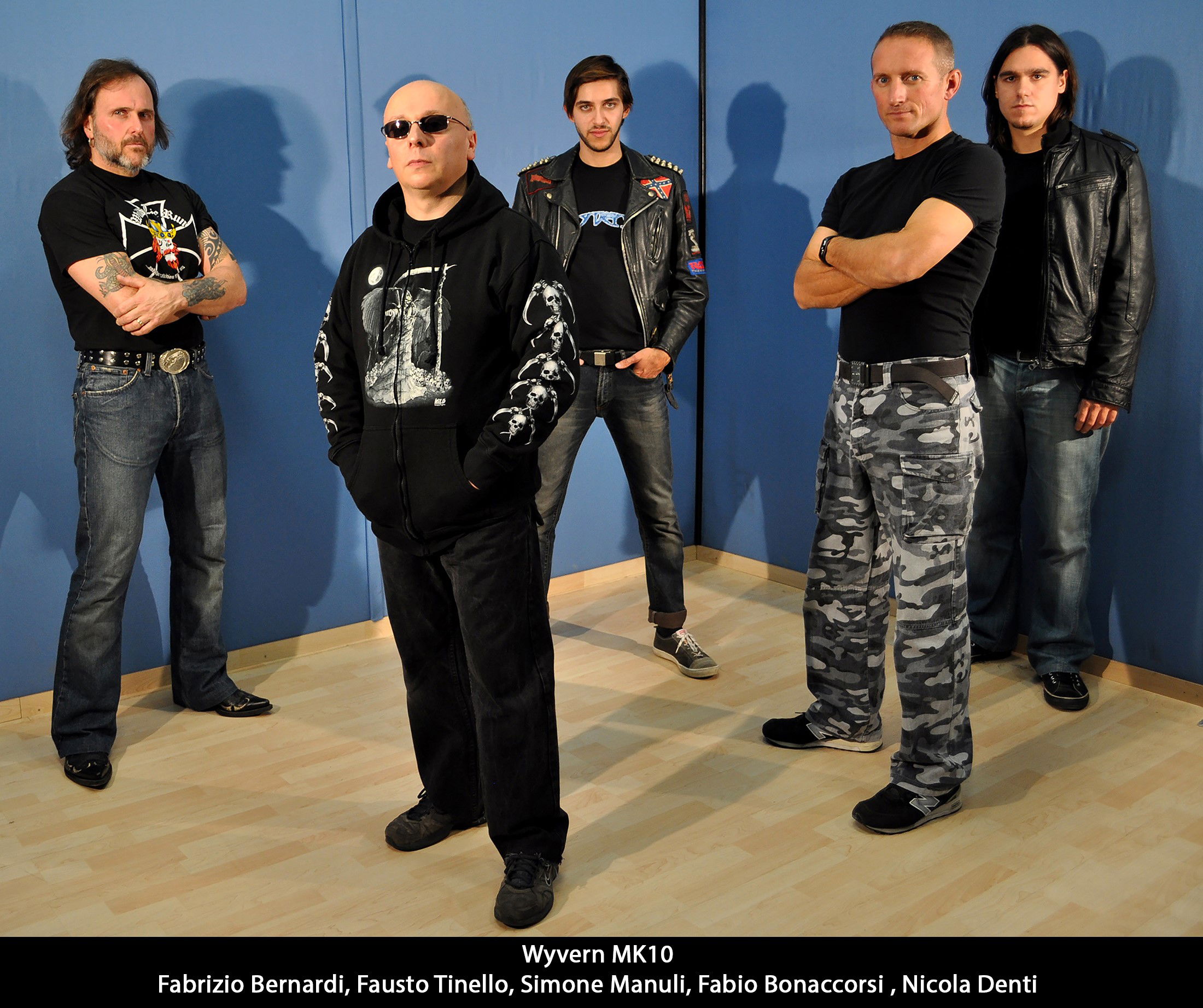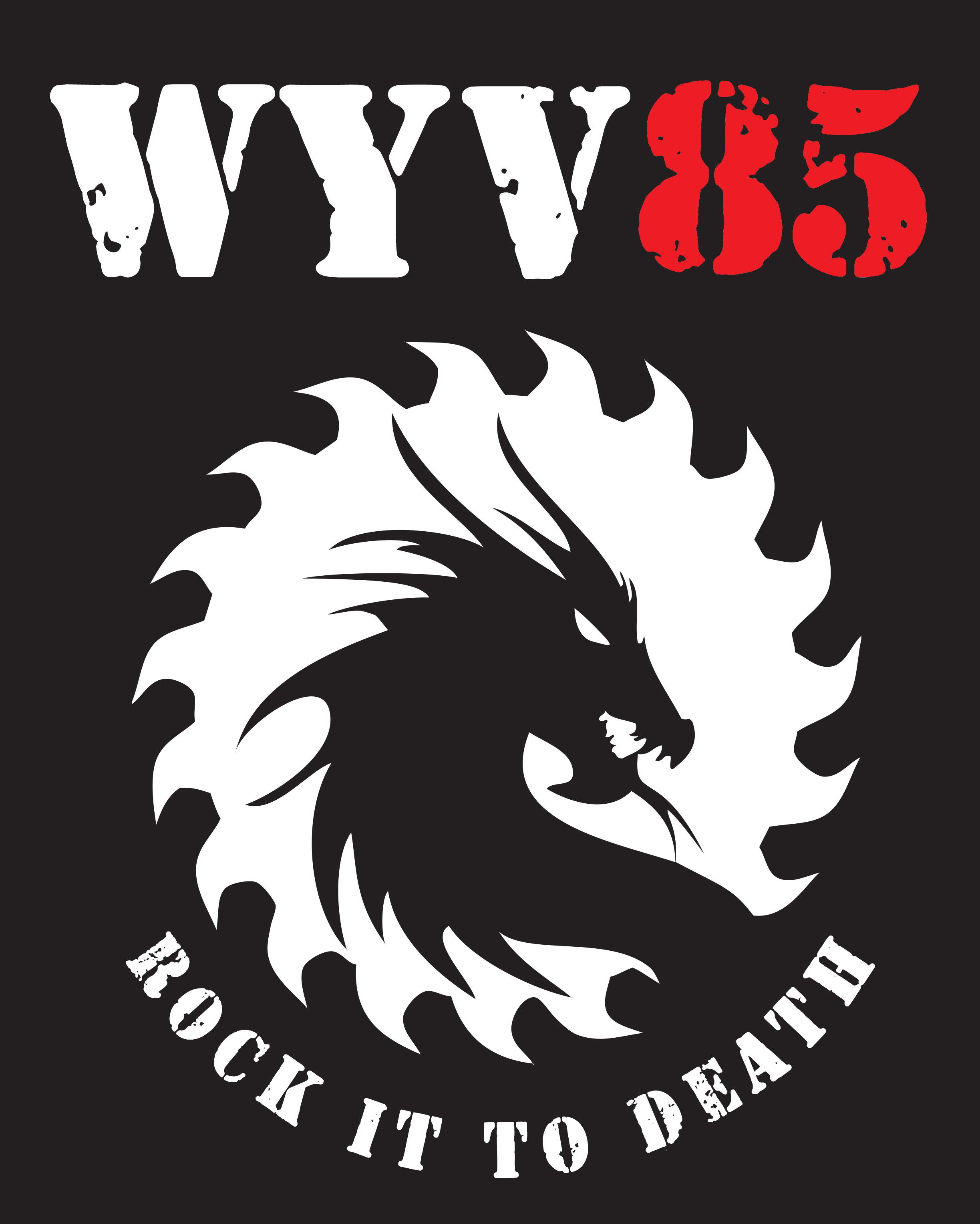 Tell us a few things about the new project WYV85.
nb (for these final questions and on the WVV85 project Giovanni KRIPPO Cripotos answers.)
Oh well, nothing peculiar, I'll keep it short: just a bunch of long time friends who still want to have some fun and rock it till the end.We played together as a band some 35 years ago, then our ways parted for reasons I do not even remember well, but since we thought we still had something to say to younger generations in terms of attitude and perseverance we jumped back in the saddle!

Do you know anything about the Hellenic Metal Scene?
Apart from Gus G. and Firewind, not that much.
I remember a couple of names such as Septic Flesh and Rotting Christ, fairly distant from my personal taste to be honest, I respect them though, they seem to be doin' good.
What are your future plans?
The whole covid19 thing upset the apple cart, anyway by now we are recording a new EP containing some of the oldest songs revisited and rearranged plus two new ones. Should the situation clear up we won't miss the opportunity to play some promotional shows, we'll see.

Thank you very much for your time & Keep up the good work! The closure is yours.
Thank you so much for your attention, keep on listening to real music and support your favorite bands, either if they are major acts or local guys and one last piece of advice for any musician. No matter if you're good or not, professional or amateur, younger or older: never quit playing, you'll regret it.Thank you all at Filthy Dogs Of Metal by WYVERN & WYV85 .
Please get in touch to: http://www.wyvern.it and follow both bands.
Write to wyvern85@libero.it

By Steve the Filthy Dog.