!!!HEADBANGERS FROM COLOMBIA!!!

We had a conversation with WHITE THUNDER.Enjoy!
Welcome to the FILTHY DOGS OF METAL Webzine.
1. Tell us a few things about WHITE THUNDER (Members, Starting Year etc).
Hi Stavros !!
First, thanks for making us part of your webzine FILTHY DOGS OF METAL RULES BRO !!
WHITE THUNDER was founded by Stevens Mathieu and Sebastian Leguizamon in the year 2009, some people took part of this project, but they came and went, among them you can find two great friends, Chris Thunderfist and Juan Calderon from the thrash metal band PUNISHER ,I think you know them, all excellent musicians!!, but with other ideas and projects, that did not allow them to stay connect with white thunder as we expected.We started as a five-member band and ended with three, Stevens Mathieu guitar and vocals, Jordan Triana bass guitar and Sebastian Leguizamon on drums.We have two CD-r demos, one called "Golpes de Rock and Roll" and the other "Vomitando Heavy Metal" with this second demo really started it all.The first album in the year 2015 called "Muere Joven" led us to be recognized at national level and other places in the world, obviously talking about underground heavy metal.At that time we knew that we had to do something to be heard by more audiences, so we changed the language of our compositions to English, and the EP "Only For Headbangers" was born.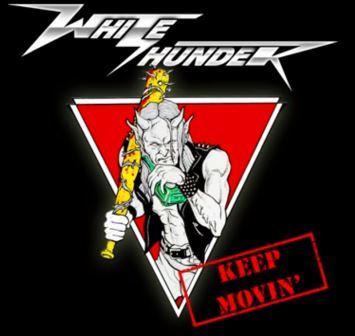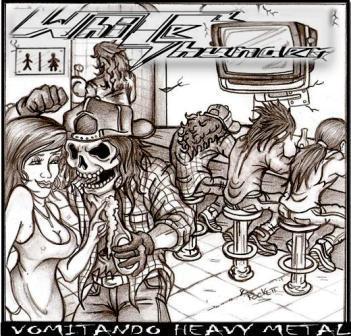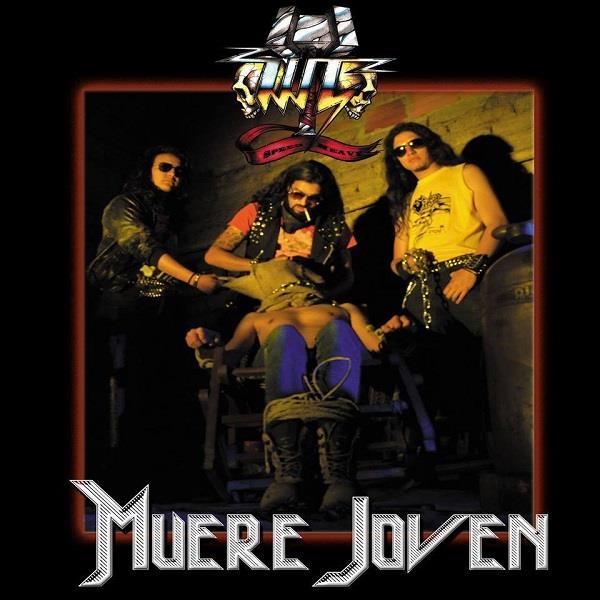 2. In 2019 you released your EP ''Only For Headbanger''. What was the Feedback from your audience as well as from the Press?
The release of the EP only for headbangers was very good !!.. well, some followers of the band said that we had sold , for changing our native language, but later they adapted and enjoy it !! jeje "Only For Headbangers" opened many doors for us, good festivals in Colombia, all the heavy metal clubs want us to play, the press only reaches us with good comments, they like the album concept, they say that the sound is much more mature than all the previous ones that we had released, well, in general terms this EP put us on the map, and nominated us as one of the representative Heavy Metal bands from Bogota- Colombia.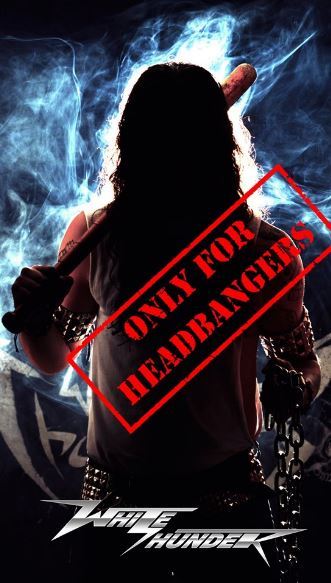 3. Label or DIY and why?
Both are good options, for example the "Only for Headbangers" in its entirety was recorded at home, and the quality in terms of mastering is not the same as in a professional studio, yeah we know, but we managed to capture our real sound!!A producer tells you how you should sing, what is right, and what is wrong, on several occasions when they give you the final product it is as if you were listening to another band, you say… this is not my band!! the songs that you wanted to do, not seem, and more so when here in Colombia there aren't many places where they know how to record Heavy Metal, Colombia is a country of more extreme sounds, ultra-metal, death metal, grind, gore, noise ...( etc),They are very good at recording this, but the heavy metal that we propose is for another type of work.On the other hand, for the distribution a label is the best option, because you as a natural person don't have the time, or the contacts, for a good distribution of your material, you earn less but it is better distributed.
4. Do you prefer Vinyl, Tape, CD or Digital Format and why is that?
We love vinyl, we are convinced that it improves the sound jeje, the tape it's so cool!! The pieces of collection we like it, but the CD and the digital is necessary, not many people these days have to play classic formats.The "Only for Headbangers" came out 50 physical copies under label repulsion records, when we released the single "Keep Moving" we tried to release it on 10" vinyl, but it was very expensive so we were left only with the test pressing jeje, but soon there will be news of a possible 7-inch vinyl split with other Colombian band of heavy metal.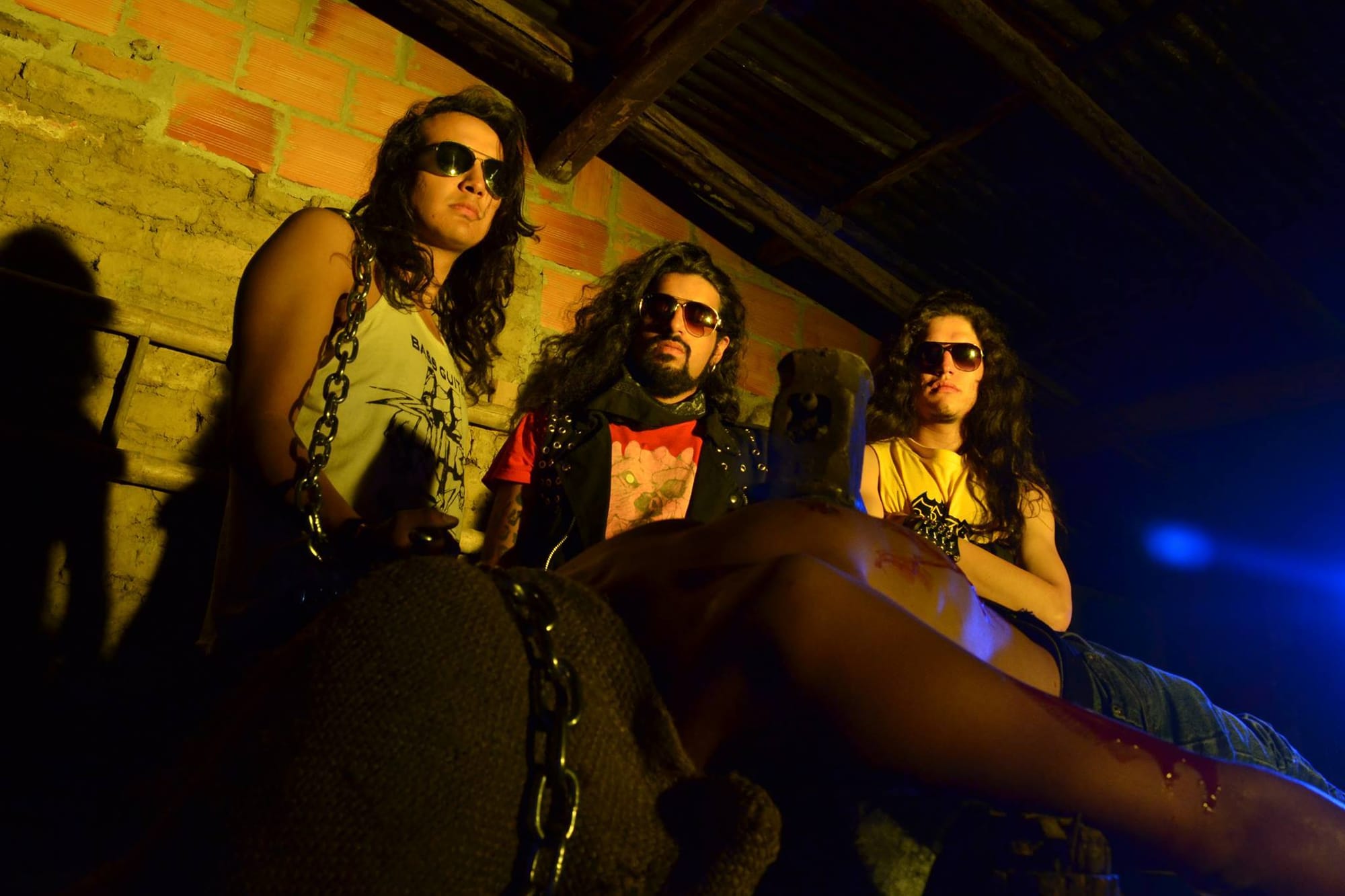 5. Your music style is Heavy / Speed Metal. Which are your main influences (Favourite Artists / Bands etc.)
We have many influences, but the strongest is the NWOBHM , this style of heavy metal is the one that we prefer, Bands like Omega (UK), Satan (UK) ,Tokyo Blade(UK), Spartan Warrior(UK) , obviously Motorhead, Venom, Tyrant, Acid, Thundercraaft, Bitches Sin…. we couldn't name them all!! what is certain is that we love classic heavy metal.In our first album you can find the song "we stand to fight" Virtue cover, we were the opening act in the concert of Satan and Tokyo Blade in Bogota.Also is very important for us the Blues music, Rock and roll, the stoner rock, you will find these influences in our songs.
6. Which things, do you think, a Band should sacrifice in order to succeed? Have you ever sacrificed anything in your life for a better future of your Band?
The most important is could spend time to your instrument, in that order of ideas you start sacrificing family time, the girls want you to spend time with them, but incredibly they always cross paths jeje, you stop attending birthdays and other things to fulfill the events, well, we know that we will not be rock stars, but if you want to be part of the history you have to try hard.
7. Describe your ideal live show as a performance Band. Have you already experienced that?
In our live shows we always want the best energy, we try to have the best interaction with the people who are going to see us, we want it to be something visceral but with the height of a band for which you would pay to see every time it occurs.We like to ask for little money but the best sound possible, we don't care if there are ten or two thousand people, which by the way has been the event with the most influx of people, we were at the closing of a local festival called "Metal de las Montañas" when we played there were more than two thousand people in this place and this is very significant for an underground band.and the "Concierto para Delinquir" that was made only with our budget , I hope you see it soon, the people really lost their minds jeje in this DVD we really showed the Colombian heavy/speed metal underground scene, it would be great if you could have a copy.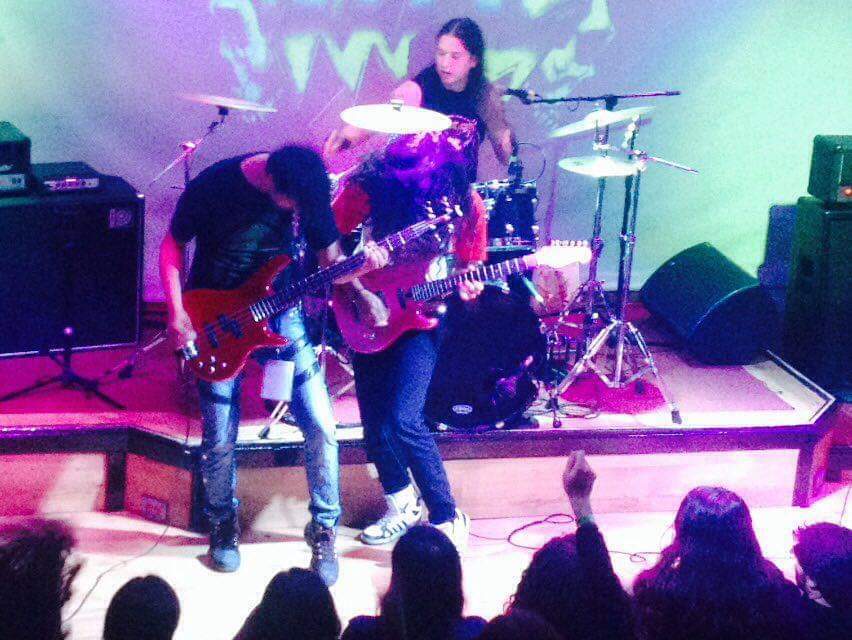 8. Which attributes, do you think, that a new Heavy / Speed Metal Band should have in order to gain identity and be unique?
I think the most important thing when it comes to obtaining identity is to let your project flow,I explain myself… if you are looking for a guitar player like Ritchie Blackmore and a singer who has the voice like Ronnie James Dio, you are sure to sound like a copy of rainbow band.the important thing is to let each musician put his seal, and contribute to the sound this will give consistency and originality.We are not inventing anything !! we just print our conditions to the sound, it is not the same to have a heavy metal band in Europe than in Colombia.The public is different, the story regarding the arrival of Rock and Roll is different, and if you learn to use these tools you can achieve good things.
9. Do you believe that Bandcamp and other Digital Platforms help the new Heavy Metal Bands? Which, do you think, is the ideal way for a Band to promote its work?
Personally we do not use these platforms, but we listen to divided opinions all the time, I imagine that yes, that these platforms help to spread but not to transcend, in physical material there is something that digital will never have, it is good to take the time to listen the songs and seeing the art, knowing something about the band you are listening to, gives it a personal atmosphere and makes you appreciate more the effort that the bands make to bring the music to your house.The best thing would be to achieve a good union between these two formats .... but in the end the best promotion you can do is live shows jeje, They pay for see your show, they buy the material, and you immediately know the reaction of the people.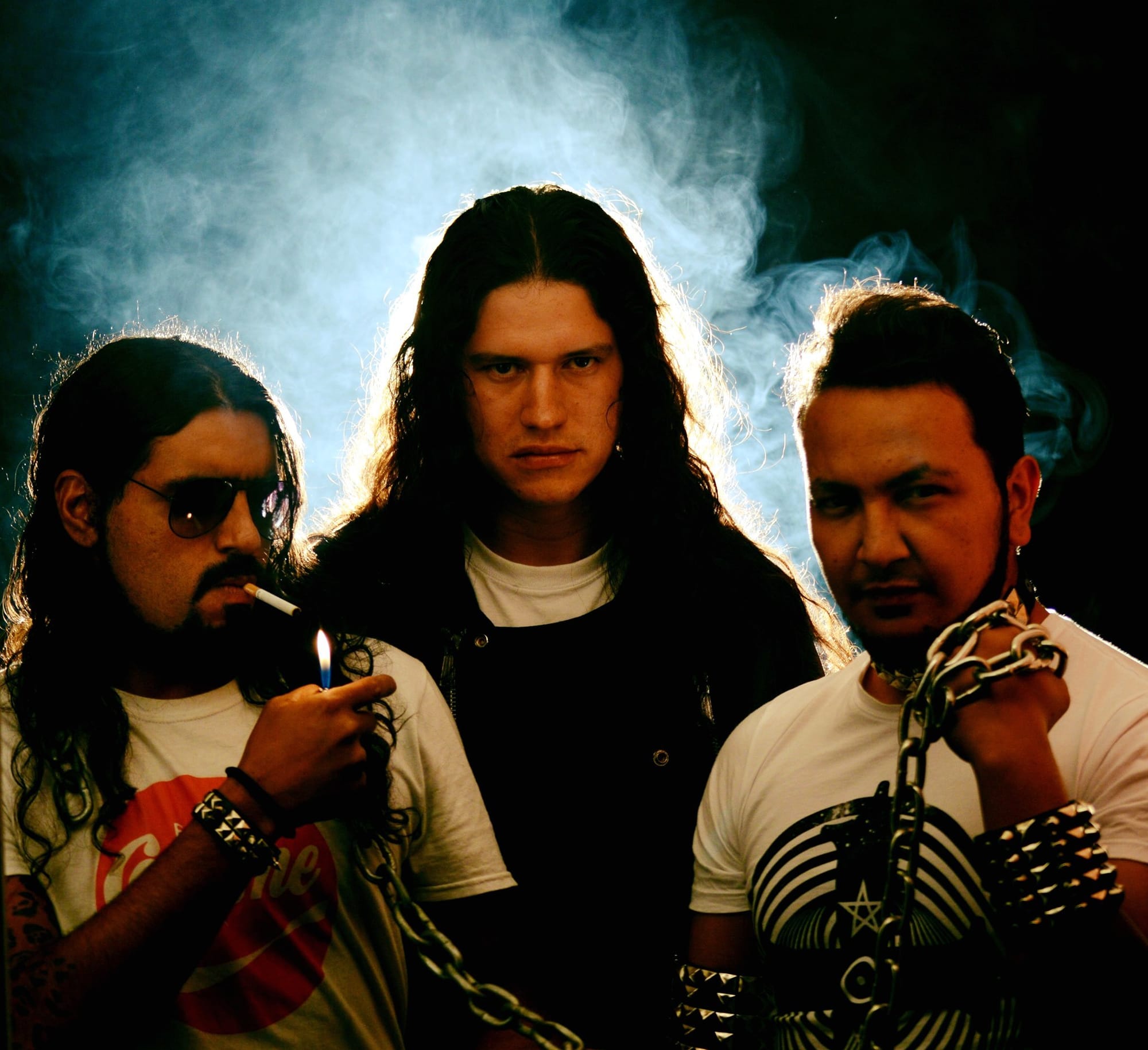 10. Tell us a few things about the New Underground Metal Scene in Colombia (Bands, Fanzines, Webzines, Metal Clubs etc.)
The Colombian metal scene is very divided, and that makes it difficult to achieve good attendance at any event, we are from Bogota city, there are easily fifty metal clubs, and in most there are events the same weekend, this divides attendance at the events, so every weekend there are a hundred bands playing live, I am not exaggerating, we have counted up to thirty events in a single weekend, only events that require a payment to enter, and to that, add the free events, the scene is gigantic, but it is chaos, people who listen to power metal do not attend speed metal or heavy metal old school events, we are divided but it continues to grow and for everyone there is a little.As for the press, labels, virtual radio, etc ... the matter is very nourished, many work for the simple love of metal or for prices that are adapted to the needs of the band, and together we keep the metal alive.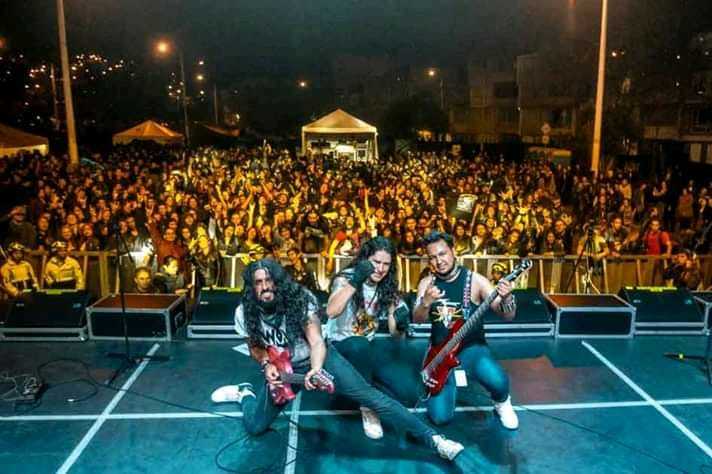 11. Do you know anything about the Hellenic Metal Scene?
It really is very little that we know, I have a couple of bands that come to mind, mainly, Spitfire !! It was the first Greek band that I heard many years ago followed by Northwind, Macedonian Harriers ... I feel that very little information has come to us, it must also be an underground scene.
12. What are your future plans?
For now we are going for the recordings of new material, a live show DVD with the title "Concierto para Delinquir" is in the process of being published, and we await approval or support to offer a tape version that will be called "keeping the Heavy Metal alive! !! "Well, we have several projects, it would be great to be able to go out to some shows outside the country, and a couple of big festivals, among them "Rock al Parquet" that is done here in Bogota but due to the corona virus issue has been postponed for this year.
13. Thank you very much for your time & Keep up the good work!
By Steve the Filthy Dog.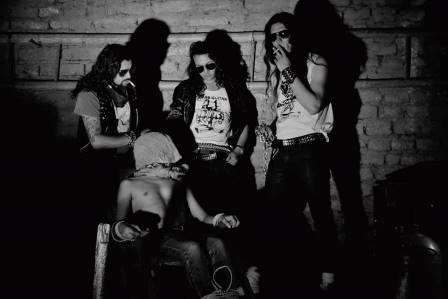 WHITE THUNDER CONTACT:
https://www.facebook.com/whitethundercol/