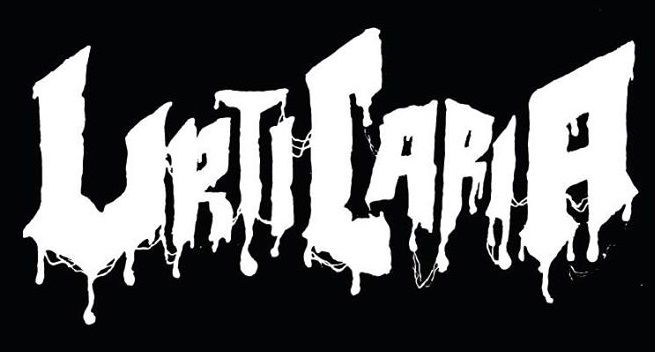 !!!THRASH METAL FROM CHILE!!!
We had a conversation with URTICARIA.Enjoy!
Welcome to the FILTHY DOGS OF METAL Webzine.
1. Tell us a few things about URTICARIA (Members, Starting Year etc).
The project arises from an old friendship between Camilo and Jose, who were schoolmates, and had a band in that time. The idea was to resume the musical complicity that existed since then, always oriented on the thrash metal style.This is how Urticaria is formed in 2018, with Camilo Chavez (Guitars and vocals), Felipe Arenas (Guitars), Alejandra Verdugo (Bass) and José Quezada (Drums) as the definitive formation.Urticaria's music is characterized by being mainly oriented to old school thrash metal, sometimes with fusion of death metal and grindcore, and the lyrics usually talk about the dystopian reality that we are living today due to the decaying political and social panorama as well as technological advances and social media.
2. In 2019 you have released your EP ''Eterna Distopía''. What was the feedback from your audience as well as from the press?
Eterna Distopía is our first release, and although it is much simpler in terms of music and production, we are very fond of it, because they are our first compositions as a band.However, at that time we were not very concerned about distribution issues, so this first release went rather unnoticed. We received good reviews from our close circle, and we also remembered some comments saying that our songs were too short.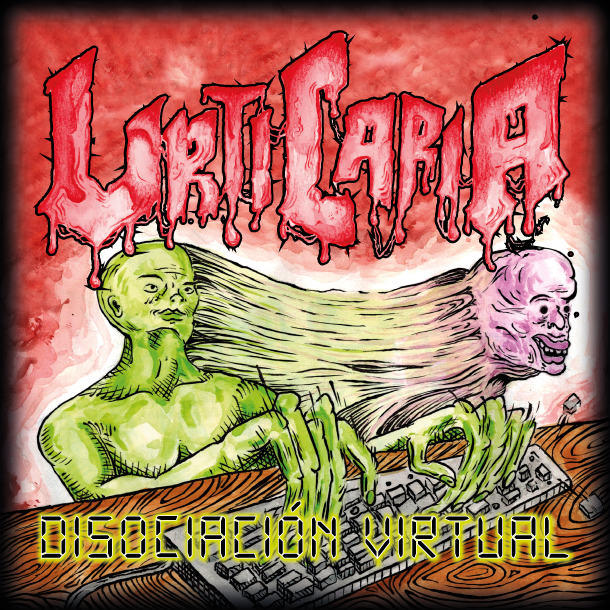 3. Label or DIY and why?
Well, two members of the band are sound engineers, Camilo and José, so in terms of production everything has been self-managed.Camilo had the possibility of getting a few free hours in the recording studios of his university, where we did the drum recordings mainly.All the rest was recorded in José's house. The mixing and mastering was also done by Jose. At this stage we are concerned with achieving a raw and organic sound, in the old-fashioned way, without pretense or overproduction.We work in this way because as a band we do not have the monetary resources to pay for a production in a professional studio, and on the other hand, it serves us as experience as audio professionals to carry out the entire production and post-production process.However, we do not close ourselves to the possibility of recording in a professional studio in the future if we have the resources.In terms of distribution, with our second release "Disociación Virtual", we have received a lot of support from blogs, webzines, YouTube channels and people outside the band, which has helped us a lot to publicize our music.
4. Do you prefer Vinyl, Tape, CD or Digital Format and why is that?
Due to the facilities provided by internet platforms, it has become much more convenient for us to work in digital format, for
the same reasons we discussed in the previous question. With the digital format, we can work 100% independently.However, if we have the resources in the future, we would love to be able to release our music in physical format.
5. Your music style is Thrash Metal. Which are your main influences (Favourite Artists / Bands etc.)
We are strongly influenced by crossover thrash bands like D.R.I , Violator, Toxic Holocaust and Municipal Waste, as well as more evil thrash bands like Sodom, Slayer and Sepultura. We are also very inspired by bands like Cannibal Corpse and Napalm Death, and lately we have been making compositions with certain influences from Death, getting into a slightly more technical style.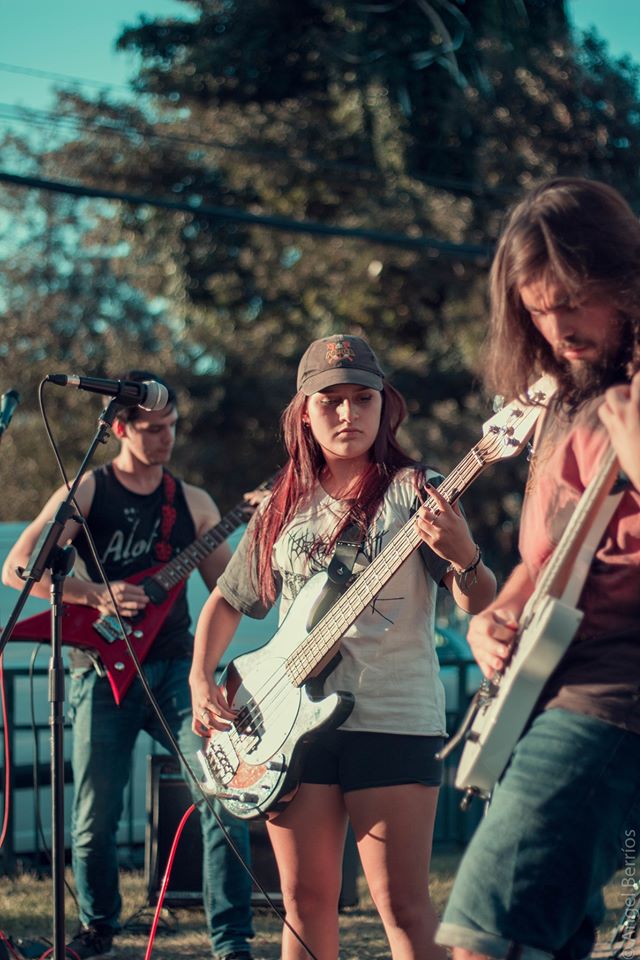 6. Which things, do you think, a Band should sacrifice in order to succeed? Have you ever sacrificed anything in your life for a better future of your Band?
Having a band takes a lot of effort and sacrifice. In our experience, what must always be sacrificed is time (investing time
in rehearsals, organizing gigs, broadcasting, composing, etc.) and money (paying for instruments and maintenance, rehearsal rooms, etc.).It is complex to manage the time between jobs, studies and the band, but finally we believe that any activity that escapes of the interests of the system that governs us, involves a sacrifice for the people.
7. Describe your ideal live show as a performance Band. Have you already experienced that?
It would be great to continue growing as a band, and to be able to access bigger stages to show our music and our message, to play with bands that influenced us, it would be a dream come true for us.Anyway, we have already had experience playing live, and the most memorable occasion was playing in the street, in a demonstration that was part of the social outbreak in Chile, surrounded by many people, fire and barricades. It was brutal.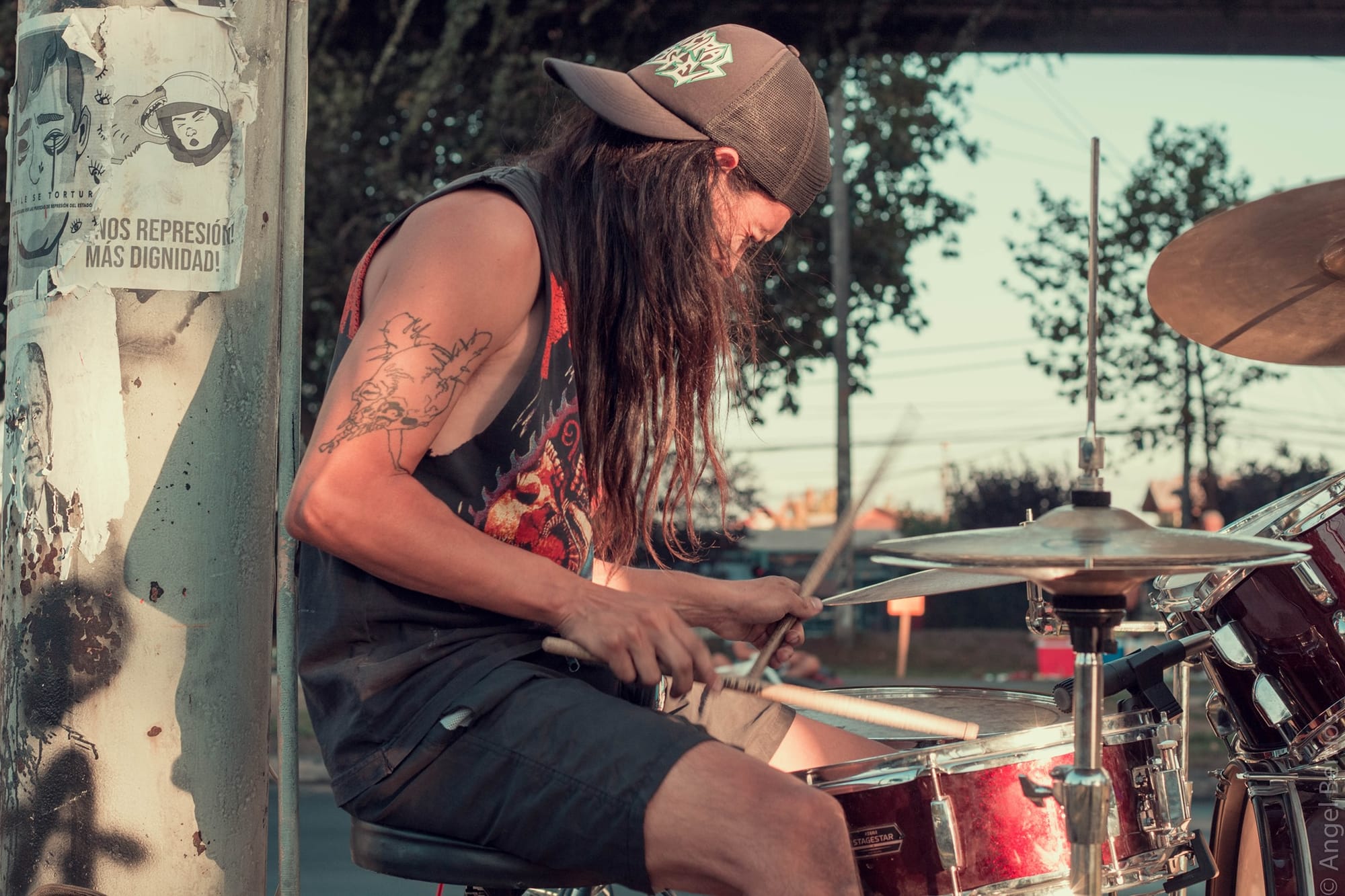 8. Which attributes, do you think, that a new Heavy / Thrash Band should have in order to gain identity and be unique?
We believe that having an identity is closely related to being authentic and sincere both as a band and as a person. In other words, do what you like regardless of what others will say, leaving aside stereotypes that occur in the scene.Also, despite being influenced by many classical bands, it is always important to value creativity, and to see music in a playful way, because you have to have fun doing it and playing it. Before we are a band, we are a group of friends and we really enjoy what we do.
9. Do you believe that Bandcamp and other Digital Platforms help the new Thrash Metal Bands? Which, do you think, is the ideal way for a Band to promote its work?
Compared to how music business worked in the past, which depended only on a label being interested in your music, we consider that today there are many facilities to publish and share material. The same applies to music production itself. Today there are many ways to do the whole process independently. This generates a wide range of bands, as well as ways to make themselves known, which is very good. In conclusion, it all translates to being really dedicated to your project.
10. Tell us a few things about the New Underground Metal Scene in Chile (Bands, Fanzines, Webzines, Metal Clubs etc.)
In Chile there is a wide underground metal scene of excellent level, but as an emerging band, we have not yet had the opportunity to share the stage with renowned bands within the national metal scene.Until now, we have always operated from self-management, organizing ourselves into a limited nucleus of bands and friends.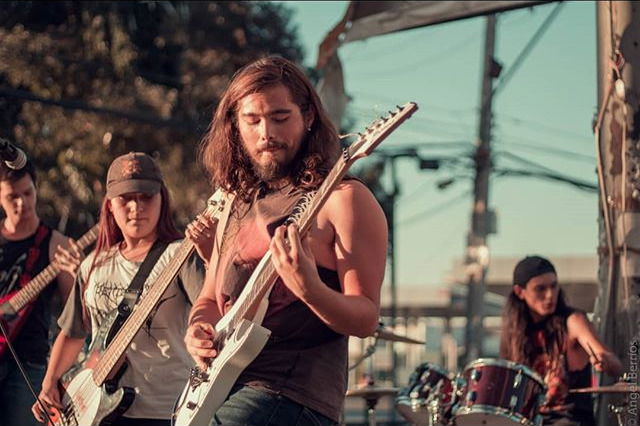 11. Do you know anything about the Hellenic Metal Scene?
To be honest, we are not familiar with the Hellenic metal scene, but it will be our pleasure to meet it and appreciate it.
12. What are your future plans?
At this moment we are in the middle of the composition process of our first full-lengh album, wich should be released next year.We are very happy with the result we are obtaining, because the new material is showing a higher level of maturity, compactness and complexity in the compositions.Regarding the concept, we want to continue exploring the topics discussed in "Disociación Virtual", questioning transcendental problems of the humanity of today, from a deeper and introspective point of view.For the rest, we want to continue doing what we enjoy, keep bringing thrash metal to this corrupted and decaying world.
13. Thank you very much for your time & Keep up the good work! The closure is yours.
Thank you! We are very grateful for your support, for the space you have given us, as well as for the work done by the webzine "Filthy Dogs of Metal".
Keep spreading Metal!!!
By Steve the Filthy Dog.
URTICARIA CONTACT:
https://www.facebook.com/Vrticaria/
https://www.instagram.com/urticvria/
https://open.spotify.com/album/6I6Qy6EXU1hpPi2r4bpvZL?si=x5x4wW9tR76vF__wMR9pNw&fbclid=IwAR3O36J6Ok60VnsIoSiSKSn8dHpcWXkV7CQLLTWOXhjFuta5kq2rasggyuk