!!!THRASH METAL FROM JAPAN!!!
Welcome to the FILTHY DOGS OF METAL Webzine.
Tell us a few things about TERROR BLIND (Members, Starting Year etc).
Terror Blind is a one-man thrash metal band by Terror Blind. I do vocals, guitar, bass, drum programming, mixing, mastering, and even logo design.Starting in 2018, we released our 1st EP "Chalice Of Hidden Hands" in 2019 and our 1st album "The Gate Of Grieving Souls" in 2020.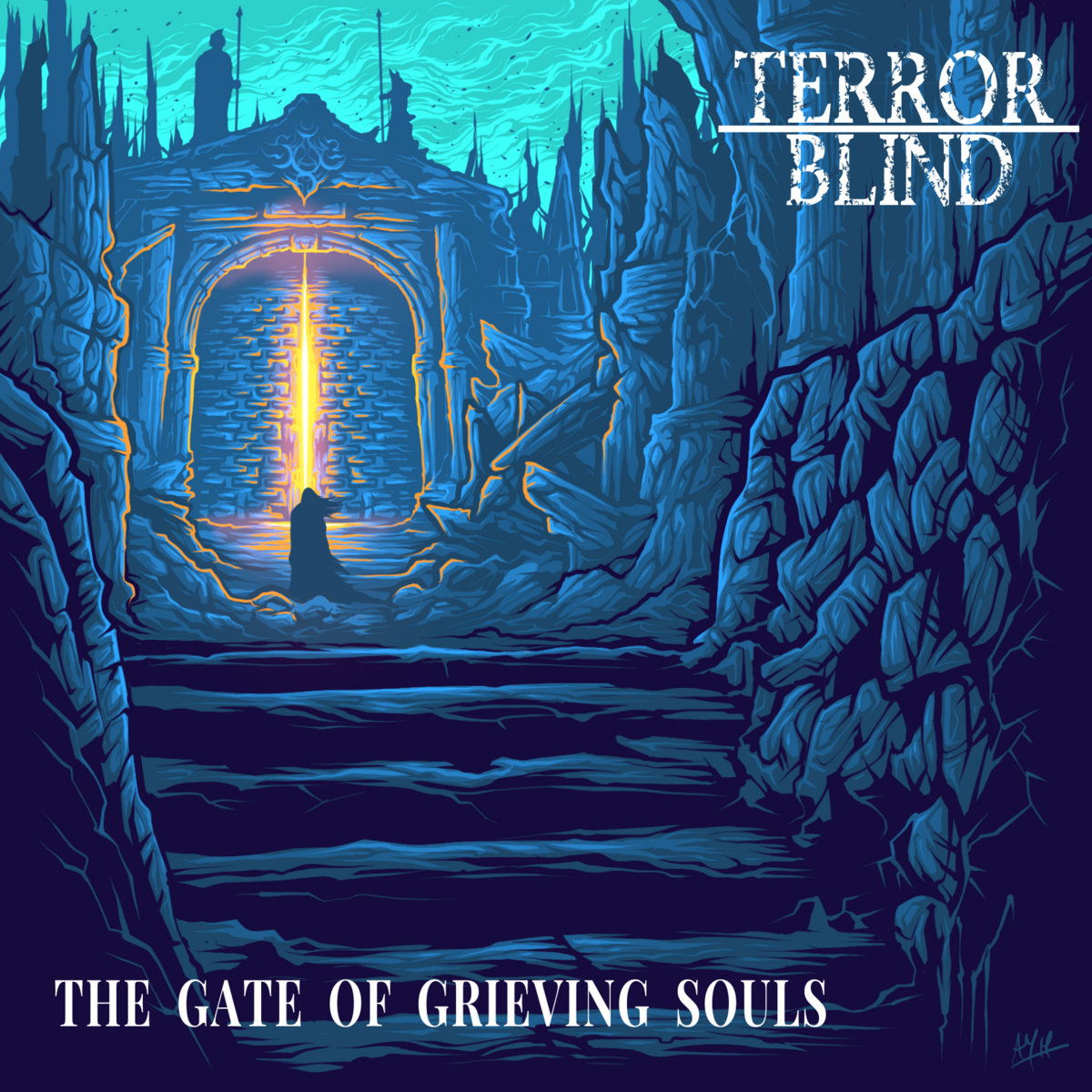 You have recently released your album ''The Gate of Grieving Souls''. What is the feedback from your audience as well as from the press?
There is a very good reaction! It is often referred to as an exhilarating album filled with 30 minutes of aggressive riffs.Vocals in particular are often praised. But I'm a guitarist. You are the first media to pick up.
Label or DIY and why?
It's DIY. The reason is that there is no voice from the label.

Do you prefer Vinyl, Tape, CD or Digital Format and why is that?
I like CDs. I sometimes buy it digitally, but when I pick up the CD, I'm really impressed, so I buy it as much as possible."The Gate Of Grieveing Souls" is a digital release due to cost issues. I have no plans, but I hope I can release it on CD someday.

Your music style is Thrash Metal. Which are your main influences (Favourite Artists / Bands etc.)
The influence of ultra-fast thrash metals such as Razor, early Kreator, Assassin, and Viking is huge. There is also the violent effect of South American thrash metal such as Violator, Deathraiser and Surra.
I think I'm also influenced by the sophisticated sounds of young thrash metal bands, Municipal waste and Crimson Slaughter.I really love the Greek thrash metal band Violent Definition! Also, the melody of Death / Thrash bands such as At the gates and The Haunted has a big influence.

Which things, do you think, a Band should sacrifice in order to succeed?
Have you ever sacrificed anything in your life for a better future of your Band?
I'm doing it alone, so I think I'm having a good time without time constraints or relationships. If success means spreading the name or making money, I'm not aiming for it. I just want to make good music.
I spend a lot of time and money on the Terror Blind, but I don't think it comes at the expense of anything else.

Describe your ideal live show as a performance Band. Have you already experienced that?
I'm a one-man band, so I've never played live and I have no plans to play.

Which attributes, do you think, that a new Thrash Metal Band should have in order to gain identity and be unique?
That's an interesting question. Thrash Metal has already done everything it can, and I think it's at the stage of how high quality it can reproduce what its predecessor did. An ordinary person like me can't imagine what new thrash metal will be in the future. Hope there is another super genius like Vektor.

Do you believe that Bandcamp and other Digital Platforms help the new Thrash Metal Bands? Which, do you think, is the ideal way for a Band to promote its work?
I often check out new thrash metal albums, but I think most bands use Bandcamp. Carefully check for "thrash metal" tags that may help the band play new songs.There are as many bands as there are stars, and it's really hard to show off a band's album. I am also keenly aware. I use SNS to appeal, but in the end I think it's a connection with people.

Tell us a few things about the New Underground Heavy Metal Scene in Japan (Bands, Fanzines, Webzines, Metal Clubs etc.)
I only know the thrash metal scene, but it's very exciting.United and No More Pain, who have been active since the dawn of thrash metal, are energetically performing live and producing wonderful albums. Fastkill and Terror Squad continue to reign with their unique musicality. The young band is also great. PUNBAA, Melt 4, 泥虎(DEADRA), etc. Especially 泥虎(DEADRA) is wonderful. Check it out as it will grow in the future.

Do you know anything about the Hellenic Metal Scene?
I love Violent Definition and I also have a T-shirt. I also like Mentally Defiled, Crucifier and Released Anger.
What are your future plans?
I hope I can make music little by little and release an album in the not too distant future.

Thank you very much for your time & Keep up the good work! The closure is yours.
Thank you for the interview! I was happy because there were many favorite bands in Greece! Be sure to check out "The Gate Of Grieving Souls".
By Steve the Filthy Dog.
TERROR BLIND CONTACT: