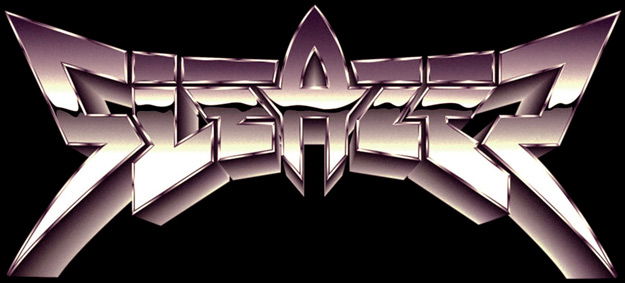 !!!ITALIAN HEAVY/SPEED METAL!!!
Welcome to the FILTHY DOGS OF METAL Webzine.
Tell us a few things about SLEAZER (Members, Starting Year etc).
CLEMENTE: HI THERE! WE ARE SLEAZER, A HEAVY/SPEED METAL BAND FROM ITALY. THE BAND WAS BUILT BACK IN 2011 BY CLEMENTE CATTALANI (WHO IT'S ME; GUITARS & BACKING VOCALS), ANDREA VECCHIOTTI (LEAD VOCALS & BASS), ANDREA DI TOMMASO (GUITARS) AND MICHELE MANCINI (DRUMS). THERE HAVE BEEN MANY LINE UP CHANGES IN OUR HISTORY, SUCH AS DIEGO SBRISCIA ON BASS GUITAR AND AMEDEO PAOLINI ON DRUMS. AFTER THE "MARK 2" HAD SET, WE RECORDED AN EP IN 2014: "HEROES OF DISGRACE". YEARS AFTER THE EP, SLEAZER WENT THROUGH THE MARK 3, WHICH INCLUDED EDOARDO "TEZIO" ARTIBANI ON GUITAR AFTER DI TOMMASO LEFT THE BAND. WITH THE MARK 3 SLEAZER THEN RECORDED ITS FIRST FULL LENGTH, "FALL INTO DISGRACE" WHICH WAS RELEASED VIA "INFERNO RECORDS".
ACTUALLY WE'RE WORKING ON NEW SONGS FOR OUR NEXT ALBUM, AND WE ALSO HOPE TO BE BACK ON STAGE AS SOON AS POSSIBLE! NOWADAYS WE ARE (MARK 6): CLEMENTE CATTALANI (GUITARS & BACKING VOCALS); DIEGO SBRISCIA (BASS); GIAMPAOLO CONTI (DRUMS); GABRIELE BIANCHELLI (LEAD VOCALS) & CRISTIANO CELLINI (GUITARS).
In 2017 you have released your album''Fall into Disgrace''. Have you prepared anything new since then?
CLEMENTE: RIGHT NOW WE'RE ABOUT TO CONCLUDE THE LAST THREE SONGS' WRITING AND WE WILL PROBABLY BE READY TO RECORD IN JUNE (HOPING FOR A BETTER SITUATION)!!
GABRIELE: SURE! RIGHT NOW WE'RE ON THE MAKING OF A NEW LP WHICH TAKES LIFE FROM PREVIOUS IDEAS, DEVELOPPED CONCERNING THE NEW LINE-UP THOUGH. WE ARE REALLY EXCITED AND CURIOUS ON HOW IT WILL BE SHAPED, CAUSE MANY NEW INFLUENCES CAME IN BY THE NEW MEMBERS.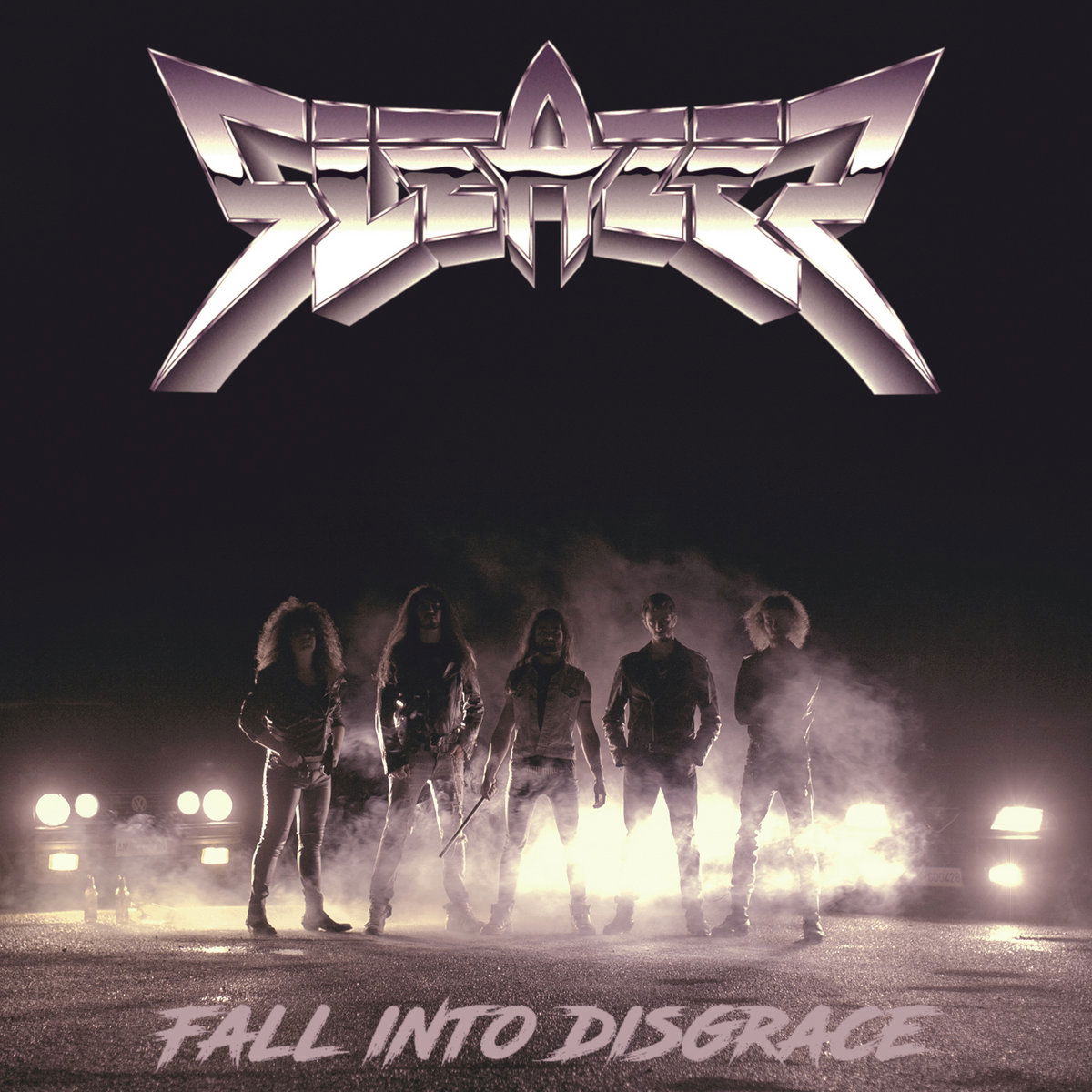 How did your cooperation with Inferno Records occur? What do you prefer, Label or DIY and why?
CLEMENTE: INFERNO RECORDS WAS A GREAT LABEL, WE KEPT IN TOUCH WITH IT AFTER WE SPREAD OUR MATERIAL AT THE TIME (THE, THEN BRAND NEW, LP AND A MUSIC VIDEO). OUR COLLABORATION WITH THIS LABEL WAS LOVELY AT ALL, AND WE HAD A WONDERFUL EXPERIENCE WITH ITS OWNER, FABIEN AND ALL WHO COLLABORATED WITH HIM. IN FACT FABIEN REALLY RELYED ON US AND HELPED US TO MAKE A MINI TOUR IN FRANCE, GRANTING US GOOD NEW CONTACTS AND THE BEST EXPERIENCE OF SLEAZER'S LIFE. HE'S ONE OF A KIND.
GABRIELE: FOR WHAT WE PREFER BETWEEN DIY AND LABELS I THINK THAT IT IS A VERY CONTROVERSIAL QUESTION THAT WOULD REQUIRE A VERY LONG ANSWER, ESPECIALLY FOR HOW THE SITUATION IS EVOLVING IN TERMS OF MUSICAL MARKET AND DISTRIBUTION, BY THE WAY I'LL DO IT QUITE SIMPLE ON SAYING THAT WHAT WE WOULD CHOOSE IS MAINLY A MATTER OF BUDGET: IF YOU HAVE A HIGH AMOUNT OF RESOURCES AVAILABLE MAYBE (IN THIS PARTICULAR PERIOD) DIY WOULD BE A BETTER CHOICE FOR YOU CAN SPLIT THE WORK THAT AN ALBUM REQUIRES TO SEVERAL PROFESSIONAL PLATFORMS, EACH EMPLOYING ON A SINGLE TASK (I'M TALKING ABOUT RECORDING, PRINTING, DISTRIBUTION, WEB MANAGEMENT AND SO ON). BY THE WAY, IF YOU RELY ON A SOLID LABEL IT STILL CAN BE THE BEST OPTIONS, FOR US AT LEAST.

Do you prefer Vinyl, Tape, CD or Digital Format and why is that?
GABRIELE: IF WE WOULD GIVE A ROMANTIC OPINION (AND I THINK I COULD SPEAK FOR ALL FIVE ON THIS) I THINK WE'D SAY VINYL (LAUGHS). BY THE WAY I THINK THE BEST WAY TO ACTUALLY DISTRIBUTE A MUSICAL PRODUCT COULD BE A DOUBLE DIRECTION BETWEEN CD AND DIGITAL FORMATS: CD'S FOR THEIR RELATION BETWEEN HIGH AUDIO QUALITY AND PRACTICITY, BUT ALSO FOR THEY STILL CONCERN A HIGH AMOUNT OF PASSIONATE; DIGITAL FORMAT BECAUSE NOWADAYS MULTIMEDIA PLATFORMS ARE A HUGE WEB OF DISTRIBUTION FOR THEIR EASY DRAWING INTO, AND THIS INVOLVES A LARGER PART OF PEOPLE, BEACAUSE STREAMING PLATFORMS SPEAK TO LESS PASSIONATE PEOPLE TOO. IN A TIMELINE LIKE THIS, IN WHICH LIVE PERMORMANCES AND PERSONAL INTERACTIONS ARE IN A REAL CRYSIS, I THINK IT WOULD BE WISE INVEST IN DIGITAL DISTRIBUTION TOO.

Your music style is Heavy Metal. Which are your main influences (Favourite Artists / Bands etc.)
GABRIELE: YES, WE MAKE HEAVY METAL IN ITS PROPER MEANING, BUT IF WE'D GO DEEPER WE WOULD SAY THAT OUR MUSIC IS MORE USA STYLE INFLUENCED, AT LEAST RELATING ON THE MATERIAL WRITTEN BY NOW. HAVING DIFFERENT MUSIC TASTES BETWEEN US ALL, I THINK THE BAND IS MOST INFLUENCED BY THE EVERGREENS: MAIDEN, PRIEST, 80'S KISS, RIOT BUT ALSO SAVATAGE, CAULDRON, ENFORCER, AND MANY OTHERS ON THIS PHILOSOPHY.
CLEMENTE: OUR HEAVY/SPEED METAL TAKES INSPIRATION BY MANY HM BANDS FROM THE '80s AND '90s SUCH AS SAVATAGE, HELLOWEEN, IRON MAIDEN, JUDAS PRIEST, VICIOUS RUMORS, RAGE, SKID ROW, DOKKEN, EARLY BLIND GUARDIAN, EARLY ICED EARTH BUT ALSO NEWER ONES LIKE ENFORCER, CAULDRON, SKULL FIST, STRIKER AND SO ON.
Which things, do you think, a Band should sacrifice in order to succeed? Have you ever sacrificed anything in your life for a better future of your Band?
GABRIELE: PERSONALLY I DON'T THINK I'M IN ERROR IF I SAY THAT FEEDING THE PASSION OF PLAYING IN A BAND AND THE BAND ITSELF ARE SOMETHING THAT ABSORBS QUITE THE ENTIRE AMOUNT OF YOUR PERSONAL TIME, IF YOU HAVE ENOUGH TO "SATISFY THE BEAST", AND THIS CONCERNS THAT EVEN MOST PART OF YOUR PERSONAL TIME BECOMES A KIND OF DUTY AT ALL. BY THIS I'D SAY THAT IT'S UP TO YOU MAKING YOUR OWN "BALANCE", CONSIDERING IF IT'S WORTH IT OR NOT. CERTAINLY WHAT YOU HAVE TO SACRIFICE IN ORDER TO PURSUE IT, DEPENDS ON MANY FACTORS. TO US, FOR EXAMPLE, AIN'T THAT EASY FOR WE ALL LIVE IN DISTANT PLACES, AND EVEN MAKING REHEARSALS BECOMES VERY DIFFICULT.
CLEMENTE: I WOULD REMARK: IT MUST BE REMEMBERED THAT SOME LIFE ISSUES ARE NOT COMPATIBLE WITH COMMITMENTS THAT A BAND REQUIRES (THIS IF YOU WANT TO BET ON IT CONSIDERING THE IDEA AS A TRUE PASSION, AND NOT PROPERLY JUST A HOBBY). YOU HAVE TO BE VERY CONSTANT ON IT AND ME AND THE BOYS REALLY DO OUR BEST FOR SLEAZER BEYOND THE ISSUES THAT ORDINARY LIFE PRESENTS US; LAZYNESS AND NOT SACRIFICING ANYTHING SURELY DON'T PAY IN ORDER OF A GREATER VISION!
Describe your ideal live show as a performance Band. Have you already experienced that?
GABRIELE: OUR IDEA OF "THE PERFECT LIVE SHOW" IS QUITE SIMPLE: PERSONALLY I THINK THAT WHEN YOU PLAY YOUR MATERIAL AS WELL AS SATISFYING YOUR PERSONAL EXPECTATIONS (THAT ARE ALWAYS THE MOST SEVERES) AND ALSO WHEN YOUR MUSIC, YOUR SHOW INVOLVES PEOPLE BELOW THE STAGE, YOU JUST DID YOUR SCORE. LAST BUT NOT LEAST, IT'S ABSOLUTELY IMPORTANT TO HAVE FUN, IF THAT MISSES, NOTHING ELSE COUNTS. IF WE HAVE EXPERIENCED A LIVE INCLUDING ALL OF THESE CONDITIONS? FOR SURE! OBVIOUSLY IT DOESN'T ALWAYS HAPPEN TO DO THE IDEAL SHOW, BUT IF WE HAD TO PICK A COUPLE AMONG THEM ALL, I THINK I CAN SPEAK FOR ALL IF I'D SAY THE FIRST TWO GIGS WE HAD IN FRANCE: BORDEAUX AND POITIERS; 'CAUSE BEYOND HAVING FOUND THE PERFECT ALCHEMY OF THE THINGS I TALKED ABOUT BEFORE, WE WERE TAKEN BY MAGICAL NEW SENSATIONS ON FACING A WHOLE NEW PUBLIC AND COUNTRY, WHERE NONE KNEW US. THIS GAVE US KIND OF SUPER POWERS AND WE PLAYED THE GIGS OF OUR LIFE. PUBLIC WAS TRULY INVOLVED INTO US, AND THEIR HAVING FUN WAS "TOUCHABLE".
Which attributes, do you think, that a new Heavy Metal Band should have in order to gain identity and be unique?
GABRIELE: CERTAINLY IT'S NOT SIMPLE AT ALL TO EARN AND CRAFT A PROPER IDENTITY PLAYING A KIND OF MUSIC THAT'S MORE THAN 40 YEARS OLD. BEYOND THAT IT BASICALLY REQUIRES A HUGE WORK IN TWO DIRECTIONS: THE FIRST ONE IS LISTENING, NEVER TO GET TIRED ON LISTENING THE MUSIC YOU LIKE AND YOU'RE INVOLVED INTO (AND THIS IS RIGHT FOR ANYONE WHO WANTS TO COMPOSE, I THINK), FOR HAVING A SOLID KNOWLEDGE OF WHAT HEAVY METAL SCENE HISTORICALLY OFFERS GRANTS YOU NOT TO FALL INTO HARD-COPYING ANYONE AND (HOWEVER THIS IS MY PERSONAL IDEA). IT IS ALSO IMPORTANT NOT TO FOSSILIZE YOURSELF ON A SINGLE MUSIC KIND (AND THIS IS AN ISSUE WHICH HITS MANY PEOPLE), FOR IT MAY TURN YOU AND YOUR COMPOSITION INTO A NARROW-MINDED AND REPETITIVE ONE. IT'S LIKE IT SATURATES THE CONTENT YOU CAN OFFER TO THOSE WHO LISTEN TO IT. ALSO MUSIC CONTAMINATION, PROPERLY USED IN RELATION WITH THE CONTEXT OF THE MATERIAL YOU CREATE, CAN GIVE YOU PLENTY OF INTERESTING SOLUTIONS IN ORDER TO MAKE YOUR CONTENT MORE ORIGINAL AND TASTY!
Do you believe that Bandcamp and other Digital Platforms help the new Heavy Metal Bands? Which, do you think, is the ideal way for a Band to promote its work?
GABRIELE: WE'RE LIVING IN A NEW ERA WHERE MEDIA PLATFORMS ARE HIGHLY INCREASING AND THIS SHITTY PANDEMIC TIMELINE AIN'T HELPING THE PHYSICAL FORMATS SELLING, SUCH AS VINYLS AND CDS. THOUGH THIS IS THE DIGITAL PLATFORMS ERA, AND IT WOULDN'T BE PROFITABLE FOR A BAND (ESPECIALLY FOR THOSE WHO PLAY LESS "LARGE SCALE" KINDS OF MUSIC FOR THE MARKET) NOT TO INVEST ON THESE DIRECTIONS, FOR THEY OFFER MUSIC EXTREMELY EASY TO ACHIEVE FOR ALL (AND THIS BRINGS ADVANTAGES AND DISADVANTAGES, DEPENDING ON THE PERSPECTIVES) AND AT THE SAME TIME A FUNCTIONAL VEHICLE TO SPONSOR AND SPREAD YOUR RECORDS TO A HUGE AMOUNT OF LISTENERS. THEREFORE I THINK IT'S USEFUL TO INVEST MONEY ON PRINTING EITHER PHYSICAL COPIES AND SPONSORING ON DIGITAL PLATFORMS, IN ORDER TO PUSH AND SPREAD YOUR PRODUCT AS TO THE LIMIT AS POSSIBLE, AND I THINK THAT MAYBE SPOTIFY IS STILL THE BEST LAUNCH RAMP (AMONG DIGITAL PLATFORMS) OF THEM ALL. THIS IS NOT INTENDED TO EXCLUDE THE OTHER ONES, SUCH AS BANDCAMP, DEEZER ECC. IT WOULD BE OK ON COVERING ALL OF THEM.
CLEMENTE: FOR SURE! IN FACT BANDCAMP HELPED US A LOT IN ORDER TO SELL OUR LP'S, GADGETS AND MERCHANDISE AND ALSO TO PROMOTE OURSELVES TOO. INTERNET IS A VERY GOOD VEHICLE TO PROMOTE AND SPREAD YOUR WORK BUT, IN MY OPINION, MUSIC FESTIVALS AND LIVE PERFORMANCES ARE STILL THE BEST WAYS TO EXPRESS YOURSELF.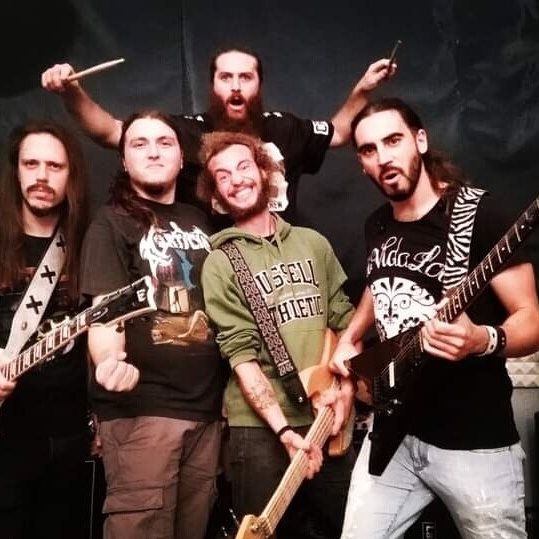 Tell us a few things about the New Underground Metal Scene in Italy (Bands, Fanzines, Webzines, Metal Clubs etc.)
CLEMENTE: WELL... THE SITUATION HERE AIN'T GOOD AT ALL. IF WE COMPARE THE ACTUAL POOL OF YOUNG METALHEADS WITH THAT 15 YEARS AGO WAS, THE BALANCE IS NOT POSITIVE, BESIDES, DUE TO COVID-19, LIVE SESSIONS MATTER IS EVEN WORSE: METAL CLUBS ARE ACTUALLY IN BIG TROUBLES AND THOSE WHO RESISTED AT CLOSING (IN FACT MANY OF THEM CLOSED IN THE LAST 3-4 YEARS) ARE NOW AT THE END OF THE ROAD FOR OBVIOUS REASONS.
GABRIELE: I REMEMBER WELL, SINCE ABOUT 2014 'TIL A COUPLE OR THREE YEARS AGO, THAT UNDERGROUND SCENE IN ITALY WAS INCREDIBLY ALIVE AND PROLIFIC, FROM THE BANDS TOWARDS THE PUBLIC, EVER PRESENT AND HIGHLY INVOLVED. YOU COULD MEET PEOPLE FROM OUTER REGIONS AND CREATE NEW CONNECTIONS WITH OTHER BANDS AND REALITIES KINDA WEEKLY. IT WAS MORE THAN FANTASTIC AND I REALLY MISS THOSE TIMES.

Do you know anything about the Hellenic Metal Scene?
CLEMENTE: I PERSONALLY DON'T KNOW ANY BAND FROM GREECE (SO SORRY FOR THAT), BY THE WAY I KNOW SOME GREEK MUSICIANS WHO HAD A CERTAIN IMPACT ON MY LIFE, SUCH AS ONE OF THE GUITARISTS AND THE PAST DRUMMER WHO PLAYED IN "RAGE" AND I ALSO KNOW THE SUICIDAL ANGELS' GUITARIST, GUS DRAX. A VERY SKILLED ONE!!!
GABRIELE: EITHER I DON'T KNOW MUCH ABOUT THE GREEK METAL SCENE, I REMEMBER AN UNDERGROUND BAND FROM GREECE THOUGH, "RAW IN SECT" AND IN PARTICULAR ITS LEAD SINGER/GUITARIST, KOSTAS DIAMANTIS FOR WE (ME WITH MY BAND AT THE TIME, "ELIMINATE") PLAYED TOGETHER ONCE IN ITALY... A VERY INTERESTING BAND, KINDA PROG INFLUENCED. ALL I KNOW BY NOW IS THAT THEY NO MORE EXIST BUT KOSTAS STARTED A NEW SOLO PROJECT: "DIAMANTIS". BY THE WAY IT WOULD BE NICE TO HAVE THE OCCASION TO KNOW MORE AND BETTER ABOUT THE GREEK MATES! MAYBE PLAYING IN THE MAJESTIC HELLENIC LAND ONCE! (SMILES)

What are your future plans?
CLEMENTE & GABRIELE: RIGHT NOW WE'RE JUST FOCUSED IN A SINGLE TASK: RECORDING OUR NEW FULL LENGTH IN ORDER TO HIT THE ROADS AGAIN!! OBVIOUSLY LIFE'S ORDINARY ISSUES AND THIS NOT SO FAVORABLE SITUATION WON'T MAKE IT EASY AT ALL, BUT LET US TELL YOU SOMETHING, WE'RE NOT ABOUT TO GIVE UP BITCHES!!! ;)

Thank you very much for your time & Keep up the good work! The closure is yours.
CLEMENTE, GABRIELE, DIEGO, CRISTIANO & GIAMPAOLO: WE HAVE BEEN VERY GLAD TO TALK TO YOU, AND WE'D LOVE TO THANK ALL OF YOU, FILTHY DOGS OF METAL'S STAFF! WE REALLY HOPE TO MEET YOU PERSONALLY ONCE AND TO KNOW MORE ABOUT WHAT GREECE HAS TO OFFER!!!SIMPLY OUR BEST REGARDS, SLEAZER.

By Steve the Filthy Dog.
SLEAZER CONTACT:
https://sleazeritahm.bandcamp.com/
https://www.facebook.com/TheSleazer