 !!!THRASH/SPEED METAL FROM BELGIUM!!!
Welcome to the FILTHY DOGS OF METAL Webzine.
Tell us a few things about SENTTURA (Members, Starting Year etc).
Senttura was founded in 2020 by lead guitarist Sébastien Grätz and bassist Morgane Greeven, the band relocated to Liège in September and we started looking for a singer and drummer. Ludovic Hubert joined us in the end of 2020 as singer and rhythm guitarist. We continued working and writing songs as a three piece. Then in 2021 we found Kévin Lambert who completed the line up as our drummer. We did the first official concert with the band in August 2022 and have been playing concerts in Belgium ever since. In August 2022 we started recording the EP "Metal Through And Through" with the tree songs "Kill At Will", which was the first song we wrote as Senttura, "Amerithrax" and the fan favorite "Rapid Fire". We've got some problems producing our EP and were finally able to release it on 29th April 2023. Beginning of this year Seb decided that he was going to leave the band soon and our release show on 29th April marked the arriving of our new lead guitarist Sean Toussaint.
You have recently released your EP ''Metal Through and Through''. What is the feedback from your audience as well as from the press?
The EP was released on 29th of April and we've got many positive reactions from the audience and the press since then. We were lucky to have Psycho who did really a great work at mixing our EP, and finally being able to release it.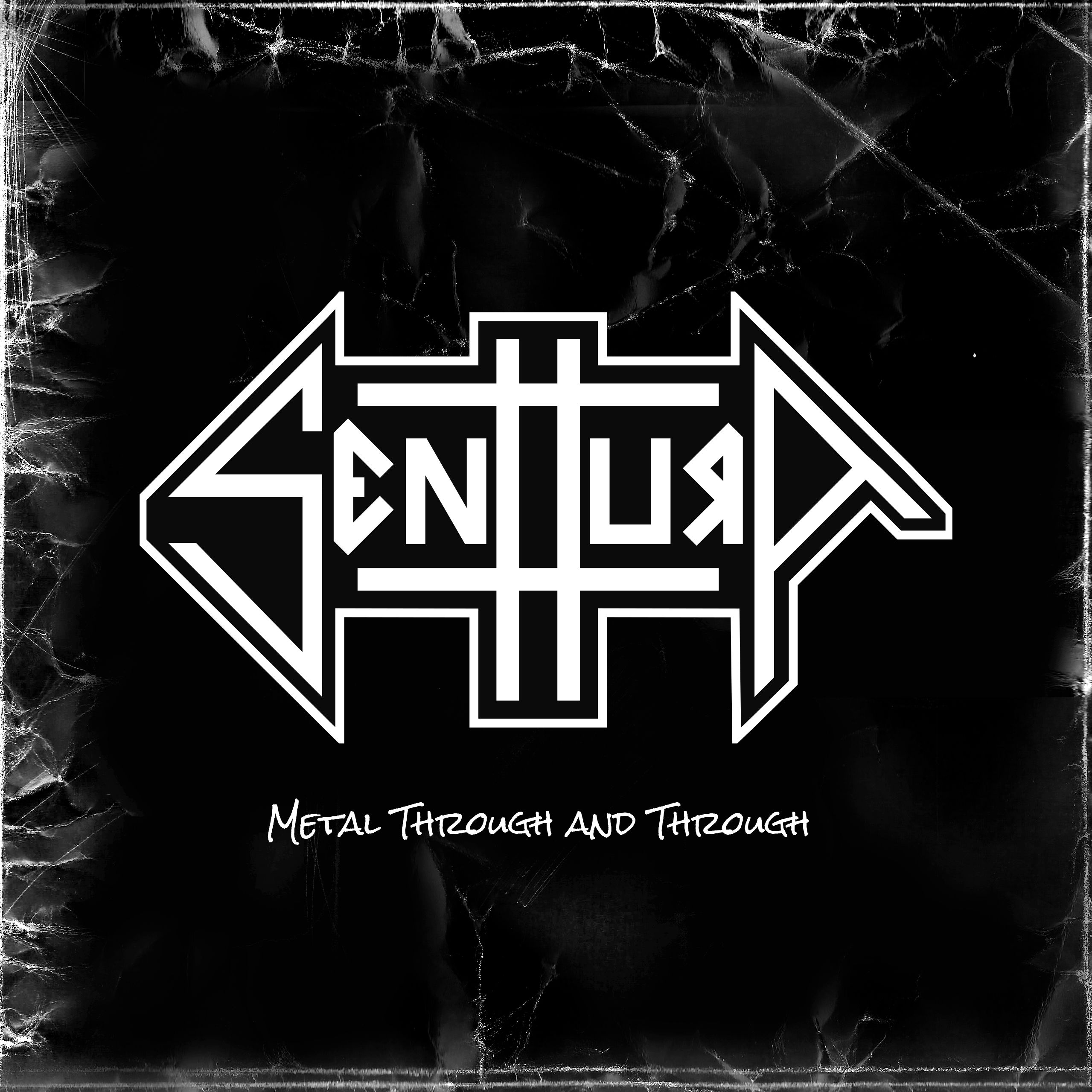 Label or DIY and why?
Until now we are a DIY band, but maybe in the future we will be signed on a label. For "Metal Through and Through" we did everything our self, from promoting the EP and the design to getting it mixed by our friend Psycho who did a great job and getting it recorded at Le Garage Creative Music. As the band's lineup was only completed in winter 2021, we were finally able to start gigs in August 2022 and "Metal Through and Through" was released as our first EP two weeks ago the labels didn't have much time to approach us yet.
Do you prefer Vinyl, Tape, CD or Digital Format and why is that?
There are different reasons why we like different supports for music. Vinyl for the quality of the sound and because it is a great object with a bigger interest for collectors and a bigger space for admiring the artwork in all its beauty. Digital for listing on the road, having it always with you and other practical reasons.
Your music style is Thrash/Speed Metal. Which are your main influences (Favourite Artists / Bands etc.)
We have influences from different metal genres, bands like Motörhead, Diamond Head, Budgie, but also Thrash Metal Bands like Megadeth, Death Angel, Metallica and even some Punk influences.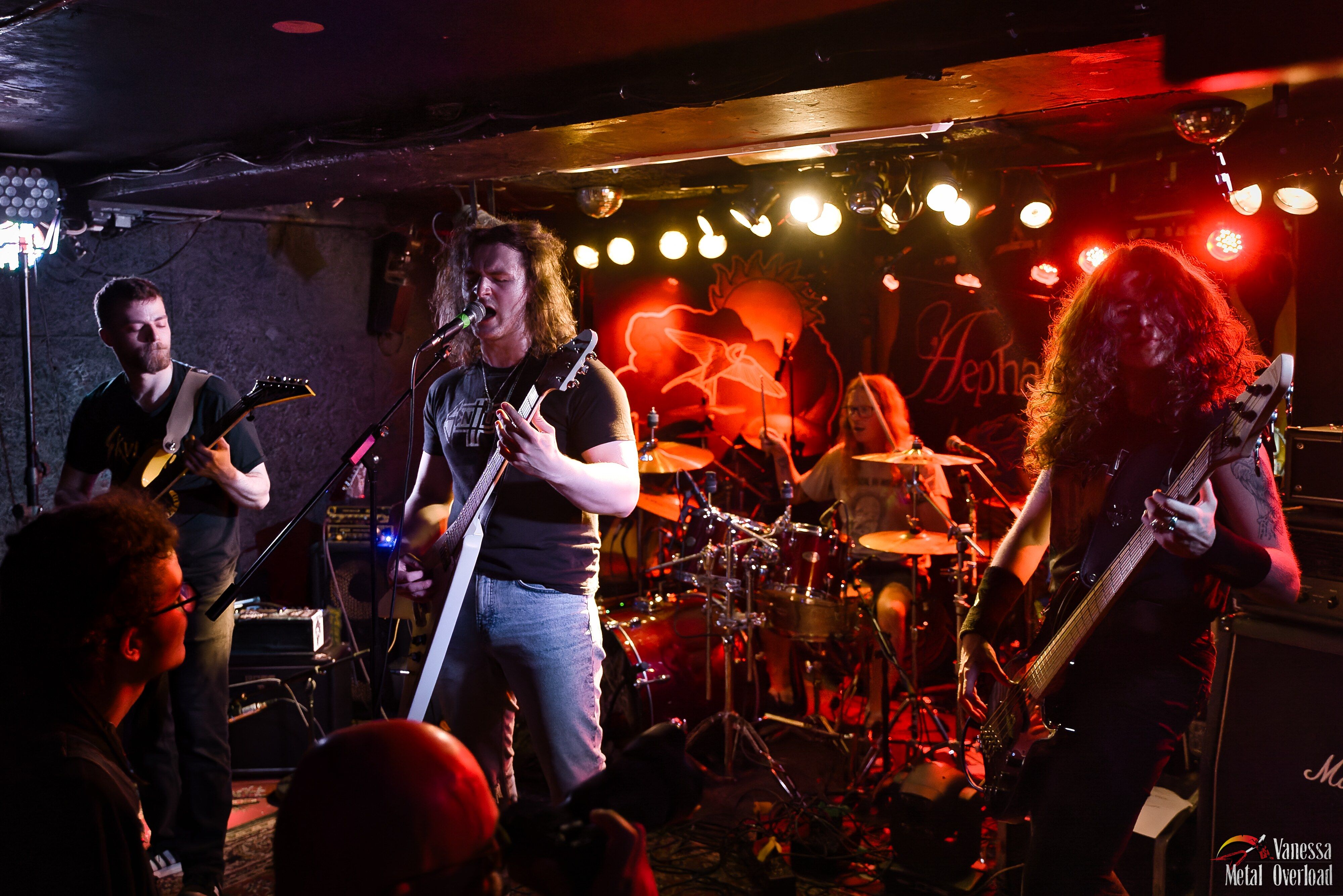 Which things do you think a band should sacrifice in order to succeed? Have you ever sacrificed anything in your life for a better future for your band?
For us a band should sacrifice time, energy and make compromises in order to succeed. But are those really sacrifices? We see it more like an investment into the band.
Describe your ideal live show as a performance band. Have you already experienced that?
For us an ideal live show comes pretty much close to the show we did at La Zone for our release party on 29th April. The audience is great and likes us, the venue is super nice, we're playing with great bands and the feedbacks are positive. Even though we had some technical problems they were resolved rather quickly.
What attributes do you think that a new Thrash/Speed Metal Band should have in order to gain identity and be unique?
For us the riffs are important, they should also have songs with a certain hook. Stage presence and coherence is something that is always a factor too, and the band should be approachable.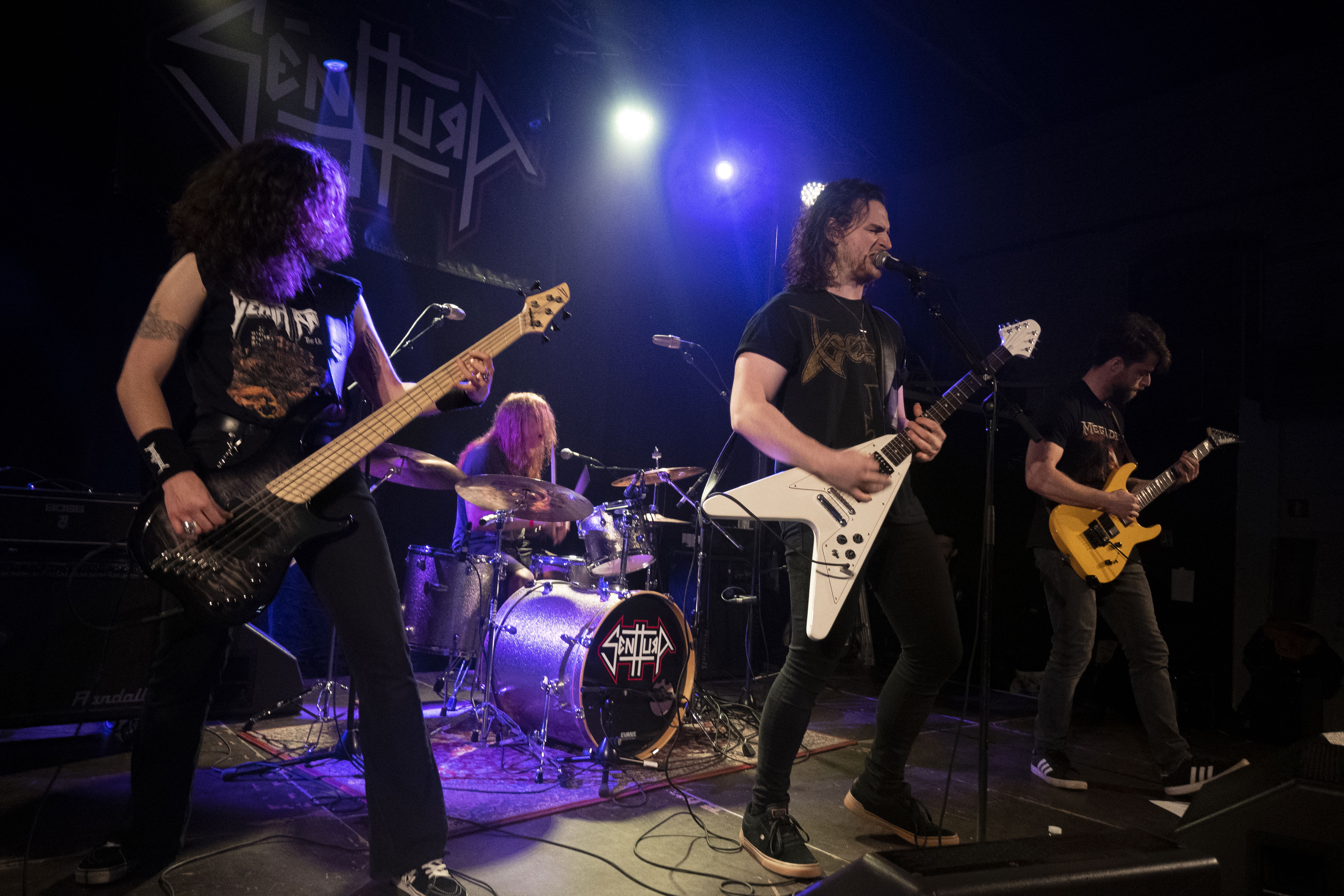 Do you believe that Digital Platforms help the new Thrash/Speed Metal Bands? Which, do you think, is the ideal way for a band to promote its work?
The problem with digital platforms is that there are so many things that it's not always easy to be seen. There are so many bands and songs to discover that you don't even know where to start and especially for smaller bands it can be hard to be seen. Still, they are very important, and you should be on those platforms. We think that bands should promote themself as well on digital platforms as also with physical things. With Senttura we have stickers that the audience can take, and they are putting them everywhere and promoting us. It's a great way to communicate and we have a gallery on our Instagram to show all the pictures the fans send us with the stickers.
Tell us a few things about the New Underground Metal Scene in Belgium (Bands, Fanzines, Webzines, Metal Clubs etc.)
We have a great metal scene in Belgium but there is not always enough diversity in the genres, for example we haven't played yet with another thrash band. There are some metal fanzines and some cool webzines, like Metal Overload, for which our bassist Mo works as photographer, Shoot Me Again and others. We also have some great metal clubs, like la Zone in our city Liège, some underground clubs, and cool venues. There are also many record stores, like "Elektrocution Record Shop" in Brussels which is a really great place for every metalhead.
Do you know anything about the Hellenic Metal Scene?
Not enough, we know some bands and musicians like Nightrage, Gus G, Rotting Christ etc. but we would love to discover more, to come one day to Greece and explore it all.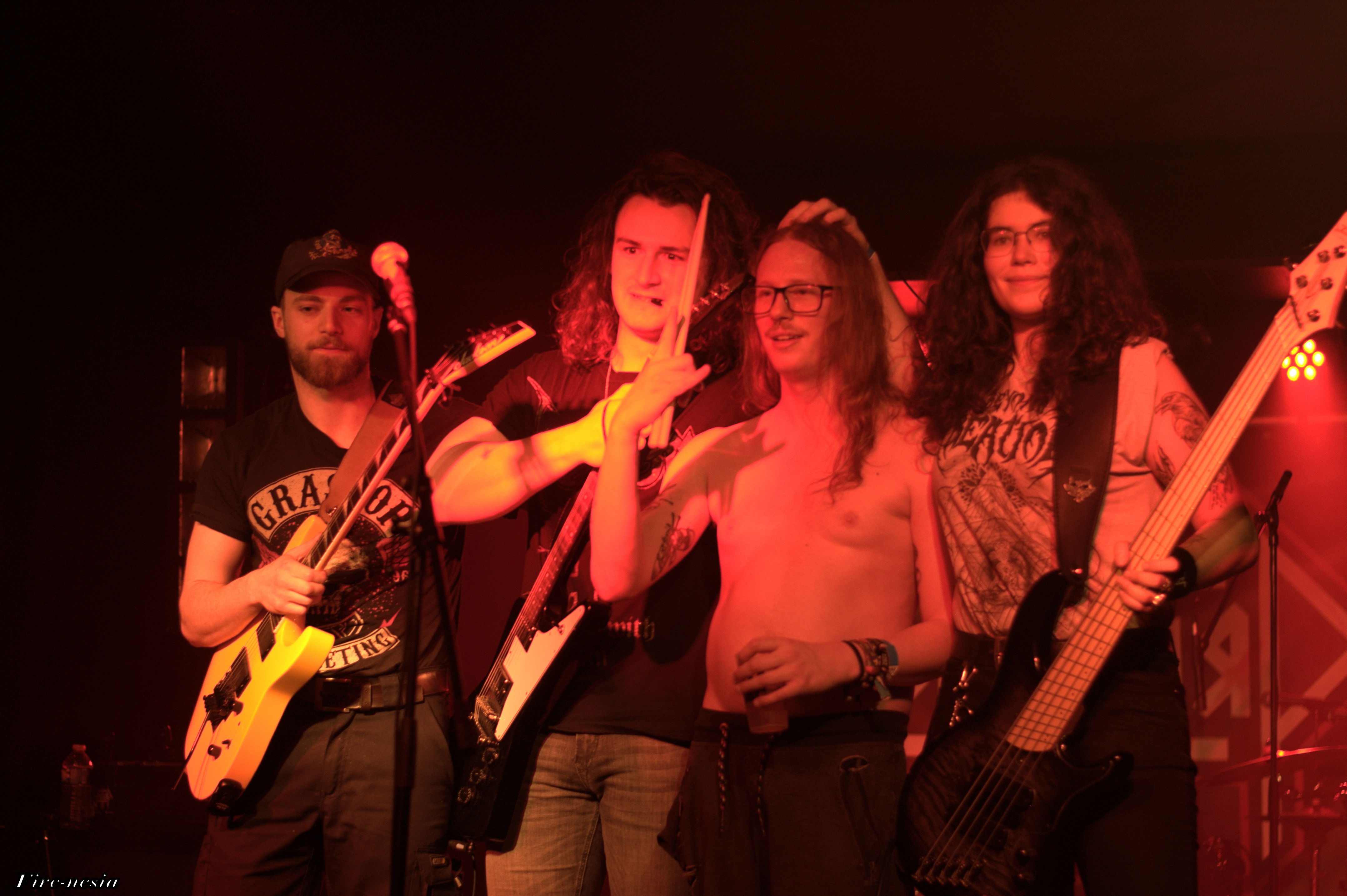 The last 3 years, worldwide in the world, we have faced many dark, strange & new situations in our everyday life (covid, lock-down etc.) Did all of this affect you positively or negatively?
Both, it was not easy to complete the lineup and find the members due to lockdown, find a place to rehearse, etc. but it forced us to write more music and work a lot for the band. As Senttura was formed in 2020, where going on scene to do live shows was not directly possible, we could really take our time to focus and write all those songs to have a complete set before really thinking about going on scene. The lockdown gave us much more time as maybe in "normal" times, as there were less "distractions", so we had much more time on our hands to work and we could really focus. Then as soon as we were ready, we started the live shows with all our energy and could finally show you what we've worked on for so long.
What are your future plans?
We would love to start recording an album, to get out on the road to play in some other countries, do some touring, and we would love to get to know the metal heads from Greece!
Thank you very much for your time & keep up the good work! The closure is yours.
Thank you very much for the interview! Thanks to everyone supporting, listening, and reading this interview, we hope to see all of you one day and play live in your country too. Much love from Belgium, Stay Metal \m/
By Steve the Filthy Dog.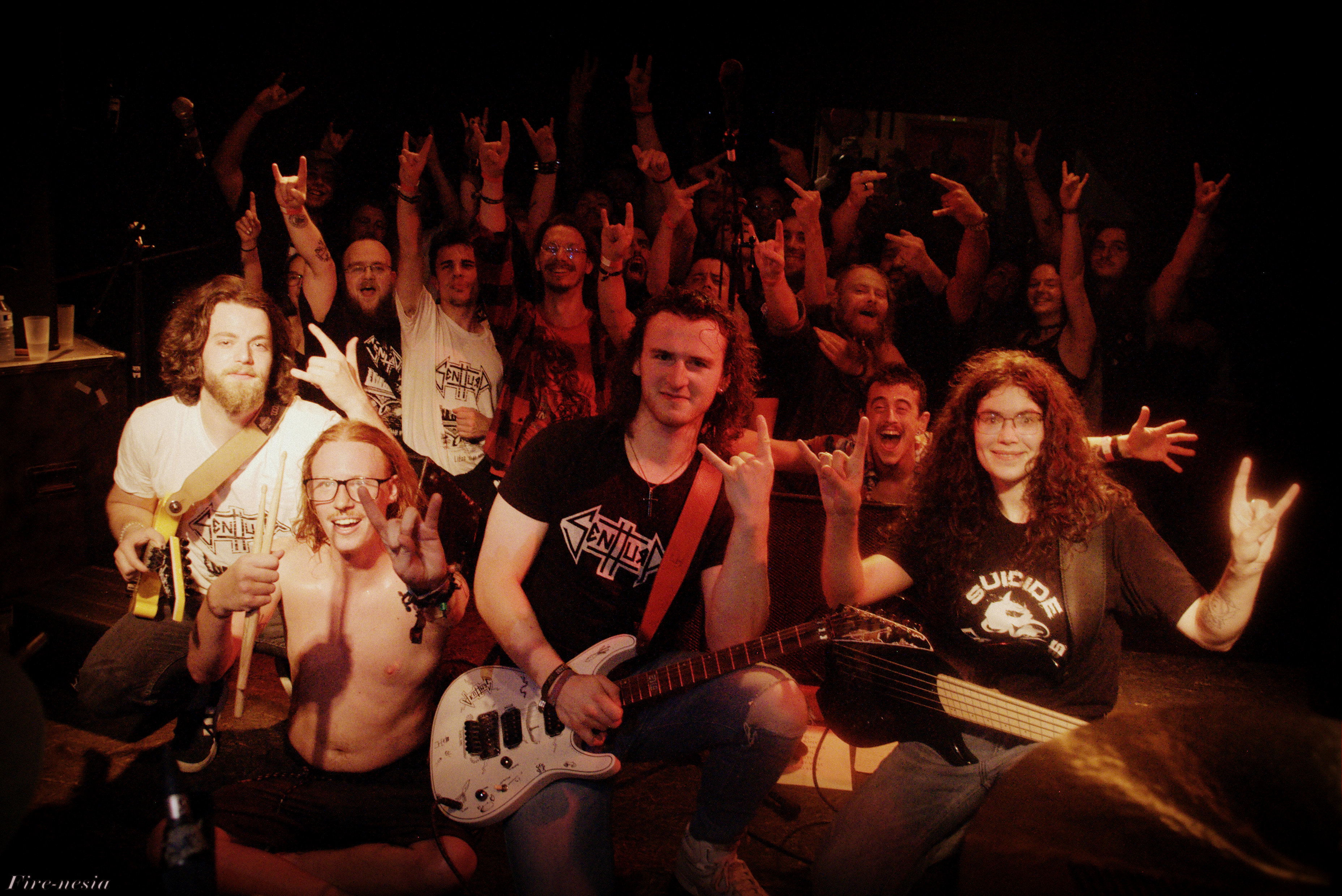 SENTTURA CONTACT:
https://www.facebook.com/senttura?mibextid=ZbWKwL
https://www.instagram.com/senttura_band.official/
https://senttura.bandcamp.com/album/metal-through-and-through