!!!THRASH METAL FROM THE USA!!!
Welcome to the FILTHY DOGS OF METAL Webzine.
Tell us a few things about REVELATOR (Members, Starting Year etc).
Revelatör formed in 2015. The original lineup was Keith Brown – lead guitar/vocals, Rene Jimenez – lead guitar, Viktor Ortiz – bass, and Luis Perez – drums. Since then, Viktor left to pursue his spiritual journey and artistic endeavors, and he was replaced by Gus Matsler.
In 2019 you have released your album ''Cardinal Sin''. Have you prepared anything new since then?
On Halloween 2020, we released a Metallica cover EP called "Kill 'Em, Y'all." We're in the process of mixing our new album, "Noble Rot" which we plan to release this year. Additionally, we've just completed recording a Steppenwolf cover EP to be released this Halloween.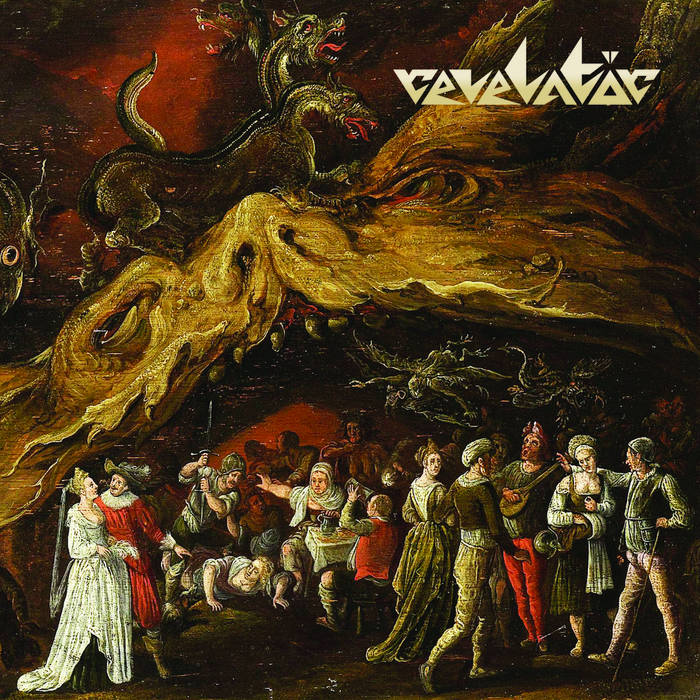 Label or DIY and why?
We created our own label, Degüello Records in order to maintain complete creative control over our work. So D.I.Y. We'd love to make as many contacts as possible overseas for possible distribution.
Do you prefer Vinyl, Tape, CD or Digital Format and why is that?
To buy, Keith prefers CDs and vinyl. Rene prefers digital and vinyl. For Revelatör music, we prefer to press CDs, but we have plans to issue our first two releases on cassette as well. All of our music is also available on our various social media.
Your music style is Thrash Metal. Which are your main influences (Favourite Artists / Bands etc.)
While we have significant thrash influences, we consider ourselves a speed metal band. We're influenced by a wide variety of styles from old school death metal to USPM. Some of our favorites are Motörhead, Sodom, Megadeth, Judas Priest, King Diamond/Mercyful Fate, DRI, GBH, Holy Terror, Agent Steel, Darkthrone, Bathory, Death, Morbid Angel, Manilla Road, Jag Panzer, Helstar, Manowar, old Mastodon, High on Fire, Exciter, Anvil, Annihilator, Razor, Overkill…
Which things, do you think, a Band should sacrifice in order to succeed? Have you ever sacrificed anything in your life for a better future of your Band?
We've certainly sacrificed money. Being in a band, especially DIY, is not cheap. It takes a lot of time and effort. We've missed a lot of shows, quit a lot of jobs, and lost more than a couple of girlfriends to do what we love.
Describe your ideal live show as a performance Band. Have you already experienced that?
We like any show where we get a good reception! We love to open. Sometimes bands can get lost on long bills, but nobody forgets the first band, especially if they kick ass. Under promise and over deliver. That said, the worst shows can also be great learning experiences. We once played a gig where we lost the snare mic and Keith's amp head blew up, smoke and everything. Not our finest hour, but a great time was had nonetheless. 8. Which attributes, do you think, that a new Thrash Metal Band should have in order to gain identity and be unique? In a world of pizza thrash, a band needs to sound unique. They've got to bring something new to the table. Phil Anselmo says bands are a combination of their five favorite bands. We think that's true, so they better be good influences. Keith says: weird vocals make all the difference! Rene says: good branding.
Do you believe that Bandcamp and other Digital Platforms help the new Thrash Metal Bands? Which, do you think, is the ideal way for a Band to promote its work?
Any platform that lots of people have access to: Spotify, Youtube, Instagram, etc. It can be a double-edged sword because fewer people will feel obligated to purchase your records, but exposure is key.
Tell us a few things about the New Underground Metal Scene in Dallas, Texas, USA (Bands, Fanzines, Webzines, Metal Clubs etc.)
There are lots of killer bands from our area: Maldevera, Exploder, Skull Archer, Creeping Death, Imperial Slaughter, Steel Bearing Hand, etc. Dallas Metal Scene is a metal promotion group that's pretty popular in our area. We've also got two awesome metal radio shows, The Dungeon and Hard Time Radio on 89.3 KNON (the voice of the people!). Shout out to the Pit Bulls and the Pit Demons (moshing organizations).
Do you know anything about the Hellenic Metal Scene?
Sure, big fans of Rotting Christ and Suicidal Angels. Scorcher and Battleroar are good for some good ol' Power Metal. We also are familiar with Gus G. and Firewind. We know y'all love you some Manowar! We do to. Wimps and posers, leave the hall!
What are your future plans?
To make as many records as humanly possible and have as much as fun as we can along the way.
Thank you very much for your time & Keep up the good work!
By Steve the Filthy Dog.
REVELATOR CONTACT:
https://revelatordallas.bandcamp.com/
https://www.facebook.com/RevelatorDallas/
https://www.instagram.com/revelatordallas/
https://soundcloud.com/revelatordallas
https://open.spotify.com/artist/260rzWdArvZMZJFIk11PGK
https://linktr.ee/revelatordallas?fbclid=IwAR1t8-z3Lnlt6E2kU78X9W4A3lDcg19H0721HplQ2YepK1oFr8jn8VRaSKg