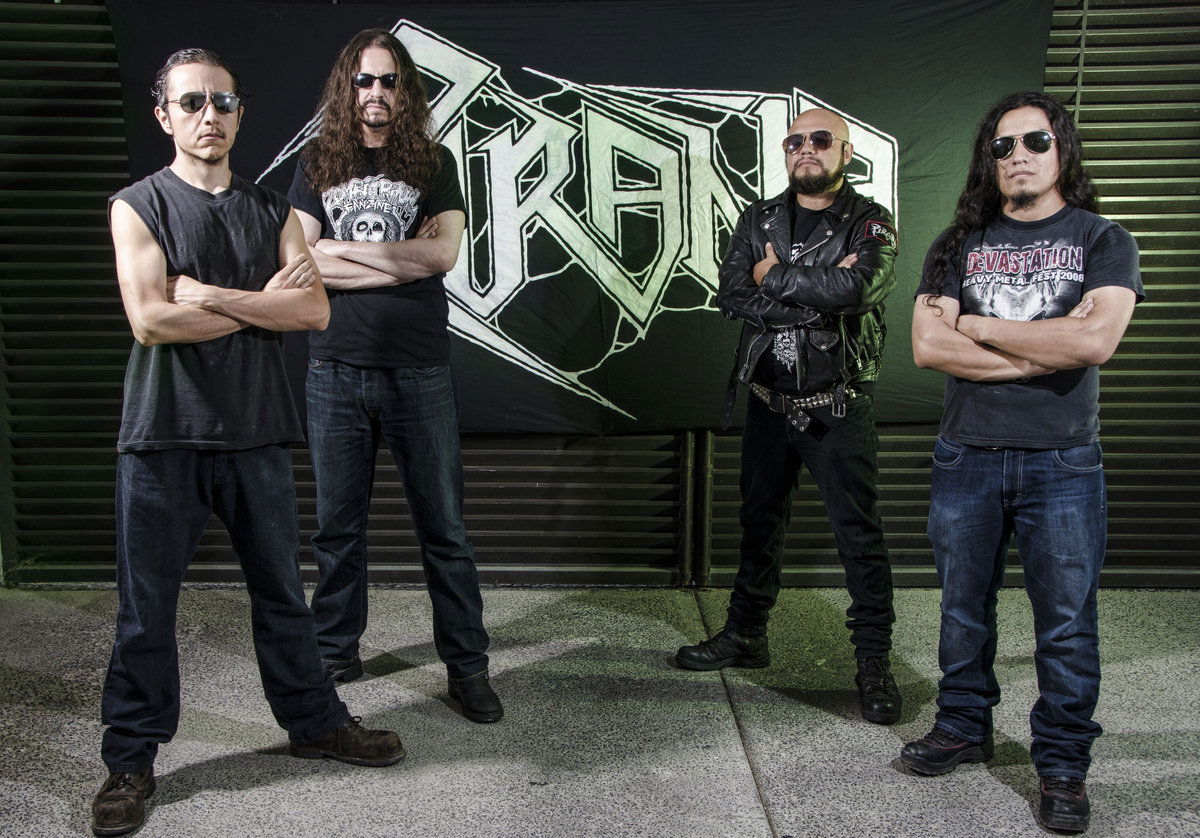 !!!THRASH METAL FROM MEXICO!!!
Welcome to the FILTHY DOGS OF METAL Webzine.
Tell us a few things about PIRANA (Members, Starting Year etc).
PIRAÑA was formed in 2003 by César Tarello from a melodic death act (Antiqua) and Sammy Olvera from death metal cult bands (Domain, Genital Retroplasia, Ravager, Demonized). We wanted to start again from the roots since both of us started playing thrash and hardcore in the 90´s so it seemed a good choice. We have never wanted to play anything innovative, just good old school thrash metal, raw, straight, like hit in your face. In 2004 we recorded our first MCD (Piraña Attack) with very good response from the audience, and after many changes in the band, we managed to produce one split "Mechanical Jaws Invasion" (2006), and our first full length Destructive Animal Revolution (2008) with the addition of Fernando Nieto on drums. After that we produced a re edition of the first works (2010), the other full length Corruption (2011), and then with the actual bass player Salvador Guerrero we changed our logo and many musical directions to create the MCD "Raw" (2015), and finally our new full length "Blood Zone" (2020). We also made a lot of tours in Mexico, Europe, and North and south of America and keep playing in the streets.
In 2020 you have released your album ''Blood Zone''. What was the feedback from your audience as well as from the press?
Well, considering that after this SARS-COV2 pandemic started and did not had the chance to play it in concerts, the fans seems to like this new stuff, and the press and pages have being good to us since they felt it is an honest and aggressive piece of thrash metal. We have very good critics from pages, radio and digital press, and media seemed more receptive with this new material that was released wit two promotional studio videos (Cráneos and Gravedancer) and a hell of a live session. In general people like the concept, it has some heavy metal riffs mixed with some death metal glimpses here and there, but essentially conserves the thrash metal vibe, the social lyrics (two of them in Spanish), a hell of an art made by Arturo Vargas and Bruja XIII, the master and mix by the legend Bill Metoyer, and a great production from Concreto Records. I think it is a mature job and the fans and metal heads noticed.
Label or DIY and why?
PIRAÑA essentially is a DIY band, we are old guys that back in our days ex changed tapes and send Bios to Fanzines, we didn´t have internet nor social media, so we are used to do things by ourselves and always managed to create things with the limited resources we have and in that way we have achieved many things within the hard way. In fact, within the years we have created partnerships and friendship with bands from a broad México and in this way we managed to promote tours in our respective countries saving a lot of money and doing metal old school. But also we have worked with labels that help us to promote our works like Detonation Distro (Sir Necros), American Line Prods (Joel Morales), Red Rivet Records (Shiro Matsunaga from Japan), and recently Concreto Records (Enrique Portilla), and tried some new strategies to promote our band in order to keep playing metal.
Do you prefer Vinyl, Tape, CD or Digital Format and why is that?
Wow, each format sounds different, and the sound and vibe depends from many things, like the original recording (analog or digital), the band, the conservation status of the physical stuff, and the reproduction device you use. But definitively we always prefer physical format. I personally did not like the all-digital format, maybe too polished for me. I prefer the scratch, the imperfection and the smell of physical things, the thrill to grab, to feel. Music is life and death, but it must be real, touchable.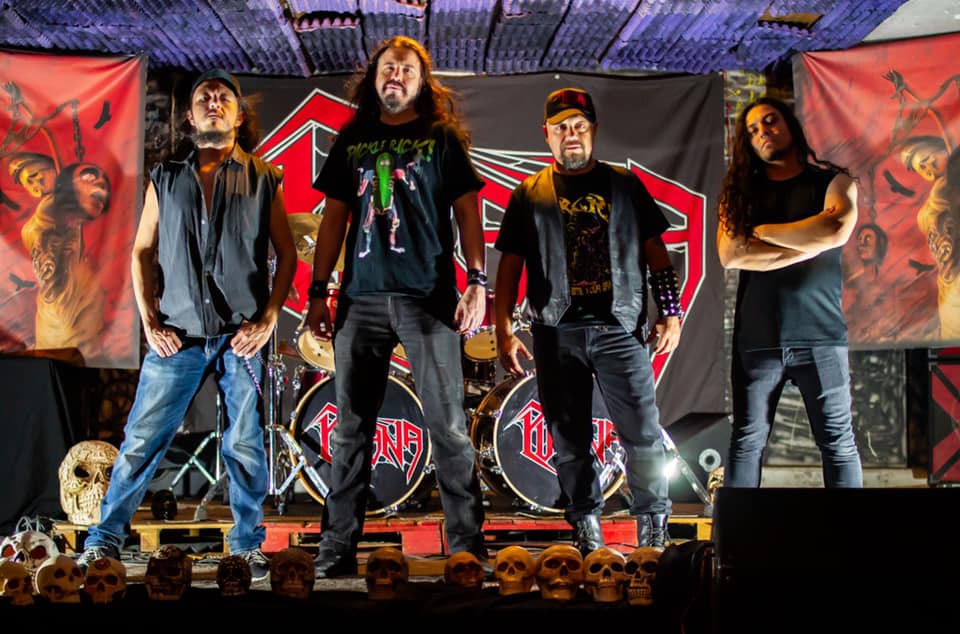 Your music style is Thrash Metal. Which are your main influences (Favourite Artists / Bands etc.)
Each band member has his own favorite bands, but I can tell you that we have some common agree on: Slayer, Overkill, Kreator, Masacre 68, Napalm Death, Anarkus, Possesed, Testament, Next, Six beer, Dark Angel, Atrophy, Death Angel, Exodus, Sodom, Tankard, Cenotaph, Obituary, Death, Luzbel, Hammerfall, Iron Maiden, Black Sabbath, Judas Priest, King Diamond, and so on.
Which things, do you think, a Band should sacrifice in order to succeed? Have you ever sacrificed anything in your life for a better future of your Band?
I do not know what succeed is. Is it to become famous? Is it touring everywhere?, have a record deal? or is just play your guts out in the way you want? Which would be a good price for playing freely what you want? I think the first sacrifice is to play your music knowing that you are nothing, that you are not doing anything extraordinary, but you keep doing it anyway. The sacrifice is to lose things in the name of your so called art, and still be there. Lose friends, couples, work, and sanity…I think is enough.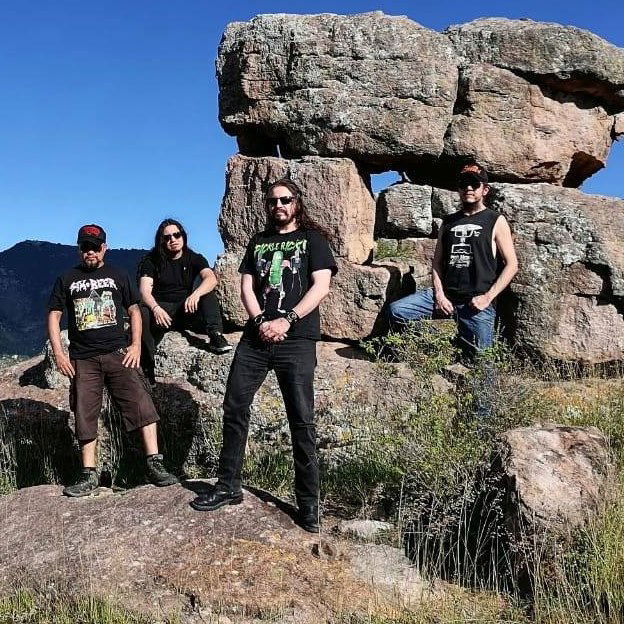 Describe your ideal live show as a performance Band. Have you already experienced that?
Yes. Small venue full of people singing your songs and kick each other the shit out. For a thrash band I think is a whole dream.
Which attributes, do you think, that a new Thrash Metal Band should have in order to gain identity and be unique?
I think it doesn´t exist a "magic formula" to be unique. Is work, dedication, do not sing like death metal or try to be DRI, be yourself and not a jacket full of metal patches, do not over exaggerate with beer and tupa-tupa sound in drums, but mostly, you need a lot of luck.
Do you believe that Bandcamp and other Digital Platforms help the new Thrash Metal Bands? Which, do you think, is the ideal way for a Band to promote its work?
I think those platforms are a good effort, but cannot give you the things that live concerts, contact and physical stuff can give you. Nowadays the music offer is so big that in the end everyone gets its stuff in there. Anyone just playing three songs in a garage is already there. There is no real appreciation for music when is a product so easy to get, so mechanical, so expandable.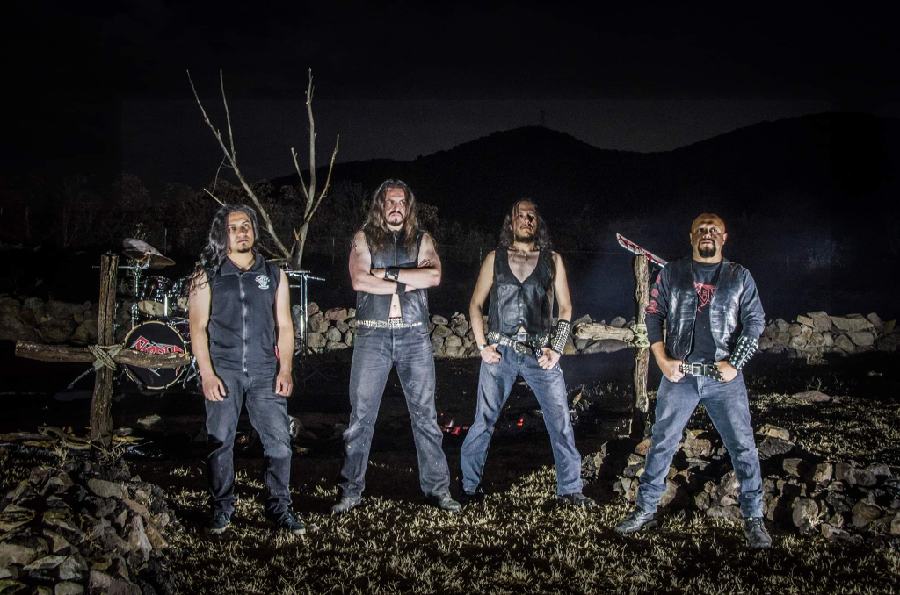 Tell us a few things about the New Underground Metal Scene in Mexico (Bands, Fanzines, Webzines, Metal Clubs etc).
México has a crazy scene. You need to live it by yourself. Thousands of people in big festivals (before COVID) but poor audience in local gigs. Diehard fans, "trues", and enthusiast youngsters trying to find a new place. There is everything, all the good all the bad, but still there is movement. Many bands appear every year and come with a lot of stuff. Internet programs are gaining audience and in the pandemic time also promote on line concerts, radio stations still working. Even some fanzines are in the revival mood. I think we are not too different from Greece or another European countries, but still, every scene has its own peculiarities.
Do you know anything about the Hellenic Metal Scene?
We owe you music methods, and a whole new way to do the occidental music. But anyway, speaking of metal, I think my preferences are for Nightfall, Septic Flesh, Necromantia, Rotting Christ, Death Congregation, this progressive 70´s rockers Aphrodite´s Child (Vangelis), and recently some stoner sludge stuff like Acid Mammoth and specially: Automaton.
What are your future plans?
We already composing a new album to be recorded at some point this year and we hope we can play at the Candelabrum metal fest that was postponed last year and maybe a couple of gigs this year, and start planning our international tour next year. (Last year we needed to cancel the México-Australia tour with our friends from Desecrator due to SARS-COV2).
Thank you very much for your time & Keep up the good work! The closure is yours.
Thanks for this interview and for giving us this space at your webzine. We will bite your brain!!!! Ζήτω η Ελλαδα.
By Steve the Filthy Dog.
PIRANA CONTACT:
https://pirana.bandcamp.com/releases
https://www.facebook.com/piranhathrashmex
https://www.instagram.com/piranathrash/
https://cdtarello.wixsite.com/piranhathrashmex
https://soundcloud.com/user-605092912