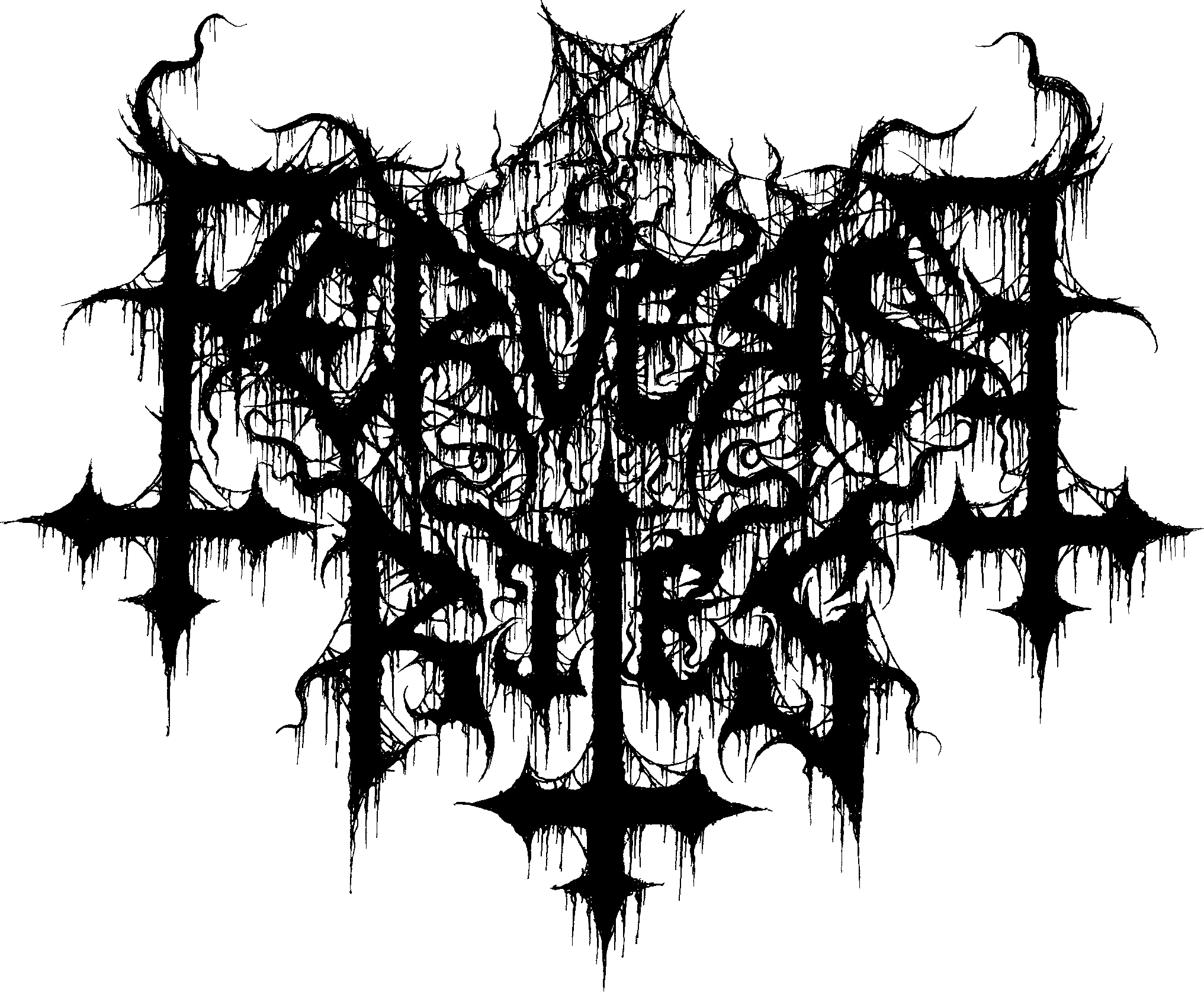 !!!BLACKENED THRASH METAL FROM PERU!!!
WELCOME TO THE FILTHY DOGS OF METAL WEBZINE.
TELL US A FEW THINGS ABOUT PERVERSE RITES (MEMBERS, STARTING YEAR ETC).
It all started back in 2010. A Young Hammer Contreras and Jesus Diaz started this holocaust with some covers (Sarcófago, Sepultura, Darkthrone, Mayhem) looking for a unique sound which would be portrayed in the band. Next, Phil Gonzales joined the band as lead guitar and we developed our sound on our first songs. By 2012, Otto Montenegro (Eyaculator) and Ray Vargas (Maleficium) joined the project as well and became part of it until now. Up next, we three (Hammer, Otto, Ray) remained as Perverse Rites and recorded WitchSlutHaunt as first oficial production. Of course, there are more recordings but we consider them as bootlegs.
IN 2020 YOU RELEASED YOUR EP ''WITCHSLUTHAUNT''. WHAT IS THE FEEDBACK FROM YOUR AUDIENCE AS WELL AS FROM THE PRESS?
Well, time happens quickly. I think it was such an honest record that most bangers got it as theirs very deeply. They might've understand our honesty while recording that EP too. We tried to portray all our fury and loyalty to UG indeed. It has been produced in Perú (Gate Of Horror / Black Legion Records / Inti Records), Argentina (Evil Damnations Records) and Germany (Destruktion Records), then, it has been spread in such a wide variety of countries, from Perú to Croatia or even Russia, which really amazed us, as some countries it has been distributed in are non English nor Spanish speakers at all.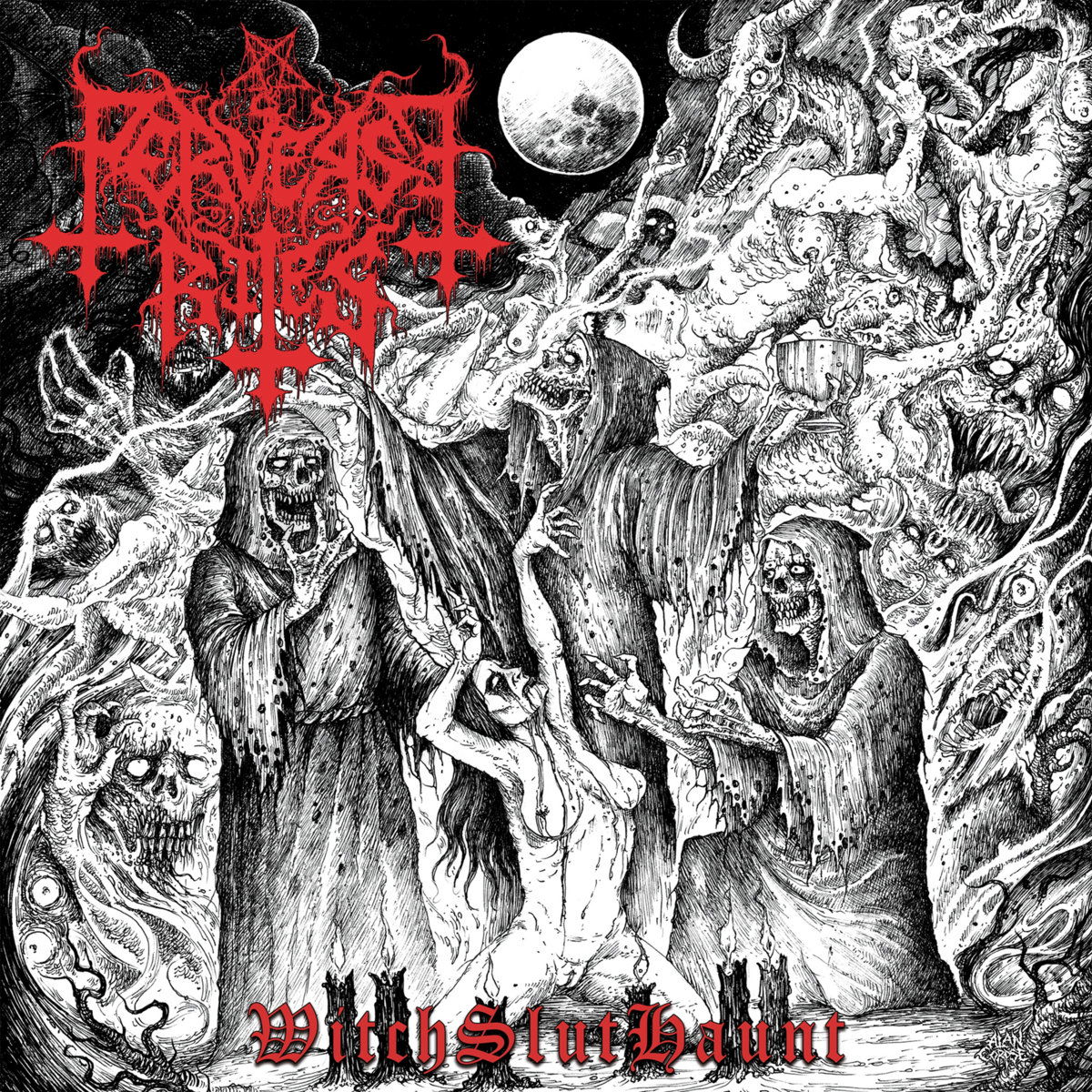 LABEL OR DIY AND WHY?
Both have advantages and disadvantages. When producing your own EP or full lengths, you've the right to do whatever you want with it, even reproduce infinite copies if you are willing to. That would completely work for a tour if you depend on merch sales, for instance. By the way, when you're not that into knowing metalheads around the world, you'd better get produced by someone else. By the way, we're glad to know some producers which are really loyal to UG and always caring about the band too. By this time, we're working with some labels but it doesn't work like some countries where the band get its whole production paid, from songs to art, etc. We, the band, pay the studio for recording our production and also pay an artist to portray our prod art. That mostly give us enough freedom to choose who we want this production to be produced by and perceive some copies or money for it. At least, that's how it Works now.
DO YOU PREFER VINYL, TAPE, CD OR DIGITAL FORMAT AND WHY IS THAT?
We think they all are important. Most people will buy CD as it's easier to get played. By the way, there are some collectors who appreciate a well-produced analog tape or vinyl. We would love to have our productions on vinyl too, as it's been how we appreciated the best recordings we've ever heard. Next, we are planning on producing on these three formats, as they all work for every kind of public they're meant to. Even digital platforms like Spotify or tidal are ways to reach some people who won't be taking a giant vinyl out with them everywhere, haha.
YOUR MUSIC STYLE IS BLACK/THRASH METAL. WHICH ARE YOUR MAIN INFLUENCES (FAVOURITE ARTISTS / BANDS ETC.)
Well, mostly, people have labeled the band as indeed. We haven't thought at all which kind of music we should do as a must, as it would cut our creativity in some way. Also, we are not only into these genres but heavy, death metal and so. By the way, I'd say our main influences are Mortem, Anal Vomit, Sarcófago, probably our most beloved bands through this path.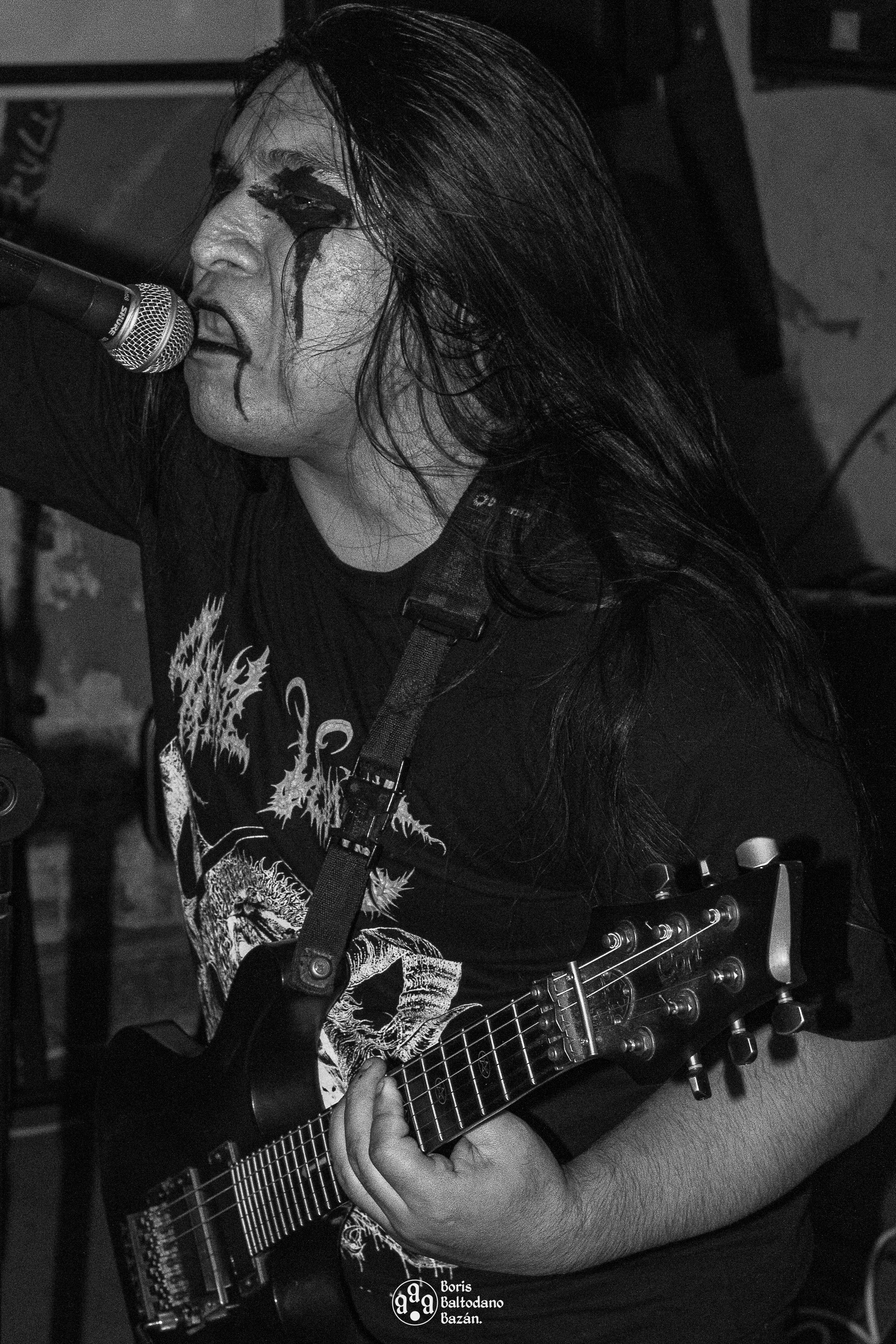 WHICH THINGS, DO YOU THINK, A BAND SHOULD SACRIFICE IN ORDER TO SUCCEED? HAVE YOU EVER SACRIFICED ANYTHING IN YOUR LIFE FOR A BETTER FUTURE OF YOUR BAND?
That's a rough question. It all depends on who you are and what you consider as sacrificing something. I mean, it can go from not taking an university exam in order to have a rehearsal to quitting a regular life at all and just care about the band, which would be , lemme say, stupid at least. We know it's completely hard to live out of a band, specially a extreme metal one, and you know.. based in South America, wow, that'd be terrific! By the way, I think that taking time to rehearse and compose new songs, not going out on weekends and stay in the studio playing to become better as musician and band, doesn't feel like sacrificing something, as you are really willing to do it because of you and not to impress someone else. We don't regret nothing on these whole time at all.
DESCRIBE YOUR IDEAL LIVE SHOW AS A PERFORMANCE BAND. HAVE YOU ALREADY EXPERIENCED THAT?
All concerts are different, of course. We have enjoyed them all with both their high and lows. I, personally, think that playing anywhere we haven't gone yet feels so good as people will show their real ímpetus and headbang with fury. Also, I now remember one of these last concerts we played in, where we just couldn't even stand still after playing with such raging forcé that took our breath away hahaa, and it's funny 'cuz it happened in our city, Trujillo. So, every concert will be a unique experience we always remember.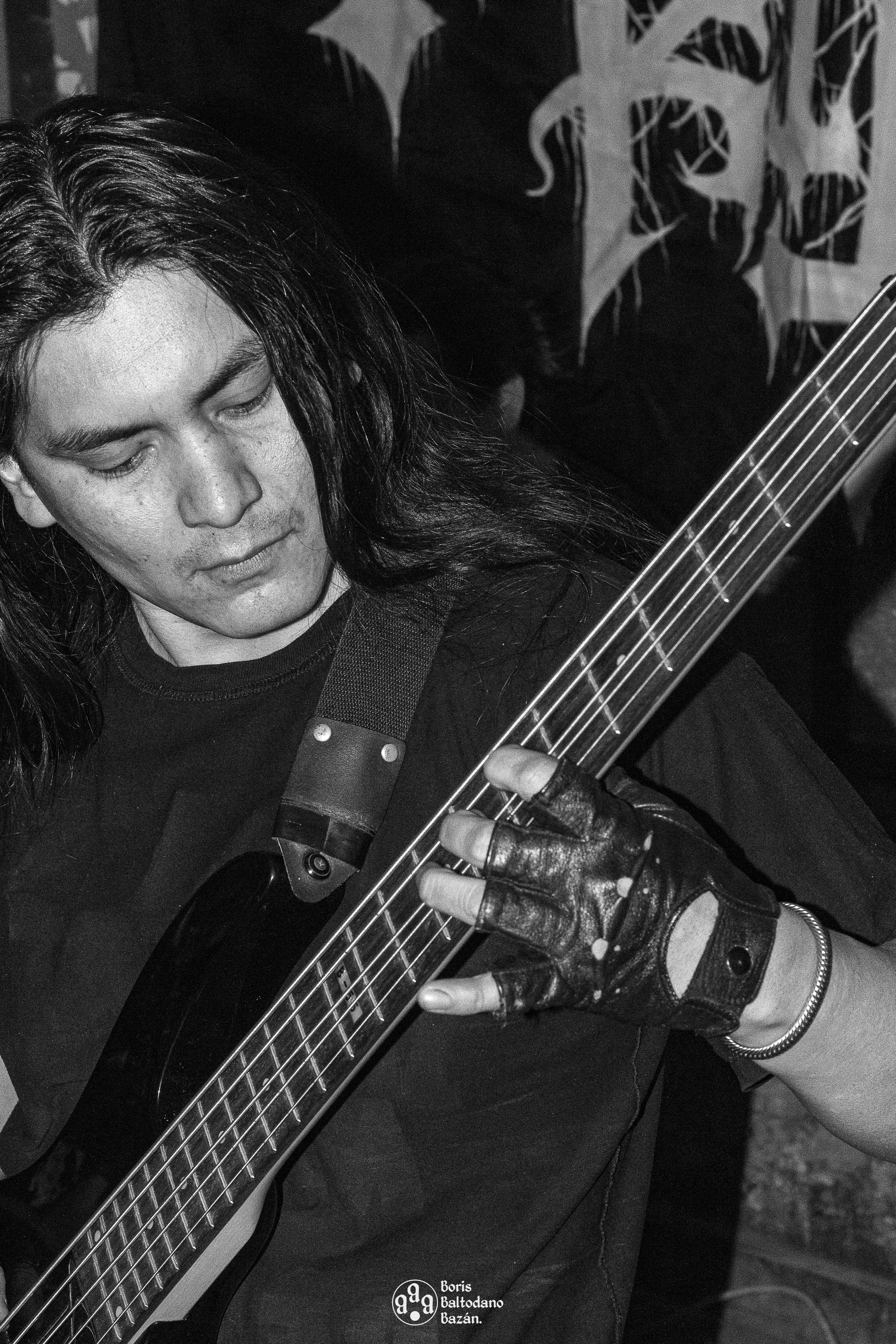 WHICH ATTRIBUTES, DO YOU THINK, THAT A NEW BLACK/THRASH METAL BAND SHOULD HAVE IN ORDER TO GAIN IDENTITY AND BE UNIQUE?
It's completely up to them. All I can say we do portray as people and band is honesty, and that's all you need to be yourself. It's not only related to extreme metal but any project you're willing to be your own and something you will be really proud of, even if it doesn't succeed at first. Just keep going and someday it will become clearer.
DO YOU BELIEVE THAT DIGITAL PLATFORMS HELP THE NEW BLACK/THRASH METAL BANDS? WHICH, DO YOU THINK, IS THE IDEAL WAY FOR A BAND TO PROMOTE ITS WORK?
Of course, it does so. We personally saw how websites even took our songs and started sharing them with their people, which would get angry anyone else but we took it gladly, as it means it really means something to someone else. By the way, it doesn't mean a band should become dependent on how many clicks they have on Spotify or Tidal. It's important to understand that they work together, both physical and digital acceptance, and every way of getting to our listeners will be okay.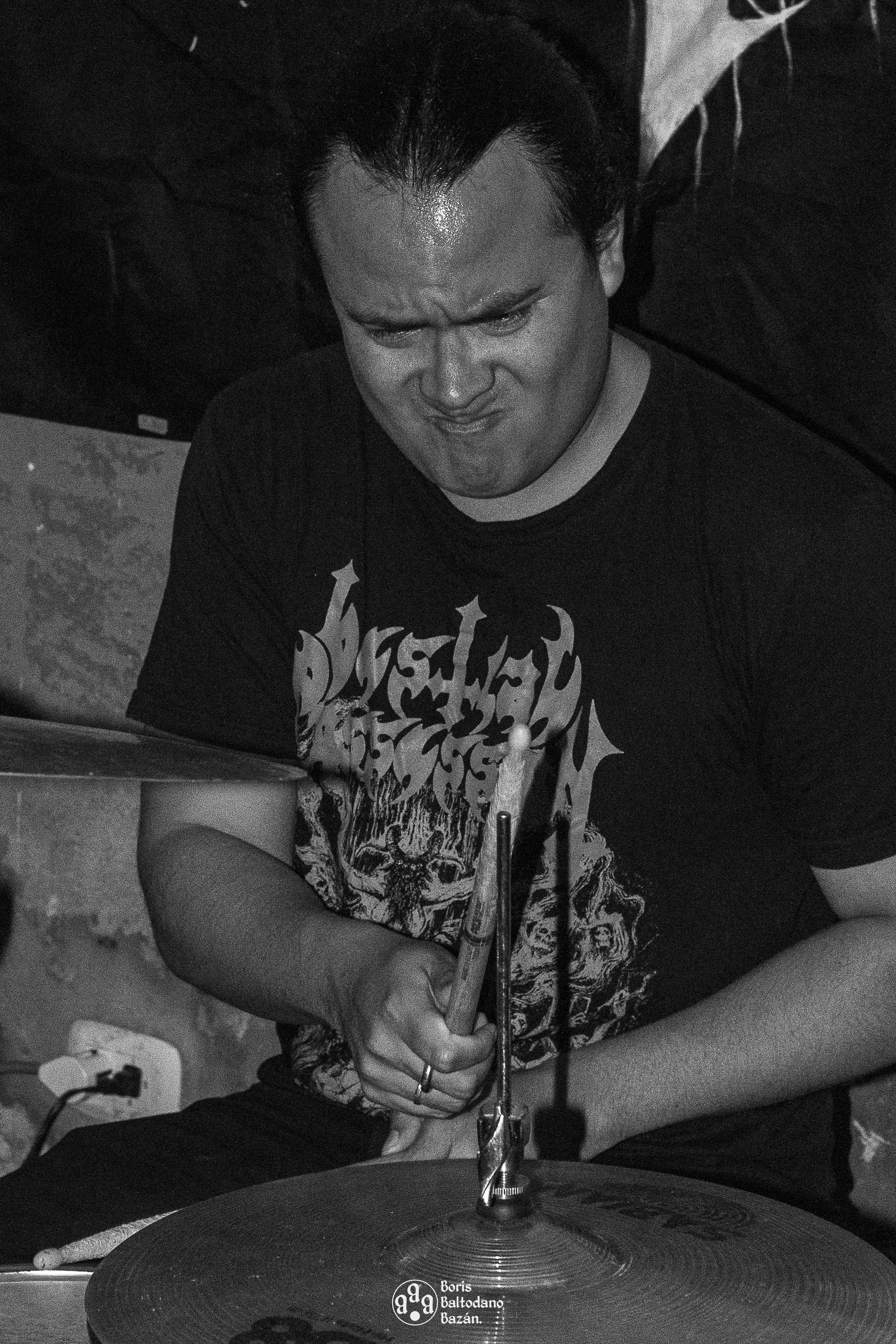 TELL US A FEW THINGS ABOUT THE NEW UNDERGROUND METAL SCENE IN PERU (BANDS, FANZINES, WEBZINES, METAL CLUBS ETC.)
We are settled in Trujillo, a northern city on the peruvian coast. There are no metal clubs or so, but people who are constantly supporting our local bands, which are few, by the way. (Perverse Rites, Necropsia, Bestial Possession). There are more bands into the underground scene but more into punk and hardcore scene. Peru's capital city, Lima, is the main place where international bands go and has easier access to any sort of material. Indeed, there are so many bands out there, from Anal Vomit to Cobra. We, the "northern" scene, are into a really different background so I can't really tell about the Peruvian scene on its whole.
DO YOU KNOW ANYTHING ABOUT THE HELLENIC METAL SCENE?
Not much more than Varathron or Rotting Christ. Of course, that should change after this interview! Haha!
WHAT ARE YOUR FUTURE PLANS?
Recording a full length and touring around South America. We are willing to go across Europe next year if possible too. Spreading our raw sound and meeting new maniacs is something we enjoy a lot.
THANK YOU VERY MUCH FOR YOUR TIME & KEEP UP THE GOOD WORK! THE CLOSURE IS YOURS.
Thanks, Stavros, and keep such good work. Hope you keep supporting the true underground madness!!! Cheers from Peruvian hell to you and the filthy dogs around the world!!! Aarrgh!
By Steve the Filthy Dog.
PERVERSE RITES CONTACT:
https://www.facebook.com/PerverseRites
https://www.instagram.com/perverse.rites/
https://perverserites.bandcamp.com/