HELLISH BLACK/SPEED METAL...
...LIGHTS OF DARKNESS, HOUR OF WITCHCRAFT AND SORCERY!!!
We had a conversation Lunatic Aggressor. Enjoy!
Welcome to the FILTHY DOGS OF METAL Webzine.
1. Tell us a few things about NUCTEMERON (Members, Starting Year etc).
Lunatic Aggressor: Infernal Hails !!! Nuctemeron was founded in the summer of 2014 by Christhunter and me. A short time later we found the perfect guitarist for us at that time in Exterminator.
After our "Knights of Hell" 7 inch EP (2016) and some cool live appearances, we parted ways with Exterminator in 2017 and reorganized the band. Volcanic Slut joined us first and she took over the bass from this point on, because I just wanted to focus on the vocals. A few weeks later we found a new guitarist in Bewitcher. This line up has been existent since 2017 and reads as follows:
Lunatic Aggressor – Vocals and Cruel Obsessions
Volcanic Slut – Bass and Total Metal Possession
Bewitcher – Guitars and Electric Spells
Christhunter – Drums and Sexual Carnage
2. You have recently released a split EP with NOCTURNAL ''Unholy Thrash Metal / Eternal Proscription''. What is the Feedback from your audience as well as from the Press?
Lunatic Aggressor: That's right. The split EP with our close friends from Nocturnal was very well received by the people and there was also positive feedback from the press. The release became really awesome and you can witness a double of full Teutonic metal massacre of Black Thrash / Speed Metal.
3. In Spring you are going to release your new Mini-LP ''Beastfuck''. Tell us a few things about this project.
Lunatic Aggressor: We hope everything will work out well and the "Beastfuck" mini-LP will soon be released on Mortal Rite Records. On the Mini-LP there will be 3 new songs and a Nifelheim cover version and I think that it will really be our strongest release so far. All Nuctemeron Fans can expect a total Black Speed Metal Hell !!!
4. Label or DIY and why?
Lunatic Aggressor: That's a good question. I personally think that publishing something through a label is better. I can't speak for other bands, but in my opinion a label works differently for a release, so as a band you don't have to worry about all the things a label does for a band. As I said there are certainly enough bands that see it differently, but we are happy to work with Mortal Rite Records and it's a very good collaboration.
5. Do you prefer Vinyl, Tape, CD or Digital Format and why is that?
Lunatic Aggressor: I'm totally into vinyl !!! For me that's the best format for heavy metal. Of course I also have tapes and CDs, but vinyl is simply the non plus ultra and every heavy metal worshiper and lunatic should see it the same way in my opinion. I simply can't do anything with digital formats. I'm only listening to MP3s in the car, but simply because I'm too lazy and don't want to ruin my CDs in the car.
6. Your music style is Black / Thrash Metal. Which are your main influences (Favourite Artists / Bands etc.)
Lunatic Aggressor: We refer to our style of music as Black Speed Metal because our music simply has a large share of speed and we therefore prefer this term for us. The main influences for me are simply the bands from the glorious 80s like Bathory, Destruction, Venom, Sodom, Iron Maiden, Running Wild, Judas Priest, to name just a few. But I think that also in the 90s great bands released albums that were also influential for Nuctemeron, such as Aura Noir, Nifelheim, Destroyer 666, Desaster or Bewitched.
7. Which things, do you think, a Band should sacrifice in order to succeed? Have you ever sacrificed anything in your life for a better future of your Band?
Lunatic Aggressor: I never thought about sacrificing something for the band because I like doing it. For me, Nuctemeron has always been a very important part of my life and I don't see everything we do for the band as a sacrifice. Everyone who plays in a band should set priorities and put their heart and soul into their band. That's how I see it.
8. Describe your ideal live show as a performance Band. Have you already experienced that?
Lunatic Aggressor: For Nuctemeron a great live performance is very important and we attach great importance to it. Lots of leather, chains, spikes and bullet belts are simply part of a Nuctemeron Live Show. For me it is totally important and awesome to offer the audience a total satanic and evil metal show with our looks. And yes, we have already played some awesome live shows, and I would particularly like to highlight our first appearance in the current Line Up 2018 in Bielefeld at the "Speed Metal Crossfire" were we played with Vulture, Hellish Crossfire and Nocturnal.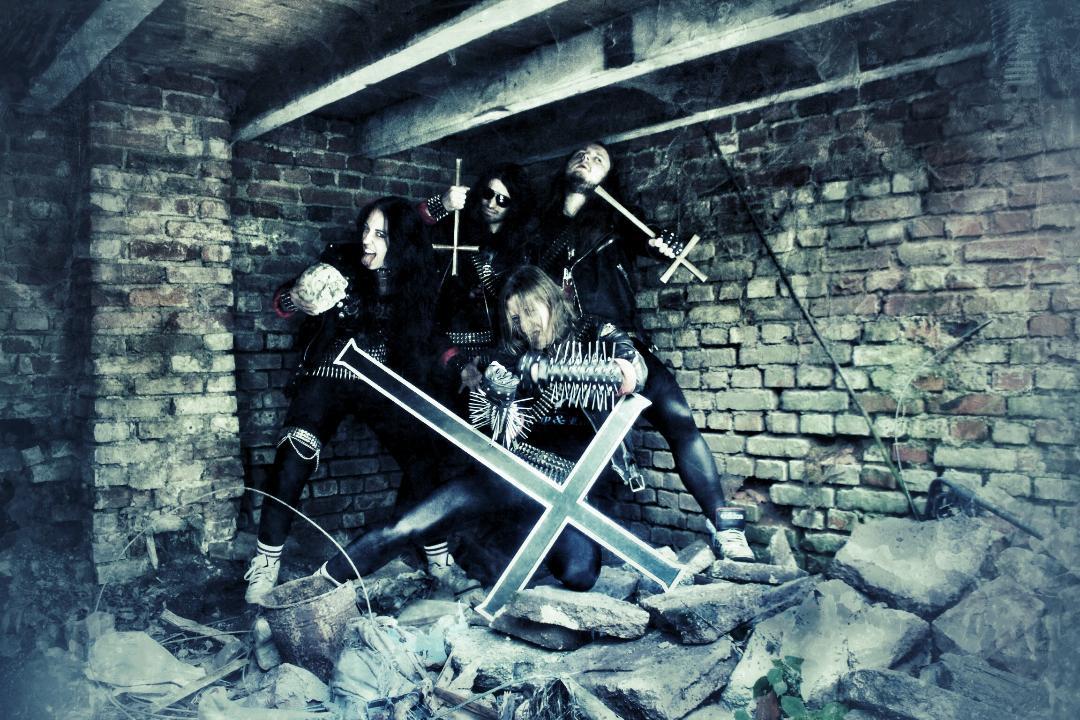 9. Which attributes, do you think, that a new Black/Thrash Metal Band should have in order to gain identity and be unique?
Lunatic Aggressor: I can only tell you this in relation to Nuctemeron. It is important for us to convey a certain rawness and danger with our music and our appearance. Of course, quality paired with overwhelming speed plays a big role for us. It is important for us that we are authentic, because we are absolute metal fans ourselves and we are total possessed by evil Heavy Metal !!!
10. Do you believe that Bandcamp and other Digital Platforms help the new Black/Thrash Metal Bands? Which, do you think, is the ideal way for a Band to promote its work?
Lunatic Aggressor: I know enough bands that use Bandcamp, Spotify etc. and that's ok. For us, it has never been a point to use such digital platforms. Of course, we also use the "modern" things that are very important for a band these days to promote their stuff, but for us this is limited to our Facebook band page because we think that this is enough to bring band related content to the people.
11. Tell us a few things about the New Underground Metal Scene in Germany (Bands, Fanzines, Webzines, Metal Clubs etc.)
Lunatic Aggressor: I don't know if this underground metal is so "new" in Germany, because I know that there has always been a very strong German Metal Underground. At the moment this scene is not only very rich in bands but also in zines, labels, festivals, concerts and of course the underground metal fans. I think it's good and I like how it is at the moment, although it is sometimes a bit too much.
12. Do you know anything about the Hellenic Metal Scene?
Lunatic Aggressor: I know at least some very classic great bands from Greece that I personally find very cool, such as (old) Flames, (old) Rotting Christ and (early) Necromantia. But I also know that you have a very large metal scene in Greece with many good labels and fanatic maniacs. I like Greece and you have fantastic food there ;)
13. What are your future plans?
Lunatic Aggressor: We are happy when our "Beastfuck" mini-LP will be released. Of course we want to play some awesome live gigs afterwards (maybe sometimes in Greece). This year we want to record 2 songs for another split EP with a well-known American underground Death Metal Band and next year, we will hopefully start recording our debut album.
14. Thank you very much for your time & Keep up the good work! The closure is yours.
Lunatic Aggressor: Thank you for the interview and good luck with your Webzine. Infernal hellish greetings to all Greek Underground Metal Maniacs and Supporters of Nuctemeron !!! Satanic Hails & Kill !!!
By Steve the Filthy Dog.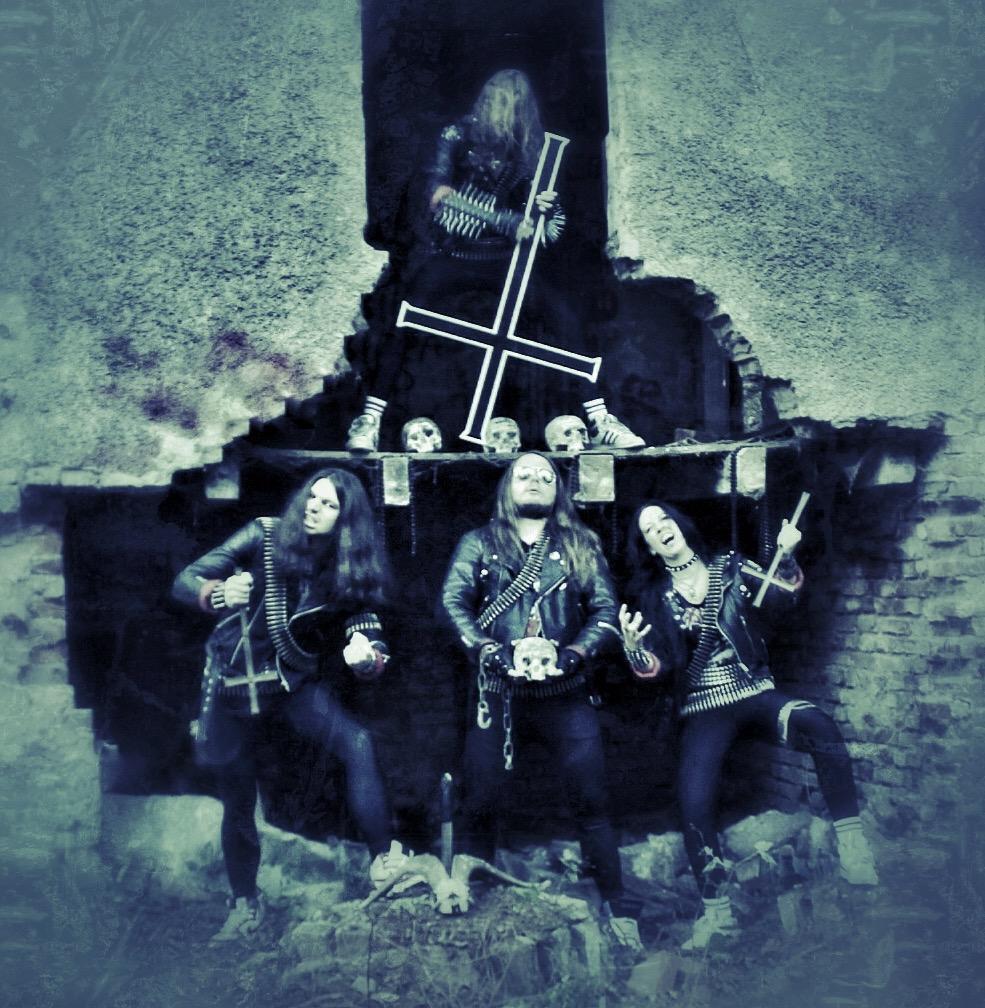 NUCTEMERON CONTACT: