!!!US DARK METAL!!!
We had a conversation with Steve White (Guitar/Vocals) & Trek Fitzgerald (Drums).Enjoy!
Welcome to the FILTHY DOGS OF METAL Webzine.
1. Tell us a few things about NEVER REBORN (Members, Starting Year etc).
Never Reborn is a 3-piece metal act from Tucson, Arizona, combining elements from Death/Thrash/Black and Classic Heavy Metal to create what we call "Dark Metal".
Steve White: Guitar/Vocals
Trek Fitzgerald: Drumologist
Sam Kinghorn: Bass
Steve: I initially started the band in 2014 but didn't get really serious until mid-2017. At that time, I was also playing guitar in another band, their drummer quit and Trek started playing drums for them. Neither one of us ended up staying in that band, but we hit it off really well, and a few months later I needed a drummer for Never Reborn, so it was natural for Trek to take the gig. We went thru several bass players before Sam joined the band in 2018, once he took over on bass things started to take off. We started playing shows in November of that year, and hit it hard on the Arizona circuit in 2019 and the beginning of 2020.
2. You have recently released your EP ''What Darkness Brings ''. What is the Feedback from your audience as well as from the Press?
Trek: "We did that in 2 days!?" "Very well produced- the sound is HUGE". We recorded the EP at Homewrecker studios with Ryan Bram, who did the Gatecreeper albums, he is very good at what he does and brought out the best in us.
Steve: The album has been played on a few radio stations and the response has been amazing. Cranium Radio, out of Phoenix, plays the EP regularly, they have been super supportive of the band, we can't thank them enough. The feedback from our fans has been terrific as well, the only criticism we've had is that it is too short. We had 13-songs at the time we recorded the EP, we wanted to record songs that represented us well, but also wanted to hold some of the fan favorites for our full-length release, which we plan on recording later this year or early 2021.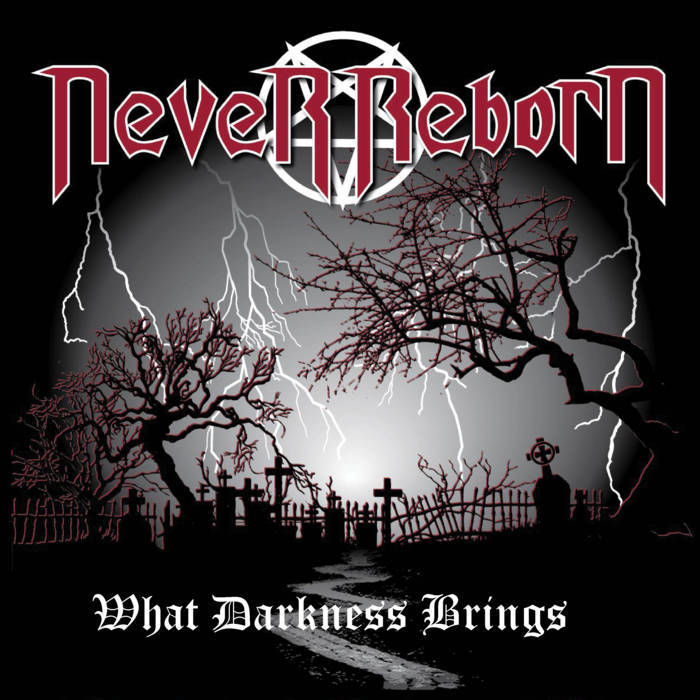 3. Label or DIY and why?
Trek: DIY- these days you can do almost everything a label does yourself without all the stress/debt of a record deal.
Steve: Yeah, we've done this all on our own, it's a lot of work, and we are still learning. Things are taking off slowly, but we are working hard on promoting it. There are so many bands out there with new releases, it's really hard to get people to give a CD a first listen, that's the biggest challenge. It would be easy to sign with a label and let them do all the work with promoting and setting up tours, but then we wouldn't see the returns.
4. Do you prefer Vinyl, Tape, CD or Digital Format and why is that?
Trek: CD's! I still love opening the jewel case and reading the lyrics….and it supports the bands and the industry in general. Digital formats are convenient but they don't seem to have the same warm, full sound.
Steve: We would love to release the EP on vinyl, there's nothing greater than holding an album in your hands while blasting it out on the stereo. We put a lot of thought into the layout of our CD, it is a nice-looking package, and the response from our fans on how great it looks and sounds really means a lot to us. Of course, you can't survive as a band without digital formats, and I'm as guilty as anyone else when it comes to listening to steaming music, it's too convenient to throw on Spotify. With that being said, our music is available on all of the steaming platforms.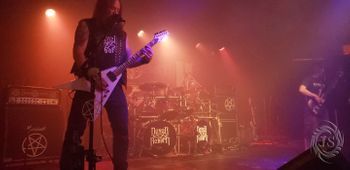 5. Your music style is Thrash/Death Metal. Which are your main influences (Favourite Artists / Bands etc.)
Steve: I was totally into the NWOBHM movement when it came out and once extreme music hit in the early 80s it sucked me in and never let me out. You can't get that out of your bloodstream, and a lot of my writing is influenced on that period of my life. Our music doesn't really fall into one genre, we have elements of Thrash/Death/Black Metal, as well as classic Heavy Metal, we consider ourselves to be a Dark Metal band.
6. Which things, do you think, a Band should sacrifice in order to succeed? Have you ever sacrificed anything in your life for a better future of your Band?
Trek: Ego's, and any predisposed notions of what it takes "to make it".
Steve: You make a lot of sacrifices as a musician, it takes a lot of time and money to be in a band that plays out. Band practice, personal practice, travelling to and from shows, writing music…these things eat away at your free time and you must sacrifice time away from family and friends in order to make it happen. The rewards are worth it though, the music will be here long after we've gone. It's nice to envision some kid a hundred years from now blasting out some Never Reborn!!!
7. Describe your ideal live show as a performance Band. Have you already experienced that?
Trek: Outdoors at a European festival feeding off the energy of the fans in the front row singing along even though the lyrics aren't in their language, it hasn't happened…..YET !
Steve: The chance to play in front of thousands of people would be a dream come true. All of the shows we've played have been special, nothing compares to playing to a live audience, whether you're playing in front of 10-people or a couple hundred, the energy consumes you. Two of our shows have been broadcast live on Cranium Radio, we had friends and family all over the country tune in, both of those shows were epic!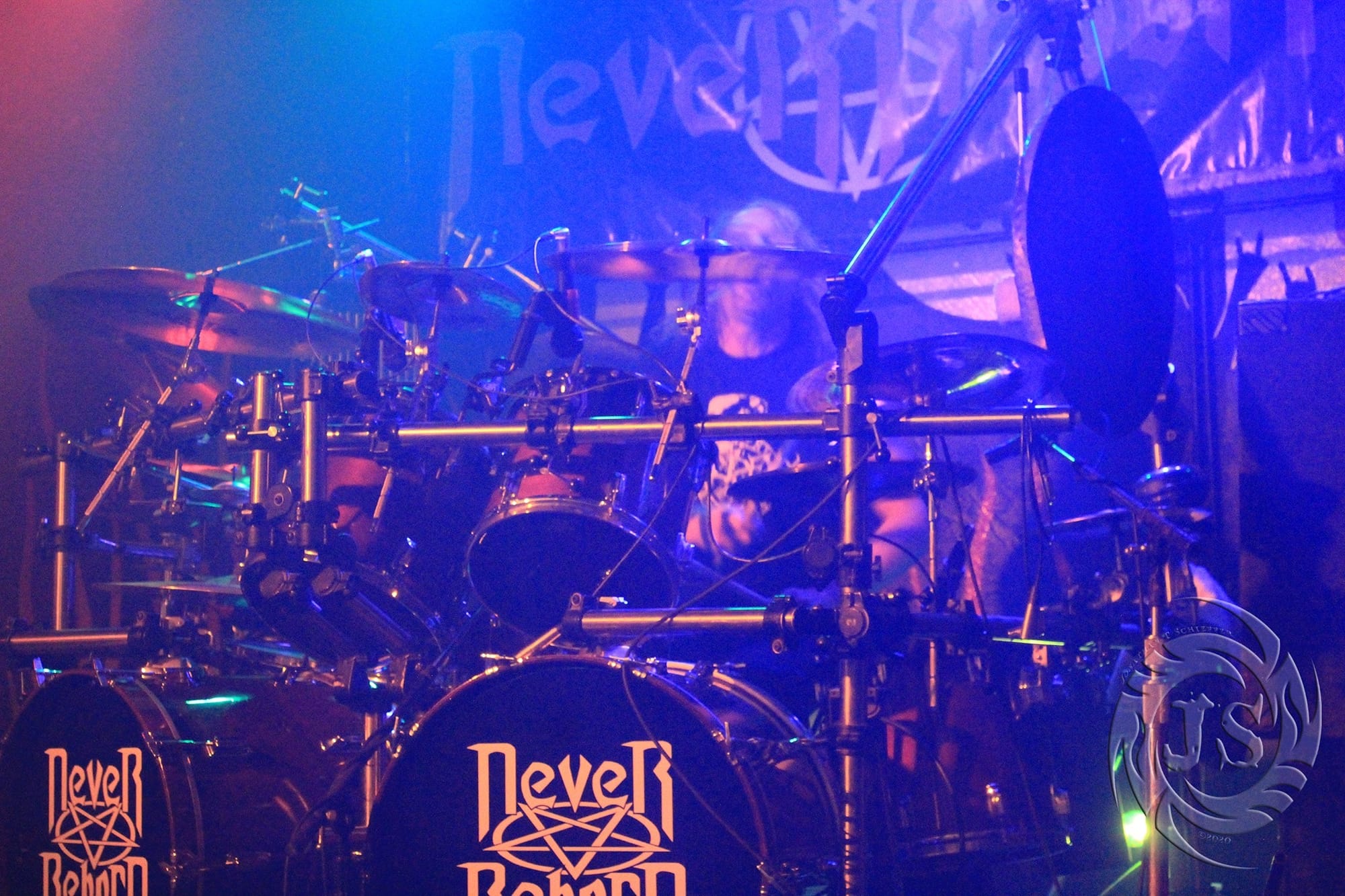 8. Which attributes, do you think, that a new Metal Band should have in order to gain identity and be unique?
Trek: Their own "signature" style or sound that is immediately recognizable.
Steve: It is almost impossible to come out with a sound that is all your own these days, all you can do is try to be as original as possible and play from the heart. When it comes to writing, I always write music that I want to hear, something I would have listened to when I was a teenager back the 80s. We've been told that we have a unique sound, hopefully people will hear something special when they listen to our EP. No matter what happens we will continue to please ourselves first, we couldn't live with something that we weren't 100% proud of.
9. Do you believe that Bandcamp and other Digital Platforms help the new Metal Bands? Which, do you think, is the ideal way for a Band to promote its work?
Trek: Definitely a great way to get your name and merch out there to the masses. I don't think there's a formula, or any one way that will work for everyone….you've just really got to be in touch with your audience and fanbase, however that works.
Steve: We've sold quite a few CDs and digital downloads on Bandcamp and iTunes, it is important to have your music available everywhere so that people don't have to look to hard to find you. Our EP is on all of the major platforms, YouTube, Google Play, Spotify, Apple Music, etc. The best way to promote a band is to play live, you can gain more fans in one show that you can get in a month of promoting online.
10. Tell us a few things about the New Underground Metal Scene in Tucson, Arizona USA (Bands, Fanzines, Webzines, Metal Clubs etc.)
Trek: The guys in Swarm of Serpents are the real deal, hella cool cats that can play….and they're doing well touring in Europe and south of the border in Mexico!
Steve: The metal scene in Tucson is great, there are a lot of really good bands out here, and the bands are very supportive of each other. There are a lot of cool clubs here that play metal, and the promoters we've worked with are dedicated to bringing metal to the stage, they've been super supportive of the scene. Our EP has been part of the regular playlist on DowntownRadio.org here in Tucson on their Monday Night Metal Block. They don't really play local bands, so it' a great honor to be part of that show. KFMA has a Local Noize section on Monday nights as well, and have played most of the songs off of the EP.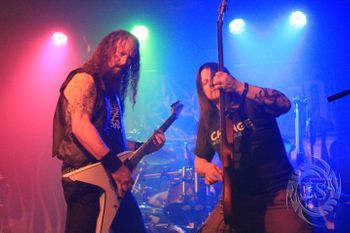 11. Do you know anything about the Hellenic Metal Scene?
Steve: There are a lot of really great bands in Greece and the fans are really into metal. As far as bands go, Aasgard comes to mind right away, they are very dark, and I enjoy listening to them. I've been a big Rotting Christ fan since they came out, and Necromantia too, they are great. Who doesn't know about Suicidal Angels, they are a terrific band.
12. What are your future plans?
Trek: Find a bassist that wants to do mini-tours to NM/TX, CA/NV, and Mexico. Record a full-length album. Play bigger tour circuits and that ideal live show!!
Steve: Our bass player no longer desired to play out of town shows, and we were setting shows in other states, so he decided to depart from the Never Reborn camp. His contributions to our EP will forever be a part of our lives and we wish him the very best. So yeah, we are currently looking for a bass player. We are writing a lot of new songs, beyond what we have planned for the full-length album, we're pretty much writing for the 3rd album, but that's looking pretty far into the future.
13. Thank you very much for your time & Keep up the good work! The closure is yours.
Trek: Be on the lookout for our video single "Heaven Shall Forsake" as soon as the whole COVID-19 thing settles down. Listen to or buy our EP "What Darkness Brings" on iTunes, Spotify or go to NeverReborn.com to buy some merch or just check out the photos, videos or upcoming show dates.
Steve: We recorded part of the video for "Heaven Shall Forsake" at a live show on March 13th and were scheduled to shoot the second part of the video at this old church the following week, but due to the COVID-19 restrictions we were forced to put that on hold. You can expect that video to come out once all of the restrictions have been lifted. To everyone out there looking for ways to pass time during this pandemic, listen to as much music as you can, follow playlists and band pages, and once this craziness if over, go out and watch some bands live!!! We hope to see some of you at a show in the near future. Thanks so much for the interview, we appreciate you putting us on Filthy Dogs of Metal Webzine!!!
By Steve the Filthy Dog.
https://neverreborn.bandcamp.com/
https://www.facebook.com/NeverRebornBand/