!!!BLACK THRASH METAL FROM GERMANY!!!
We had a conversation with Equinox. Enjoy!
Welcome to the FILTHY DOGS OF METAL Webzine.
1. Tell us a few things about LUCIFUGE (Members, Starting Year etc).
Lucifuge started as a solo project in 2016. First it was just a bunch of ideas recorded in a bathroom with a 15 watt peavey amp and electronic drums. I was looking for a very raw sound inspired on the early black metal bands like Hellhammer, Bathory, Venom, Sodom, so I wanted to keep the production as minimalistic as I could. I released 2 demos and then I recorded "Der Antichrist" which I also released in tape and vinyl. Aitzol and Txusan (Ancient Emblem, Helde) offered to join on Guitars and Bass to be a live band, and I sent a record to Xavi (from death metal band Cruz) and asked him to join on drums. We met in Bremen, and did 2 practices, then we started our first tour. It went better than we expected, so we decided to book a second tour in Spain in Spring, and we hope to just keep playing live as much as possible. I really enjoy doing all the songwriting and recording alone, and since we all live far from each other, I just record the songs, and send them to the rest of the band to practice at home. They are good old friends, and great musicians, so when we come to the practice room it only takes a couple rounds to tighten everything.
2. You have recently released your new album ''The One Great Curse''. What is the Feedback from your audience as well as from the Press?
The feedback has been great so far! We ve got an excellent review in Metal Temple, and I feel with this album the band is starting to develop its own sound. Still everything is recorded in the rehearsal room, but I guess I have improved a bit on my recording skills, as some people asked me if it was really a practice room recording… There's only 2 rhythm guitars and sometimes less is more, specially in old metal!

3. Label or DIY and why?
I went DIY from the start, mainly because this is a project that is very special to me, so I wanted to have control over everything. That's the reason why I preferred to mix and produce the record by myself, to be able to find the sound that I wanted, that is far away from the modern metal sound, and more into 80s NWOBHM and early Black/Thrash/Speed Metal. I guess its a bit of a compromise, sometimes a big label can help, but I believe that if the songs are really powerful and the live performance is really good, thats the best way to promote any band. On the new album, a few DIY labels helped with the release and distribution, and that is a great way to work. I did send a few demos to other bigger metal labels, but none was willing to release it. I guess for every band is good to just start from the bottom and work your way up to wherever you want to go. My main goal is to be able to put out the music that I like, go on tour and have fun with my friends, so its been working out pretty well so far.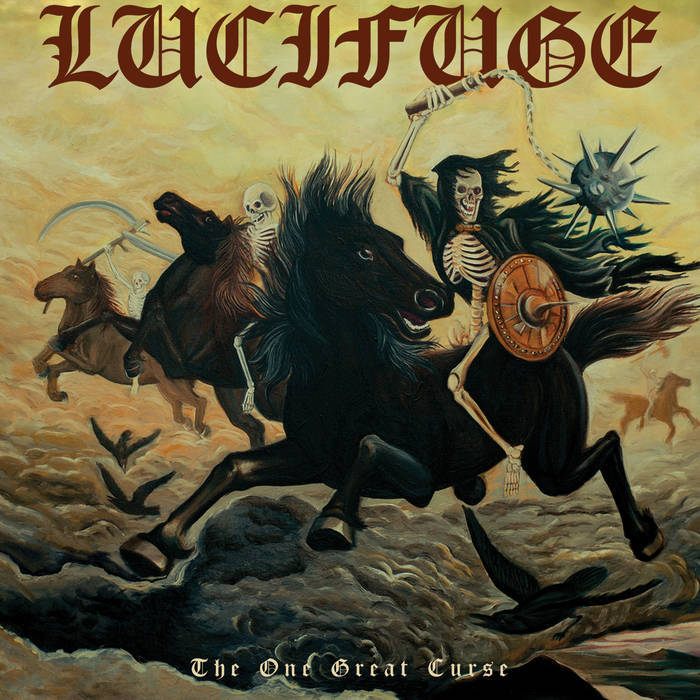 4. Do you prefer Vinyl, Tape, CD or Digital Format and why is that?
I personally prefer vinyl. I used to love 7" EPs, but its almost as expensive as to press a 12", and I guess writing a whole album is a lot harder than 2 great songs… You need some faster songs, some slower songs, and a nice sequence that just builds up… A great opener for the side B, and all of this ritual of listening to a vinyl record and reading the lyrics, looking at the artwork, its not the same with digital. Its like you really put attention to the record when you have it in vinyl.

5. Your music style is Black / Thrash Metal. Which are your main influences (Favourite Artists / Bands etc.)
I would say my main influence is Bathory, for all the way him and Boss managed to just keep writing amazing albums, how Quorthon was able to write all this incredible songs, and go on different directions while keeping that obscure sound even in the acoustic parts… I also love Hellhammer and Celtic Frost, reading about how isolated they were in Switzerland and doing this kind of music at the time, which everyone thought was terrible, is actually incredible. And of course Motorhead. There will be nothing without Motorhead.
6. Which things, do you think, a Band should sacrifice in order to succeed? Have you ever sacrificed anything in your life for a better future of your Band?

I think you really have to practice a lot, and try to be productive as much as possible. I found out that sometimes I go to the studio on a Saturday night just because I got a new riff that I really want to record, and end up writing a really nice song, then after a week I go back to the studio to change something because I wrote a chorus or found this lead that its just what it needs… And I guess it only comes from playing those riffs over and over and trying to find what makes them catchy or what lead needs to go on top…
7. Describe your ideal live show as a performance Band. Have you already experienced that?
We recently played at Black Label in Leipzig, it was super packed, a small bar, just playing in front of the bar, and people where head banging and it was a pretty intense gig, those are the best. Just loud, in your face kind of venues are my favorite.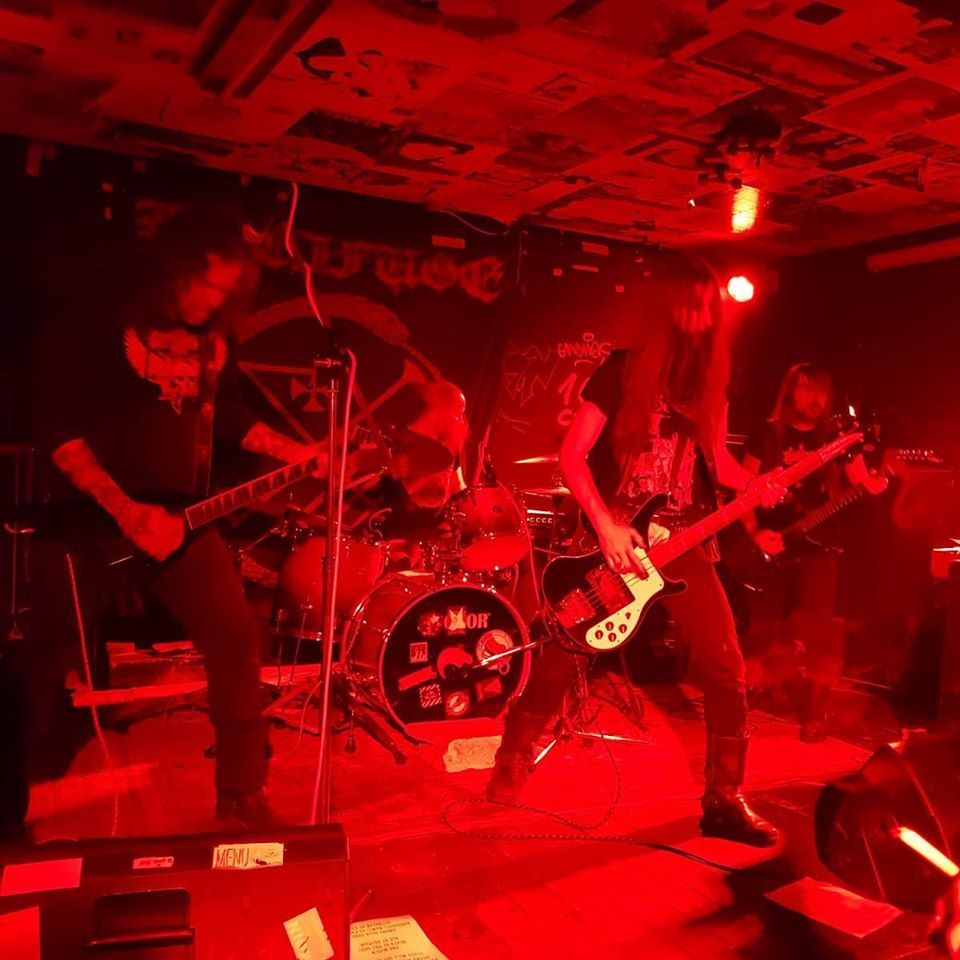 8. Which attributes, do you think, that a new Black/Thrash Metal Band should have in order to gain identity and be unique?
I would say it needs to sound direct and raw… sometimes the overproduction is killing a great song. I feel Black/Thrash Metal benefits from that unpolished sound. That's what I love about Bathory's first album and all the Hellhammer demos, and even Slayer "Show No Mercy", Venom "Welcome To Hell" where all recorded in very short time, and it sounds fresh and not overproduced. So I guess if you just put a lot of work into practicing and songwriting, you don't need a massive production to get a really powerful record.
9. Do you believe that Bandcamp and other Digital Platforms help the new Black/Thrash Metal Bands? Which, do you think, is the ideal way for a Band to promote its work?
I tried both things, sending tapes around as well as Bandcamp links. I personally love the tapes, and with the first 2 demos from Lucifuge I just sent them out for free to all my friends and former bandmates, but seems like Youtube, Bandcamp and Spotify work in way larger level. I guess in the end you just have to not give a fuck how many people download or buys your tape, just keep moving forward.

10. Tell us a few things about the New Underground Metal Scene in Germany (Bands, Fanzines, Webzines, Metal Clubs etc.)
There's a lot of great bands, and venues, Leipzig specially has a very prolific underground metal scene. Bremen has a very small metal scene, that's also why I ended up searching for band members in other cities/countries as here I didn't know anyone that wants to play this kind of music. Germany is great for touring, you have really short distances and great highways, and usually you get dinner, breakfast, sleeping places, good money for gas and free beer. I toured the US before and we had to go around the crowd asking for someone to take us to sleep in their house, and sometimes the promoters don't give you dinner or even drinks…
11. Do you know anything about the Hellenic Metal Scene?
Our drummer Xavi is a big fan of Greek Black Metal. I only know a few bands, lately I've been listening a lot to Ravencult, Morbid Blood is a great record! Hopefully we can play with them sometime.
12. What are your future plans?
In spring we are touring Spain with "The One Great Curse" release in vinyl. Then we want to do a few gigs in October and November in Basque Country and Germany. We are actually planning to do a tour in Greece, still no exact dates…
13. Thank you very much for your time & Keep up the good work! The closure is yours.
Thanks for the support, and hope to see you on the road!
By Steve the Filthy Dog.

LUCIFUGE CONTACT:
https://lucifuge666.bandcamp.com/
https://www.facebook.com/lucifugeblackmetal/