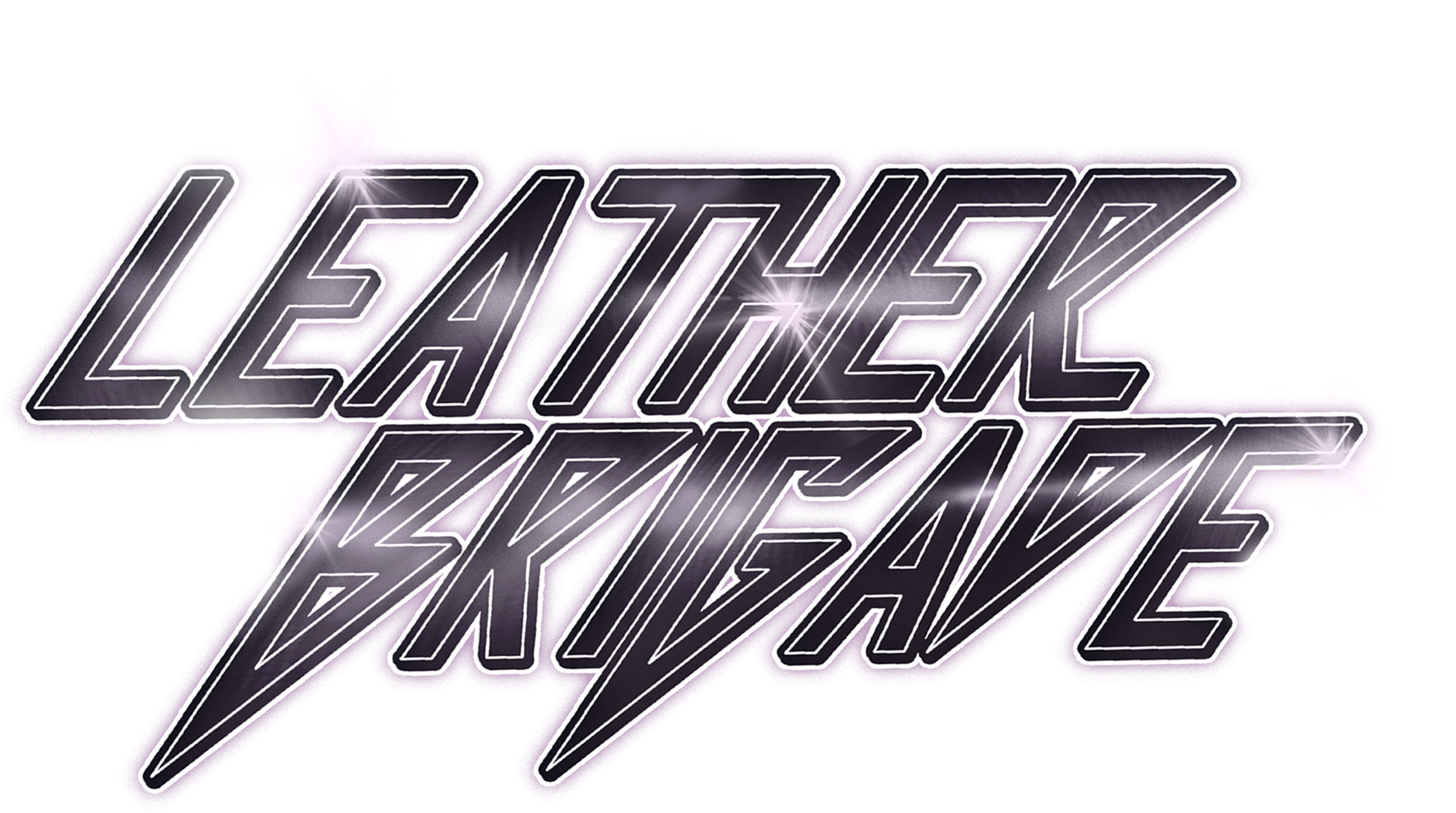 !!!RABID SPEED METALPUNK FROM ROMANIA!!!
Welcome to the FILTHY DOGS OF METAL Webzine.
Tell us a few things about LEATHER BRIGADE (Members, Starting Year etc).
We formed the band sometime during the pandemic. I can't really pinpoint the exact moment when Leather Brigade started, because it slowly took shape. Nekrohammer (bass/vox) and Fleshripper(guitar) used to play in another band (Hëllstrike), that took a break due to frequent conflicts between members at that moment. Nefuneraru' (drums) was a mutual friend of ours who wanted to practice his drumming skills, thus leading to us having our first jam session in May 2020 with no intention of starting a band. For a few months, we didn't give the meeting any thoughts, but after some talking we decided to meet again. By the end of summer we had met a total of 2 times and had written our first song, Sex With Satan. We met rarely during the pandemic, not because it was hard to break away from restrictions, but more because we knew that composing new material and meeting up wasn't worth it considering the fact that we wouldn't be able to play the songs live. After the restrictions loosened up, we also coincidentally met Speedboozer (lead guitar) at a party in August 2021 and the line-up was, then, complete. We slowly started playing gigs, the first few of them consisted in us opening for Slicer, a local metalpunk force and also our brothers and mentors who boosted our will and spirit in a country that lacks true and old school metal manifestation.
You have recently released your EP ''Pray To The Knife''. What is the feedback from your audience as well as from the press?
The feedback has been good so far. People seem to be enjoying it, in the local scene and also internationally. The EP was highly anticipated by people who have seen us live and we're grateful to have so many friends supporting us. The press is also pretty supportive. We'll soon have a radio interview on a Romanian station, Sport Total FM, but we were also featured on The Mighty Decibel podcast and on Nattskog's blog.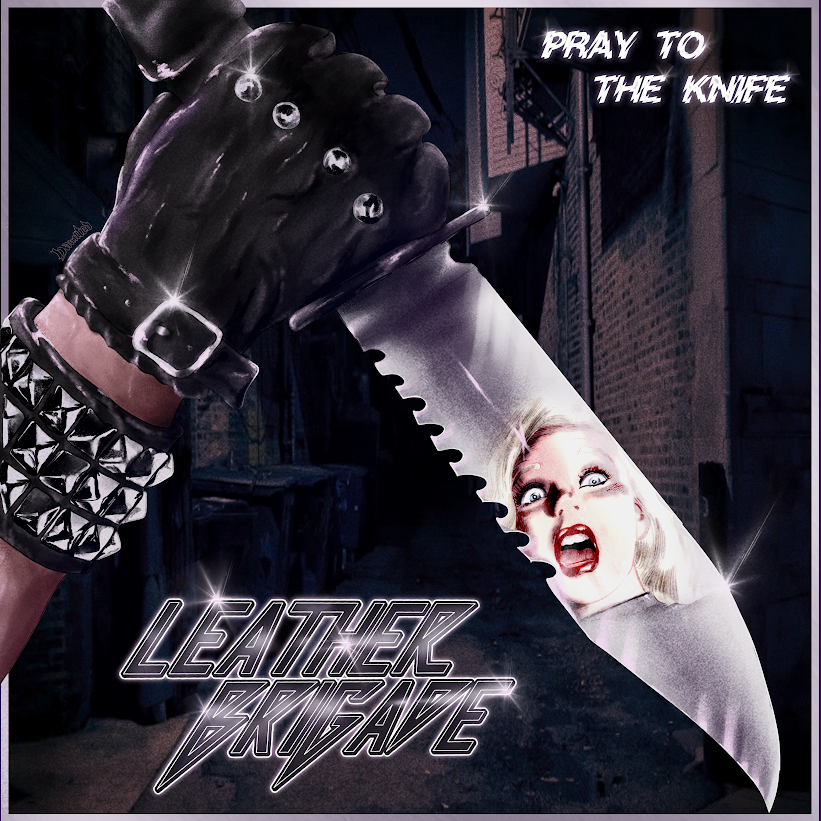 Label or DIY and why?
Label. This is the short answer. The thing is, there are many factors at play. Firstly, it depends on the label having exclusivity over your music or not, if they have a certain genre fanbase and if they're close enough to send the band stuff. Some of the members also released DIY material with other bands, but having a label really helps with the overall organization. Besides, labels have connections with distributors worldwide and can send wholesale packages to places you would have never imagined.
Do you prefer Vinyl, Tape, CD or Digital Format and why is that?
A. Fleshripper: My most listened medium is definitely digital. I like a band -> I buy their shit on Bandcamp. I also like collecting vinyls, but they are a bit impractical in the day to day life.
T. Speedboozer: Vinyls all the way. While listening to anything from 80's synth pop to motorpunk and black speed I've always noticed a difference on vinyl. The sound is warmer, clearer, just better.
C. Nefuneraru': I listen on digital. I just don't have any other format available. I've got some vinyls back home, but I don't have a pick-up.
V. Nekrohammer: I think tapes represent metal in the best way, with a raw and filthy sound. They are also easier to use when meeting up with fellow alcoholics to blast some rabid tunes!
Your music style is Speed MetalPunk. Which are your main influences (Favourite Artists / Bands etc.)
A. Fleshripper: A few bands that inspired me are Slicer, Midnight, Wolfbrigade, Venom, Raw Poison, Violent Force, Avskum and others that I'm too lazy to name or I just forgot.
V. Nekrohammer: Hellhammer, Raw Poison, Bathory, early Kreator, Exciter, Günther.
T. Speedboozer: Metallica, Motorhead, Midnight, Power Trip, Discharge, Disrupt, early Sepultura.
C. Nefuneraru': Crossbone, Slicer, Damage Case, Bad Brains, Black Flag, Descendents.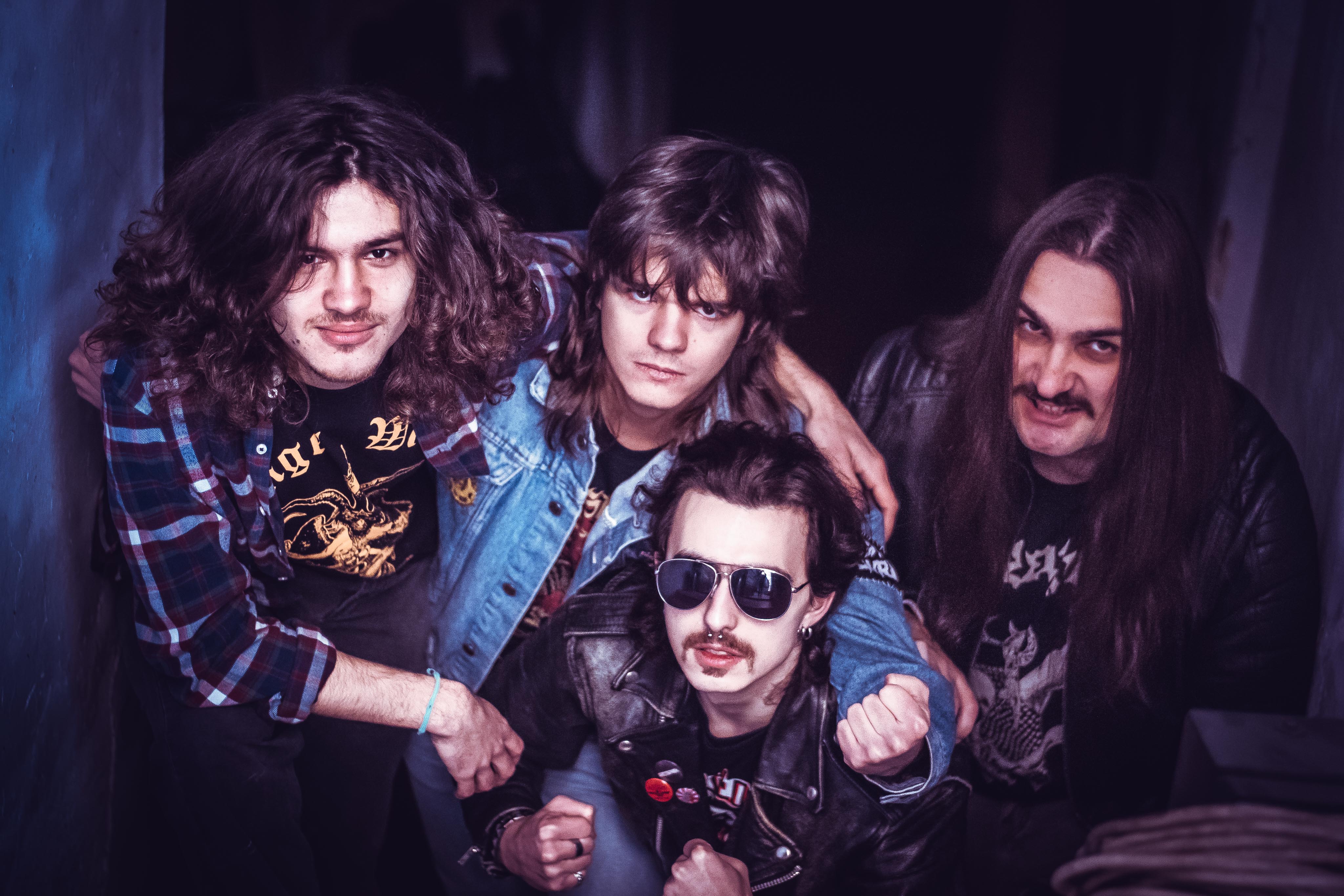 Which things do you think a band should sacrifice in order to succeed? Have you ever sacrificed anything in your life for a better future for your band?
MONEY FOR BEER!
A. Fleshripper: This question is retarded. If you live the metalpunk lifestyle you don't feel like you're sacrificing stuff.
T. Speedboozer: Mental health.
C. Nefuneraru': ...
V. Nekrohammer: Vocal chords and finger tips.
Describe your ideal live show as a performance band. Have you already experienced that?
We love small, packed over the legal limit, 'can't breathe inside' type of venues. We love drunk people letting loose, moving around, going ape-shit. If you're at a concert and the band is mean, MANIFEST YOURSELF!!! With this being said, some of us think we have already experienced a concert close to perfection when we played in Oer Erkenschwick, Germany w/ our brothers in SPHINX and REACTORBLAST.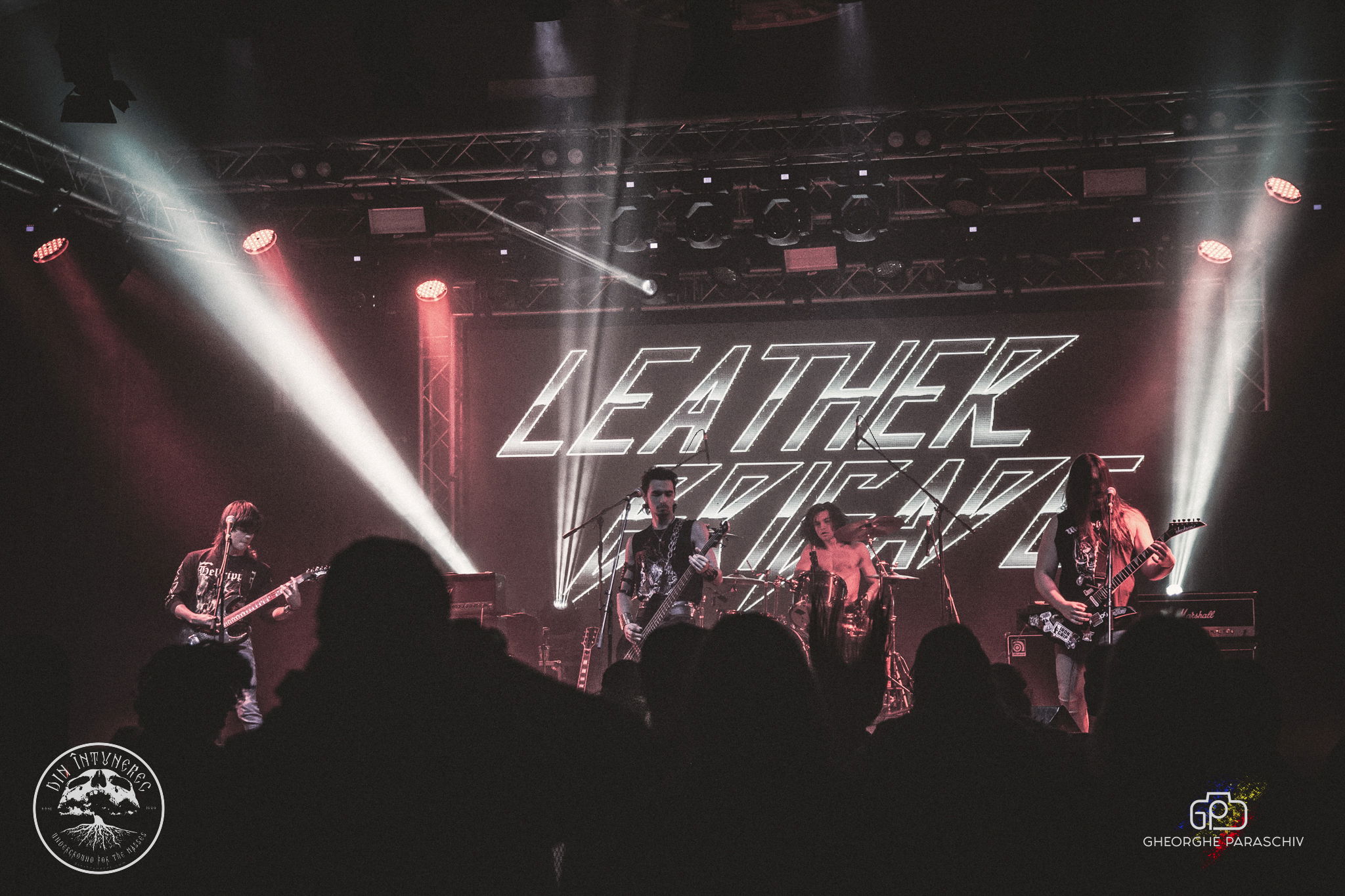 What attributes do you think that a new Speed Metal Band should have in order to gain identity and be unique?
We wouldn't know. We just copy 80s bands, lol. No, but in all seriousness, unique speed metal means stepping out of an established pattern and usually derails in questionable sounding metal. We think the key to success as a new speed metal band is: d-beat + Kirk Hammett pentatonic + alcohol + UGH.
Do you believe that Digital Platforms help the new Speed Metal Bands? Which, do you think, is the ideal way for a band to promote its work?
Yes, digital absolutely helps. Best way to promote your stuff is to put it up on Bandcamp and release it to various metal channels. Having a release on physical is very nice if the band can afford it, but digital is so much more convenient for bands.
Tell us a few things about the New Underground Metal Scene in Bucharest, Romania (Bands, Fanzines, Webzines, Metal Clubs etc.)
The scene is pretty small.
V. Nekrohammer: A big part of the scene is composed of folk, metalcore and other syphilitic (not in the happy way) bands.
We got some cool bands though, Damage Case, Slicer, Crossbone (mostly consistent of the same members), Cold Brats, and also other black and death bands. We also have some very supportive garage punk/rock bands: Plant and D.E.N.I.S.
As for fanzines and webzines we have: StrigOi (mostly punk), Paginile din Criptă (mostly death metal), Bloody News, Let's Rock etc.
We have a really cool organization, the metal club called RTMC (Romanian Thrash Metal Club) who usually supply the scene with insane bands, while also supporting local acts. Sick guys.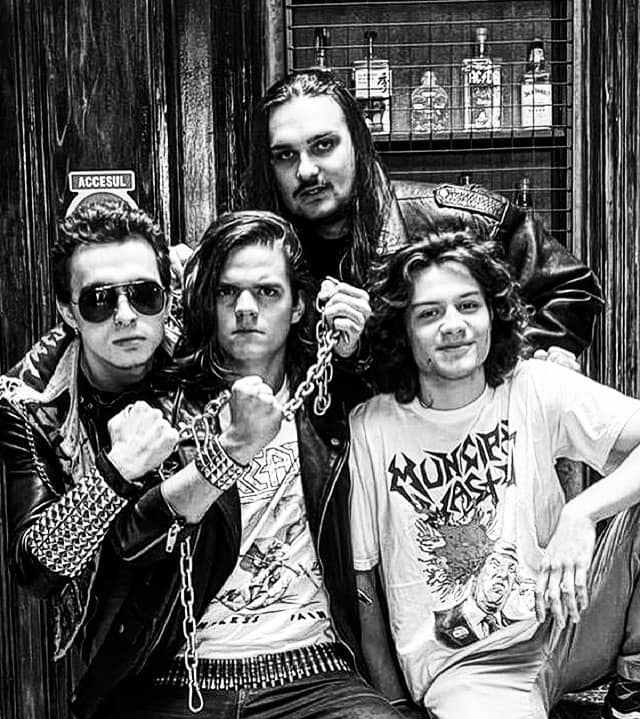 Do you know anything about the Hellenic Metal Scene?
Yeah we do. Nekrohammer is a friend of Tomek ( Bio-Cancer drummer). We also love Slaughtered Priest, Raw Poison, Omega and Principality of Hell. Other than that, we don't really know. Some friends went to Up the Hammers last year and they enjoyed it a lot so this year Speedboozer is also going.
The last 3 years, worldwide in the world, we have faced many dark, strange & new situations in our everyday life (covid, lock-down etc.) Did all of this affect you positively or negatively?
The pandemic was a bit harsh on our band. We didn't really rehearse all that much and couldn't play live. We had an illegal Halloween concert planned but it didn't come to fruition. A good side: we had quite a lot of free time to write new stuff.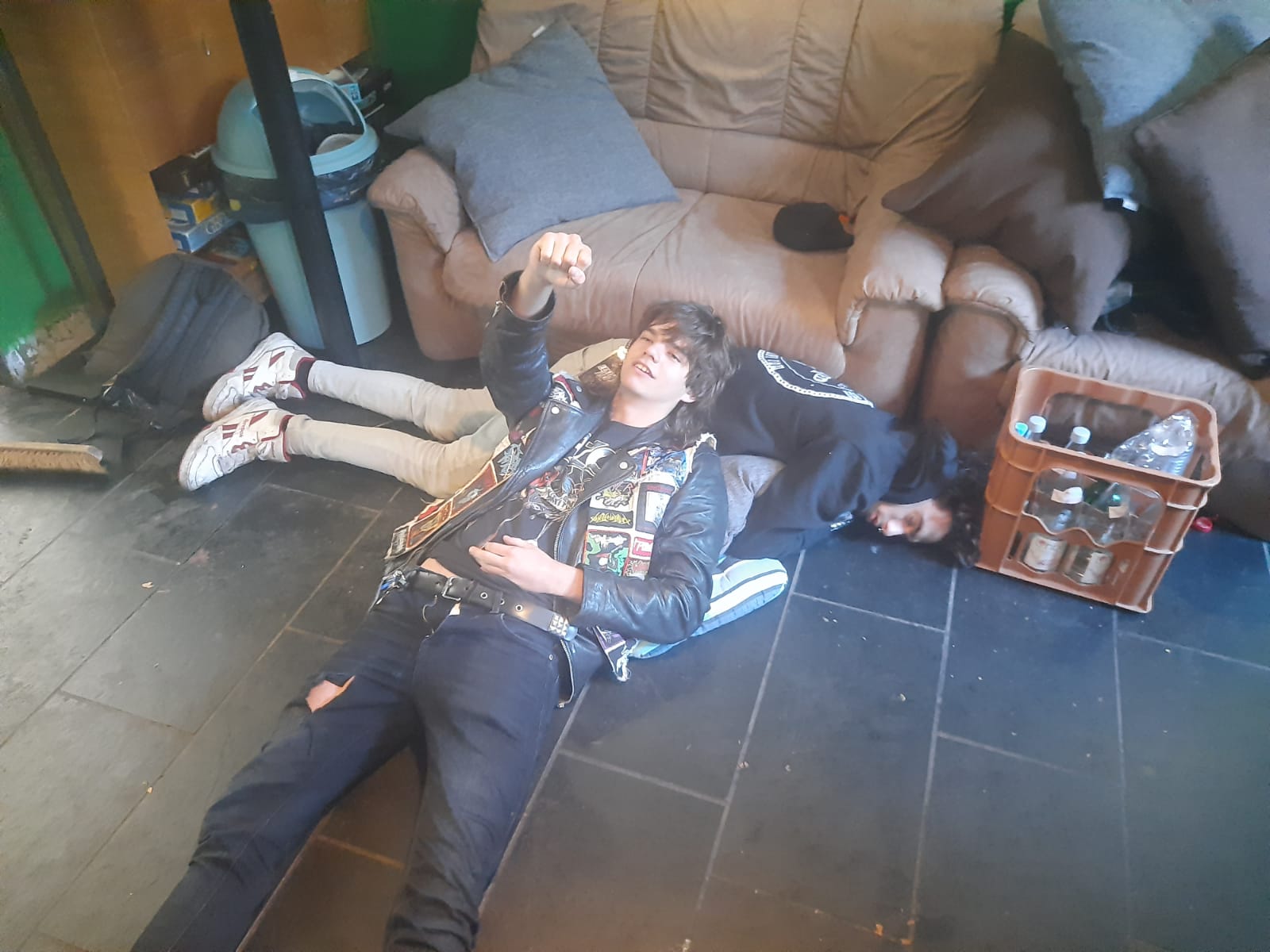 What are your future plans?
We'd like to record 2 new songs to release a split with some other band/bands (we don't know which one/ones yet). We're also thinking about a small European tour.
V. Nekrohammer: That will happen if we don't die due to alcohol intoxication, drug overdose or unprotected sex.
Thank you very much for your time & keep up the good work! The closure is yours.
Thank you for listening to our EP, and having us for this interview. Pray for steel, stay fast, stay rabid. 666 UGH!
By Steve the Filthy Dog.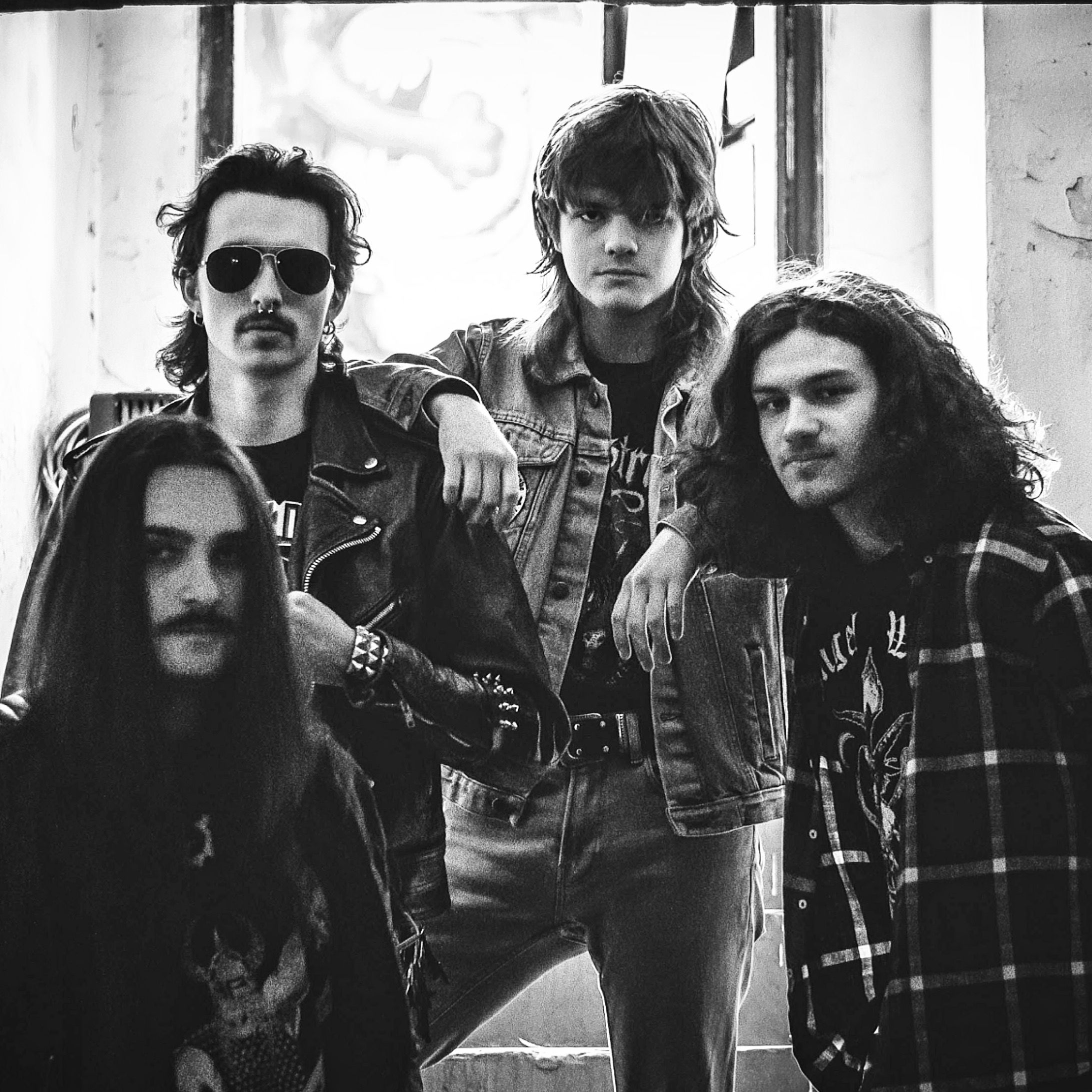 LEATHER BRIGADE CONTACT:
https://www.facebook.com/lbpunx
https://www.instagram.com/leather_brigade/
https://leatherbrigade.bandcamp.com/album/pray-to-the-knife