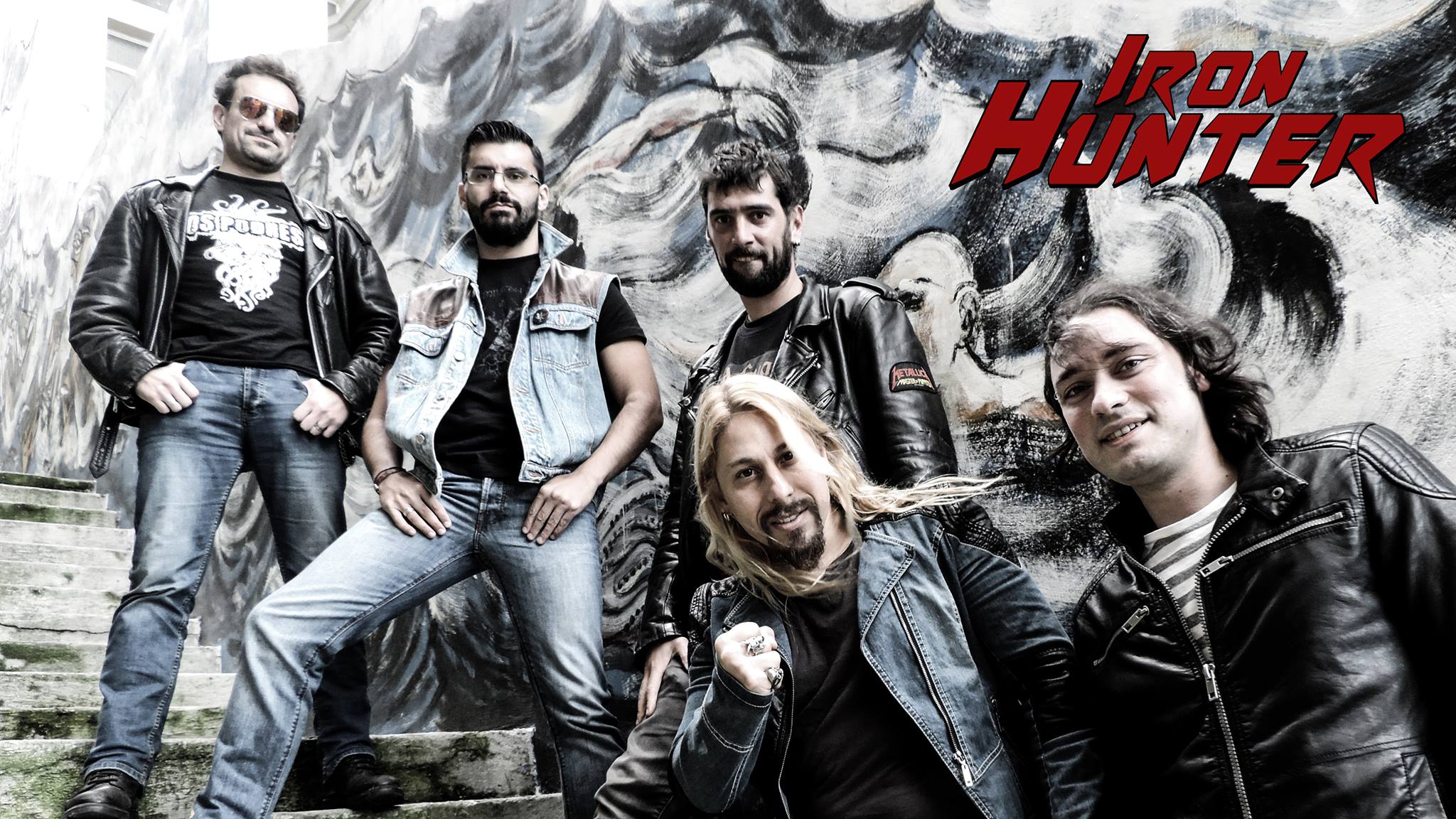 !!!HEAVY/SPEED METAL FROM SPAIN!!!
Welcome to the FILTHY DOGS OF METAL Webzine.
Thank you very much for the interest in Iron Hunter, it´s a honor for us.

Tell us a few things about IRON HUNTER (Members, Starting Year etc).
Iron Hunter started in 2015 as a studio project formed by Emi (vocals) and Alex Sixtrings (guitars), named initially as Starlight. They recorded a couple of songs with the help of our producer Zoilo and other musicians, one of them was Diego Sanjorge who plays the guitar in the band at the moment. As many people liked those songs (that later became our EP Killing Machine), they decided to form a real band in 2016, joining Paco (guitars), Anxo (bass) and Alex (drums). In 2019 Alex sixtrings left the band, being replaced by Diego.

In 2018 you have released your album ''Mankind Resistance''. Have you prepared anything new since then?
Yeah, we have been working in new songs. We would love to release a new album. It is taken quite a long time because Alex Sixtrings was our main composer and he left the band, so Paco and Anxo had to took that role and we needed an adaptation period. Also, because of the pandemic lockdown, we couldn´t rehearse for a long time. Fortunately, we start rehearsing again and we keep composing to have new stuff soon. In these 'apocalyptic' times, what is better than writing Metal songs!?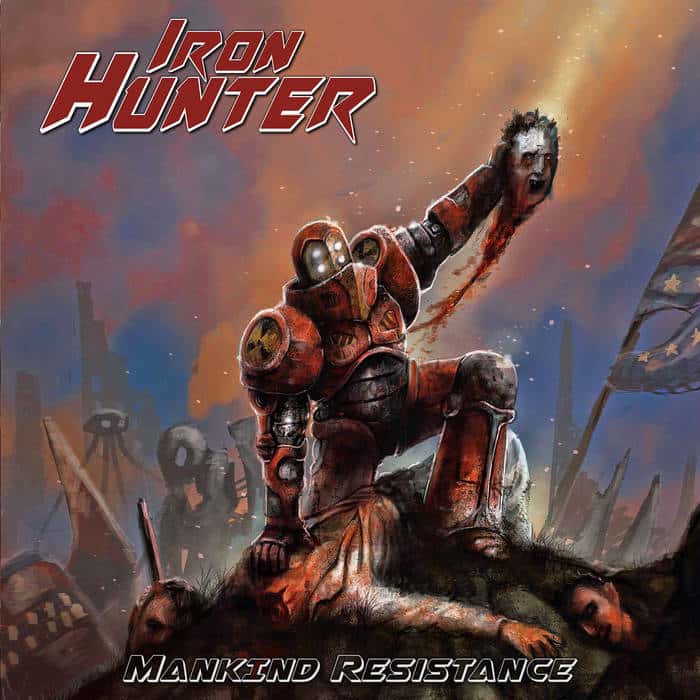 Label or DIY and why?
Our EP and album were recorded by our own means at Unreal Studios, and later we could sing for an experimented label as Fighter records. They have made a great job of distribution, marketing and promoting, so we would like to continue with this collaboration: the fun part for us, the hard work for them :).
Do you prefer Vinyl, Tape, CD or Digital Format and why is that?
We are children of the CD generation, so we love that format because we have bought tones of CDs during our lives. Digital format is great for discovering new bands, it has the benefit of being always available and immediate. Of course we all are going to buy the new Helloween album in fiscal format, but digital will allow us to listen to the bands recommended by your webzine.
Your music style is Heavy/Speed Metal. Which are your main influences (Favourite Artists / Bands etc.)
Well, Iron.....Maiden!! Everyone in the band love Metal and many of its genres, but in Iron Hunter we are specially influenced by the classic heavy metal bands like Iron Maiden, Judas Priest, Queensrÿche, Riot, Helloween, Running Wild .... We also like actual bands like Skullfist, Striker or Enforcer. All the good stuff, you know.
Which things, do you think, a Band should sacrifice in order to succeed? Have you ever sacrificed anything in your life for a better future of your Band?
To be honest, we don´t think in success. We don´t live on music, so Metal is our passion and our way to have fun in our free time.Of course we do sacrifices for the band. For example, Diego and Paco drive almost three hours to rehearse with Iron Hunter and three hours back home. Emi has two jobs and two children, not many time left for the band, but he manages to rehearse and play concerts. But as we said before, the goal is just to have fun and enjoy playing music.
Describe your ideal live show as a performance Band. Have you already experienced that?
Everyone in the band would love to share the stage with our heroes and to play at the greatest festivals like Wacken or Hellfest. Playing on a big stage full of lights, with the loudest sound, in front of a huge audience who enjoy your music it is a dream for any metal musician!We already had two very special concerts for us. One was opening for Striker. We love that band, they are amazing musicians and really nice guys. It was big fun!The second was II Vigo Rock Festival, opening for legendary Spanish bands Baron Rojo, Obus, Motores and Mago de Oz.The stage was really big and there were a thousand people having fun when we played.
Which attributes, do you think, that a new Heavy Metal Band should have in order to gain identity and be unique?
We don´t know, if someone gives you the right answer, please let us know. Being unique is a very difficult achievement. We just try to play the music we would like to listen to. We get the inspiration from the bands we love and try to express that feeling our way. Of course, taking care of details and having a critical/constructive attitude it´s important, we always try to improve our compositions and if someone makes a suggestion, it should be considered.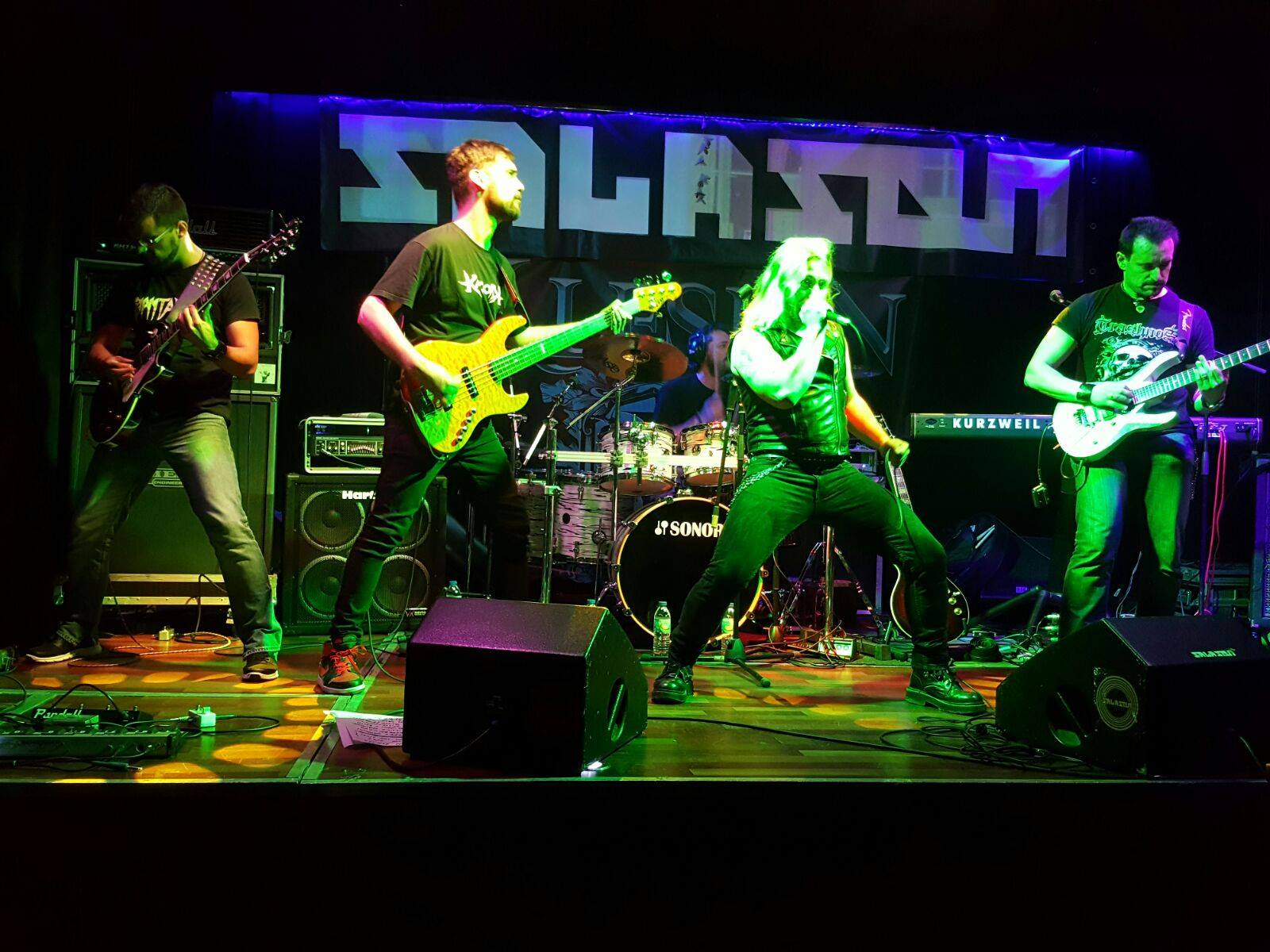 Do you believe that Bandcamp and other Digital Platforms help the new Heavy Metal Bands? Which, do you think, is the ideal way for a Band to promote its work?
Social media and digital platforms are great because they bring easy and immediate access to the music and the band. Anybody from anywhere can listen your music or get in contact with you.We are having this interview thanks to a social media, right?. Real world contact is really helpful as well: playing as many concerts as we can, going to concerts and festivals as a fan, having collaborations with other bands, having some beers in the local metal club, etc. In these situations we meet musicians, promoters, media and people from the metal scene that may think of our band for future events.
Tell us a few things about the New Underground Metal Scene in Spain (Bands, Fanzines, Webzines, Metal Clubs etc.
Spain has never been a big name in the metal universe, but nowadays there are bands like Angelus Apatrida who are having a big success. We like very much some label mates as Wild, Ankhara or Vhäldemar. We also would like to talk about our region, Galicia. We live quite far from Madrid so local scene is important here. We have bands like Bloodhunter, Dark Embrace or Balmog who are getting bigger and many others who are making a high quality job: Strikeback, Atreides, Marthyrium, Evil Hunter, Come Back from the Dead... Our favourite Spanish webzine is Hellpress, they know what they write about. For concerts we may prefer the north of Portugal. We live not far from Porto where you have the wonderful Hard Club. There are also nice summer festivals as Vagos Open air or Milagre Metaleiro in that area.
Do you know anything about the Hellenic Metal Scene?
We know that Greece has a lot of metal fans who are really passionate. We also know the big metal bands from Greece such as Firewind, Septic Flesh, Rotting Christ or Nightfall, and other good bands like Warrior Path, Suicidal Angels or Sunburst. We love Apolo Papatanasios and specially Yannis Papadopoulos from Beast in Black
What are your future plans?
First, staying safe and sane through this pandemic situation. We have received nice offers, like a Spain and Portugal tour with a band we like a lot, but because of the situation it can not be confirmed yet. It is difficult to have plans nowadays.It would be great if we can release a second album and play live as much as possible. We are crazy to share our music with the public again and headbang with our friends!!
Thank you very much for your time & Keep up the good work! The closure is yours.
Thanks a lot for this interview. We want to stay positive and we hope this pandemic situation would increase the interest of the fans in going to concerts and supporting the metal scene. We are eager to enjoy metal alive again, have some drinks and have fun. Keep safe, stay metal!!
By Steve the Filthy Dog.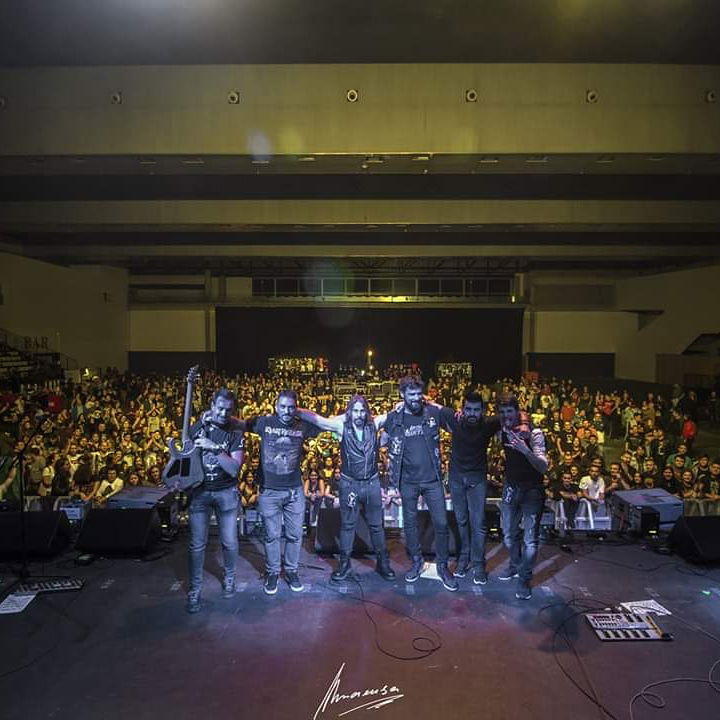 IRON HUNTER CONTACT:
https://www.facebook.com/ironhunterband/