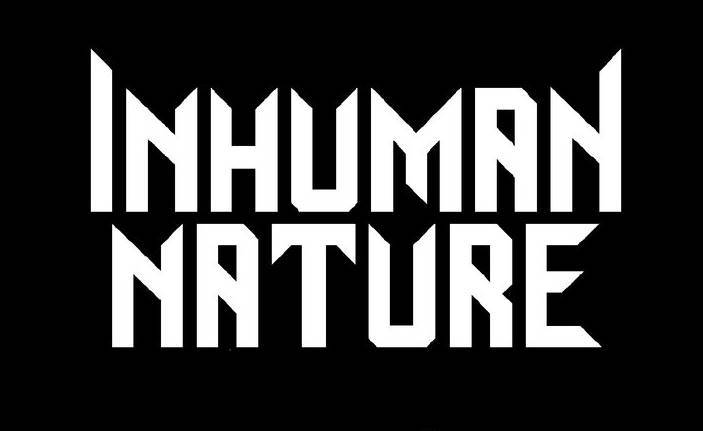 !!!THRASH METAL FROM UK!!!
We had a conversation with Chris Barling (Vocals).Enjoy!

Welcome to the FILTHY DOGS OF METAL Webzine.
Thanks for having me/us!
1. Tell us a few things about INHUMAN NATURE (Members, Starting Year etc).
This band has been going since around 2016 and then I joined in 2017, I believe. Even I don't know the full story before I joined but it sounded like a 'Constant Struggle' to keep members and interest in doing a band that was essentially an Iron Age worship band. Not that sounding like Iron Age is a bad thing, they rule. Anyway, I joined on vocals because I was friends with the original drummer Ed and it was a good excuse to hang out. Me and him came up with ideas for the artwork, the time traveller/road warrior guy that you see on the demo cover and I tried to write lyrics around this and put together a story of sorts about his journey through time and 'Other Realms'. Ed parted ways with us before we got round to playing a show and I got Simon on board as we had played in a band some years before. And Jack, our bassist, came back after having been involved previously but not really vibing with that line up of people. We got in the studio with Misha Hering, who recorded the demo, after we wrote the original Taste Of Steel track and put that out as soon as possible with the new line up. Then we got the offer from Injustice to put a record out.We knew we needed to up our game and get a lead guitarist on board, and Ben was recommended to us through a mutual friend. He came in for one practice and slayed! So he was in. This was all happening from around May 2018 and we recorded the LP in November that year, again with Misha at Holy Mountain.There have been some changes to the line up since then, but now I feel we have the most solid line up that the band has ever had and we're ready to rock in 2020.
2. In 2019 you have released your album ''Inhuman Nature'''. What was the feedback from your audience as well as from the press?
It's been great from both sides, which was a relief. I liked the record and what we had put together but you never know how a record is going to be received. A lot of people said it sounded like early Slayer, which was completely fine with us, but it drew a lot of other really interesting comparisons as well. It feels like it's gone down really well within the metal and thrash scenes, but I think having it come out on a hardcore label was a good thing for us as well.
3. Label or DIY and why?
I think if it's possible to find a good balance between being on a label and managing your own affairs, both can work. I've been in a position before where other people that weren't in the band had been making the decisions and it really didn't work.If a label is behind what you do and are supportive, then great. Obviously, they can do a lot of time consuming behind the scenes stuff that you might not have time to do, distribution being a good example.We're in a good position right now where Injustice put the record out for us, promoted it in the way that they wanted and have helped us out with getting records out to us in time for tours, bringing more to shows on a tour when we sold out and generally just being supportive any way they can. But, all the decisions that are made for the band are made by us.I think at the end of the day, my advice would be to do things as DIY as you possibly can. It's so easy to get stuff up on Bandcamp and run things through that, as well as signing up to a distributor to get your music up on Spotify, Apple Music etc, if that's where you want your music to be. If you want physical copies, it's really cheap to put out a tape or a CD, granted putting vinyl out is pricey but between 4 or 5 people it's achievable. If you are truly into music and it's a big part of your life, you'll learn loads of things as you go to help the band out or any future projects you get involved with.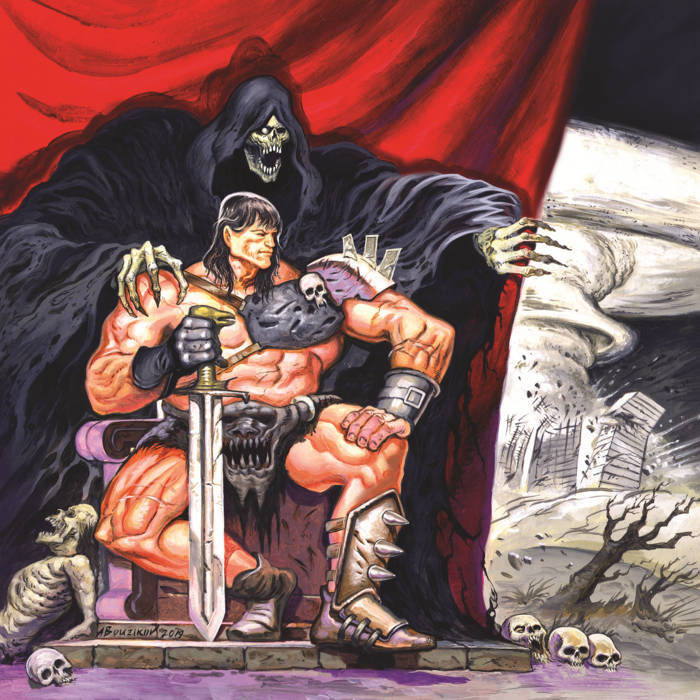 4. Do you prefer Vinyl, Tape, CD or Digital Format and why is that?
My personal preference is vinyl, I collect a lot of it, but I do have a soft spot for cassettes as well. I ran a small, mostly cassette, label for a few years. I think I prefer vinyl because of the possibilities with it, the artwork is bigger, you can do more with it and include more than you can on a CD, art wise at least. Granted, you can include more music on a CD but I always feel that less is more on that side anyway.Maybe its because buying a record feels like way more of an investment, both in terms of time and money I suppose. One of my favourite things to do is to go to record stores and spend time digging through the crates, but this a pretty time consuming activity. Luckily my girlfriend likes to do this as well, so it's not a total bum out for her. You take the record home and find time to sit down and listen to it: it's not like you can just stick it on in the car on the ride home. I'm not that big into colour vinyl or limited stuff, but on occasion when you get a cool colour variant or the most limited version it is nice. After some internal debate (mainly about money) I ordered the more limited version of the upcoming Freeways record. It's limited to 150 copies and comes on beige vinyl…with a patch and key ring.Pressings from different countries can be cool too. I got a really nice Japanese pressing of Kiss – Destroyer and the lyrics are in English and Japanese, I don't know why it's cool, it just kind of is.Does that answer the question?
5. Your music style is Thrash Metal. Which are your main influences (Favourite Artists / Bands etc.)
The main essentials for us are the classics (and probably what you are already thinking) Slayer – Hell Awaits up to Reign In Blood, Sepultura, and Metallica – everything up to Master Of Puppets. But individually there's different ingredients that we all add in. Jack is a huge Electric Wizard fan and loves a lot of doom and really big riff orientated bands, which I think you can hear in his bass playing. Simon digs that stuff a lot as well but if you've ever seen us live, you would have seen him in his Slayer shirt and shorts set. Ben, as far as I know, has been a big thrash head for a long time now and played in a straight up thrash band called Vulgate before. Vocally, over the years I've tried to develop my own style, but ultimately it comes from listening to bands like Integrity, Pulling Teeth, Disembodied: the metal side of hardcore. When we were writing the LP, I was listening to a lot of Mercyful Fate and bands that have more narrative in the lyrics, which I think really helped me craft a story behind the artwork.
6. Which things, do you think, a Band should sacrifice in order to succeed? Have you ever sacrificed anything in your life for a better future of your Band?
That's a good question. I guess everyone is different. In one way or another, I've made music and played shows at varying paces over the last 14 years. Years ago me and Simon did a band where that took precedent over most aspects of my life. I worked a job that I really, really detested but it allowed me to take loads of time off and took very little effort to do and most evenings I spent packing merch. My car would break down all the time, probably due to the amount of miles it did driving to practice and to shows (it took us a while before we could afford to just rent a van or had a member with one). While other friends were making career choices and saving to buy houses, I was stoked that in a few months I'd be going off to play in a squat somewhere. So thinking about it, what did I sacrifice? I think if you are truly passionate about music, you aren't really sacrificing anything. One band that I spent a lot of time on, the last thing we did was go out on a three week tour in Europe and we haven't done a thing since, we're basically done. I don't even really know why but that's just how it is sometimes. I don't feel like I wasted time doing it, it was one of the best things I ever did. Going away for a long time can put a strain on your relationships I suppose but as long as you are with a good and supportive person, that shouldn't be a factor.It's a difficult one, going on tour a lot and putting money into writing and recording music can affect different aspects of your life. The late nights, long drives, drinking and smoking (if that's your thing) will all take a toll on your health if you aren't careful as well. But if you find yourself looking forward to these things, rather than dreading them, you're good to go. But if the thought of having to get up early after a show to go to your boring ass office job really bums you out, maybe just stick with the office job my dude.
7. Describe your ideal live show as a performance Band. Have you already experienced that?
A small, packed venue where everyone has fun is an ideal show for me! I like the intimacy you get with shows like that. Our record release show and the Live Evil after party, both of which took place at The Dev in Camden, were really awesome! Everyone was right up to the stage and getting rowdy, perfect! Don't get me wrong, I'm down with playing to really big crowds on bigger stages and all that, but the smaller shows are what do it for me.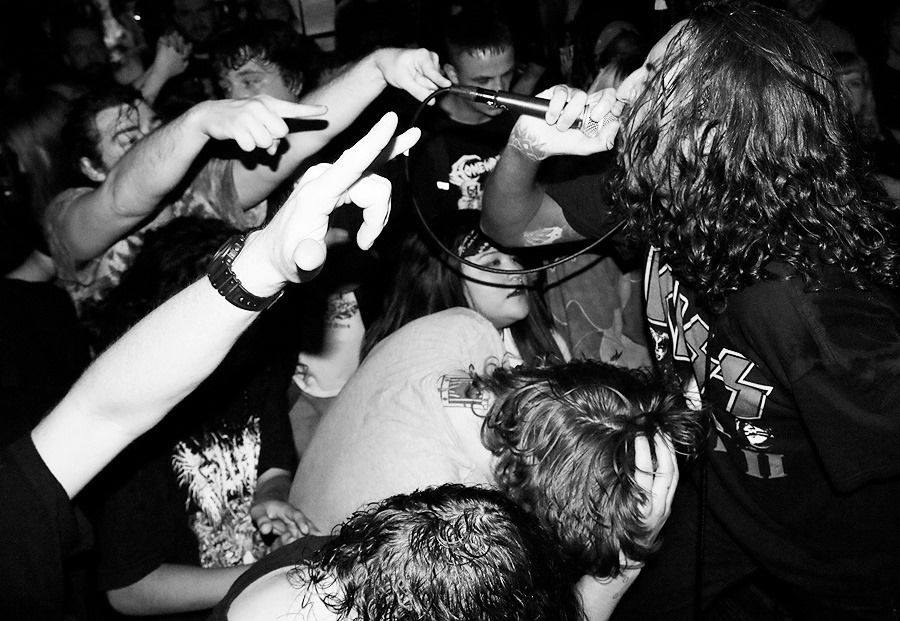 8. Which attributes, do you think, that a new Thrash Metal Band should have in order to gain identity and be unique?
Fuck, it's really hard to sound incredibly unique in a genre that typically revolves around nostalgia. If we're being honest, right? I guess with us, we mix all of our collective interests and aren't afraid to try different things. The song we have coming out on a split later this year, in my opinion, is quite different from the album tracks. But, it'll still remind you of loads of your favourite bands from the 80s and 90s. Thinking a little bit beyond writing songs about pounding beers (not that there's anything wrong with that) could set you on the right path.
9. Do you believe that Bandcamp and other Digital Platforms help the new Thrash Metal Bands? Which, do you think, is the ideal way for a Band to promote its work?
I really like Bandcamp, it feels like one of the better ways to have more control over your music and any income that you get from it. There's a little bit of community within it as well, it's always really interesting to look through other people's collections and ultimately that helps bands get noticed. That's how I came across Freeways actually.In an ideal world, I'd probably prefer to solely use Bandcamp as the main source for promoting the band's music but sadly, the big players like Apple and Spotify are necessary evils. Spotify, as most people know, pay an appalling amount for royalties but on the other hand, its algorithms or whatever big business magic it does, has helped us to get out there to a wider audience all around the world. Spotify for Artists is also very useful for planning tours. According to its data, we have a bunch of listeners in Norway and Sweden, so guess where we're heading on our next tour? Hopefully they weren't bullshitting us.The only reason we put an album out was because someone asked us for one and that's what they wanted to release. It wasn't strictly a plan of ours. I think one trick a lot of bands miss, especially in metal, is how easy it is to upload music quickly and frequently. My advice for young bands would be to record your demo, get a distributor (we use DistroKid), and get that shit everywhere. Play a bunch of shows (be prepared to lose money), write and record a couple more songs and get them up everywhere, play more shows (maybe you actually get paid this time) and repeat the cycle until the time is right.
10. Tell us a few things about the New Underground Metal Scene in UK (Bands, Fanzines, Webzines, Metal Clubs etc.)
The metal scene in the UK is doing well and there's a good mix of bands getting themselves out there. In my opinion, Aggressive Perfector put out the best album of 2019. Tim from AP also plays in Heavy Sentence – people should check this band out immediately. There's a cool band called Parish who has just started playing a lot recently: big Sabbath vibes. What's very cool right now is that scenes are starting to crossover a lot more, which I really hope continues. We tend to always tour with bands that don't have the same sound but is still within the same realm.It doesn't feel like there is much of a fanzine scene here right now but a cool one called Considered Dead came out at the end of last year that sold out quickly. Hopefully they do more. I have an idea for one that I'm hopefully going to put out this year, so keep your eyes peeled for that.We only have a couple of dedicated metal clubs or pubs in London, our favorite one being The Dev. That's where we did our album release show and it was wild. Chris from Dungeon manages the place.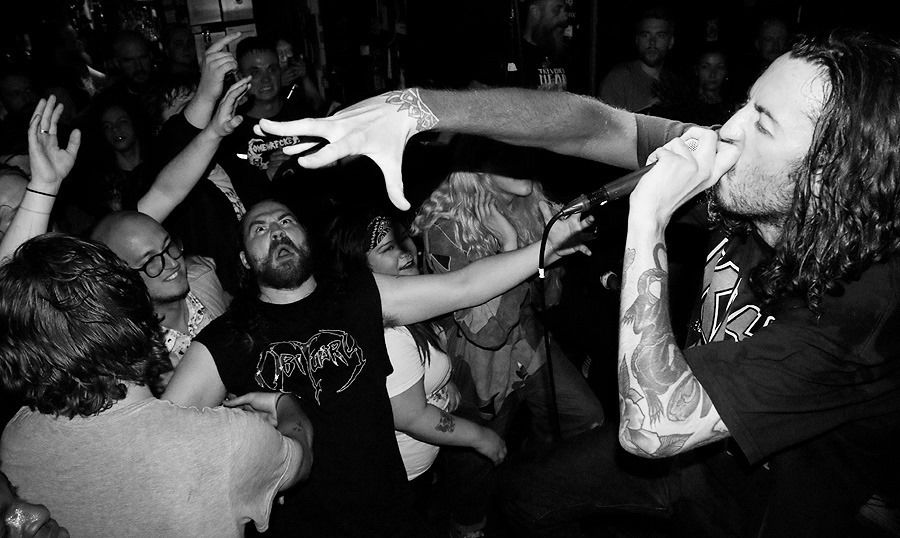 11. Do you know anything about the Hellenic Metal Scene?
Other than you guys have Up The Hammers Fest and a sick band called Crucifier, really not a lot if I'm honest. What should I know?
12. What are your future plans?
We have just recorded some new music that will be coming out on a split pretty soon and we are heading out on tour in April, hitting some countries that we haven't been to before, we're bringing Expander with us. They are a very rad band from Austin, Texas. We'll have a cool release out for that tour as well.We now have two small runs of shows planned for May as well, with some awesome bands. And then for the second half of the year, I think we'll be writing, plotting and playing shows wherever and whenever we can.
13. Thank you very much for your time & Keep up the good work! The closure is yours.
Thank you for the interview and for taking an interest! Hopefully we can play a show that you can get to so we can talk about all this stuff in person!
By Steve the Filthy Dog.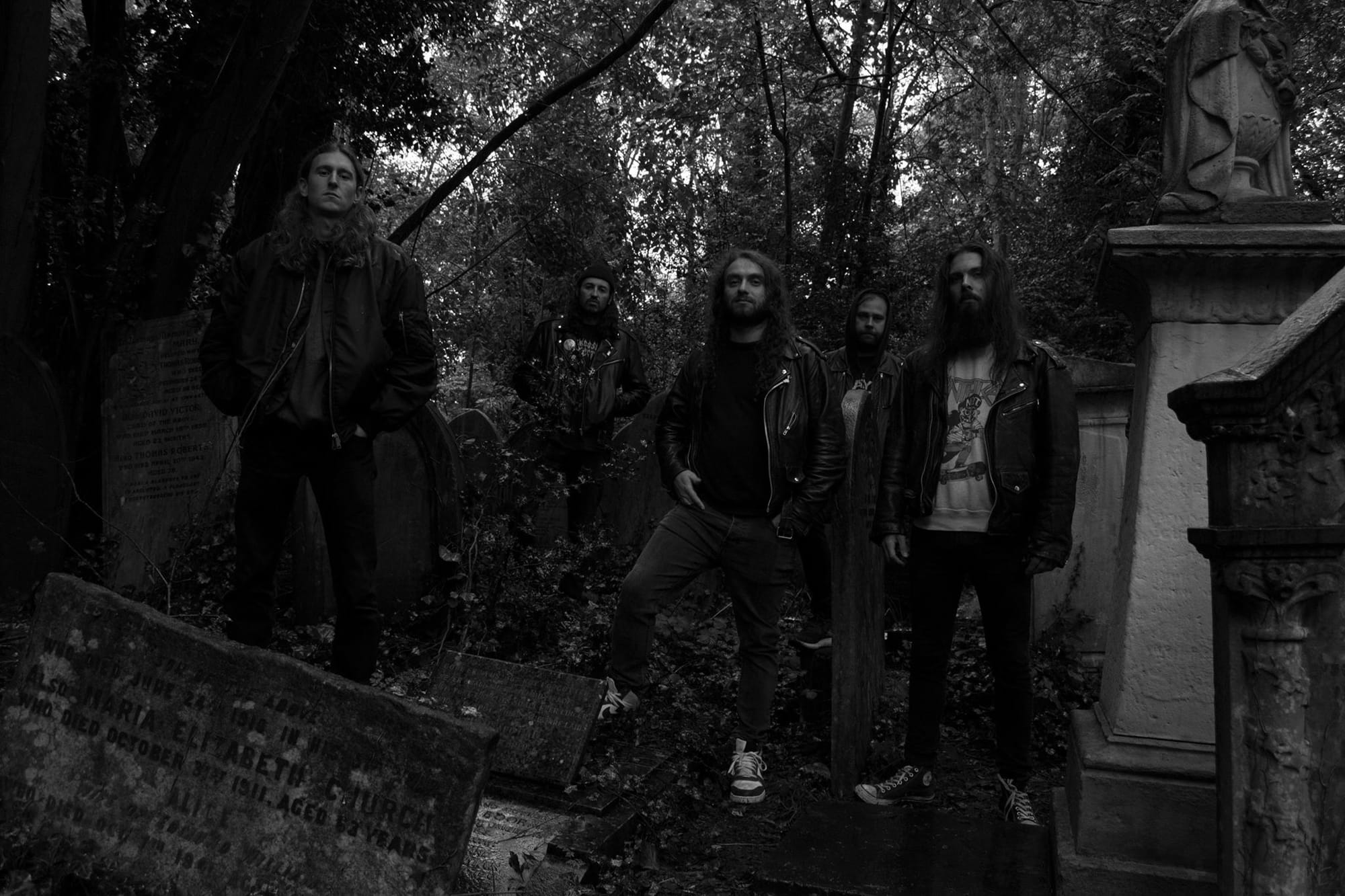 INHUMAN NATURE CONTACT:
https://inhumannature.bandcamp.com/