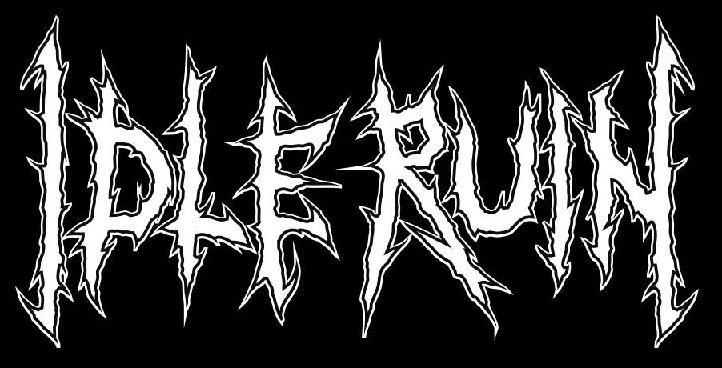 !!!THRASH/DEATH METAL FROM AUSTRALIA!!!
We had a conversation Liam Anthony (Vocals/Drums). Enjoy!
Welcome to the FILTHY DOGS OF METAL Webzine.
Tell us a few things about IDLE RUIN (Members, Starting Year etc).
G'day. IDLE RUIN began by myself (Liam Anthony) initially as a solo project of sorts. I'd had the initial idea back in 2016 but I didn't start it until 2020. During that time I had been playing drums in a few varied metal bands in my hometown, and between gigs I would write material for a project I wanted to eventually start for myself. During the first months of 2020, a lot of the bands I was playing for started breaking up or just stopped playing shows. Not long after that, the COVID-19 lockdown occurred and there were absolutely no gigs in Australia. I was also planning on moving to Europe in 2020, and that too got cancelled. I decided to use the downtime to finish writing my own project and just record the songs. I had performed with Josh Dawson (bass) and Kaleb Doherty (guitar) in a previous grindcore band called Decapitated Mum. So I asked them if they wanted to help me record these songs I'd written, to which they were happy to. While rehearsing, we really enjoyed the chemistry between the three of us that we decided to do more with this project. Thus, Idle Ruin was born.
You have recently released your EP ''Idle Ruin''. What is the Feedback from your audience as well as from the Press?
We're really happy with the reception so far. The reviews have been very positive and we've almost sold out of our first run of CDs.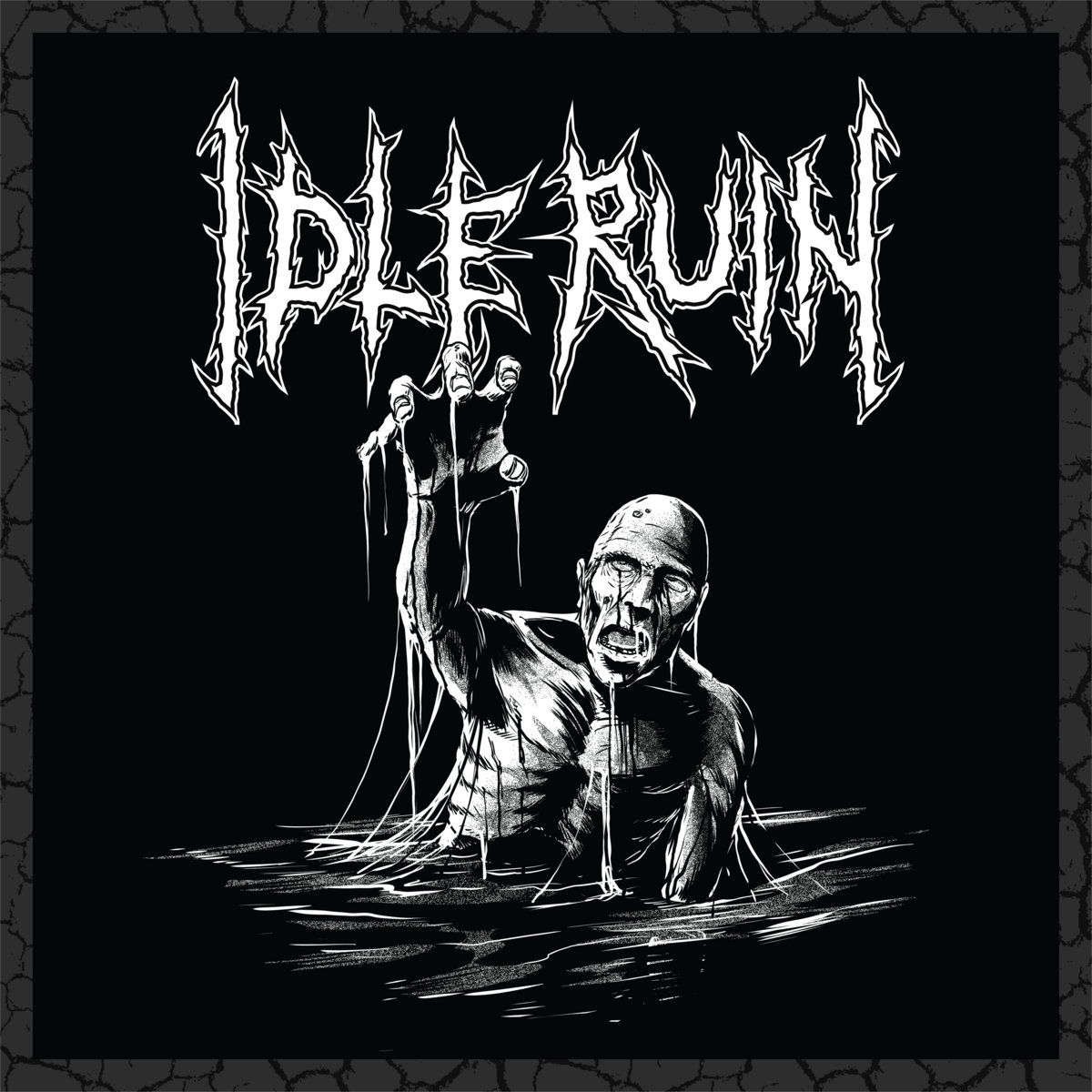 Label or DIY and why?
We decided to self-release the EP on CD first, and even on its own it's been recieved well in Australia and Europe. As more people in different parts of the world are showing interest in us, we're talking to labels and distributors to get our EP in their stores. Shipping from Australia is very expensive right now, so we want to have the CD more easily available to our fans in Europe, North and South Americas and Japan.
Do you prefer Vinyl, Tape, CD or Digital Format and why is that?
I don't really have a favourite format. I still enjoy the physicality of vinyl and CD and the experience of hearing full albums. If it's a good album from end to end, I'll definitely buy it on vinyl or CD. I still listen to CDs especially while driving. When I'm at work though I'm always blaring playlists from my laptop, so in terms of which format I use most often it'll probably be digital. I do like the approach Bandcamp takes to digital formats and collections; a Bandcamp album download still has that "personal" sense to it, compared to something like Spotify.
Your music style is Thrash/Death Metal. Which are your main influences (Favourite Artists / Bands etc.)
We jump between the realms of death metal and blackened thrash I guess, depends on who you talk to. I come from mostly a thrash/traditional metal background; if I were to pick a favourite band it'd probably be Kreator. I also enjoy a lot of grindcore like Wormrot and Napalm Death. Kaleb comes from a death metal background (check out his project "When Death Replaces Life", they have an EP up on Bandcamp right now), he enjoys Cannibal Corpse, Skeletal Remains, Artificial Brain, etc. Josh loves a lot of sludge, doom and psychedelic stuff - he's got a new favourite band each week and it's hard to keep up with him.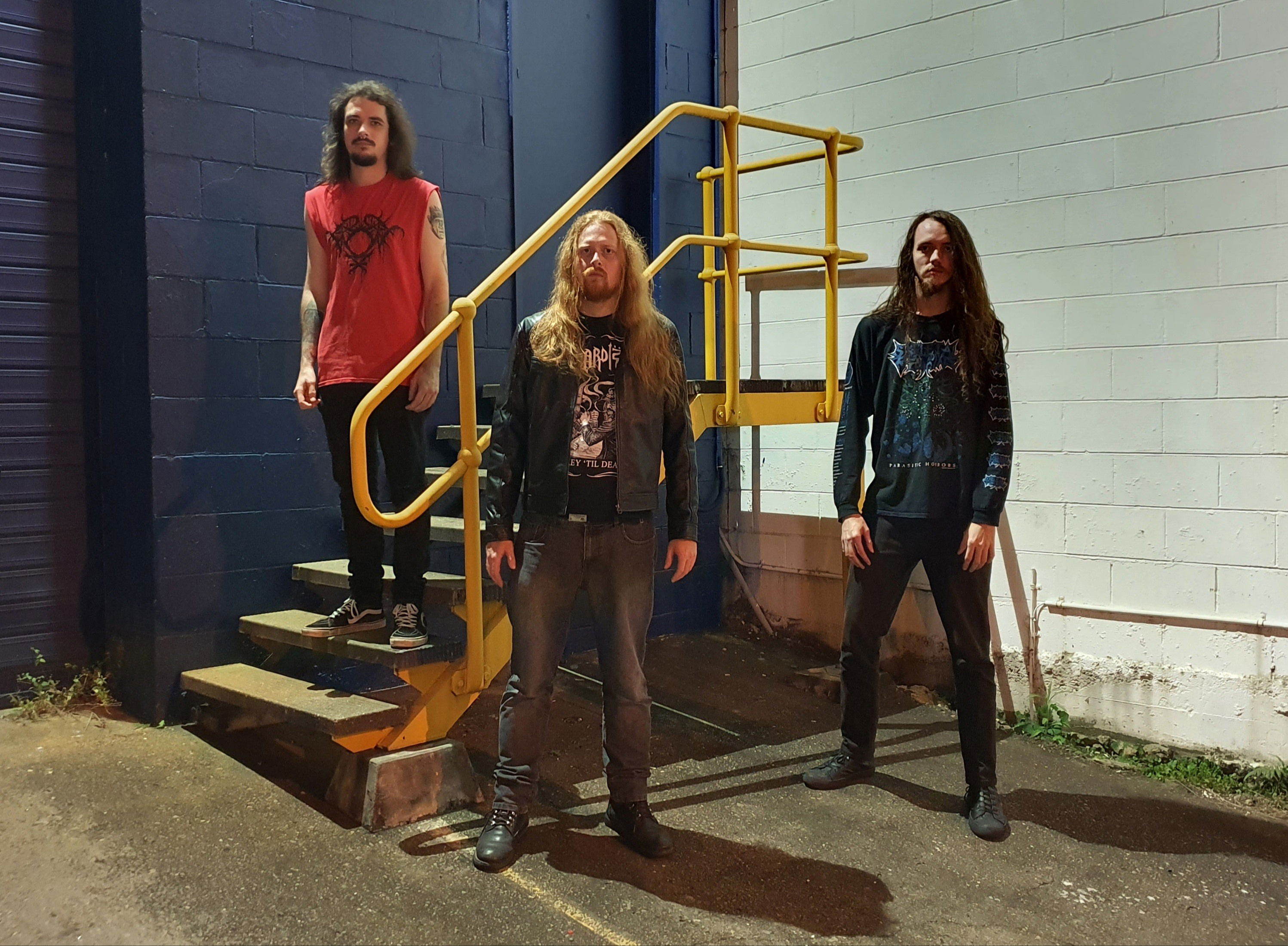 Which things, do you think, a Band should sacrifice in order to succeed? Have you ever sacrificed anything in your life for a better future of your Band?
I still haven't played Skyrim.
Describe your ideal live show as a performance Band. Have you already experienced that?
We played a show on New Year's Eve and it was a hell of a lot of fun just to play again after having gigs cancelled in our town for so long. This sentiment was also reflected by the crowds; the venue was capped due to the COVID capacity restrictions and the show sold out in two days. The moshpit was intense and it was just good to have some live metal again. Everyone had a great time. As for an ideal live show, I would love to play some shows in Europe.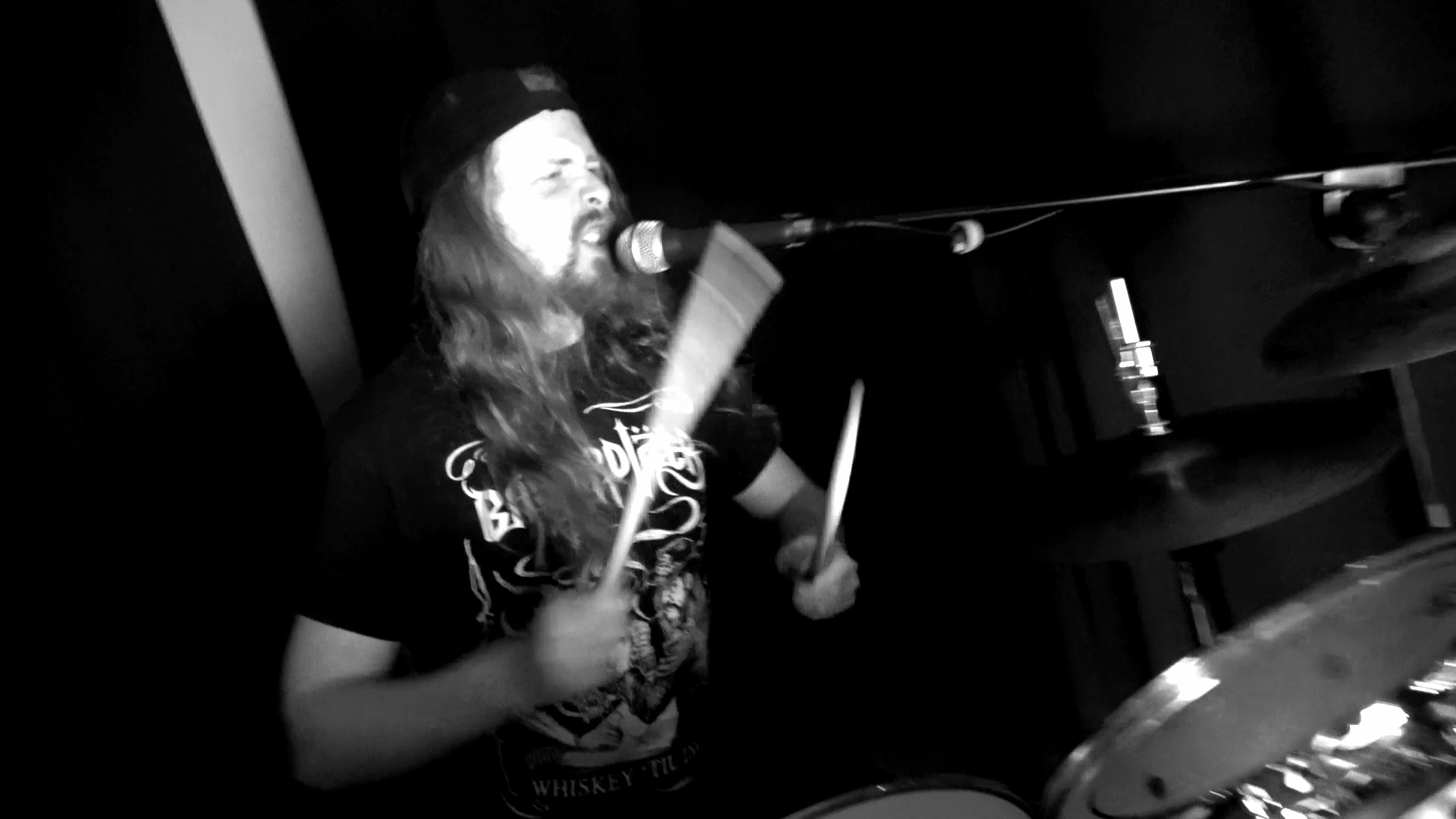 Which attributes, do you think, that a new Thrash/Death Metal Band should have in order to gain identity and be unique?
I would say don't focus too hard on being unique, focus more on writing good tunes. If you can engage the audience, you're onto something.
Do you believe that Bandcamp and other Digital Platforms help the new Thrash/Death Metal Bands? Which, do you think, is the ideal way for a Band to promote its work?
Like anything, digital has its advantages and disadvantages. Bandcamp has worked really well for us; most of our fans have discovered us through there more than Spotify. While 2020 was an unfortunate time, a lot of people were consuming content online while under lockdown, including streaming new band releases online... so that was advantageous for both fans discovering new music and for bands cultivating new fanbases.
Tell us a few things about the New Underground Metal Scene in Australia (Bands, Fanzines, Webzines, Metal Clubs etc.)
We have a lot of great bands here. Some of the older groups have just released new albums while we've had a few newcomers in the past year. There's Shatter Brain and Hidden Intent from Adelaide; In Malice's Wake, Espionage and Evoker from Melbourne; Bastardizer and LiveWire from Sydney; Odius and Asylum from Brisbane. That's just for starters. If you want to dig up some classics, check out Persecution, Misery and Armoured Angel. Brisbane has had a dedicated metal club for the last twelve years called Metal of Honor which puts on a yearly festival called "Shredfest" featuring tonnes of bands from around the country. We also have a dedicated fan who comes to every Brisbane metal show each week called "Odin", who likes leading the crowd with WWE-style chants towards the bands. The reactions from some of the interstate bands not in on the joke are priceless. Every year he has his own metal festival, "Odinfest" which unfortunately didn't happen last year (I still have my Odinfest 2020 shirt). We don't really have any fanzines anymore, but we have a few great podcasts like the Andy Social Podcast, The Demons Within and Shane Oliver Experience which focus heavily on the Australian metal and punk scenes.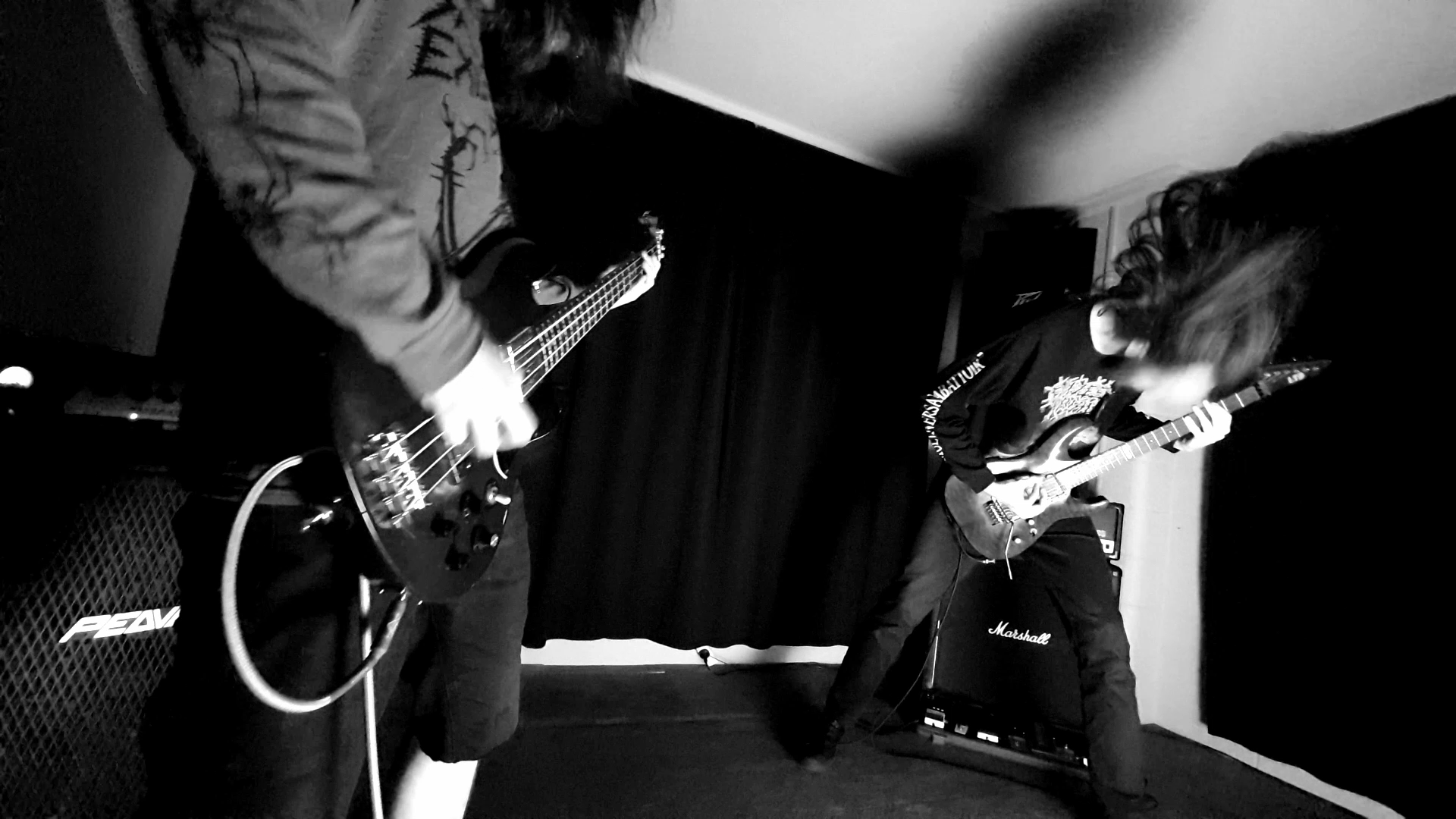 Do you know anything about the Hellenic Metal Scene?
The bands I'm probably most familiar with are Suicidal Angels and Bio-Cancer, who are both great. Everyone here knows Rotting Christ and Septicflesh, who have both toured Australia before. I discovered some of your older bands Horrified and Death Courier very recently. There are some awesome bands from your part of the world, and I feel like I should know more about your scene than I already do.
What are your future plans?
We're currently working on our next recording. We're writing for an album and also looking at doing a split. We have more shows lined up for the year providing they don't get cancelled by COVID-19. As for the long-term future, I still plan on moving overseas once this pandemic settles the fuck down, so let's see what happens.
Thank you very much for your time & Keep up the good work! The closure is yours.
Thanks Stavros and the Filthy Dogs of Metal! Idle Ruin's EP is available both digitally and as an MCD through our Bandcamp page (idleruin.bandcamp.com). We have a few European distributors lined up for the CD and new merch will soon be available on the page. Follow us on our social media (Facebook and Instagram) for updates. Cheers mate!
For the fans in Greece, you can check Goatmarch Distro.
By Steve the Filthy Dog.
IDLE RUIN CONTACT:
https://www.facebook.com/idleruin
https://www.instagram.com/idleruin/