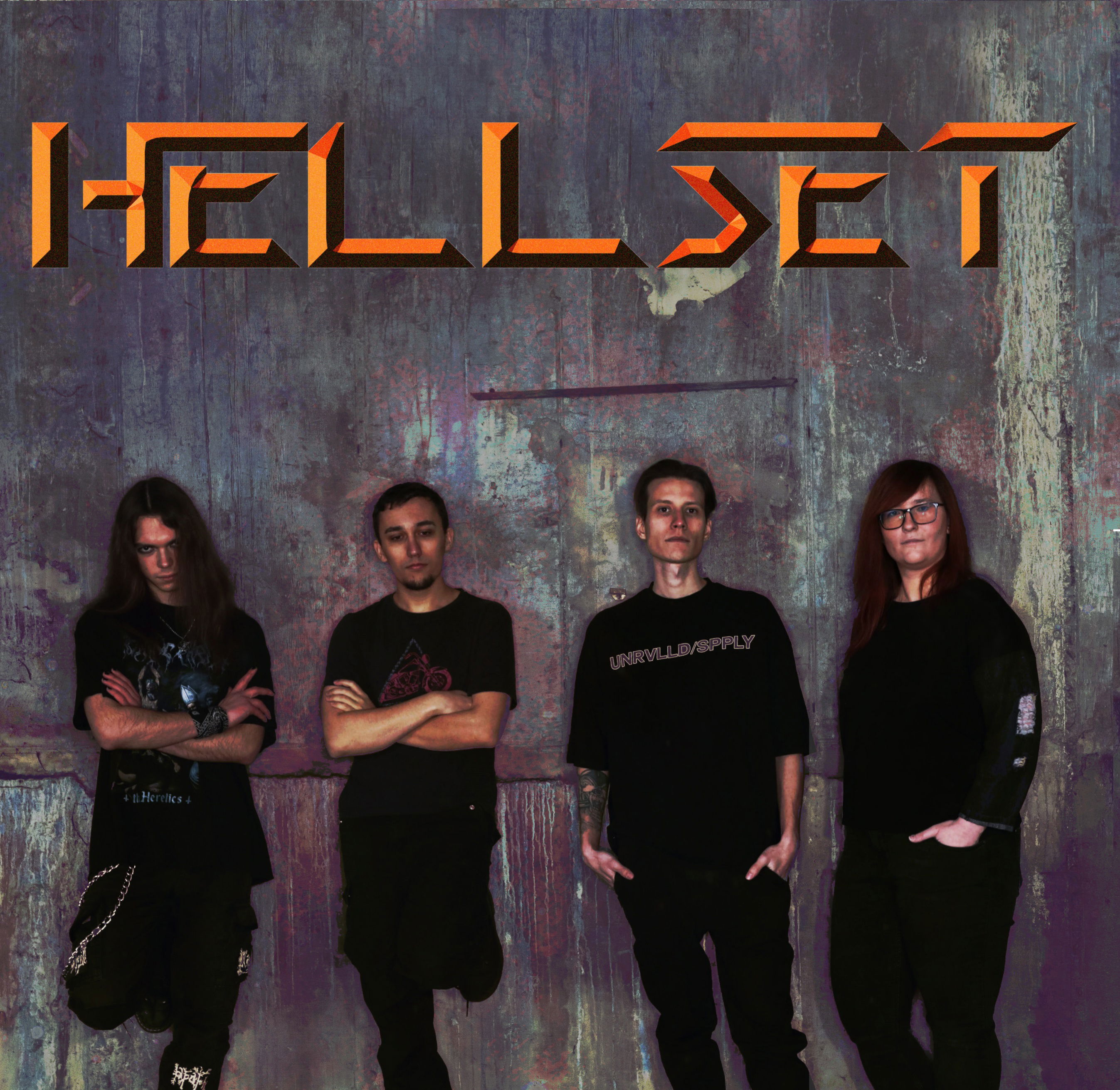 !!!THRASH METAL FROM POLAND!!!
We had a conversation with Sebastian "Metal" Nawój (Guitars). Enjoy!
Welcome to the FILTHY DOGS OF METAL Webzine.
Tell us a few things about HELLSET (Members, Starting Year etc).
Well, history of Hellset is quite short, but before, I want to make short bio: We are a band from Poland, and today (23.01.2023 year) we've released our first album. I'm (for future references: 'I' = leader of band, Sebastian "Metal" Nawój) guitarist, there are also:
- vocalist which also plays on guitar, Jan 'Beliar' Hawajski (this guy rocks hard)
- bass player, Jagoda 'Haneryu' Piórkowska (awesome girl, she knows many useful people)
- drummer, Mikołaj 'Miki' Piskorowski (freakin machine gun is quite fitting description for him)
Our history has begun in August 2021, when I had started looking for band members, because initially it was my personal project. After few months of looking for skilled musicians, we have begun periodical rehearsals.I had introduced my ideas, overall concept of full album with instrumental lines (in that time, let's say November of 2021 -May 2022 there was about three ready songs with lyrics). Every member in band made important improvements on their lines. Meanwhile of our every week rehearsal, I had created more and more songs. About September/October of 2022 year we have made full album, 8 song and in that time we have made decision - we wanted to go live. One of our (for future references 'we' = band members) close friends helped us with his huge experience as music engineer. After we've prepared our record we've started to create album cover, individual arts of every song, preparing to make t-shirts' own CD's, etc. And today it's our big day, finally our album has been released. In next 6 days (29.01.2023) we will perform our first gig together, however, every other band member has experience from their previous bands.
You have recently released your album ''Global Warning''. What is the feedback from your audience as well as from the press?
I'm very surprised that so far (like just 12 hours after release) some of magazines or youtube content creators got in touch with us, because we have expected nothing more than applause from friends and family of each member. Time will show how far this album goes through the world. Anyway I believe, that aswell our national press and foreign magazines, which we will made contact in future, will gladly and positively review us.
Label or DIY and why?
Entirely DIY. First of all, label companies offers quite bad terms for bands. Second main reason is that all of our members had some useful people to help. It has allowed us to obtain kind of independancy, as everything, from very base idea, to final release, CD's and t-shirts as physical product we could get only by ourselves. Additionaly, streaming platforms, like Spotify, Tidal or even Youtube makes thing easier than in old times.
Do you prefer Vinyl, Tape, CD or Digital Format and why is that?
Honestly, it doesn't matter for us. We've released CD's, because it's still popular format and of course digital release to have ability to reach worldwide audience. We would also release vinyls and tapes, but obviously those are additional costs, which we can't afford yet.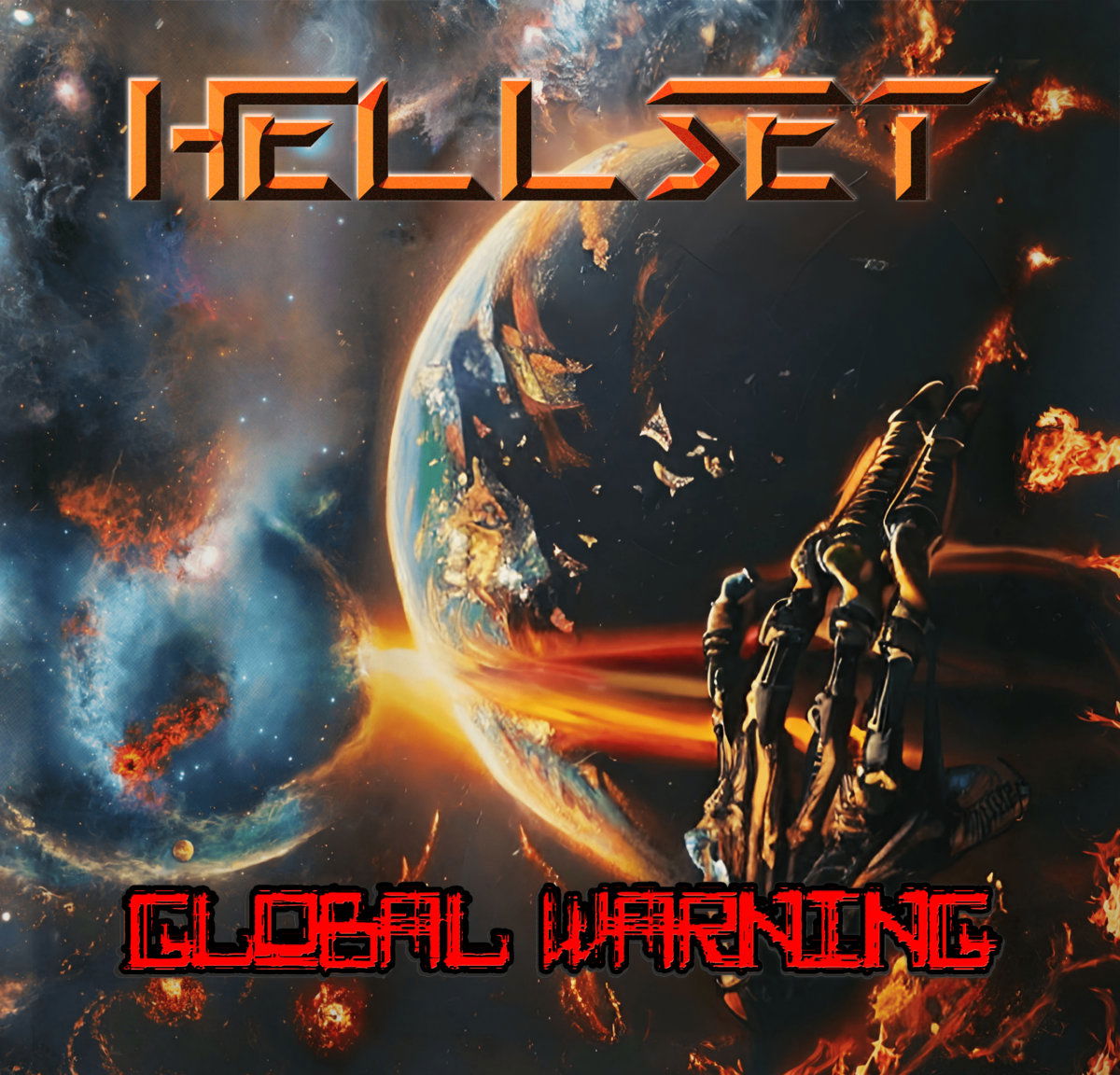 Your music style is Thrash Metal. Which are your main influences (Favourite Artists / Bands etc.)
Well, no one of us can't definitively describe our main music style - mostly this is thrash metal, but in our release you may find progressive, heavy or power metal elements. Every member has it's own vision and different bands had the most important impact, but as far as I can say for myself, most influence was caused by Blind Guardian, Metallica, Judas Priest and Running Death (German band, new wave of thrash metal). Our second guitarist and vocalist for sure wouldn't be himself if there weren't Death and Children of Bodom.
Which things do you think a Band should sacrifice in order to succeed? Have you ever sacrificed anything in your life for a better future for your Band?
That's very hard question. I believe that if someone is good enough and one's have good plan for his life - there wouldn't be any sacrifice required.But yet for creating this album, we had to leave behind our free time, some social bonds and cut off sleep a bit, to make day longer. Well, vocal has lost even some of his blood in one of our rehearsals (however that was just stupid accident, which we have immediately appease *silent laugh*).
Describe your ideal live show as a performance Band. Have you already experienced that?
Well, our first show goes by 6 next days, so we hadn't any chance to feel that. Anyway, at least for me, ideal show will be, when we all together come on scene and entire event will look like one of our rehearsals - easy playing, much laughter and chill and in the end we will be warmly welcomed by audience. I guess every band member will look at it similar.
Which attributes, do you think, that a new Thrash Metal Band should have in order to gain identity and be unique?
Hmmm... nowadays, after about 60 years of metal music development, each year is even harder to be unique for any band. In my opinion the best shot for maintain uniqueness is not to pretend anything, just be yourself, because whatever you can think about there is high probability that someone else have done it before.
Do you believe that Digital Platforms help the new Thrash Metal Bands? Which, do you think, is the ideal way for a Band to promote its work?
Oh yeah, Internet and digital platforms age are salvation - finding audience is easier than anytime before. I think that only one perfect way to promote ourselves is successful one, it means, whatever you do and will bring success, it's good. It doesn't matter if you release CD and sell it on your gigs, ask your friends for promoting to their friends or spend thousand or even millions of dollars for companies to promote. Every working way is good one.
Tell us a few things about the New Underground Metal Scene in Poland (Bands, Fanzines, Webzines, Metal Clubs etc.)
It's kinda problematic question. I'm not good follower of Polish metal scene, however - smaller bands are kinda restricted to their native cities - trying to make some gigs in clubs. Bigger cities have their own clubs specializated in making metal gigs, but any event, which allows you to make concert is good, id doesn't matter if this is Woodstock like gig or concert for sick children. Sad fact: Polish bands would have a chance to make worldwide career, we have much good ideas, but due to cruel history, many of great bands didn't get their deserved glory (I'm talking mostly about bands started in 80's, 90's).
Do you know anything about the Hellenic Metal Scene?
Unfortunately, no. I would really like to discover every country metal scene, but I'm only human with limited time on Earth. I'm more focused on mainstream and on my own activity, however i'm interested a bit in Nordic and German metal scene and if you can recommend me something, I will gladly make my research ;)
The last 3 years worldwide we have faced many dark, strange & new situations with our everyday life (covid, lock-down etc.) Did all of this affect you positively or negatively?
It's hard to say. Of course all this fear, panic and some ridiculous government decisions made life harder, however, those years paradoxically were mine best years in entire life. I've realized my plans and I see right now bright future, unless some kind of atomic bomb or meteorite will wipe everybody from planet surface *soft smile here*
What are your future plans?
I have only two goals now, first - make us (band) as good, as we can be. Second goal - in short, aside of music activity, I'm owner of small IT company and I aim into developing it aswell, but this thing would require another interview to describe.
Thank you very much for your time & Keep up the good work! The closure is yours.
I'm also grateful for contact with Hellset band. This was real surprise! Don't forget to share with me some good chunk of Hellenic metal :D Cheers for everybody, whoever reads it and let the metal music lead you through the life!
By Steve the Filthy Dog.
HELLSET CONTACT:
https://www.facebook.com/hellsetofficial
https://www.instagram.com/hellsetofficial/
https://hellset.bandcamp.com/album/global-warning
https://open.spotify.com/artist/76FAJUZNWrSnSOxWUF7igY
https://www.tiktok.com/@hellsetofficial?fbclid=IwAR1626uzm8OPeyHdAn2DjW33otgOaI4WF0k3v2-3CTmQdnUTGPdZ3enmmNw