!!!HELLISH BLACK/SPEED METAL!!!
We had a conversation with James McBain. Enjoy!
Welcome to the FILTHY DOGS OF METAL Webzine.
1. Tell us a few things about HELLRIPPER (Members, Starting Year etc).
Hellripper is my (James McBain) solo project that I started back in 2014. I wanted to record some music in the style of bands such as Venom, Toxic Holocaust, Darkthrone but could not find other people that shared the same vision. This is what led me to making it a solo project and I decided just to record everything at home.
2. In 2019 you have released your EP ''Black Arts & Alchemy''.What was the feedback from your audience as well as from the press?
Both the audience and the press seemed to like it for the most part! It received some good reviews and since the release, a lot of opportunities have come up.
3. Label or DIY and why?
Both have their advantages and disadvantages! At this stage for Hellripper, I feel like a label is necessary.I live in a somewhat remote area, so I lack the contacts and resources needed to maximise the potential of a release I think. Other than the actual release of my material, almost everything else to do with Hellripper is DIY. I write, record and mix everything at home, I order, pack and send all of my own merch and I run all of my own social media accounts.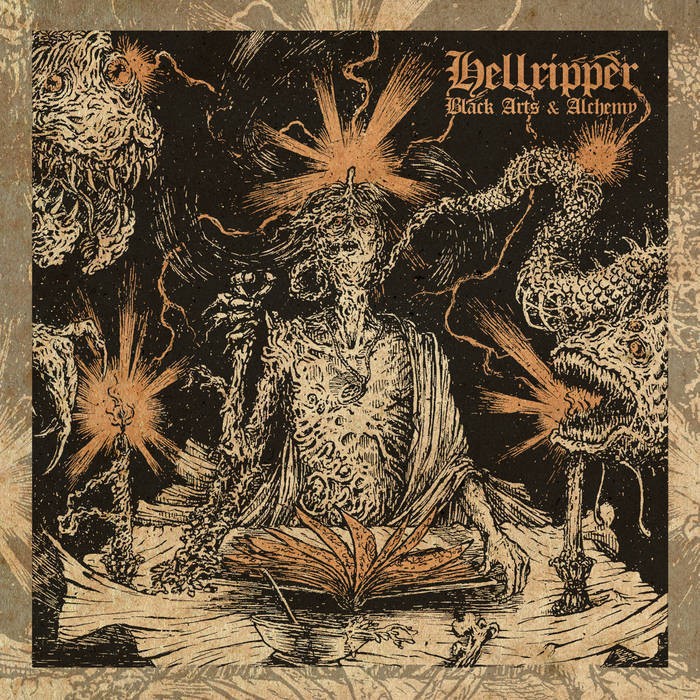 4. Do you prefer Vinyl, Tape, CD or Digital Format and why is that?
For the overall experience, vinyl is of course the best, but for convenience and ease of access, I believe digital is the best. So I think with CD, you kind of have a good compromise so that's what I prefer.
5. How difficult (or easy) is it for a musician to compose himself all the tracks & as the main songwriter what gives you the inspiration to compose songs?
It can be both easy and difficult! It's easy in the fact that I don't have to argue with other members about what should and shouldn't go into the song and that I can do everything whenever I want without having to wait for other people. It's also difficult for the same reasons, sometimes it is useful having someone else contribute ideas when you are stuck on something. Overall, I prefer working alone and the inspiration comes from the fact that I just enjoy doing it. I love listening to music and I love playing music.
6. Your music style is Black/Speed Metal. Which are your main influences (Favourite Artists / Bands etc.)
There are way too many to list, but some artists that have influenced me include:
Venom, Midnight, Darkthrone, Toxic Holocaust, Nocturnal, Sabbat, TANK, Motorhead, Metallica, Megadeth, Slayer, Ranger, Enforcer, Warfare, Bathory, Mercyful Fate, Iron Maiden, Artillery, Sodom, Kreator, Running Wild, Zeke, Anti-Cimex, Discharge, Driller Killer, GBH… and plenty more!
7. Which things, do you think, a Band should sacrifice in order to succeed? Have you ever sacrificed anything in your life for a better future of your Band?
You should sacrifice your ego. Do not do it because you want to be noticed or famous. You'll have to face criticism quite a lot and if you are ego-driven it could affect you in the wrong way and could cause you to make some wrong decisions.In order to be somewhat successful, I think you need to sacrifice a lot of your own time and money because it's an investment. If you don't put the time, money and effort into your art, then it probably won't grow. So it's up to yourself how much of this you want to sacrifice.I spend most of my time doing things related to the band so that would be my biggest sacrifice, but it is something I enjoy and is what I would spend my money on anyway.
8. Describe your ideal live show as a performance Band. Have you already experienced that?
An ideal live show would be a packed venue with a responsive crowd. And for there to be no technical difficulties during the set haha. I don't have very high expectations so as long as it's not a total shit show then I am quite happy! We've been lucky to play some great shows with great bands in our short time playing live and I'm grateful for that.
9. Which attributes, do you think, that a new Black/Speed Metal Band should have in order to gain identity and be unique?
Draw from multiple influences. Do not try to sound like one specific band. I think as long as you do it because you enjoy it and don't try to force things then you will do ok. Write what comes naturally and what you yourself would listen to. I think this style of music is more about being authentic rather than being overly unique and original. I would not say Hellripper brings anything particularly original to the table in terms of style, but I think the songs are good and that's what is important.
10. Do you believe that Bandcamp and other Digital Platforms help the new Black/Speed Metal Bands? Which, do you think, is the ideal way for a Band to promote its work?
Definitely! The internet is by far the best way to promote your work nowadays. Bandcamp is a good "hub" for your band. People can find your stuff on bandcamp through recommendations and it's charts etc. and you can also show some of your upcoming shows there. It's also a very good way to share your music as people do not need an account to listen. Facebook and Instagram are also very good ways to share any news and to interact with your fans and I would advise being active on both platforms. Set up a Youtube channel too and upload your music as well as any live videos and miscellaneous stuff such as guitar playthroughs etc. The more content you have, the better! Basically, just try to be anywhere you can, and make your music easy for people to access. Get your music on Spotify and all those streaming sites. They are very valuable tools for getting your music out there and their music recommendation/discovery system is very helpful for getting your music to people that might be interested!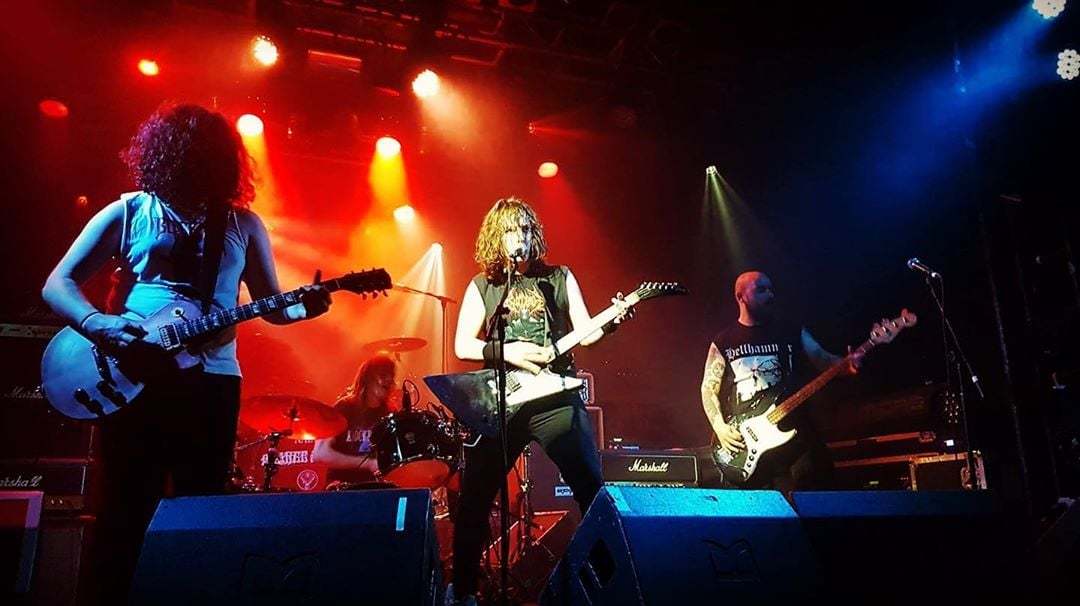 11. Tell us a few things about the New Underground Metal Scene in Aberdeen, Scotland (Bands, Fanzines, Webzines, Metal Clubs etc.)
I'm no longer based in Aberdeen. I am based up in the Highlands now and where I am from there is not too much of a scene. Some Scottish bands in general though that I would recommend checking out are: Thrashist Regime, Tommy Concrete, Wound, Boak, Scumpulse, Vuil, Disposable, Tempered, Bhas, King Witch.
12. Do you know anything about the Hellenic Metal Scene?
I know of the more popular bands such as Macabre Omen and Varathron etc. but I'm not super knowledgeable about what's going on nowadays. I am a fan of some Greek bands such as Chaoshorde, Chronosphere and Boneyard. There are probably some other bands that I love but just can't think of off the top of my head haha!
13. What are your future plans?
Our new album is due to be released later in 2020 through Peaceville Records and we hope to play some shows throughout the UK and Europe in order to support the release!
14. Thank you very much for your time & Keep up the good work! The closure is yours.
Thank you very much for taking the time to conduct this interview, I really appreciate it! Check out Hellripper on Facebook and Bandcamp, and look out for the new album later on this year! Cheers!
By Steve the Filthy Dog.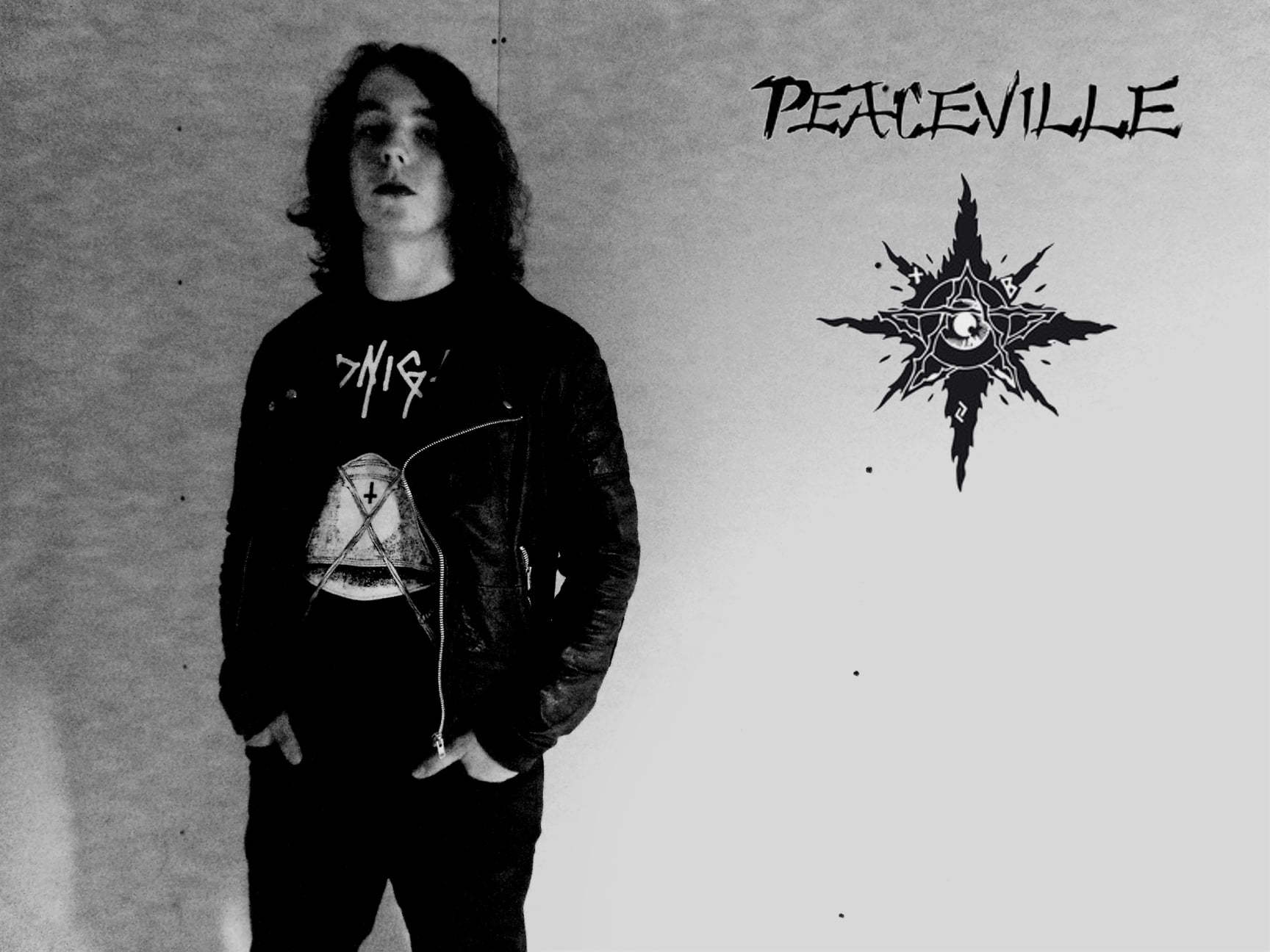 https://hellripper.bandcamp.com/
https://www.deezer.com/en/artist/12925061
https://www.facebook.com/Hellripper1
https://www.instagram.com/hellrippermetal/
https://open.spotify.com/artist/6FfZaHz07OsknWNdtdan5R
https://twitter.com/hellrippermetal