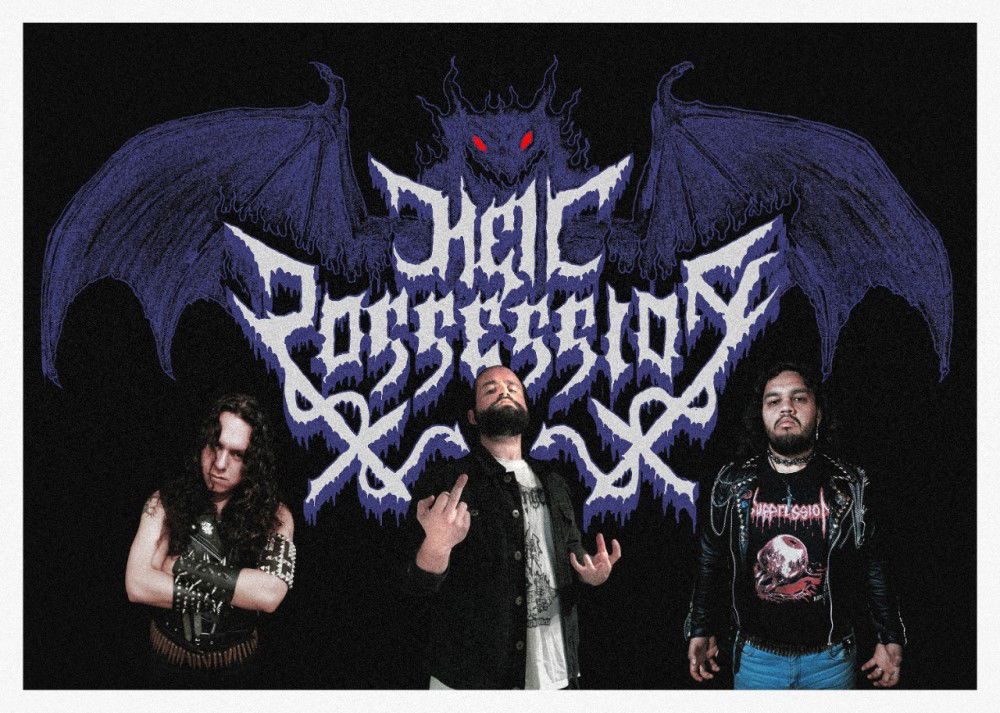 !!!CHILEAN THRASH METAL!!!
We had a conversation with HELL POSSESSION.Enjoy!
Welcome to the FILTHY DOGS OF METAL Webzine.
Tell us a few things about HELL POSSESSION (Members, Starting Year etc).
Hell Possession was born in 2010 by Evil Attacker, the first line-up was composed by Malevolent Invader (Voice and Guitars), Fast Reaper (Bass) and Andrés Quiroz (Drums). That same year the first promotional tracks were released (Lost In Darkness) and later that same year the first demo was released by FOR THE DEVIL PRODUCTIONS. In 2013 Thunder Hammer (Drums) joins the band and the first EP "Perversion and Blasphemous Forces" is recorded, LIVE WIRE PRODUCTIONS were the ones in charge to produce this release in CD format and later EVIL STEEL RECORDS released the cassette tape version. After that for some reason the band was suspended and took a long break, then after some hiatus the band emerges again in July 2020 with a new formation, Fist Banger on the vocals and Evil Killer on the guitars, this time Evil Attacker took the drums and guitars as well, with this new formation the single PHANTOM AGGRESSOR was released.
You have recently released your single ''Phantom Aggressor''. What is the Feedback from your audience as well as from the Press?
The reception of the single and the new sound has been great so far, we've received very good criticism and comments in general from the press, many people from the US and Europe (Germany) referred to the single with comments like "Some mad Possessed worship right here" or "Chile delivers as usual". Many people seem to be waiting for the full-length album, so for us, that is a fantastic sign, and we'll keep the sound in the same vein for future releases.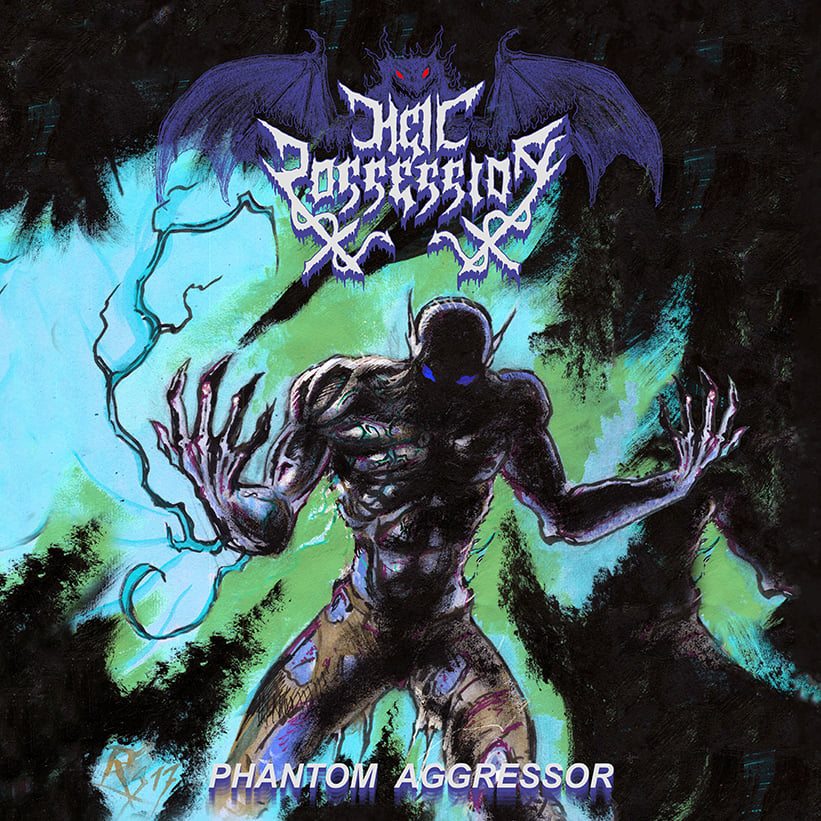 Label or DIY and why?
F.B: For us DIY is a vital component of the entire structure, the two options have their own value, we've always had plans to produce at least one version of the band release but luckily as for today some labels are really interested in what we are doing, so we are aiming to do both, so we can cover more!
E.K: In the beginning, when I was introduced to the world of recordings I was really hyped by the fact of being sponsored by a label like all the old school bands did back in the day, but in time I realized that sometimes labels literally are plain dead abusive. Sometimes with other of my projects (Defeater, Deranged, Castigo) I had top invest in all the aspects of producing music (Rehearsals, recording, mixing, and mastering) and after all that I feel kinda pissed when a label says: "OK, we are going to offer you 20%", for me that is abusive as fuck, it's simply taking advantage of the band.
Do you prefer Vinyl, Tape, CD or Digital Format and why is that?
E.A: We've always liked the vinyl and cassette tape formats because you can admire all the artistic details and all the lyrics, in terms of sound quality we've always looked for the best and in this case Vinyl is the superior format for us, other formats such as CD pro are very important for us as well.
F.B: We love all the physical formats, we believe that it maintains the traditional ways and essence of taking the time and dedication to listen to an album. The digital formats are always welcomed especially in our times, enabling a greater distribution and availability to everyone.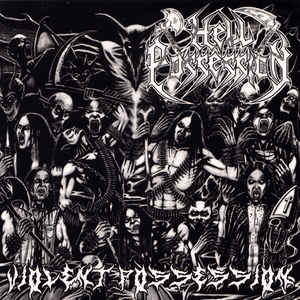 Your music style is Black/Thrash Metal. Which are your main influences (Favourite Artists / Bands etc.)
First we want to address that HELL POSSESSION is THRASH METAL with a little bit of Death and Black Metal influences, in fact there are some parts of the early EP that are purely influenced by the old school heavy metal. In the beginning the main influences of HELL POSSESSION were all the Germanic thrash metal bands such as Violent Force, Sodom, Kreator and also some Dark Angel. Nowadays the main influences are the legendary bands Possessed (Jeff Becerra) and Morbid Angel, you can clearly hear that in the new single.

Which things, do you think, a Band should sacrifice in order to succeed?
Have you ever sacrificed anything in your life for a better future of your Band?
In order to succeed time and dedication has to be sacrificed otherwise there will be no progress, for us metal is our way of life, being constant, dedicated and truly enjoy the passion of making metal is the key. We are always will be willing to make sacrifices to get good results.

Describe your ideal live show as a performance Band. Have you already experienced that?
It is not something that we have thought much about in these times, because of the global pandemic and all that shit. Once the plague ends, we would play as many times as we can!. The ideal show for us is that one that manages to create a 80s underground atmosphere, tons of reverb and loud guitars, a dense fog on the scenario, bright red lights from the rear, a big noisy crowd and tons of alcohol, finally some vending and trading stands, that's everything you want to wish for, just like the in the 80s.

Which attributes, do you think, that a new Black/Thrash Metal Band should have in order to gain identity and be unique?
The main thing is to believe in yourself and in all the members of the band, without that you are done for. On the other hand, it's knowing and understanding what we actually want to do, set our focus on what we want and how we want it, we can have as many influences as we want and all that stuff, but in the end if we do not mix and blend our own essence into it the outcome will be lame repetitive and boring, it will be condemned to be "more of the same". Finally, consistency and set goals, and respect their deadlines.

Do you believe that Bandcamp and other Digital Platforms help the new Black/Thrash Metal Bands? Which, do you think, is the ideal way for a Band to promote its work?
Nowadays the digital distribution is fundamental, we think that digital tools such as Band camp, YouTube or Spotify, to name a few, are useful to make bands known in other places and underground scenes, old school formats always will be our main goal but with time we've learned that digital platforms are also vital.

Tell us a few things about the New Underground Metal Scene in Chile (Bands, Fanzines, Webzines, Metal Clubs etc.)
The new underground metal scene here in Chile has been strong for quite some time, there are so many good bands nowadays, there are always new independent labels and zines that are actively supporting the music. There are many great bands across the country, so these are just some to name some a few so you can check them out: Demoniac, Dictator, Mental Devastation, Moshingun, Acrostic, Hellish, Necroripper, Armoured Knight, Necrolatría and many others.

Do you know anything about the Hellenic Metal Scene?
Fist Banger is a great fan of the Hellenic Black Metal scene with bands like Necromantia, Varathron, Ravencult, Slaughtered Priest and some early Rotting Christ!

What are your future plans?
Our main goal we have right now is to record our very first full length studio album, so for now we are currently writing music, on the other hand we are setting everything up to release the "PHANTOM AGGRESSOR" single on physical cassette tape format. The pandemic has been a harsh situation for everybody, but we're still working in order to release something that again exceeds our expectations.

Thank you very much for your time & Keep up the good work! The closure is yours.
Thanks Filthy Dogs Of Metal Web zine for have us interviewed, we are always grateful with the people that are interested in our work, for us it's always a pleasure to talk about our music, we hope to be someday in Greece playing for the Greek headbangers!
By Steve the Filthy Dog.


HELL POSSESSION CONTACT:
https://www.facebook.com/Hellpossession-107510954466919/?ref=page_internal