!!!THRASH METAL FROM COSTA RICA!!!
Welcome to the FILTHY DOGS OF METAL Webzine.
Tell us a few things about HEAVY CHAINS (Members, Starting Year etc).
We formed HC in 2011 in Costa Rica, with a Heavy metal oriented sound, in 2013 we opened shows for Whiplash (USA) and Transmetal (Mexico), in 2014 the band released an EP Deathstalker and in 2015 a Full length record called Eye Commander both efforts were recorded in Bushido Studio, also in 2015 HC opened for the Finland metal act Kalmah, in 2016 the band had the departure of one member, is until 2018 that the band start writing the new material and enter in the Bushido Studio again and in 2019 we gather up with a new member and finish to record all the material for the new album Heavy Chains members are:
Diego Acuña – Vocal
David Azofeifa – Guitar
Bryan Martinez – Guitar
Carlos Azofeifa – Bass Guitar
George Barquero – Drums
You have recently released your album ''Red Reaper''. What is the Feedback from your audience as well as from the Press?
Actually, we did the released of the album on May 19 2021, so at this moment we don't have a properly feedback about the album, but we released a Lyric video of Bone Crusher and we had good response here in our country, because of that video a lot of people asked us about the date of the full-length release.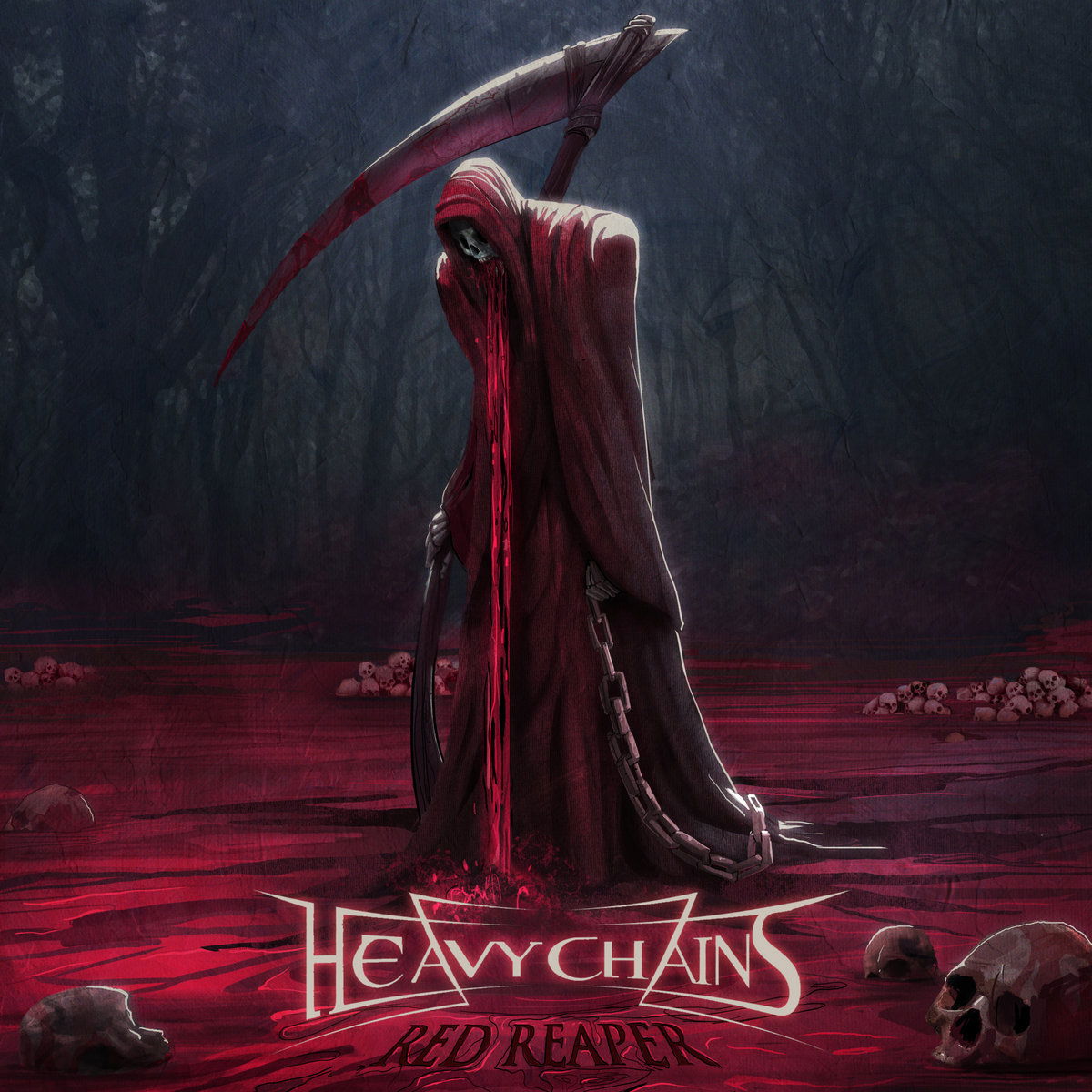 Label or DIY and why?
No record label yet, we knock on a few doors at the beginning of the pandemic, but honestly the labels weren't interested, at that time we had 8 songs and we decided to finish 4 song we left incomplete in the studio (more Heavy metal oriented) and release the whole 12 songs by our own means
Do you prefer Vinyl, Tape, CD or Digital Format and why is that?
CD and digital format when it comes to sell or promote our music, because these are the most popular formats in Central America.
Your music style is Thrash Metal. Which are your main influences (Favourite Artists / Bands etc.)
At the beginning Heavy Chains were a heavy metal act, on this album the riffs turned out more thrashy, but we have some old songs in this material with that Heavy metal root Our influences are: Overkill, Sepultura, Iced Earth, Lost Horizon, Suicidal Angels, Slayer, Iron Maiden, Megadeth, Death, Testament, Helloween and Metallica.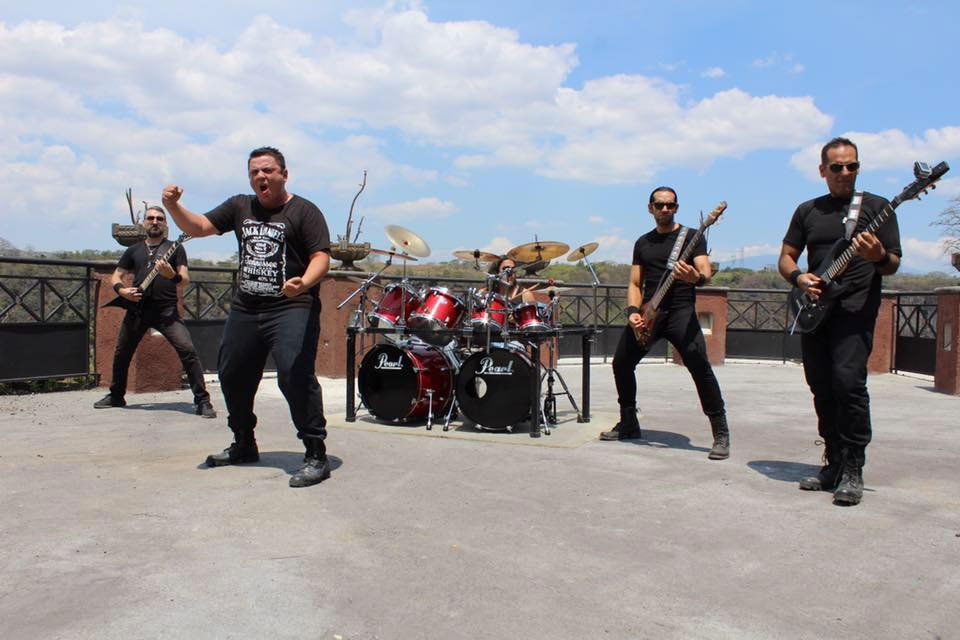 Which things, do you think, a Band should sacrifice in order to succeed? Have you ever sacrificed anything in your life for a better future of your Band?
There are no rules in this game, but, it seems that the longer you lasts between albums, the less successful you have outside of our country, and in order to write material more often, money must be saved and also, all the members of the band have the time available for the activities that recording an album requires, many musicians in Costa Rica have families and Jobs, many of us don't make a living of the music, so in a few words, a band should sacrifice the necessary to be constants and have material ready to release always, if they want success.
Describe your ideal live show as a performance Band. Have you already experienced that?
For us ideal show would be full house, for the crowd would be a band fun to watch, yes, we experienced shows like these before but we still have hungry for more shows.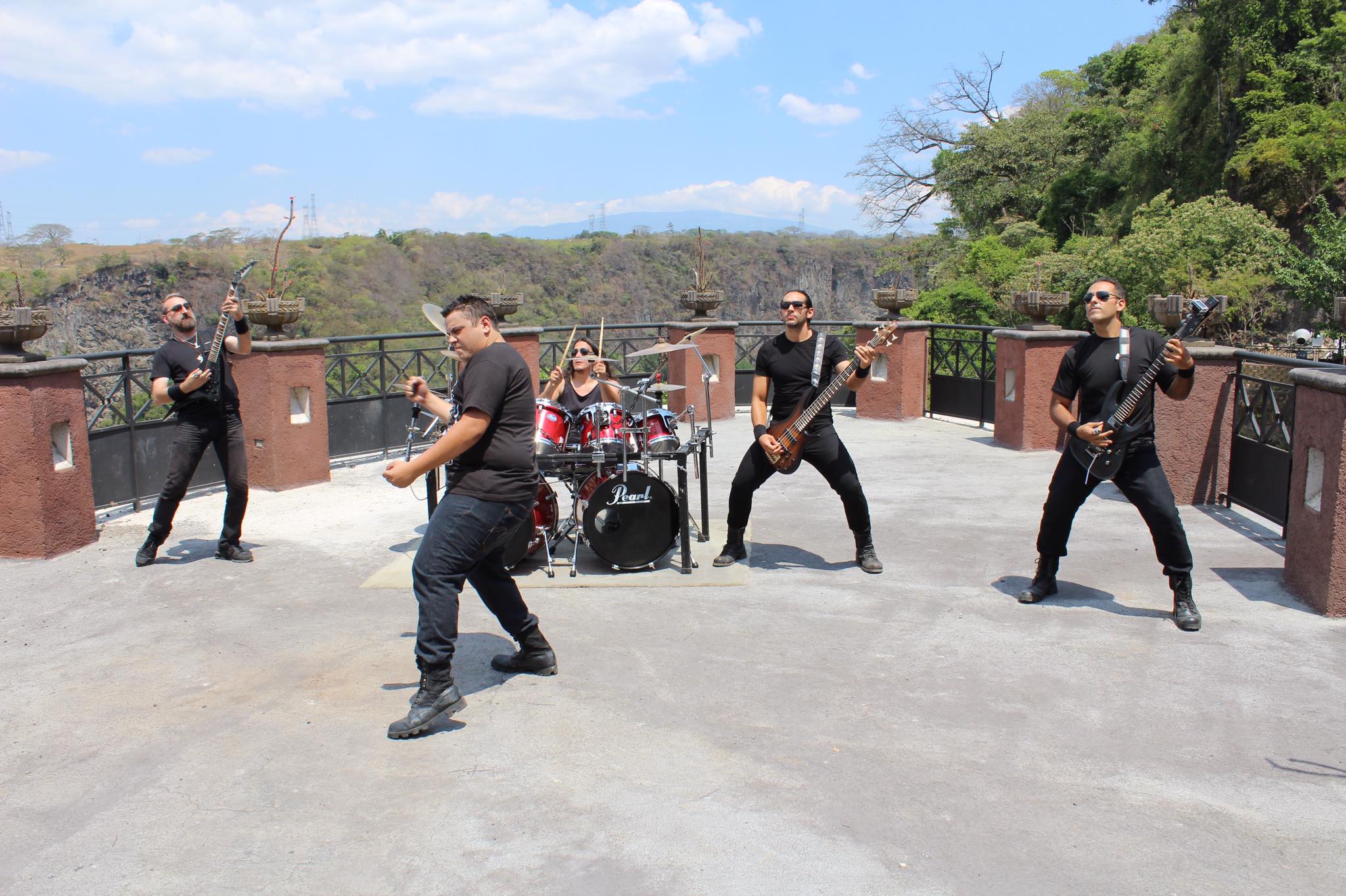 Which attributes, do you think, that a new Thrash Metal Band should have in order to gain identity and be unique?
We like to think that always write riffs in order to please yourself it's better than write riffs to please everyone else, it's boring play a riff that you don't enjoy, and the same to watch people playing their music with no passion, also write catchy riffs and beats helps, jajajajajaja we did our best in this album.
Do you believe that Bandcamp and other Digital Platforms help the new Thrash Metal Bands? Which, do you think, is the ideal way for a Band to promote its work?
Yes, we do, Bandcamp and others platforms give us the chance to get music from all the corners around the world and get our music worldwide too, a really good way to promote a band probably is exposure in any media that have subscribers or followers that enjoy this kind of music.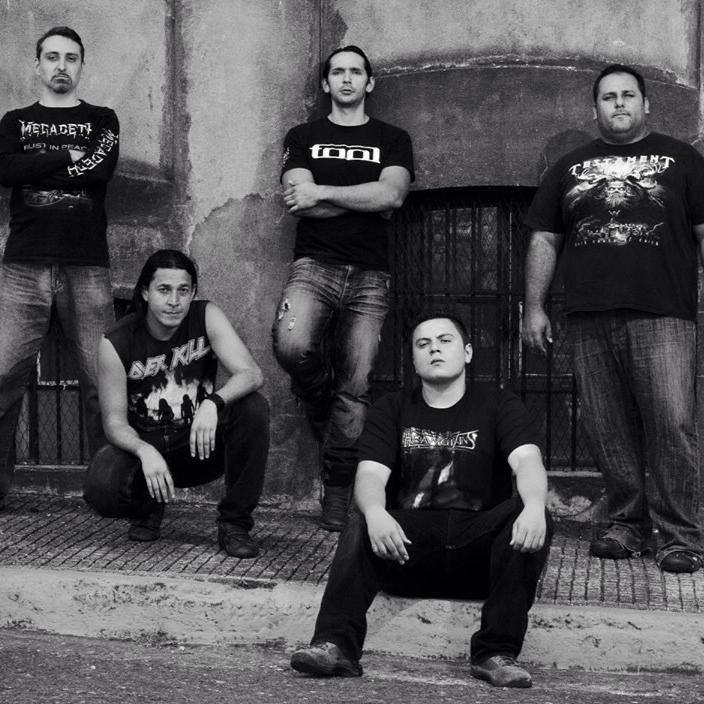 Tell us a few things about the New Underground Metal Scene in Costa Rica (Bands, Fanzines, Webzines, Metal Clubs etc.)
We have plenty of bands here in Costa Rica, and before the pandemic we had live shows from bands almost every weekend (in local clubs like Stadium or La Cantina), the scene is getting stronger and all the bands create bonds each other to push the scene, and it seems to be getting attention from others parts of the world, acts like Corpse Garden and Heresy, put Costa Rica scene in the map, We really believe in the metal music from our country because some bands are getting big deal reviews (from decibel Magazine as an example) Some of the highly recommend band from CR that you can find material in digital platforms are:
Corpse Garden – Death Metal
Astriferous – Death Metal
Bloodsoaked Necrovoid – Death Metal
Inhuman – Death Metal
Liberosis – Grindcore
Age of the Wolf – Doom Metal
Crypt Monarch – Doom Metal
Voidoath – Doom Metal
Deplorable – Doom Metal
Umbra Conscientia – Black Metal
Requiem of Malediction – Black Metal
Heresy – Thrash Metal
Chemicide – Thrash Metal
Howler – Thrash Metal
Dekonstructor – Thrash/Death Metal
Do you know anything about the Hellenic Metal Scene?
Rotting Christ and Black metal comes to our mind, but we really don't know much about that scene.
What are your future plans?
At this moment we are about to get printed CDs of the Red Reaper Album and release a video, we would really like to play local shows with the new songs, but Bryan has a broken arm, hopefully by the end of this year we will get live shows, also we want to get us back in the studio again, and record an EP probably in 2022, the pandemic makes everything worst in Costa Rica so we do what we can at this moment.
Thank you very much for your time & Keep up the good work! The closure is yours.
Thank you so much to Filthy Dogs of Metal for the interview and to you for took the time to read it, means a lot to us, we really hope that you take a listen to our new album Red Reaper, you can find it in Spotify, iTunes, Apple Music, Bandcamp (heavychainscr), etc. if you like our music consider to follow us on Facebook, and also, we hope that you check the others bands from our country too, it's worth the listen, count us on that, cheers from Costa Rica.
By Steve the Filthy Dog.
HEAVY CHAINS CONTACT:
https://heavychainscr.bandcamp.com/
https://www.facebook.com/heavychainscr
https://soundcloud.com/david-azofeifa-charpentier
https://open.spotify.com/artist/4U6Umvgl1L1195IEA7IfHG