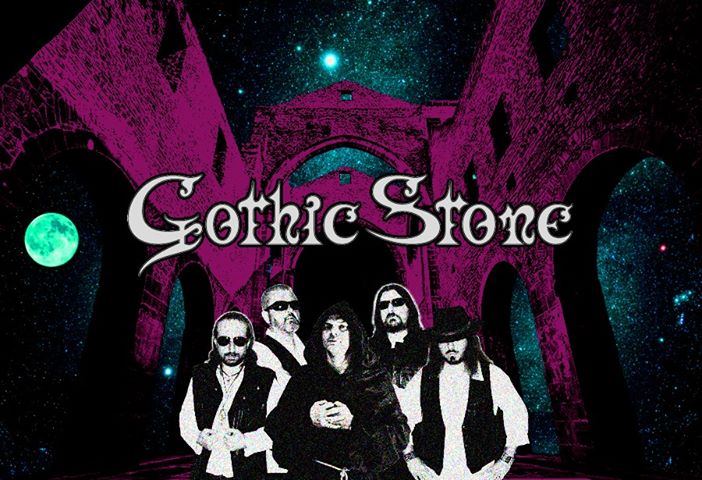 !!!ITALIAN EPIC DOOM METAL!!!
We had a conversation with Salvatore Fallucca (Guitar). Enjoy!
Welcome to the FILTHY DOGS OF METAL Webzine.
1. Tell us a few things about GOTHIC STONE (Members, Starting Year etc).
I (Salvatore Fallucca on rhythm guitar) started Gothic Stone back in 1991, with Rodan DiMaria on bass and Biagio Oliveri on drums, two schoolmates who shared my love for heavy metal music. We started to write and rehearse some song (you can find a couple of them, in a reworked version, on our debut album), but unfortunately the nineties were a very awful time for traditional metal and we've never been able to find a singer and a lead guitar player who were committed enough. We disbanded in 1993 and it was not until 2013 that i decided to resume that project. The resurgence of true metal music got more and more people into this sound, so I happen to hang out with friends who asked me to brush up my old songs and see if it works. This time, besides my old mate Rodan, I've got by my side experienced musicians, such as Salvo Sicilia (ex Agon and Embryonix) on drums and Vincenzo Mandarano (ex Exile and currently with Hellraiders) on lead guitar. With increased technical skills and the help of new technology, the goal to record my music properly was much more easy to be achieved. At first we recorded a four song demo with me on vocals, and it led to our deal with Black Widow Records and to the recruiting of our singer Gabriele "Nightcomer" Grilli (ex DoomSword).
2. You have recently released your new album ''Haereticus Empyreum''. What is the Feedback from your audience as well as from the Press?
The feedback from the press, as well as from the people who has listened to "Haereticus Empyreum", has been absolutely amazing! We have got excellent reviews from your country too and it looks like Greece is one of our strongest fan base (I guess No Remorse Records has been the first foreign shop to get in stock our album).
3. Label or DIY and why?
We have been lucky enough to get the best from both ways. Because we have got total control over the recording process, as well as over the artwork and the whole concept, same as in a DIY situation, but we also took advantage by Black Widow's experience and prestige. We feel very honored to work with the Genoa label because it is a very established brand as far as dark sound is concerned. They have some of our favorite bands in their roster (Pentagram, Death SS, The Black, High Tide etc) and they know how to handle a product like this in the best way. The Black Widow guys accepted our material exactly as it was, and they only asked us to add two more songs in order to release a proper full-lenght album instead of a Mini-LP. The only drawback was that their schedule was very busy, so our album had to wait about two years in order to hit the shelves, but it was well worth the wait.
4. Do you prefer Vinyl, Tape, CD or Digital Format and why is that?
From my (collector freak) point of view, vinyl wins hand down, there is no question. But i must admit that the digital format is very handy, so i always buy vinyls to enjoy the artwork, lyrics, liner notes etc (as well as the plain pleasure to own the real thing), but i usually listen to music through internet/computer. CDs are quite handy too, but not as much as the Mp3s, and not even remotely as beautiful as the LPs, so I buy them only when i really love that specific band and there is not any vinyl format available. As for tapes, i think that they are more inconvenient and perishable than LPs and more ugly than CDs, so I never ever bought any and I cannot really understand their small resurgence in later years. As far as Gothic Stone is concerned, the first thing I made sure when I signed the deal with Black Widow Records, was that they were going to release our album on vinyl format (they pressed 250 copies in black vinyl, 50 copies in colored vinyl and 300 copies in CD).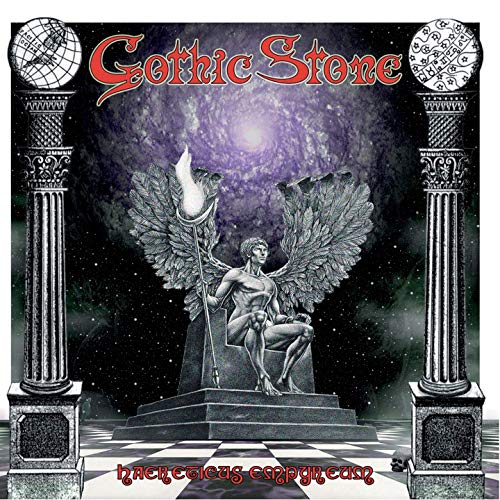 5. Your music style is Doom Heavy Metal. Which are your main influences (Favourite Artists / Bands etc.)
If we assume that the song "Black Sabbath" is the very first proper heavy metal song, we must agree that heavy metal is born under the sign of doom. That was still a very traditional form of rock, with proper songs, blues influences and melody hooks, but it was heavy, dark and scaring. That's where i come from and that's what I try to put in my music: it must not be necessarily slow, but somber and menacing. Besides Black Sabbath, I love early Judas Priest ("Sad Wings Of Destiny" is my all time top album), Mercyful Fate, King Diamond, Iron Maiden, Angel Witch, Candlemass, Death SS, Paul Chain, Sarcofagus, Pentagram, Manilla Road, Trouble, Warlord, Saint Vitus, Manowar, Witchfinder General. Cirith Ungol, Tyrant, as well as some hard rock bands such as Rainbow, Blue Oyster Cult, Scorpions, Uriah Heep etc and some progressive ones, such as early King Crimson, Genesis, Jethro Tull, High Tide, Goblin and the list can go on and on and on.
6. Which things, do you think, a Band should sacrifice in order to succeed?
Have you ever sacrificed anything in your life for a better future of your Band?
It depends on what you mean about "succeed". If you mean getting money and fame, thenI'm afraid that we have no chance to succeed, so there's no need to sacrifice anything. If you mean getting the chance to release your music and reaching people who loves that kind of music, we just sacrificed many years of waiting, in order to have the right musicians and the right label behind us. If we have tried to release our music as it was in 1991 it would have been total crap ahah.
7. Describe your ideal live show as a performance Band. Have you already experienced that?
I am into theatrical kind of performance, with stage clothes, rich scenic design and even actors (in the vein of early Black Widow, Alice Cooper, Death SS, King Diamond, Hell, Halloween etc). But it's far beyond us, as Gothic Stone never played any gig, because 3 / 5 of our band live in Palermo (in the south of Italy) and the other two live near Milan (in the north of the country), so it is almost impossible for us to rehearse and play live.
8. Which attributes, do you think, that a new Doom Heavy Metal Band should have in order to gain identity and be unique?
Very hard question, because it's a very traditional form of music, so your attempts to be original might end up in playing something completely different (for example, in my opinion, doom with growl vocals, hardcore influences or anything "extreme" is not doom at all). I felt very flattered by a statement that the Indy Metal Vault wrote about our album: "an excellent job of mixing familiar elements to create a distinct style". That's exactly what I think new doom heavy metal bands should do. At present my favorite bands in doing it are Ghost, Uncle Acid, Whitchcraft, Spiral Skies and La Janara.
9. Do you believe that Bandcamp and other Digital Platforms help the new Heavy Metal Bands? Which, do you think, is the ideal way for a Band to promote its work?
Yes, I think that the internet is an excellent way to reach the people who might like your music all over the globe. Even if your album is already there for free download the very same day of its release, in my opinion, your fans still buy it, because they like to collect the real thing and support the band. So I think that the best way for a band to promote its work is to spread it as much as possible over the web to let people know its music and, at the same time, take care to craft a beautiful object to let people want to buy the physical album.
10. Tell us a few things about the New Underground Metal Scene in Italy (Bands, Fanzines, Webzines, Metal Clubs etc.)
Italian rock/metal scene has always been quite derivative of the USA/UK scene but, if we talk about dark sound and doom, we have a long tradition of bands with a rather strong personality: Goblin, Jacula, Balletto Di Bronzo, Death SS, Paul Chain, Black Hole, Requiem, Arpia, Devil Doll, Malombra, The Black etc are among the most revered names. In the new millennium there is still a lot of bands who carry on this heritage and, just to name a few, I can remember Black Oath, Night Gaunt, Fangtooth, In Aevum Agere, L'Impero Delle Ombre, Witchfield, Hands Of Orlac, I Compagni Di Baal, Tony Tears, Deliria, Bretus, Legionem, Steven Slozz, etc etc etc.
The same goes for labels (Doomymood, Doom Symphony, Bloodrock and, of course, Black Widow), festivals (Stoned Hand Of Doom, Obscura Doom Fest, Doom Over Karalis etc) and the press (Fire magazine, plus a couple of books about the history of doom and the best 100 doom albums), so I can tell you that this musical niche has never ceased to be alive and kicking in my country.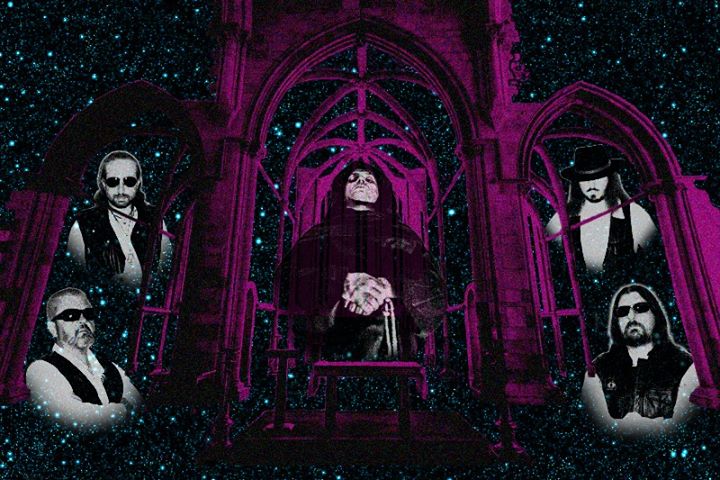 11. Do you know anything about the Hellenic Metal Scene?
To my eyes the Greek metal scene was a bit sleepy during the eighties (even if I used to enjoy some works by Exoristoi, Northwind, Vavel, Vice Human and few others), but it absolutely exploded during the later years and, at present, it is one of the strongest metal scene in the world, with tons of bands (Violet Vortex, Ominous Sky, The Temple, Litany, Doomocracy, Sorrows Path, Wishdoom and many many more, just to mention only the ones in the doom area), excellent fanzines (Forgotten Scroll, Steel Conjuring, Singing Swords, Steel For An Age, On The March etc), very interesting labels (No Remorse, Cult Metal Classics, Eat Metal Records etc) and amazing festivals (Up The Hammers, Into Battle etc).
12. What are your future plans?
At present we are just collecting reviews and see if people enjoy our music.
13. Thank you very much for your time & Keep up the good work! The closure is yours.
We wish to thank you for your interview and the Greek metalheads for the enthusiam they immediately showed us. Haeresis vobiscum!
By Steve the Filthy Dog.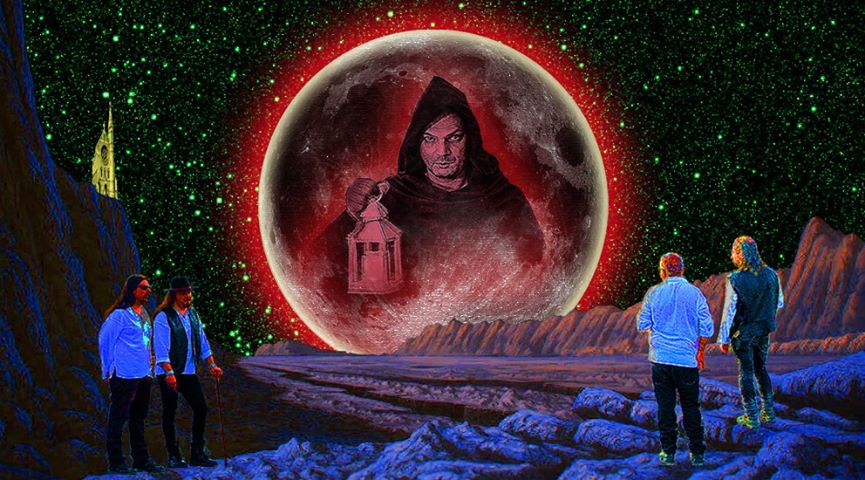 GOTHIC STONE CONTACT:
https://www.facebook.com/GothicStonePalermo/
https://gothicstone.bandcamp.com/