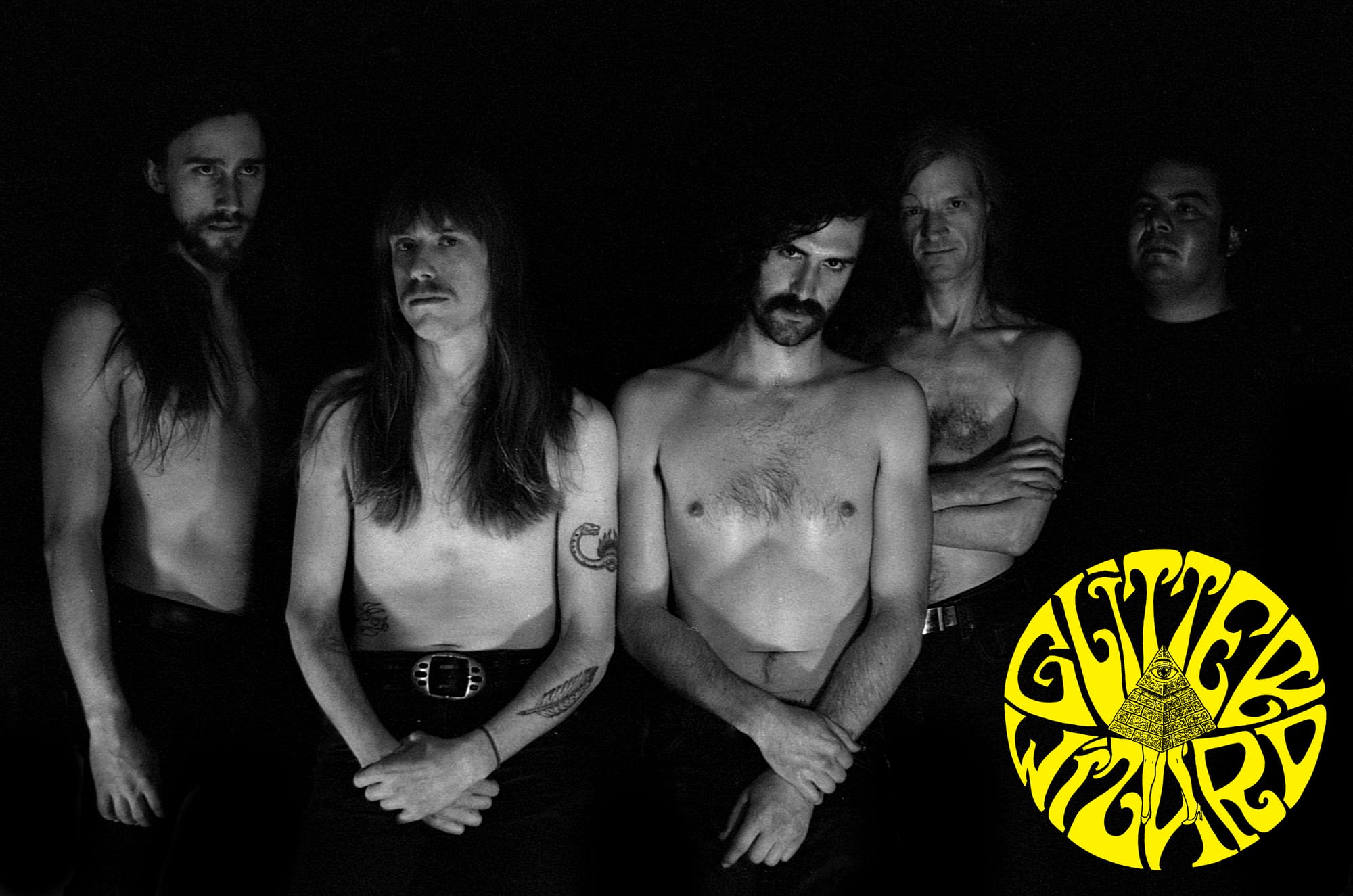 !!!WIZARD ROCK FROM THE USA!!!
We had a conversation with Kandi Moon (Bass).Let's take a trip to the GLITTER WIZARD's world!

Welcome to the FILTHY DOGS OF METAL Webzine.
Tell us a few things about GLITTER WIZARD (Members, Starting Year etc).
Glitter Wizard started in 2010 in the Santa Cruz mountains by Wendy Stonehenge. It came from a dream where a Wizard stood at the entrance to Hollow Earth and told Wendy "You Will form a band of Wizards and cover them in Glitter."
He did as he was told and the rest is history.
The current lineup is:
Wendy Stonehenge - Vocals
Lorfin Terrafor - Guitar
Doug Graves - Keyboards
Fancy Cymballs - Drums
Kandi Moon - Bass
In 2019 you have released your album ''Opera Villains''. What was the Feedback from your audience as well as from the Press?
For "Opera Villains" and "Hollow Earth Tour" we took a different approach from our earlier releases. We wanted to branch out and develop the theme and sound of the records to make one cohesive piece of art rather than individual singles put together into an album.For "Opera Villains" we went even further and spent a lot more time developing the style of the songwriting and look of the artwork to go along with it. I am very proud of the work we put out and thanks to Donny Newenhouse at El Studio for recording/mixing the album, John Golden Mastering, Rob Williamson for his amazing photography and Janiece Gonzalez who put the finishing touches with hair and makeup. I think a lot of bands these days lack a theatrical quality. Seeing four guys in t-shirts and leather jackets on a record cover is boring to me. Bands used to have more imagination and I think it is time to bring that back.The reviews have been overwhelmingly good from fans and press, but there are always some haters. The only issues people had were:
1. the album wasn't metal (which we are not a metal band)
2. they didn't like the interludes.
SO basically they just missed the point of the album and I feel bad for their tiny brains.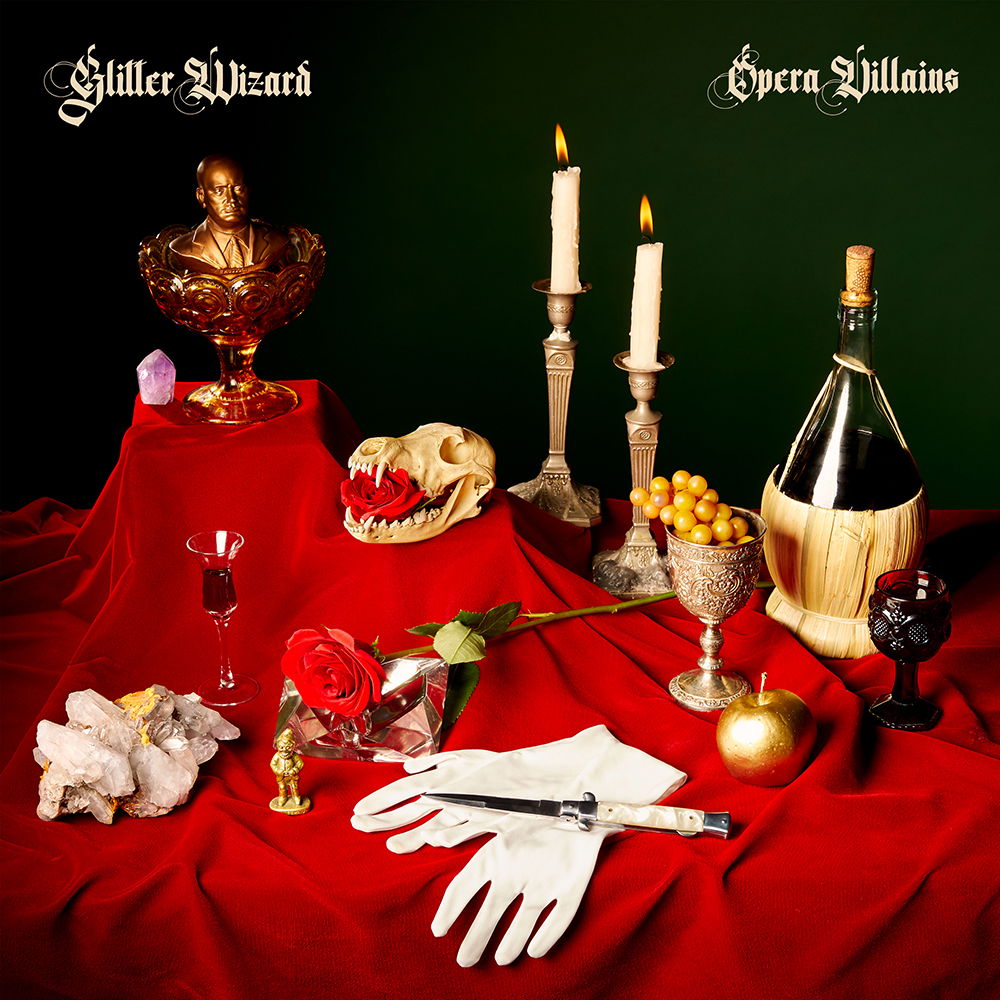 Label or DIY and why?
Both of them have their own obstacles. When you work with a label, they want to control your output and do it a certain way. The way they want to do it isn't always what is best for your band, but you do it in the hopes the label will help promote your album and get it out to more people.When you are DIY everything is up to you so the amount of work for you to put out and distribute an album increases immensely.I don't prefer either at this point, they are both a pain in the ass.
Do you prefer Vinyl, Tape, CD or Digital Format and why is that?
There are advantages to all of the formats but I think the best way to release an album is to record it to tape, master it with a lacquer and press vinyl with a digital download. Most people are going to listen to it online which is fine but vinyl just sounds better. If people want the vinyl which a lot of people do then I want them to be able to hear the record the way it is supposed to sound.
You label your music genre as ''Wizard Rock''. Why ''Wizard Rock'' & which are your main influences (Favourite Artists / Bands etc.)
Wizard Rock because most bands that sing about wizards are pretty cool.We should probably list every hard rock band with a song about wizards but we will start with the obvious: Uriah Heep, Black Sabbath.Other bands that may or may not have songs about wizards: Blue Cheer, The Stooges (The saxophonist on "Fun House" Steve McKay played on our first record),
Rainbow, The Sweet, Judas Priest, The Damned, Goblin, David Bowie, Slade, Alice Cooper.Current bands we like: R.I.P., Travelin Jack, Necrot, Molten, Banquet, The Flytraps, Hammered Satin, ZIg Zags, Planet of Zeus.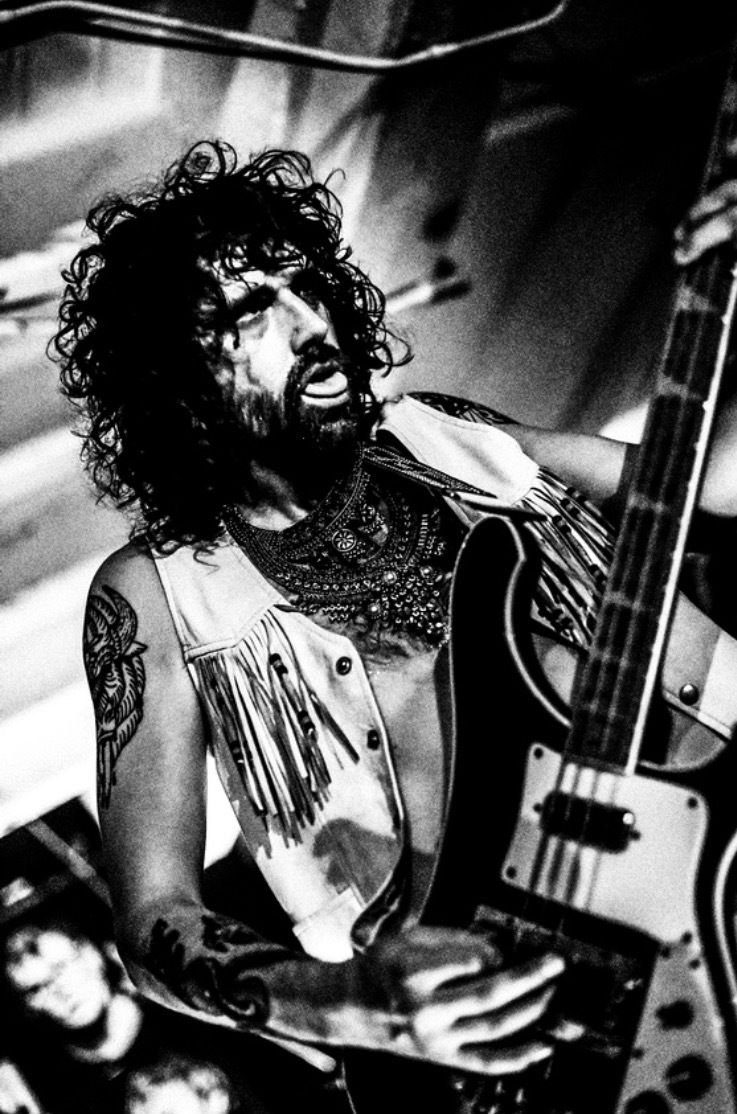 Which things, do you think, a Band should sacrifice in order to succeed?
I think touring as much as you can and trying to make a unique show for each of your shows is the best thing to do. If you are constantly playing shows that you would want to attend chances are other people will want to go to. It's hard to do that on the road but as you tour you meet promoters, bands and people that you keep in touch with if it works out well. The sacrifice here is always being on the road.
Have you ever sacrificed anything in your life for a better future of your Band?
Everyone has to make sacrifices in order to stay in the bay area (San Francisco/Oakland), whether that is working three jobs (one of them with your hand), living in a shack, or having 15 roommates. It's getting crazy expensive for musicians and artists to stay here.
Describe your ideal live show as a performance Band. Have you already experienced that?
My ideal stage show would have as many theatrics as possible, glitter cannons, explosions, fog, smoke, life, death! We aren't quite there yet but for Halloween every year we throw a cover show in San Francisco called the Hallorager. Last year was the 6th edition and we did an Alice Cooper cover set, old Alice Cooper, with songs from the first few albums. The whole venue gets decorated like a haunted house and we had a few theatrics including Donald Trump getting humped by Frankenstein during "Feed My Frankenstein". That was the only later Alice Cooper song we played but we had to play a song about Frankenstein on Halloween.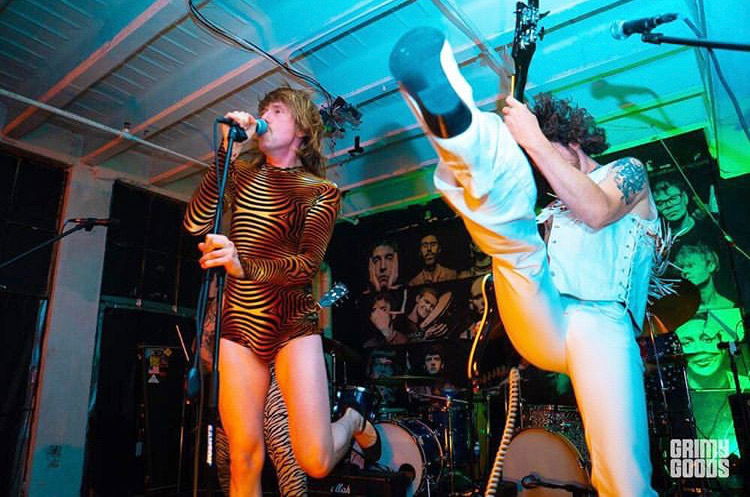 Which attributes, do you think, that a new Rock Band should have in order to gain identity and be unique?
Well, first I think bands shouldn't be afraid to try things, even when it puts them out of their comfort zone. David Bowie was mocked and ridiculed for his look and he became a legend. If you do things that everyone is already comfortable with and already agree are "cool" then you are going to be boring and fall in with every other band. Writing the music a certain way is one thing, presenting the music is part of the package. If both are not synchronized then I think you fall in with the herd.
Do you believe that Bandcamp and other Digital Platforms help the new Rock Bands? Which, do you think, is the ideal way for a Band to promote its work?
That's a hard question to answer haha. Yes and no. Yes because it allows your music to be easily accessible to people all over the world. For instance, I am curious as to how you came across our music as we have never had the opportunity to play Greece. I've been there myself and loved it but just not with the band. No, because digital platforms make millions of dollars and pay artists very little.I am not referring to Bandcamp of course, but Bandcamp isn't the most user friendly site for streaming music unfortunately. Most people play music from their phones and are going to use spotify, pandora, amazon music, etc...Those services help expand how many people are able to listen to your music but they pay you a fraction of a cent for each play.The current situation for musicians is thousands of dollars to record and master your album, find a label to put out your album and have them pay a thousand or more for that all so that a streaming service can take your song, make money off of their service and pay you on average $0.0032 USD per play. It's bullshit but that's how everyone listens to music for the most part. We weren't on Spotify for years until people kept asking over and over why we weren't on there. Nowadays in people's eyes you are not a real band unless you are on spotify. Which is the dumbest shit I've ever heard.We try to hit promotion at every angle, whether it's videos, posts, putting flyers up around town, posting shows on bandsintown etc... I am also a promoter outside of playing in Glitter Wizard and have learned that there is no such thing as wasted promotion. I wish we could do more promotion but we just don't have the resources and I need to sleep sometimes.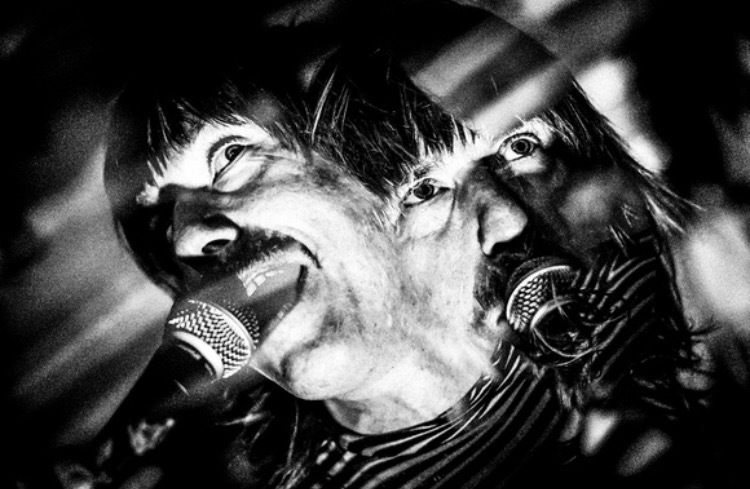 Tell us a few things about the New Underground Rock & Metal Scene in San Froakland, CA USA (Bands, Fanzines, Webzines, Metal Clubs etc.)
Sorry to be such a bummer on this interview, but the bay area is going through a rough time. Several clubs have already closed in the past three years due to urban development deals or leases ending and the new business goes in a different direction. Now with the Covid shutdown a lot of the clubs that are left are facing the possibility of having to shut down.Between everything costing way too much in San Francisco/Oakland, the amount of people who have moved away because of the costs, venues that have already shut down and Covid it doesn't look that great for the music community in the bay area. Despite that fact there are still a good amount of great bands from the bay area: Hot Lunch, Necrot, Molten, Ghoul, to name a few.
Do you know anything about the Hellenic Metal Scene?
Before this interview no. I checked out some bands like Kawir, Astarte and Nocternity. It reminds me of some newer Scandinavian black metal bands that incorporate elements of traditional folk music into black metal. It's different than what we play obviously but we, especially Lorfin, Fancy and myself, love black and death metal. Our hype man "Mercho Man" sings lead vocals in a blackened death band called Molten and they rippppp.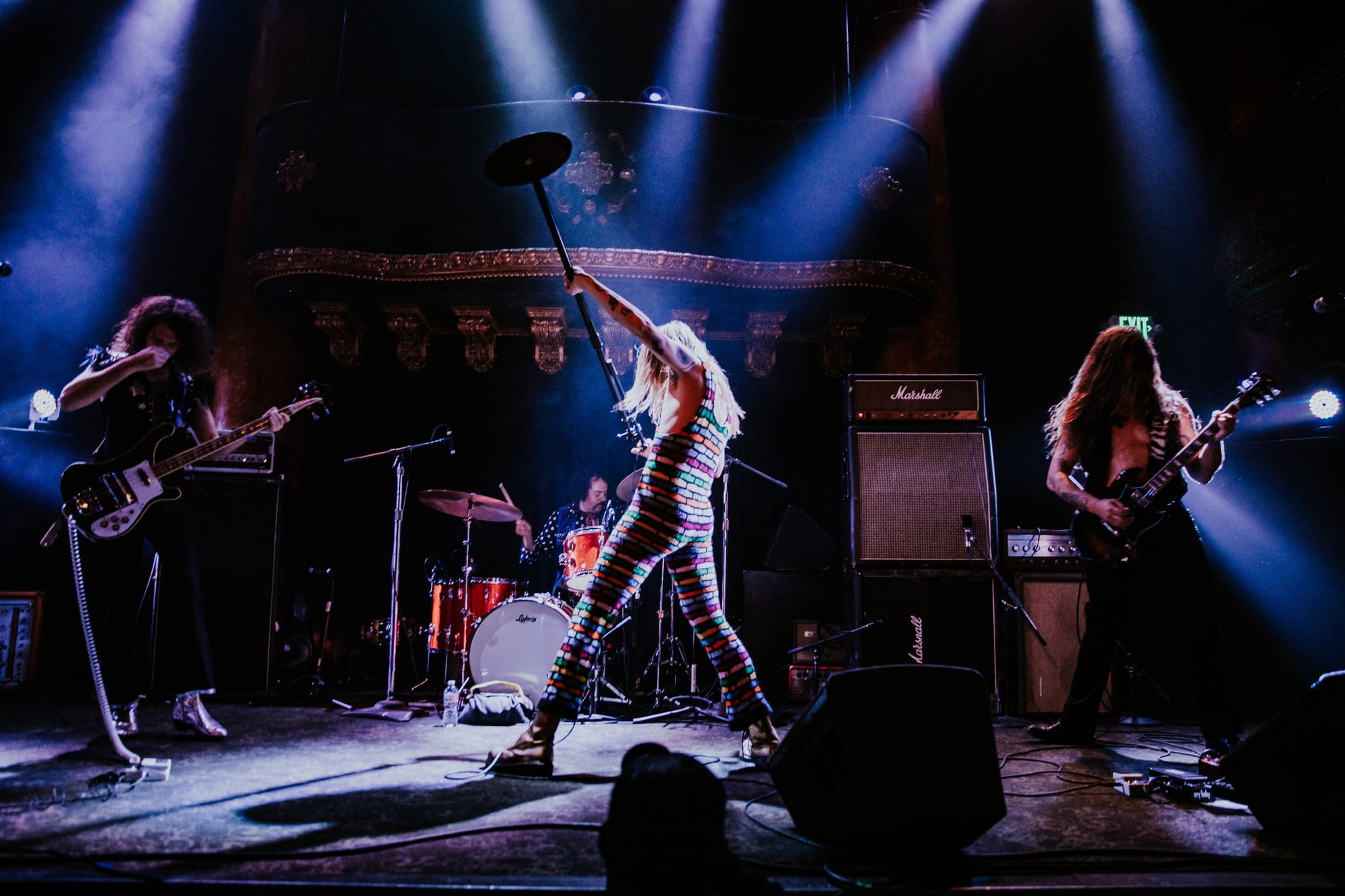 What are your future plans?
We are hoping to go tour the west coast in November and tour Europe again in the spring. Everything has been cancelled for the year so far so who knows if we will actually be able to make those tours happen. In the meantime we are working on a new EP.We just released a single in May, a cover of Gun's "Race With the Devil". You can check out the music video here:
Thank you very much for your time & Keep up the good work! The closure is yours.
2020 has been a rough year for everyone, but we are gonna get through this damn thing. Get together and support your local venues, bands, festivals, blogs, friends and neighbors and let's party when this is all over!
By Steve the Filthy Dog.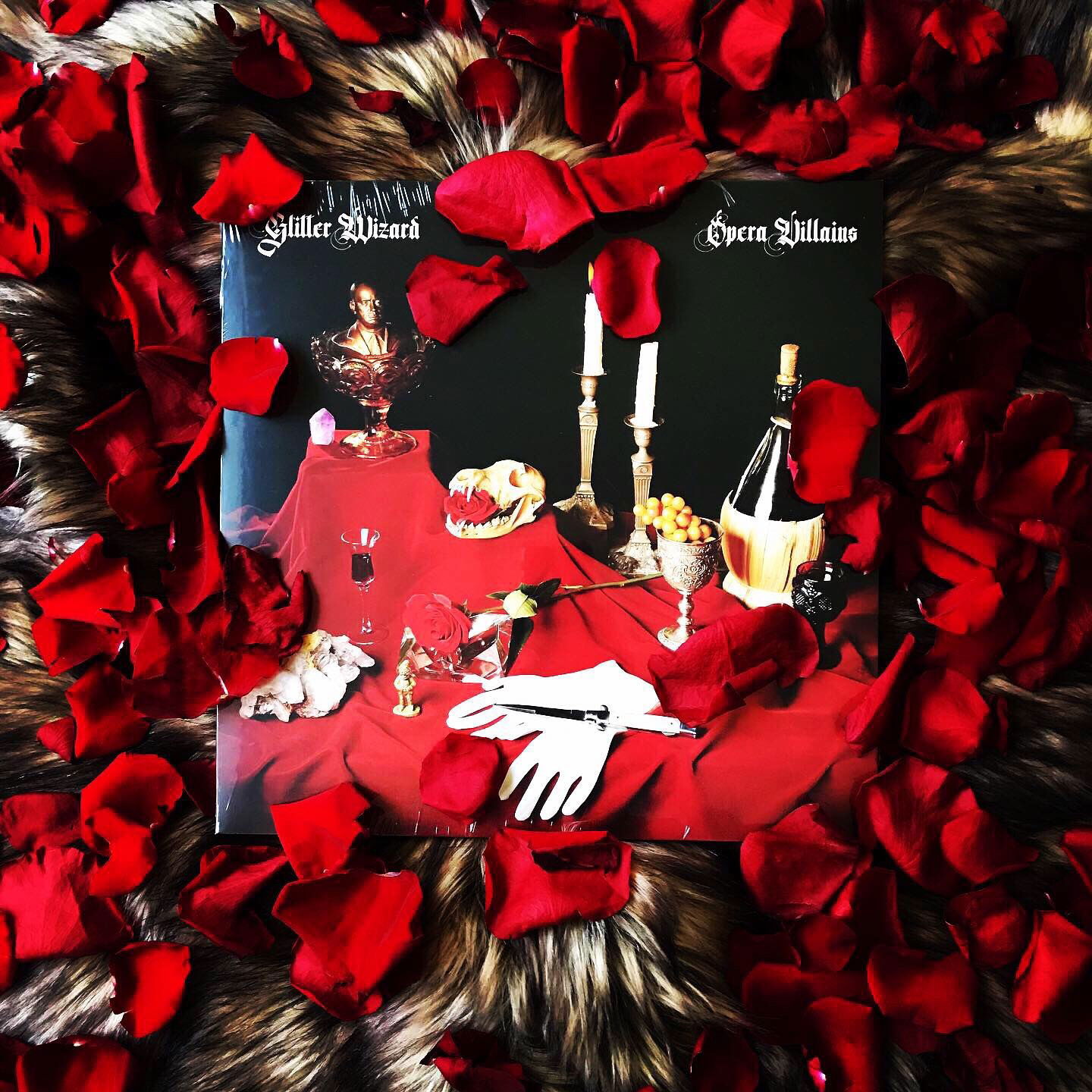 GLITTER WIZARD CONTACT:
https://www.facebook.com/glitterwizardwagon/