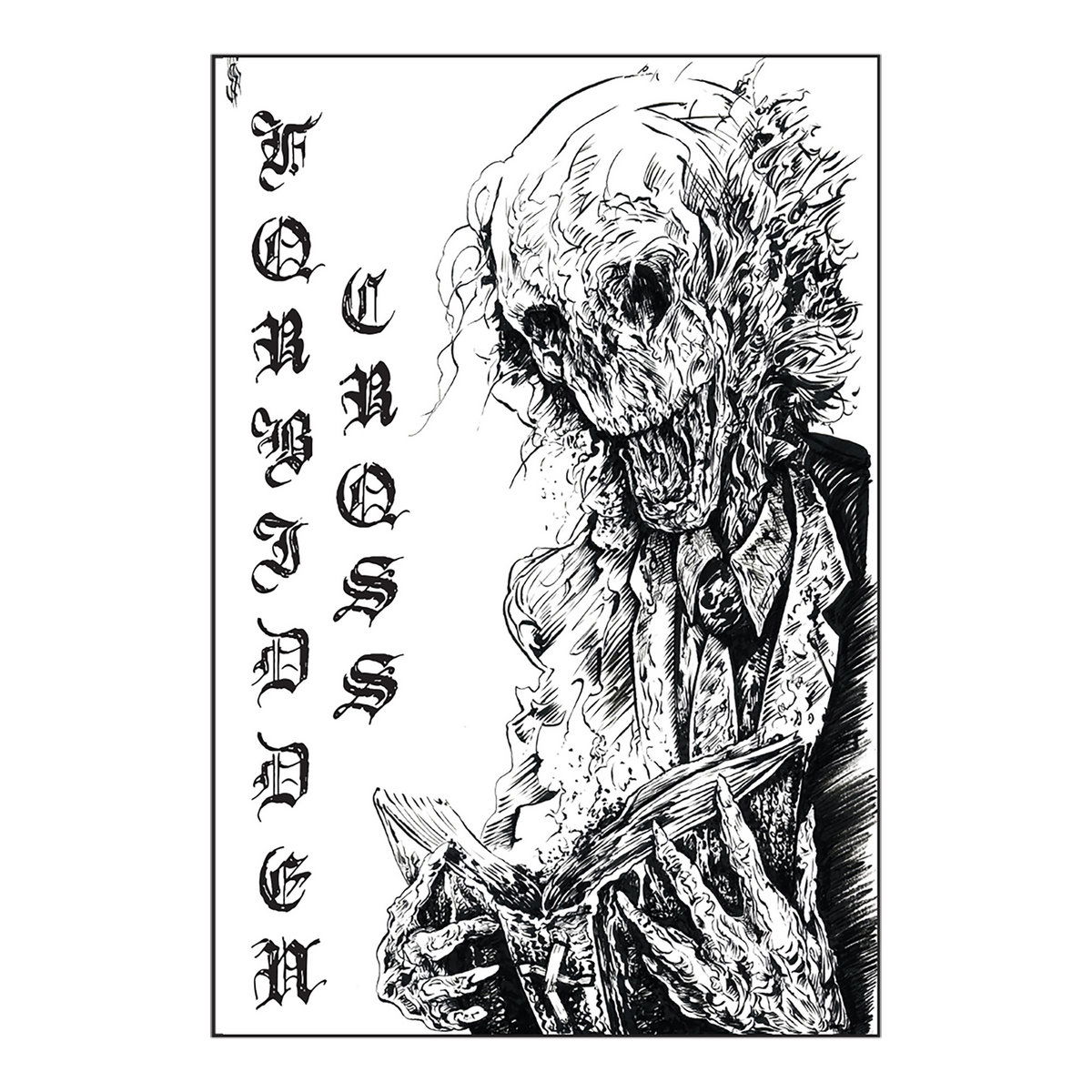 !!!BLACKENED HEAVY METAL FROM THE USA!!!
Welcome to the FILTHY DOGS OF METAL Webzine.
Tell us a few things about FORBIDDEN CROSS (Members, Starting Year etc).
Hello, thanks for the interview. Forbidden Cross is Timo Vesproc and Curser. The band was realized in January, 2019 after hearing Eurynomos and enjoying hearing Okkulto's vocals again as I was a fan of his Desaster years. I was out walking one day and some ideas started forming, but that idea was actually never used. But out came a flood of music.
You have recently released your demo ''Demo MMXIX ''. What is the feedback from your audience as well as from the press?
Some friends seem to enjoy it but i don't know of any press.
Label or DIY and why?
Both have their advantages. If you can do it yourself it is a good way to do it. But if you get label interest and someone else is willing to do it to your vision then that is fine with me.
Do you prefer Vinyl, Tape, CD or Digital Format and why is that?
Vinyl and CD mostly, tape when needed, but mostly for demos and stuff. I prefer an actual copy to digital.
Your music style is Blackened Heavy Metal. Which are your main influences (Favourite Artists / Bands etc.)
Zemial, Destroyer 666, Desaster, Nifelheim, Emperor, Mayhem, etc. Heavy Metal in general but also that early Iron Pegasus time period.
Which things, do you think, a Band should sacrifice in order to succeed? Have you ever sacrificed anything in your life for a better future of your Band?
Yeah, and I'd rather not sacrifice anything these days. It's not important to be known or succeed, it's barely important for me to get music finished or released even, hah! I just do what I do and if something happens that's cool but I'm fine with staying underground and not having to worry about the other stuff.
Describe your ideal live show as a performance Band. Have you already experienced that?
Playing at Keep It True was pretty rad and I can't think of anything better. So I'd say I've experienced some cool stuff but it's not a preference for me anymore either. An ideal show is just a couple other good bands you enjoy in a small environment.
Which attributes, do you think, that a new Metal Band should have in order to gain identity and be unique?
Play something you want to, not what you think you should be playing.
Do you believe that Digital Platforms help the new Metal Bands? Which, do you think, is the ideal way for a Band to promote its work?
It does, or can of course. It's a faster way of getting your music heard, but you are also just one of many many many bands. So if you want it to get out there I guess the best way is to get it out in as many formats as you can. Bandcamp seems ok for digital.
Tell us a few things about the New Underground Metal Scene in Illinois, USA (Bands, Fanzines, Webzines, Metal Clubs etc.)
I really don't have a good grasp of what's going on in Illinois. I live in the southern part and haven't been up north in some years now. So as far as new stuff,and specifically what's good, I'm not the best person to ask. There's plenty of good Metal in Chicago though. Most of the people involved are into it.
Do you know anything about the Hellenic Metal Scene?
Well, Zemial is an influence. Most people know Rotting Christ and Varathron and various projects. Macabre Omen, Alpha Centauri, Dead Congregation, Acrimonious, played a show where Dexter Ward played and have played Athens. I've never seen such driving madness. That was a good time!
What are your future plans?
Future plans are still just to finish the album. But I'm not in a huge rush, but i do want to get it done! Half of it has been done for years. It's just my slowness and some things out of my control.
Thank you very much for your time & Keep up the good work! The closure is yours.
Thanks again! I hope to see your country again one day but if not, I'm glad I have been there. Didn't get to see a lot but it was quite the experience nonetheless.
By Steve the Filthy Dog.
FORBIDDEN CROSS CONTACT:
https://forbiddencross.bandcamp.com/