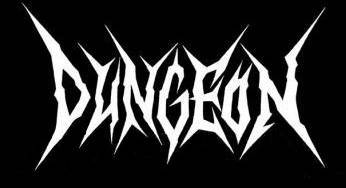 !!!SPEED/THRASH METAL FROM UK!!!
We had a conversation with DUNGEON.Enjoy!
Welcome to the FILTHY DOGS OF METAL Webzine.
1. Tell us a few things about DUNGEON (Members, Starting Year etc).
We'd been friends for a good while before forming from drinking/working at various metal bars in London. Luke (guitar/vocals) and Olivia (bass) had been sharing ideas back and forth, around the same time Chris (drums) and Daragh (guitar) were at a loose end and were up for doing something new as well. Everything fell into place pretty quickly after that before long we were rehearsing in a decrepit, moldy studio in Soho with our first tape coming out in late 2014.
2. Your last work was the EP ''Purifying Fire''. Have you prepared anything new since then?
We have some new material that we have been playing live since PF was released and are currently working on more for our next release in whatever form it takes!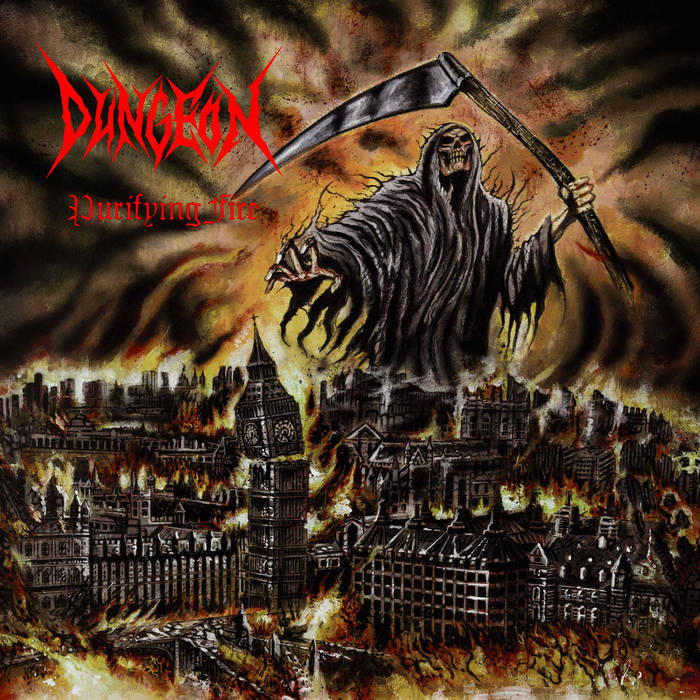 3. Label or DIY and why?
Both have their advantages - with DIY of course you have complete control and can keep things "in house", which is what we have done so far with most of our merch. When it comes to releases it can help to have a label take care of everything. ''Purifying Fire'' was released through Me Saco Un Ojo who are based in London, with the tape version being done by Dying Victims from Germany, both of which came out at a higher standard than we would have had the resources to do ourselves.
4. Do you prefer Vinyl, Tape, CD or Digital Format and why is that?
Probably for convenience digital, for playing at home/collecting, vinyl. Conversely it's not like most people have the bank balances to buy every album on their wishlist on vinyl, and it can be argued that lazily scrolling through Spotify or something similar can "cheapen" the experience of listening to music. Good and bad points for all so it really depends on preference.
5. Your music style is Speed/Thrash Metal. Which are your main influences (Favourite Artists / Bands etc.)
Without going into specific bands - early Thrash/Speed/Black metal and the darker-sounding Heavy Metal bands from the 80's, as well as classic UK & Japanese Hardcore. To be honest though it's something we try not to get too hung up on - a lot of bands spend too much time obsessing over this or that influence and trying to nail a particular sound. Most of the classic acts, whether it be Judas Priest or Slayer, didn't start out as genre bands, which is something we've tried to avoid as well
6. Which things, do you think, a Band should sacrifice in order to succeed? Have you ever sacrificed anything in your life for a better future of your Band?
We've all put time and money into what we do but this is probably an "investment" rather than a "sacrifice". With most of us living in London and dealing with its high living costs earning enough to get by sometimes takes precedence over other stuff. On the other hand there are times that personal stuff gets put aside for a tour or recording. We're well adjusted enough (just about) to realize there needs to be a balance.
7. Describe your ideal live show as a performance Band. Have you already experienced that?
Playing to a bunch of maniacs packed into a squatted bar somewhere in the worst part of town. Or in an actual dungeon.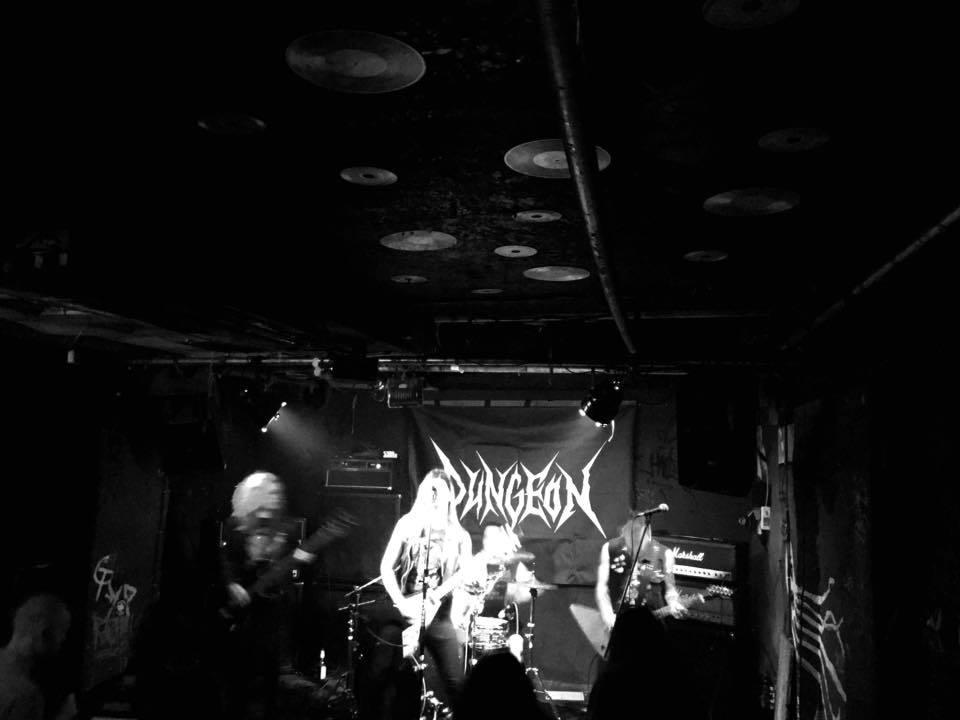 8. Which attributes, do you think, that a new Speed/Thrash Metal Band should have in order to gain identity and be unique?
Play what comes naturally to you, don't get obsessed with sounding like your favourite band, and don't try to be "different" for its own sake. People can tell when a band is genuine and when they are trying to tick boxes.
9. Do you believe that Bandcamp and other Digital Platforms help the new Speed/Thrash Metal Bands? Which, do you think, is the ideal way for a Band to promote its work?
Of course, anything that lets bands share and promote their music for free can only be a good thing - Bandcamp certainly helped us in the beginning! People shouldn't expect miracles to happen without hard work on their part however.
10. Tell us a few things about the New Underground Metal Scene in the UK (Bands, Fanzines, Webzines, Metal Clubs etc.)
There are some great new/new-ish bands coming from the UK over the last few years, good examples being Aggressive Perfector, Insurgency, Venomwolf, Inhuman Nature, Live Burial, & Heavy Sentence, all of whom we've played with at some point. In London, Chris and Daragh are responsible for two of the most popular rock/metal hangouts (The Devonshire Arms and The Black Heart respectively) which are a stone's throw from each other in Camden, both hosting internationally touring bands as well as local shows.
11. Do you know anything about the Hellenic Metal Scene?
It's probably a fair statement that Greek metal fans are some of the most dedicated in Europe...the continued success of Up the Hammers festival is testament to that. Classic Greek Black Metal like Varathron, early Rotting Christ, Macabre Omen etc is great of course. Can't say that we're too familiar with too many modern Greek bands apart from maybe Dead Congregation and Sacral Rage. Greece also seems to have a strong punk/anarcho community.
12. What are your future plans?
As we mentioned earlier we are currently working on new material so whenever this is ready we hope to get back into the studio. Then of course we'd like to get back on the road and hit up Europe once again (we recently completed a 10-day tour with Inhuman Nature which was great) before Brexit fucks any chance of us coming back!
13. Thank you very much for your time & Keep up the good work! The closure is yours.
Thanks for having us! Drink cheap ouzo and blast Discharge & Razor until you die.
By Steve the Filthy Dog.
DUNGEON CONTACT:
https://dungeon2.bandcamp.com/
https://www.facebook.com/DungeonLondon
https://soundcloud.com/dungeonlondon