!!!SPEEDTHRASHERS FROM FRANCE!!!
We had a conversation with Tom Karburator (Guitars). Enjoy!
Welcome to the FILTHY DOGS OF METAL Webzine.
Tell us a few things about DESTRUKT (Members, Starting Year etc).
Hi! Well I started the band in 2014, with the former drummer D. Breum. I played in various other bands back in these days, and I wanted to create something on my own. Blackwitch joined the next year, and D. Krossfire in late 2016. At that time we released our first demo, but shortly after we had major line up issues. Luckily I met our current drummer Deathripper who really pulled the band to the next level. We got a new singer in 2017, Tetanoizer, with whom we recorded the first LP "Unleash the Destruktors". Sadly he left the next year... Since then we have Exhumator as lead singer, and hopefully the line up is now finally stabilized for good! The first album shows the various colors of death, Destrukt has inside, from pure and fierce speed thrash to morbid death-thrash, with few slower bangers.

In 2019 you have released your EP ''Wicked Night Killers''. Have you prepared anything new since then?
The EP Wicked Night Killers was initially designed to be a split album, but we did not find a suitable band to share the release and the costs. On the contrary to the first LP, W.N.K is way more rock n' roll, way more late 70 early 80s heavy metal and punk roots. We had a close collaboration with our comrades from the sleaze metal punk band HERETIC (NL) on this one. First of all, Tom AufderAxe, the drummer recorded and mixed the EP. Thomas Goat did some guest vocal appearances. We have also a kickass guest solo from K.K Ripper (BUTCHER) from Hellgium. During the dead year 2020 and this first half 21, we surely did not stop working. We have actually written a full new album, to be released early next year. We have recorded a demo version of it which is currently about to be distributed through the underground networks.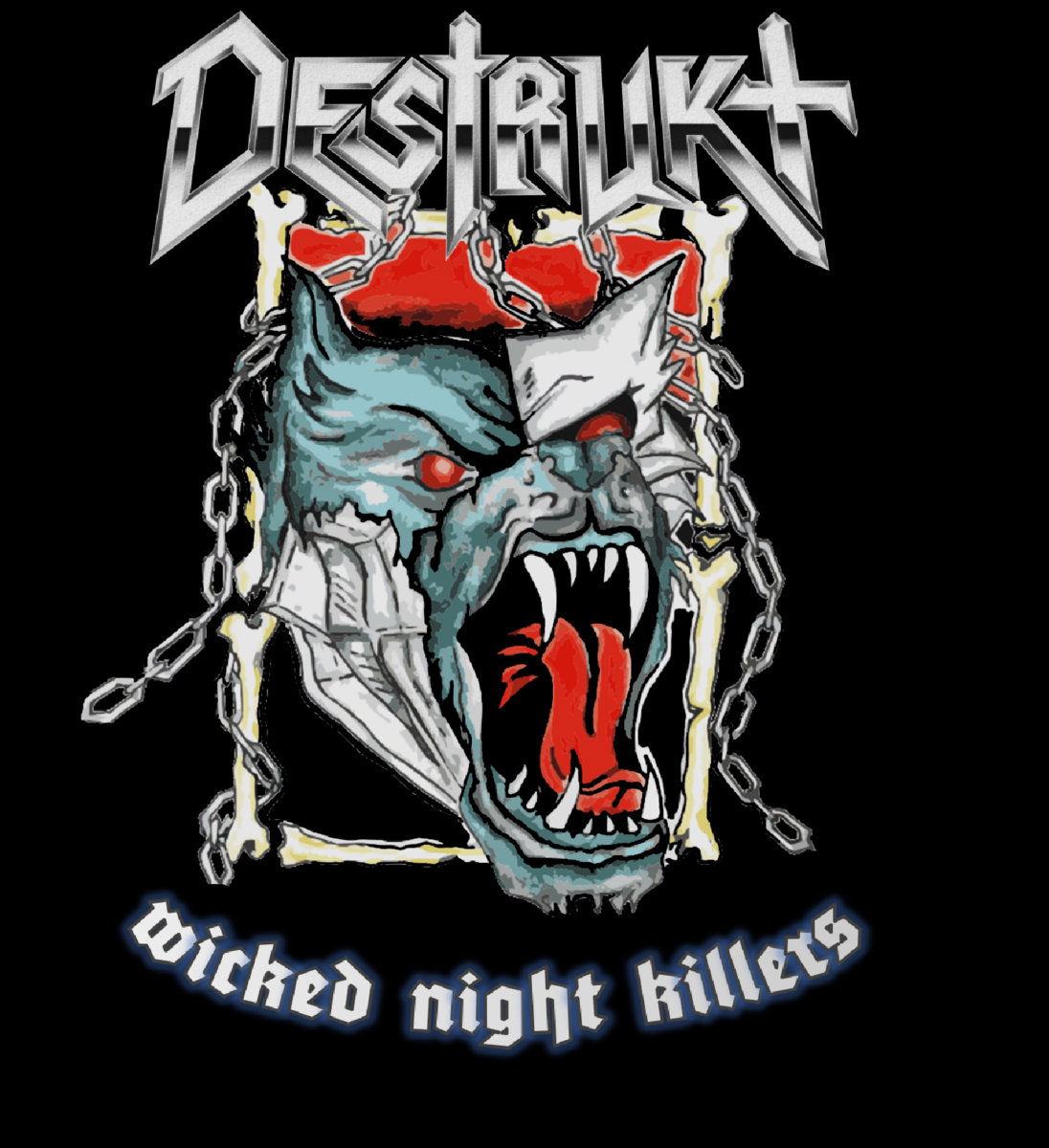 Label or DIY and why?
It's a mix of both actually! We are doing a lot by ourselves, especially recordings, band pics, logo... For the artwork; we are working nearly since the beginning with a truly talented guy, who loves this old-school xerox collages. Our sleeves are plenty of them. If you get a Destrukt release, be sure that the CD version will have a complete other inner layout than the tape version or the LP version. We care of the tiniest detail, graphically sure, but musically first! We are working with the dutch label HEADBANGER RECORDS since the first LP.
Do you prefer Vinyl, Tape, CD or Digital Format and why is that?
Well we do prefer analogic, mostly Vinyl or Tape as the quantity is always limited. We do release also in CD, but mostly for Asia or South America.
Your music style is Speed/Thrash Metal. Which are your main influences (Favourite Artists / Bands etc.)
The main style of Destrukt is Speedthrash indeed, but we aren't purists. We compose the songs as if we were still in the 80's and that grunge and all that new metal shit never existed yet. We get our influence directly from the late 70's heavy metal, early thrash, mostly US metal in general. I'm a huge fan of the early hardcore scene (Venice and Bay Area), but also from 80's Brazilian and European thrash. You will find some Celtic Frost, Slayer, Sarcofago, Venom, GBH, Budgie, or Znowhite in our influences for sure.
Which things, do you think, a Band should sacrifice in order to succeed? Have you ever sacrificed anything in your life for a better future of your Band?
We consider ourselves as an underground band. And what is below the ground should stay buried. I just mean that we rather prefer keeping our integrity than selling our asses to major hype trend vampires!
Describe your ideal live show as a performance Band. Have you already experienced that?
We already played a couple of very cool shows. If I can recall a very good one, was in Tilburg (Netherlands) at the Legendary Little Devil. We opened that night for Heretic. The beer was free, and at will, the sound guy was top, what else could you ever get more?
Which attributes, do you think, that a new Speed/Thrash Metal Band should have in order to gain identity and be unique?
A particularity of Destrukt is to be non-linear. A track might start in a certain atmosphere, and all of the sudden can kick your balls without warning. I care very much of the songwriting. Deathripper and I are spending hours to find the most efficient, inventive and catchy way for a riff to color the music. Exhumator is an incredible frontman, and his texts are very challenging the way we write songs. We have many themes, more or less generical for metal in general, but not your common "nuclear booze nightmare" 10000 heard. We spend also a lot of time in the text writings. For instance, we have a song dealing about the Amazonian Rainforest burnt to the ground by some bastards, another one deals with the story-telling of a rich asshole funerals, and another one is telling the story of one of our friend's car ending up in a ravin...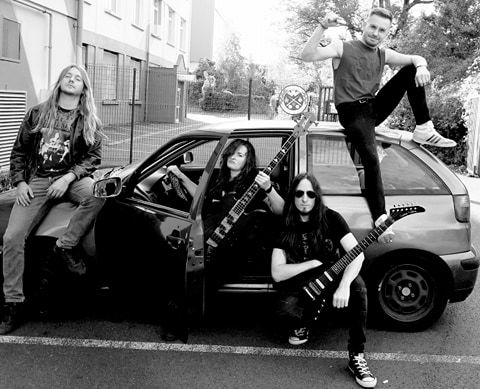 From left to right: Exhumator (vocals), Blackwitch (bass), Karburator (Guitar), Deathripper (Drums)
Do you believe that Bandcamp and other Digital Platforms help the new Speed/Thrash Metal Bands? Which, do you think, is the ideal way for a Band to promote its work?
I come from Black Metal backgrounds... In the past, I never used any virtual support to promote my bands. Bandcamp or other might help, but it won't replace the underground network between labels. The key is to get a serious label to work with, then be active on stage. It's the only way that pays off.
Tell us a few things about the New Underground Metal Scene in France (Bands, Fanzines, Webzines, Metal Clubs etc.)
In France we do have a small underground scene for thrash metal, with few headlines, like Hexecutor for example. The scene is more active in terms of death metal and heavy metal (I make abstraction of the black metal scene in France, as it would be too long to discuss). There are some cool paper fanzines, I like particularly one called "In Extremis". France is huge, but there are no true real metal club like Germany has.
Do you know anything about the Hellenic Metal Scene?
The black metal scene is probably as big as what we have in France. Even now are cool bands coming out, like Itaqa, I like them very much. Greece is also famous for the epic-heavy metal scene for sure and this very cool festival Up The Hammers in Athens. Sadly, it's pretty far from us to drive to tour over there, but we would love to.
What are your future plans?
In France the restrictions are slowly eased, so we can go back to rehearse with the band. We will practice a lot to be ready to get in studio in summer to record the second album. It will contain 9 songs of uncompromising speed-thrash metal of death. We are also currently looking for recruiting a second guitar player, to help me out with better leads, as I'm not a born-shredder.
Thank you very much for your time & Keep up the good work! The closure is yours.
Thanks for your request, hope you had good time to read this, all the best to the Filthy Dogs, we are the Hounds of Steel, we are Destrukt!
By Steve the Filthy Dog.
DESTRUKT CONTACT:
https://destrukt1.bandcamp.com/
https://www.facebook.com/speedthrashdestrukt/