We had a conversation with Paden (Drums). Enjoy!
Welcome to the FILTHY DOGS OF METAL Webzine.
Tell us a few things about DEATH'S DOOR (Members, Starting Year etc).
Death's Door started just this year (2022) in March when Malcom (former guitar player) and I had just moved to Pittsburgh. We are both originally from Washington state and wanted to do a new band together, and had riffs and starts to songs that would eventually end up on the demo. We immediately got Adam on bass guitar because he rips, and originally I was going to play guitar, but, after having no luck finding a drummer, I decided to just play drums. We recruited our friend Flynn to play lead guitar (also rips). Shortly there after, we picked up Neal on vocals and have been going ever since.
You have recently released your demo ''Demo 2022''. What is the feedback from your audience as well as from the press?
So far it's been great! I have been stoked to see people enjoying it and sharing it places. We've been sitting on these songs for months so it's just killer to have it out for people to hear.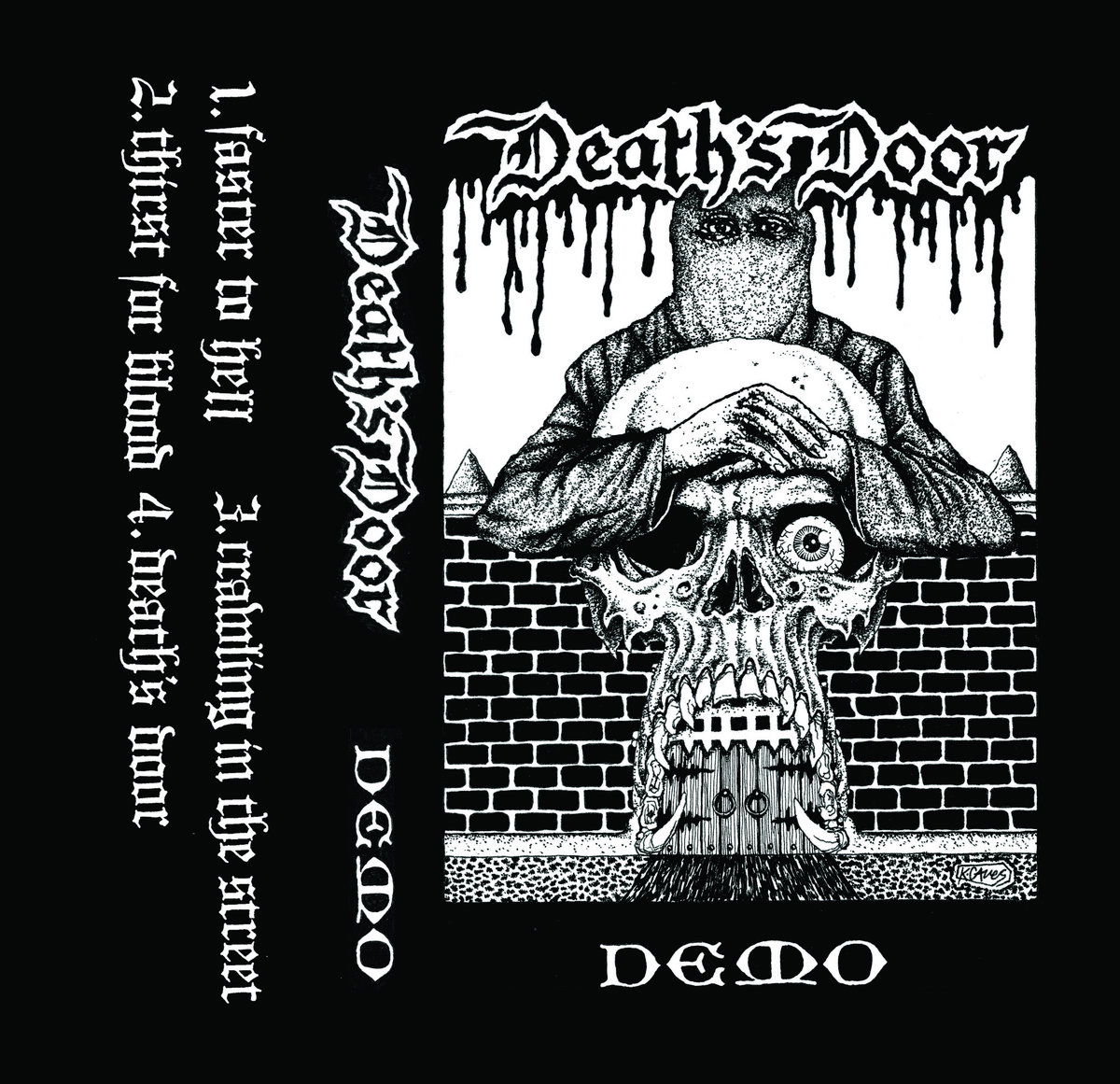 Label or DIY and why?
I personally think every artist/band should start DIY at first. Anytime I've started a band that's how I've done it and it just feels right. However, I also have to be honest and say that I really don't care at the end of the day. It should be more making something that you really care about and making it good. Whether that means putting it out yourself, or a label or friend putting it out. Just fuckin do it!
Do you prefer Vinyl, Tape, CD or Digital Format and why is that?
To me, if I were to rank them, it goes Vinyl, digital, tape, CD. Vinyl is objectively the best sounding and best looking physical media we have. That being said, in all actuality I listen to music mostly on my phone when I'm in the car (hence 2nd place). In the age we're currently in, the people at large will likely only listen to something if it's available on streaming platforms so while that's not the most important platform to me, I think it's probably just as important to have it there. Whatever gets it in the people's ears!
Your music style is Black/Thrash with MetalPunk elements. Which are your main influences (Favourite Artists / Bands etc.)
Main influences are definitely (in no particular order) Venom, Mercyful Fate, Motörhead, Discharge, Metallica, Black Sabbath, Tank, Tygers of Pan Tang, Judas Priest, etc. These are just all the bands we've specifically noted when writing songs up to this point.
Which things do you think a Band should sacrifice in order to succeed? Have you ever sacrificed anything in your life for a better future for your Band?
I'm sacrificing my time doing this interview for our band right now! (hehehe) BUT it's all out of passion because your webzine is sick! Sacrifice comes in many forms to make music as a band, but I don't think it's all so do or die or doom and gloom. The sacrifice of time, money, sleep, energy can be fulfilling and worthwhile in itself, and it should push you to make it better so it can become easier.
Describe your ideal live show as a performance Band. Have you already experienced that?
Just give me a small club with a nice stage, PA, beers, and people who are actually excited to be there and that'll beat the fuckin' Royal Albert Hall any day. But I'd still like to play there. I'll play anywhere if it's worthwhile. The things listed above just help.
Which attributes, do you think, that a new Metal Band should have in order to gain identity and be unique?
Do whatever the fuck you want. Just give a shit about it and don't make me watch you fuckin fart around on stage. You don't have to be a virtuoso but you have to at least try at something and take it somewhat seriously if you expect anyone else to.
Do you believe that Digital Platforms help the new Metal Bands? Which, do you think, is the ideal way for a Band to promote its work?
Yeah I think as annoying as it is to listen to music on Bandcamp it's probably good that it's there. It's stupid how much money they take out of each sale though. Big streaming is a way more bummer deal for bands but I'd be totally lying if I said I didn't use it out of convenience. Really, If you wanna be a band that lasts, I think it's vital and will always be most important to tour and play live and sell your own merch.
Tell us a few things about the New Underground Metal Scene in Pittsburgh, Pennsylvania (Bands, Fanzines, Webzines, Metal Clubs etc.)
I'm pretty new here so I'm probably not the best guy to ask, but I will say that 20 buck spin is a label that will always have my interest. Great catalog. Our singer and new guitar player Phil also play in a Death Metal band called RITUAL MASS that is killing it. Cruel Noise podcast is pretty cool. Gotta give it up to the ROCK ROOM. Listen to PENANCE and DREAM DEATH. Legendary Pittsburgh metal acts.
Do you know anything about the Hellenic Metal Scene?
Unfortunately I do not. I'll be looking up some new shit on YouTube after this for sure though. You can feel free to send me recommendations as well!
What are your future plans?
At this point, our former guitar player Malcom has moved back to Washington, so right now we're getting our new guy Phil up to snuff. My hope is to play more shows, finish writing a record, put out said record, and eventually tour! We'll see what's in store for Death's Door.
Thank you very much for your time & Keep up the good work! The closure is yours.
Stavros, thank you for having me! We will have tapes available on Bandcamp soon so keep your eyes peeled on there if you want em!
By Steve the Filthy Dog.
DEATH'S DOOR CONTACT:
https://deathsdoormetal.bandcamp.com/album/demo-2022