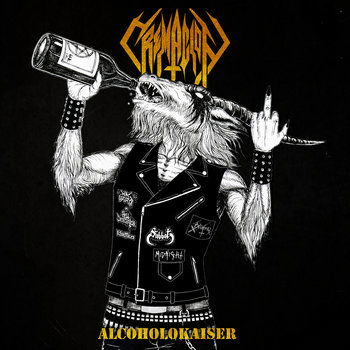 !!!BLACK/THRASH METAL FROM MEXICO!!!
We had a conversation with Moises Rodriguez. Enjoy!
Welcome to the FILTHY DOGS OF METAL Webzine.
1. Tell us a few things about CREMACION (Members, Starting Year etc).
Before being called Cremacion, the band was called Infernal Soez, and was formed by Greg Sanchez (Psychopath Crucified and Beistehen) and I, Moises Rodriguez (Alpha Bravo, Stella Violentiam and Psychopath Crucified) in 2019, Together we composed 3 songs and, for a time, We were joined by Carlos Valle (Corrosive Vomit) but we separated due to personal differences, in the end I was alone and the name was changed to Cremacion, I finished composing the 9 remaining songs and recorded the debut album in my homestudio "Gates of Midnight" in May of this year.
2. You have recently released your album ''Alcoholokaiser''. What is the feedback from your audience as well as from the press?
Surprisingly, very positive, for being a debut album and for being the first time that I worked completely alone in the production and recording, I hoped to go unnoticed, but it was not like that, and I am really grateful to the people who have liked it and who have supported me Either buying the album in digital or giving their opinion, really, thank you very much.
3. Label or DIY and why?
Labels hahaha, it is not only the help they can provide when importing your album or the ease it gives for your album to reach different "distros" everywhere, it is the fact of being part of a catalog with bands that you like it, I don't know, it fills me with pride and drives my work.
4. Do you prefer Vinyl, Tape, CD or Digital Format and why is that?
I am a collector of all formats hahahaha my personal favorite is the CD in Jewelcase, but only for the ease of having them in good condition, but absolutely all the formats are great and give a different feeling from one another, the vinyl, for example, I think it is the top format to collect, its sound, presentation and touch are incomparable, the same can be said of the tapes and the digital format has a high range and is easy to obtain, but lacks everything else.
5. Your music style is Black/Thrash Metal. Which are your main influences (Favourite Artists / Bands etc.)
Midnight, Virtual Void, Toxic Holocaust, Rotten (Mex), Black Sabbat (Dio era), Sarcofago, Raped God 666 and Nifelheim.
6. Which things, do you think, a Band should sacrifice in order to succeed? Have you ever sacrificed anything in your life for a better future of your Band?
I would not call it a sacrifice, one has to enjoy giving everything for their music and expecting nothing more than being proud of what you are contributing to the genre you like, it's true, there will be times when you can't go out with your friends but it's all worth it , I say, I have some psychological problems that make me not enjoy social events like other people so for me there is not much that affects me, but I understand that there are people who cannot work everything by themselves in a fast way, and there is no Problem with that, music is not a race or a competition, we all have our rhythm and our way of doing things, and as long as you enjoy doing it, you are doing things right.
7. Describe your ideal live show as a performance Band. Have you already experienced that?
As long as there is a person who is really having a good time with my music, I will be fine with that, for now, the show that I have enjoyed the most was playing with Alpha Bravo at the "Mexxxicore Open Air 2019" festival alongside bands like Condemned (USA) and Oros(Bratislava), there was a person who had traveled to see us, he had a patch of a band and sang our songs, I felt it as an achievement and so far, it is the best show we have given (even if we were tired and we lost a guitar in the way hahahaha).
8. Which attributes, do you think, that a new Black/Thrash Metal Band should have in order to gain identity and be unique?
Just do it, without fear and play as you would like the best band in the world to sound, more evil, faster, stronger, and always try to transmit something, whatever you want, but transmit.
9. Do you believe that Bandcamp and other Digital Platforms help the new Black/Thrash Metal Bands? Which, do you think, is the ideal way for a Band to promote its work?
Of course, but I think the best thing is to contact a YouTube channel that is dedicated to sharing music of the style you are playing so that it adds you to its catalog, one has to try to be present where he can, but of course, without leaving aside the physical format.
10. Tell us a few things about the New Underground Metal Scene in Mexico (Bands, Fanzines, Webzines, Metal Clubs etc.)
I have a lot to say about the Mexican scene, of which I am very proud, there are bands of great caliber like Rotten, Zaghan, Fecalizer, Hellmidian, Profanator, Hellmaistroz Mutilated, Alex Murphy, Nuclear Black, Last Breath, Ereshkigal, Old Serpent and Helldesecrator to name few, there are fanzines like Ghooric Fanzine and Burning Paradise FanzineBurning Paradise Fanzine, and, of course, my friends from Mexican SlamGang Community.
11. Do you know anything about the Hellenic Metal Scene?
I LOVE Varathron, and all the Black Metal from the Hellenic Scene! There is a magic in their sound that no other bands of the genre have, which honestly fascinates me.
12. What are your future plans?
I'm in the process of composing two albums from other new solo projects, Arcalaus (Heavy/Power) and Demolition Deathstrike (Oldschool Death Metal/Grind), also writing another album with a friend, H.B.(Stella Violentiam, Bestial Goat Desecrator, Virulent Vasectomy) in a project called Satanic Warfare (Brutal Death/Black). Also finishing producing the next full-length album by Stella Violentiam and by the end of the year the composition of the next Cremacion album will begin, which will be called "Made in Hell".
13. Thank you very much for your time & Keep up the good work! The closure is yours.
Thank you very much for this space, this is the first interview of Cremacion and the first one that they do to me outside of Mexico, THANK YOU, and thanks to those who read this, expect many news of Cremacion very soon, thank you.
By Steve the Filthy Dog.
CREMACION CONTACT:
https://cremacion666.bandcamp.com/
https://www.facebook.com/CremacionMX/