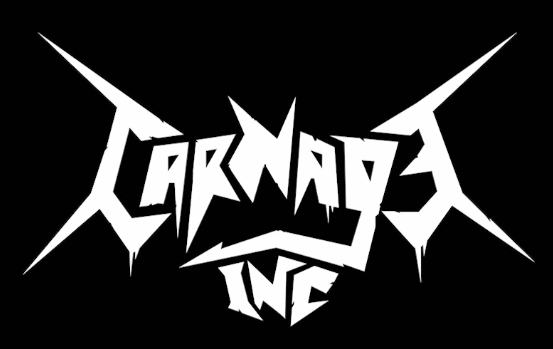 !!!THRASH METAL FROM INDIA!!!
Welcome to the FILTHY DOGS OF METAL Webzine.
Hi guys, thanks for reaching out. Happy to be answering your questions.

Tell us a few things about CARNAGE INC (Members, Starting Year etc).
We started back in 2012, actually 2011 but we didn't have a full line-up and no actual songs till 2012. Our first line-up was Varun Panchal on Rhythm guitar / vocals, Olav D'souza on drums - both founding members. We then brought in Mayuresh Mumbarkar on Lead guitars and Jason Dias on bass.
We were quite old school Thrash back then, and mainly covered Slayer, Metallica or Iron Maiden. The sound was way different than it is now since we have Nikhil Muralidas on Bass, Navin Mudaliyar on Lead Guitars and Moin Farooqui on Drums.

In 2019 you have released you album ''Tenebris''. Have you prepared anything new since then?
Due to the pandemic we couldn't meet and create new music as much as we would've liked. With the Pandemic at large, we tried to create some music remotely, but we like to come together and play the song to be super sure of whether we dig it. If it sounds great playing live with all the members, then it will sound great on record - that's the mantra.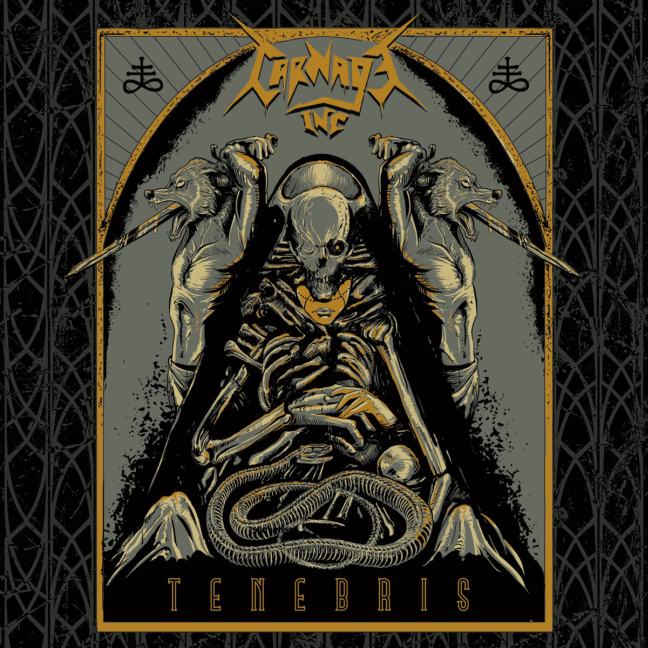 Label or DIY and why?
We had a label for our 1st EP - Transcending Obscurity, but for Tenebris we went DIY simply because we wanted to try doing things independently, explore more avenues, PR etc. Not sticking to a format basically.

Do you prefer Vinyl, Tape, CD or Digital Format and why is that?
Going by the time we live in, digital formats are the most feasible for us, considering the reach / pricing etc. But otherwise, we love CDs. The entire packaging side of it and fans are more involved with the music when they listen to it via CDs. We haven't really tried cassettes or vinyl, never had anyone ask, haha.

Your music style is Thrash Metal. Which are your main influences (Favourite Artists / Bands etc.)
Almost all of the Bay Area Thrash scene bands, Kreator, Sodom. We also love heavy metal bands like Judas Priest, Iron Maiden, Venom, Motorhead, Black Sabbath, Dio. Other than these, we dig Pantera, Mastodon and some Indian bands like Kryptos, Devoid, Zygnema and Godless. It's a big list to be honest haha.
Which things, do you think, a Band should sacrifice in order to succeed? Have you ever sacrificed anything in your life for a better future of your Band?
Here in India, it's really difficult to sustain a band without a day job. So I guess, you can't have the arena-level stuff right away, while also having to make sure you're doing good at your job to make sure you have a band. You have to balance. I don't think we've sacrificed anything as such, except some time, which we could've spent with friends, family. But that's just part of this deal.
Describe your ideal live show as a performance Band. Have you already experienced that?
I think an open air show would be our most ideal show. But we also love the small pub shows, with the audience right in your face. We've played quite a few of them, and it's always been metal as fuck.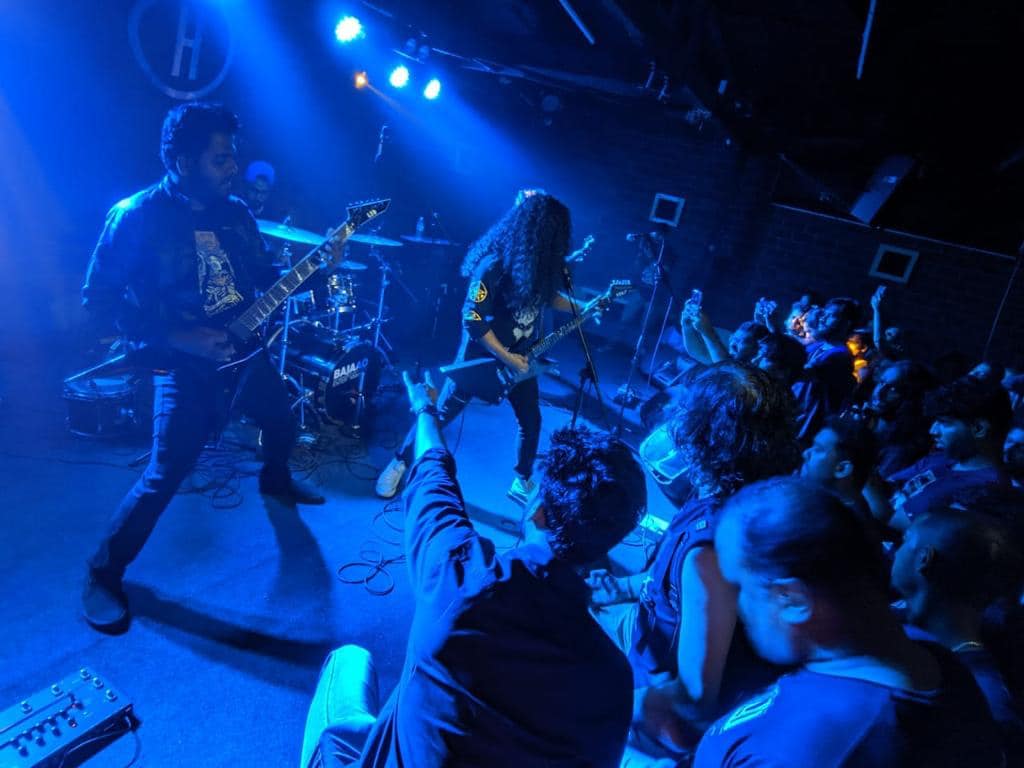 Which attributes, do you think, that a new Thrash Metal Band should have in order to gain identity and be unique?
There's no fixed attribute, at least in our opinion. Whatever genre you play, it's just important to play what you dig. Other than that, if you're a band, it's just important to play together as much, bank on the strengths of each band member.
Do you believe that Bandcamp and other Digital Platforms help the new Thrash Metal Bands? Which, do you think, is the ideal way for a Band to promote its work?
Bandcamp definitely does - other digital platforms help with reaching out a larger audience, but that's about it. For now Bandcamp would be our pick.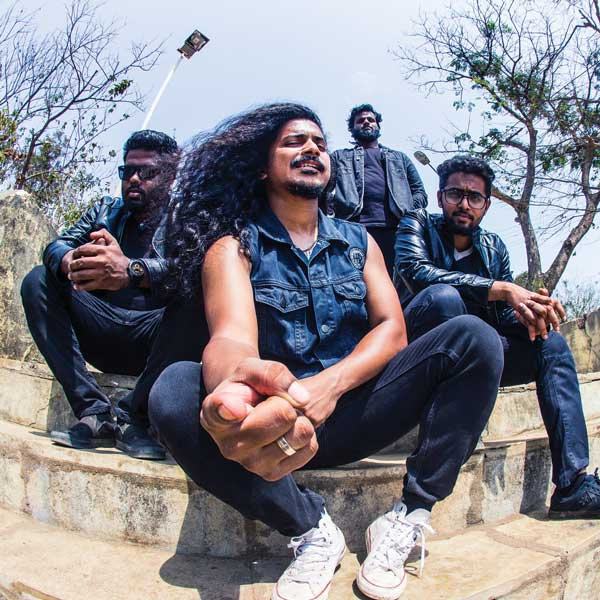 Tell us a few things about the New Underground Metal Scene in India (Bands, Fanzines, Webzines, Metal Clubs etc.)
The Underground Metal Scene here is full of some sick acts. It's still a scene hasn't been fully explored though, there are some great folks who work hard to get good bands out there and keep metal alive, but it could get better. Some bands we love from India, other than the ones mentioned already, Demonic Resurrection, Dirge, Amorphia, Albatross, Primitiv, Inner Sanctum, Dead Exaltation and our Bassein Thrash buddies Sabotage & Bloodkill of course. Not many fanzines / webzines around, but there are some pages on Instagram like Indian Metal Scene. There's an underground group called BlackBlood which has really kept the Metal flag high with it's series of underground gigs - real cool folks.
Do you know anything about the Hellenic Metal Scene?
Does Rotting Christ count? I also checked out this band called Suicidal Angels - love them, quality thrash. Other than not so well-versed with it.
What are your future plans?
Well, we'd like to put out new music as soon as we can get back in the studio once again. We also have ideas for an EP and a music video ready, so that comes right after.
Thank you very much for your time & Keep up the good work! The closure is yours.
Thanks guys, was a pleasure to talk with you. Stay safe! #GetThrashing.
By Steve the Filthy Dog.
CARNAGE INC CONTACT:
https://carnageincindia.bandcamp.com/
https://www.facebook.com/carnageincindia/
https://www.instagram.com/carnageincindia/
https://soundcloud.com/carnage-inc
https://open.spotify.com/artist/5JRNhZeh7UJjrMBfDFJ8m3