!!!US SPEED/THRASH METAL!!!
We had a conversation with James "Speed Veteran" Balcazar (Lead Guitar, Vocals) & Matthew "Thrashing Madman" Sanders (Lead Guitar, Backing Vocals). Enjoy!
Welcome to the FILTHY DOGS OF METAL Webzine.
Tell us a few things about BLACK DENIM RAGE (Members, Starting Year etc).
JAMES: It all started about a year ago in August 2019. You see, I was in search of people to play with. This was literally a month after I got out of the U.S. Military and all that crap accumulated for almost 4 years, receiving instructions… telling me what to do as if I was a puppet.So after a while I stopped and said "NO"! I will get out and create an old school Speed/Thrash Metal band following my roots from South America (Chile), along with Brazil, Colombia, Argentina etc…There have been 5 drummers in the band. They were all very talented musicians, but soon left for various and understandable reasons. Shazam is our current drummer and is the one we recorded "State Of Emergency" with.He left for about 2 months for financial reasons, but returned about 2 weeks ago (the end of August).We also have Tom, who is a great bass player from the Dominican Republic! This is good because he knows Spanish like I do, which will help for networking in South America! How we met was kinda funny. I installed the app "Bandmix" looking for a bass player around the area with Thrash, Speed, and NWOBHM influences. I thought nobody ever would answer to that because old school Metal is barely played here, if it all. But there he was. I was very impressed!As of now the Black Denim Rage line up is James "Speed Veteran" Balcazar (Lead Guitar, Vocals), Matthew "Thrashing Madman" Sanders (Lead Guitar, Backing Vocals), Tom Hernandez (Bass), and Shazam Humphrey (Drums).
MATTHEW: Being in several bands beforehand, catching a break here in South Florida is quite difficult. I was with a previous band of mine when we all caught a local show over in Lake Worth. It was by far the craziest show I have ever attended! People flying off the walls, injuries, etc. It was certainly not the kind of show I was used to.I am more of an old school or traditional metal fan. So it is difficult to relate to a lot of the new movements here. But while at the show, I bumped into James. I complimented him on his Venom "Welcome to Hell" shirt and leather jacket. He gave props to my battle jacket. The two of us were out of place at that show. It was pretty funny actually. He said he was going to the military for four years, but would like to start a band after that. Four years later, he stayed true to his word. We immediately started to write music as a duo and came up with the "BLACK DENIM RAGE" name (After much debate, of course).We've been flip flopping back and forth between several drummers. We are thankful to have Shazam back in the lineup. He is an exceptional musician. He's been my best friend and neighbor since 5th grade!
You are going to release your EP "State Of Emergency".Tell us a few things about this project.
JAMES: We were supposed to release the EP back in March, but due to COVID-19, we haven't been able to. I recently called our audio engineer and he said he's dealing with companies and more clients at this time because of the shutdown. He said he hasn't forgotten about us at all; he is gonna give me a call whenever all this shit is over so we can finish mixing and mastering the EP. That doesn't mean we have stopped creating and playing more songs; we have at least 12 or so new songs, and 5 of them have been recorded already for a future demo to keep our fans interested and engaged. These new songs are faster and louder than ever!
MATTHEW: The creation of the ''State of Emergency'' EP was fun, creative, and most importantly, natural. We are creating something here that has never been done in this area before. We are mixing all of our influences (Hardcore Punk, Thrash Metal, NWOBHM, Hard Rock, etc.) and putting it into one complete package.The title track of the EP, State of Emergency, was our very first song written as a duo. All the songs were written in my room with two guitars, pencils, paper, and the occasional drum machine. If one of us wrote more riffs than the other, we made sure the other has time to shine in the general structures of the songs, as well as the guitar solos and lyrics. I can be a control freak sometimes, so I very much have come to appreciate this organic process. In regards to real bass and drums, that came much later.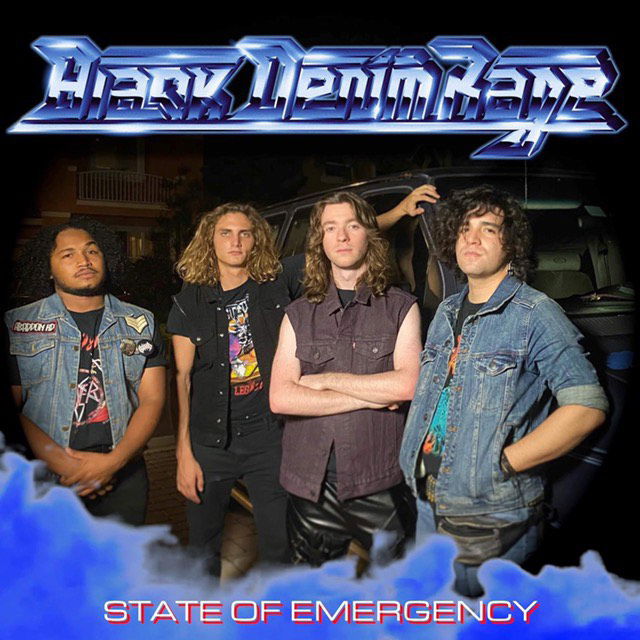 Label or DIY and why?
JAMES: This is a good question, I'm talking with an underground label. They will help with marketing and the promotion of our videos on social media when we are ready for the next step.The recording of State of Emergency was offered to us for free, and what we are calling our "Demo 2" has been recorded in Matt's bedroom using a small interface. We have control of everything we are doing in the band; the rights, income, etc. Of course we are new and learning how to go about the label situation, so we are researching before we officially sign with anyone. I have a friend in Chile that owns a small independent record called "Punishment Records". It is a Thrash distro and cassette label from Villa Alemana. He said he would produce 100 cassette copies of the 'State Of Emergency' EP when released and send us half of them to sell and spread them around the world. The best part is that we don't have to pay for the copies and I guess that's a great sign right there! We don't have to sign anything with them. Everything is about the underground movement of metal! I also talked to the Violent Force drummer (Speed/Thrash Metal) band from Germany, he said it would be great to send some of the copies to his address to spread the noise of the Underground to Europe!
MATTHEW: James is in talks with a great independent label in South America. I'm sure they will help a great deal in the future (with physical media production and promoting). While our EP artwork and band logo was done by an amazing graphic artist, I have been producing everything else up to this point: videos, graphics, and all. Being a film school graduate, content production is my specialty. Why not put both of my passions into one project? It's an amazing opportunity to further all of my skill sets.
Do you prefer Vinyl, Tape, CD or Digital Format and why is that?
JAMES: We prefer all of them; vinyls, tapes and CDs. I have a small collection but of course I will keep collecting more! Now with that being said, it's hard to find underground tapes around the area. all I can do is buy them online. Matthew, our lead guitar player- that dude has a lot of material… It's insane! Someday I will surpass him!
Your music style is Speed/Thrash Metal. Which are your main influences (Favourite Artists / Bands etc.)
JAMES: Yes sir, Speed and Thrash Metal! I was born in Florida but I grew up in Latin America (Chile). With that being said, there's a huge difference in the Latin American scene and the North American scene (USA). Latin America has more aggression and attitude when playing Metal because they have different governments and systems. With that, they have more riots, injustices, dictatorships. Because of that, I've learned everything from the Streets and I am using it as a fuel for creating music (Thrash, Punk, Speed, Heavy Metal, etc.). The streets down there are more violent but it's a good gateway to channel that underground vibe.My band influences are Necrosis, Sepultura, Violent Force, Dark Angel, Razor, Running Wild, the Bay Area (USA), and German Thrash Metal.Max Cavalera is, without any doubt, my greatest influence in life. I met him once in Fort Lauderdale with Toxic Holocaust. He is really humble… but the reason why I love him so much as an artist is his attitude! Just look at him! he's been playing metal since he was like 13 with his brother. He has a huge stage presence! "We are latino brothers!" is what he said to me when we talked face to face.
MATTHEW: While I may not have grown up in that street environment, I have always gravitated towards heavier music. My earliest memories are of what was popular at the time of my childhood (Nu-Metal). As I was being slowly introduced to classics, I transformed into the obsessed metalhead that I am today.My main influences are Black Sabbath, Judas Priest, Iron Maiden, and the early Big 4 material. If I were to go deeper, I am truly inspired to make it as a musician in order to carry the torch of my heroes: Randy Rhoads, Tony Iommi, Jason Becker, Dave Mustaine, etc. So you can probably tell that I am the more melodic guitar player out of the two of us, while James is more raw and aggressive. Of course I thoroughly enjoy making crazy riffs as well, and I also enjoy playing James' riffs. We are in the same mindset. We know the image and the sounds we want to make.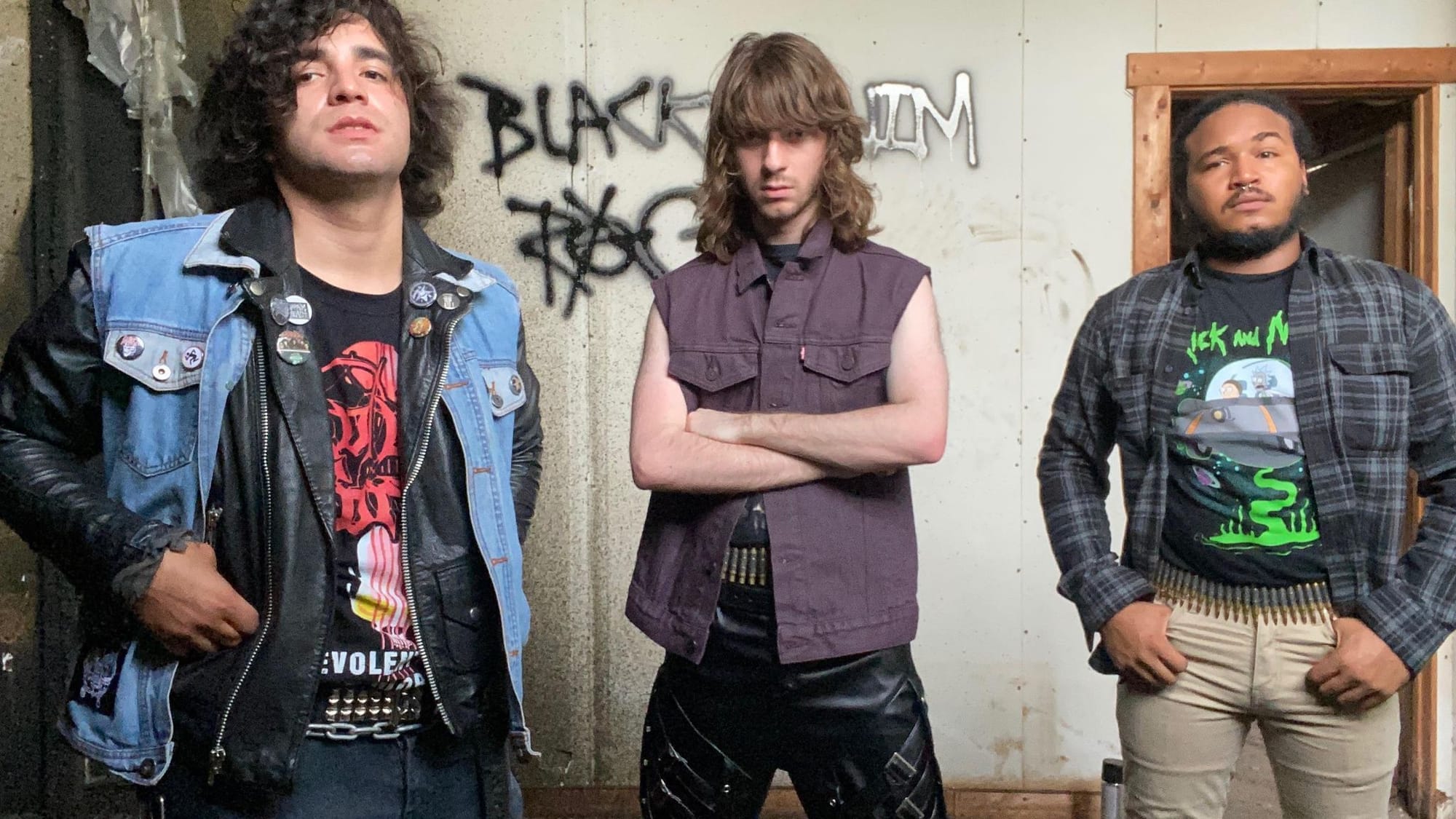 Which things, do you think, a Band should sacrifice in order to succeed? Have you ever sacrificed anything in your life for a better future of your Band?
JAMES: The best thing you can do to succeed as a band is to put yourself out there as a person. Let's be honest; we are in 2020. The use of social media is huge nowadays. You have to put yourself out there so people can get to know you as a person. This creates a connection between you and your audience. Music comes after!If there is a thing you gotta sacrifice, it would be putting aside time for practice and rehearsal. Doesn't have to be excessive, but every session counts.
MATTHEW: A band should sacrifice time for the band. While of course not everyone will be on the same schedule as you, it's best to set a calendar and plan accordingly. Even if you are lazy, just one hour will make a huge difference. You should always help your bandmates if they are struggling. If someone is falling behind on songs, help them out on the weekend.Being in this band is my career path, so I do not regret spending extra time on it. If I'm not at my full time job, I am writing, practicing, promoting, and networking. These are the things that I do every day, and I plan on sticking to this work ethic until we can make our big break.James is definitely making a sacrifice. He's training to become a truck driver for more income. Pretty soon he will obtain his CDL license, and will be out on the road for weeks at a time. This will mean less practice as a full lineup. But we know that the benefits of this will certainly outweigh the cons here.Due to COVID-19, 2020 has been the year of sacrifice, patience and dedication. 2020 is the year of preparation, and 2021 is the year of action for Black Denim Rage.
Describe your ideal live show as a performance Band. Have you already experienced that?
JAMES: I pretty much experienced it back in 2013 with my old Chilean band, "Critical Defiance". They are still around and released a full length album back in 2019. I used to be the vocalist and we played in Santiago once with many other bands from the region such as Ripper, Mental Devastation, Warth, Hellraider, Parkcrest.To this day, I think the same; I would like to play down there in Chile again with Black Denim Rage with the same attitude I grew up with! The raw and fast attitude is pretty much nonexistent around here, so somebody has to bring it over from another country. We want to kick and melt faces off with our playing; fast, raw, aggressive and with attitude overall! That's the most important one! Circle pits, fists in the air, thrashing all around like a maniac!
MATTHEW: While we have played a couple of songs here and there to small crowds, we know the best is yet to come. We've got the attitude, and we want to give a really good show with that. We're gonna throw some stage moves in there as well!
Which attributes, do you think, that a new Speed/Thrash Metal Band should have in order to gain identity and be unique?
JAMES: All you have to do is play fast, raw and aggressive with a lot of attitude! Of course moving around the stage like a maniac helps. It's really about delivering that emotion and power. You just gotta be yourself. People aren't gonna pay for a ticket concert to see you stand like a tree. Just doing nothing. They are there for you, so you entertain them with PRESENCE AND ATTITUDE. That's what makes you unique. I've seen a lot of Extreme High Quality sound on albums and bands and that to me is repulsive because I grew up with metal and punk on the streets.. I know for sure that second and third world countries play faster and more aggressively. Look at Germany and bands from Latin America like Vulcano, Sepultura, Sarcofago, Parabellum. In the mid 80's, they knew how to deliver that aggression and presence. That's what makes you unique. I will bring all of this here because I come from South America; I can easily deliver the energy to that level
MATTHEW: Stage presence is critical for audience engagement. When the crowd feels your energy, they throw it right back at you. It is a synergistic and cathartic experience for everyone. I also believe the image you present is just as important. Whether it's whips and chains, or leather and spikes, everyone enjoys the visual experience, as well as the auditory one. These are the two main components that will set one apart from the others in the scene. As far as I know, nobody else in our age group is actively trying to push the kind of music that we're pushing here. That in of itself will be our advantage, in regards to uniqueness and garnering attention.
Do you believe that Bandcamp and other Digital Platforms help the new Speed/Thrash Metal Bands? Which, do you think, is the ideal way for a Band to promote its work?
JAMES: In a certain way, yes! Without music apps and social media, it would be way harder to reach people. Nowadays you can promote and post your songs, articles, or art whenever you want. I guess back in the day people used to trade material more often because things like Facebook and Bandcamp didn't exist. My personal opinion is yes; I believe that Digital Platforms help bands to promote their work. Not just that… Matthew and I printed out business cards for the band with a QR code in order to spread the word around the city. We've been giving them away to people who hang out with us. Trading material is a good option like they do in other countries, but the internet is more effective. Black Denim Rage would like to create an underground event around here to trade CDs, tapes, vinyls, patches, etc.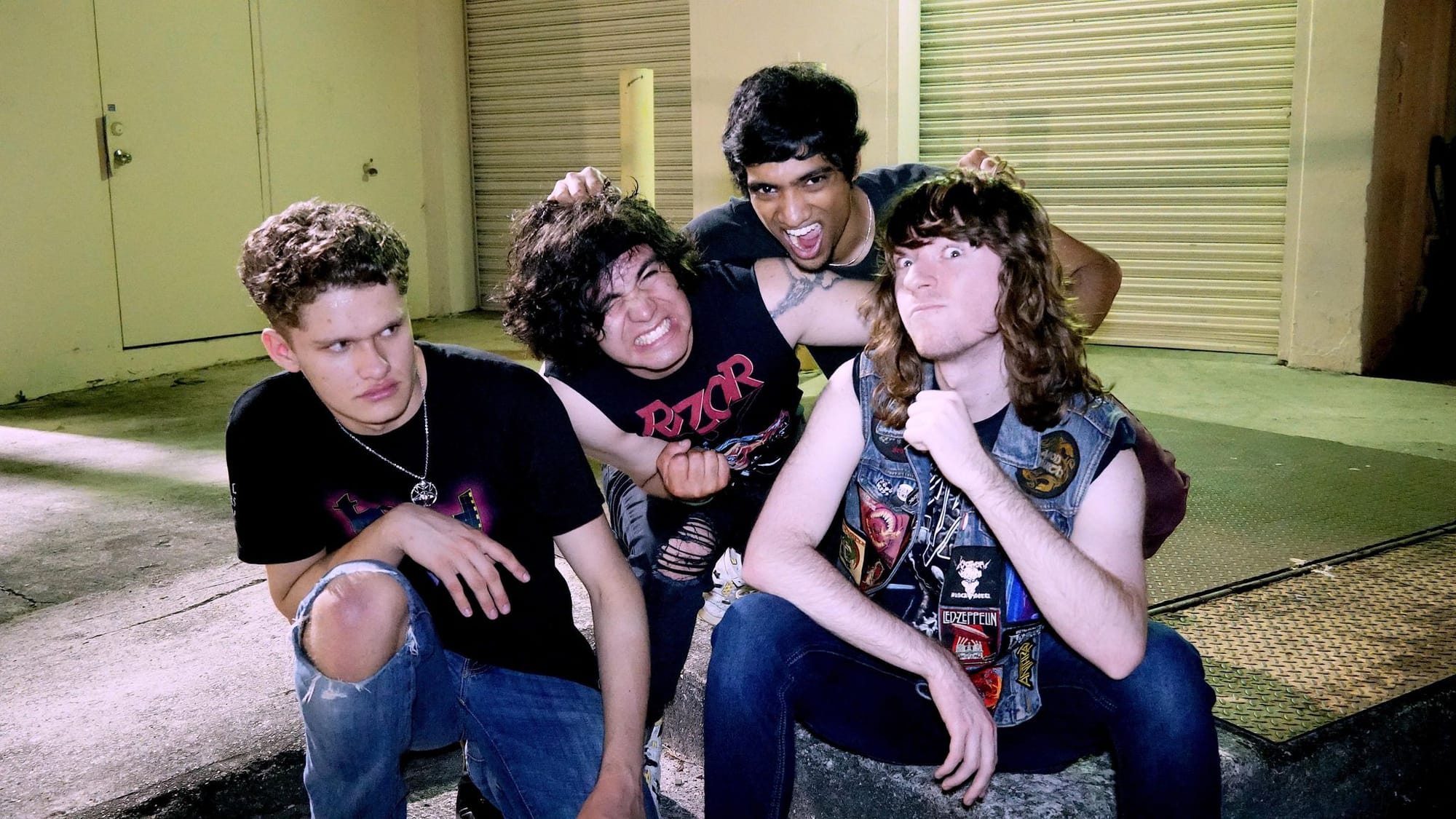 Tell us a few things about the New Underground Metal Scene in Lake Worth, Florida USA (Bands, Fanzines, Webzines, Metal Clubs etc.
JAMES: New Underground Metal Scene in Lake Worth? It's terrible brother… We are the only ones playing Speed/Thrash metal around the area with Old School Vibes.I've been to many places here in Lake Worth that are good places to go for live music. Of course not anymore since Coronavirus started.All I have seen around the area is Deathcore and slow bands playing in different tunings besides E (the standard). They are using a lot of gear for their guitars and are lacking the South American attitude and aggression. That's the Palm Beach scene, really modern with 0 attitude. The only one that I know to this point playing old school metal is Midnight Spell located in Miami; they play Traditional Heavy Metal. Black Denim Rage would like to play in Tampa, Orlando and Miami in the near future. I know for sure those are great areas for old school metal (more headbangers)!
MATTHEW: It is quite rare to see an old school band here, local or not. Most here would be more along the lines of Core, and all its various interpretations. We usually have to travel in order to see a show that is more associated with our style. Although I must admit I have a ton of friends in bands located in Miami. I'm hoping, in addition to the South American aggression, that we can push the Miami Metal scene just a little further up on the map, you know? I don't mind much. I am just thankful for so many amazing opportunities to exist here. As soon as the COVID-19 situation dies down, I know for a fact we will be playing with many talented musicians here.
Do you know anything about the Hellenic Metal Scene?
JAMES: I was actually reading about it, that's a Metal Scene located in Greece! I highly respect that you guys have a great scene there like the U.S. did with The Bay Area in the 80's and The Floridian Death Metal scene back in the 90's. Each country has its own Metal scene and of course I would like to get more in depth with the Hellenic Metal Scene. I know France had the Black Metal scene back then with Les Légions Noires (The Black Legions) in response to the supposed Norwegian "Black Metal Inner Circle".
What are your future plans?
JAMES: As a band we are looking forward to touring in Europe, Latin America and the U.S; we want to deliver raw, old school metal around the world like our big bands have done before, it's our turn now! We hope COVID-19 goes away soon so we can start playing more shows around the U.S. Of course 'State Of Emergency' will be released soon, so we will promote that and release newer material shortly after.
MATTHEW: I am looking forward to sharing the stage with new friends, and visit other countries. I want to experience new cultures and make my heroes proud. Black Denim Rage will continue to engage with our audience, write new songs, and create promotional content like music videos. 2021 is only looking up for us.
Thank you very much for your time & Keep up the good work! The closure is yours
JAMES: No, thank you for having us! This was a great opportunity. Thank you, FILTHY DOGS OF METAL Webzine, and have a great one! See you around! THRASH TIL 'DEATH!
By Steve the Filthy Dog.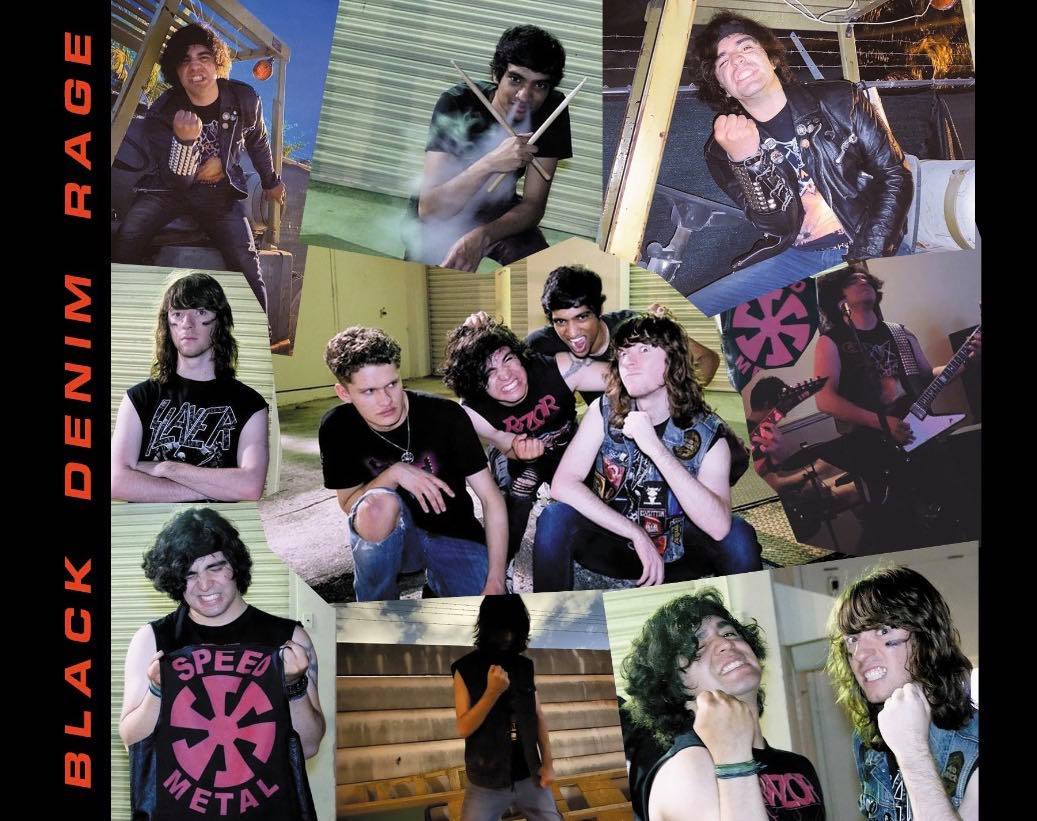 BLACK DENIM RAGE CONTACT:
https://blackdenimrage.bandcamp.com/releases
https://www.facebook.com/blackdenimrage
https://www.instagram.com/blackdenimrage_official/?hl=en