!!!THRASH METAL FROM UKRAINE!!!
We had a conversation with Olexander Hubko (Drums). Enjoy!
Welcome to the FILTHY DOGS OF METAL Webzine.

Tell us a few things about ANMASKER (Members, Starting Year etc).
I think that we have already given answers to this question many times, so we will only briefly repeat the simple facts about the band. ANMASKER is a thrash metal trio that performs traditional old school thrash metal. It's a mix of old school American / European metal. Initially, a band called "Unmasker" was formed in 2012, but until 2016 it was actually frozen until the real line-up was formed, and in 2016, in connection with a new page in history, the band slightly renamed the name using an erratic (deliberate distortion of the word for artistic purposes) on ANMASKER. In 2012 the band consisted of two members (only rhythm section), and in 2013 it turned into a trio. By 2016, with new members, the band had grown into a quintet, but in 2017 it again turned into a trio, this time really high quality and constant: Andrii Kachanov - vocals, bass guitar; Serhii Bielikov - guitar, backing vocals; Olexander Hubko - drums, backing vocals. Since then, our line-up has been stable and in this form we continue to work.
In 2019 you have released your album ''How Much Is Your Mask?''. What was the feedback from your audience as well as from the press?
The reception for our debut album was really warm. We didn't even expect such a positive reaction to our work, although our goal was to enter the foreign music market. For several months after the release, we regularly received good reviews and invitations to interviews from various webzines, fanzines, blogs and magazines from all over the world, which could not but rejoice.It even seemed to us that abroad they pay more attention to us than at home. In our country, unfortunately, little attention is paid to this, many worthy bands go unnoticed. Therefore, we're very pleased to receive good reviews about our album from Greece, Italy, Germany, Portugal, Brazil, Canada, to receive attention from such a famous magazine as "Rock Hard" and to get on the radio broadcasts in Great Britain, Spain, USA, Brazil and even Malta.It is also always nice when your listeners leave great comments and buy your CDs.We sincerely put our strength and soul into our album and got a wonderful result.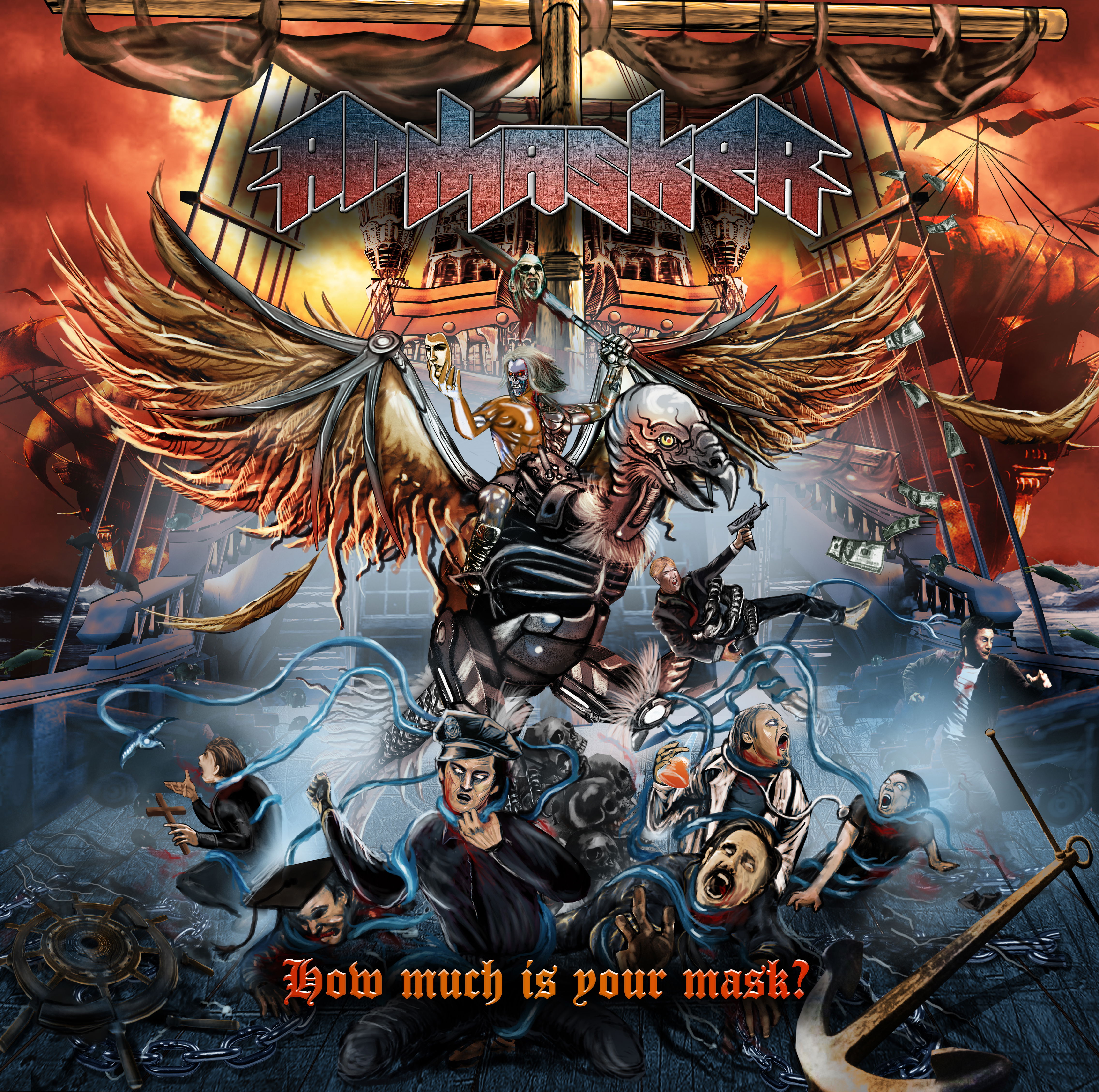 Label or DIY and why?
Nowadays, the music industry is so diverse and at the same time unstable that there are advantages and disadvantages in both. In our case, it was an undoubted advantage to enter a foreign label, since on our own it was difficult and very expensive for us to release an album and go outside our country. We're lucky to get in touch with Alone Records, a label from your country, which gave us the first impetus and helped to spread not only in Ukraine, where we're from. So we released our album in a great edition with 500 copies. Negotiations were also held about the release on vinyl, but the plans changed a lot when in 2020 the epidemiological situation disrupted many plans in all areas, and this idea had to be postponed indefinitely. For other bands, depending on the financial situation, location and other factors, the format of work in DIY is suitable. And we are sincerely glad when such bands succeed in such a format. It's really cool. But we still prefer to continue working with labels at the moment.
Do you prefer Vinyl, Tape, CD or Digital Format and why is that?
Each format is good and valuable in its own way. Many people in our time have already forgotten about physical media, but for true connoisseurs and collectors, the physical media is the most important thing. It is easier and cheaper to work in digital format nowadays, it is easier to convey information to the listener, but at the same time, due to the huge amount of information on the network, many works are overlooked or simply don't hold the listener's attention for a long time. Many now get acquainted with music (and not only) through the principle of scrolling, which, of course, doesn't give a complete picture. The physical media, on the other hand, is a tangible unit that can be picked up, felt and familiarized with creativity in full. Someone likes to collect vinyl, someone prefers only CD or tape, but one way or another, all this is what allows you to join the art. But all this is purely a matter of taste, the main thing is that the work is heard in full and appreciated and it does not matter - on vinyl, CD, tape or digital format. Therefore, we strive to distribute our music in any form.
Your music style is Thrash Metal. Which are your main influences (Favorite Artists / Bands etc.)
I think there is no point in listing the endless list of bands that have influenced us in one way or another. This can be done for a long time and tediously.We, as every musician in particular, have been influenced by many styles and performers. This is both classic rock and metal and modern trends. But within the framework of our creativity, we initially knew and understood how our first album should sound, and we did everything in this regard as correctly as possible. We wanted to record an album that would sound according to all the canons of the old school of thrash metal and was as authentic as possible.And I think that we succeeded, since many of our listeners are constantly drawing parallels with the classical works of DESTRUCTION, ASSASSIN, VIO-LENCE, DEATH ANGEL,SLAYER, EXODUS, RAZOR and so on. This in no way means that we intentionally copied someone, we just wanted to breathe in that very atmosphere and convey it through our own music in the 21st century with the sound corresponding to those times. We only compose the music we love and, within the framework of ANMASKER, we try to realize it as efficiently as possible. But outside of ANMASKER, we, as listeners like everyone else, listen to a wide variety of music, which in any case leaves its mark on each of us. It can be any quality music, from jazz or blues to the most difficult and extreme styles. The musical universe is immense.
Which things, do you think, a Band should sacrifice in order to succeed? Have you ever sacrificed anything in your life for a better future of your Band?
This is a very difficult question. In fact, any band that today wants to qualitatively realize their musical ideas sacrifices something initially. Each band has its own victims and the victims can vary greatly. It can be anything - be it family or career, finances or personal time. For some it is a sacrifice, but for others it is not. Everything is relative. But it is very important in any business to maintain balance, or at least strive for it. This is very important and, at the same time, very difficult.
Describe your ideal live show as a performance Band. Have you already experienced that?
Most likely, the ideal live show is where you are welcomed. Everywhere and always there are some troubles associated with the organization or technical factors, but all this is compensated when we feel the return and energy that comes from the people who came to hear and see us. This is the feeling of magic and crazy energy. If there is this feeling, then this show is automatically ideal and we, fortunately, had a chance to experience it at our concerts.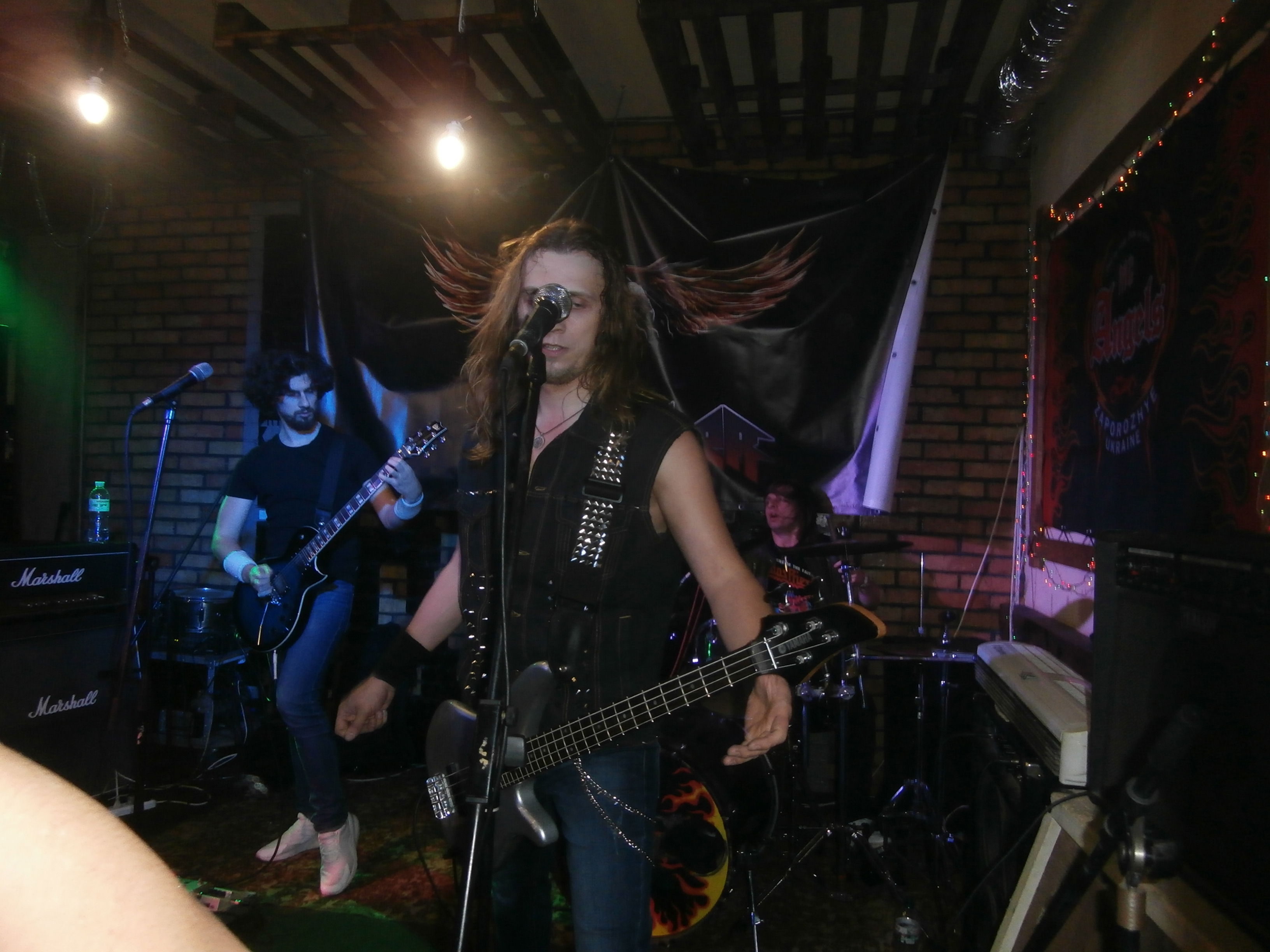 Which attributes, do you think, that a new Thrash Metal Band should have in order to gain identity and be unique?
I think that any band, not necessarily in Thrash metal, should have some peculiarity. We all understand that in our time a lot of the most diverse music has been written and it is more and more difficult to maintain individuality. But there is no identical music in the world. Even if the music is similar to previously written music, it is still not identical. Another question is, if the goal of the band is to surprise the audience, then completely different laws begin to work here. If you just get pleasure from what you're doing and someone else's opinion does not exist for you, then here everything also works and is perceived differently. It all depends on your goal, but you should always strive for individuality and do your job professionally.
Do you believe that Digital Platforms help the new Thrash Metal Bands? Which, do you think, is the ideal way for a Band to promote its work?
Without a doubt, modern digital technology is a good opportunity to spread your music as far as possible. Thanks to digital platforms, we can be heard in different parts of the world, without even having the opportunity to purchase physical media. And expanding your fan base is an important element in the activities of any band, and digital platforms help to do this. And I don't think there is any one ideal way to promote your work. As the saying goes, in war all means are good. Everything has to work together - digital platforms, physical media, social media, and of course live shows.This is a long, painstaking and thankless job, in which you always have to face various kinds of obstacles.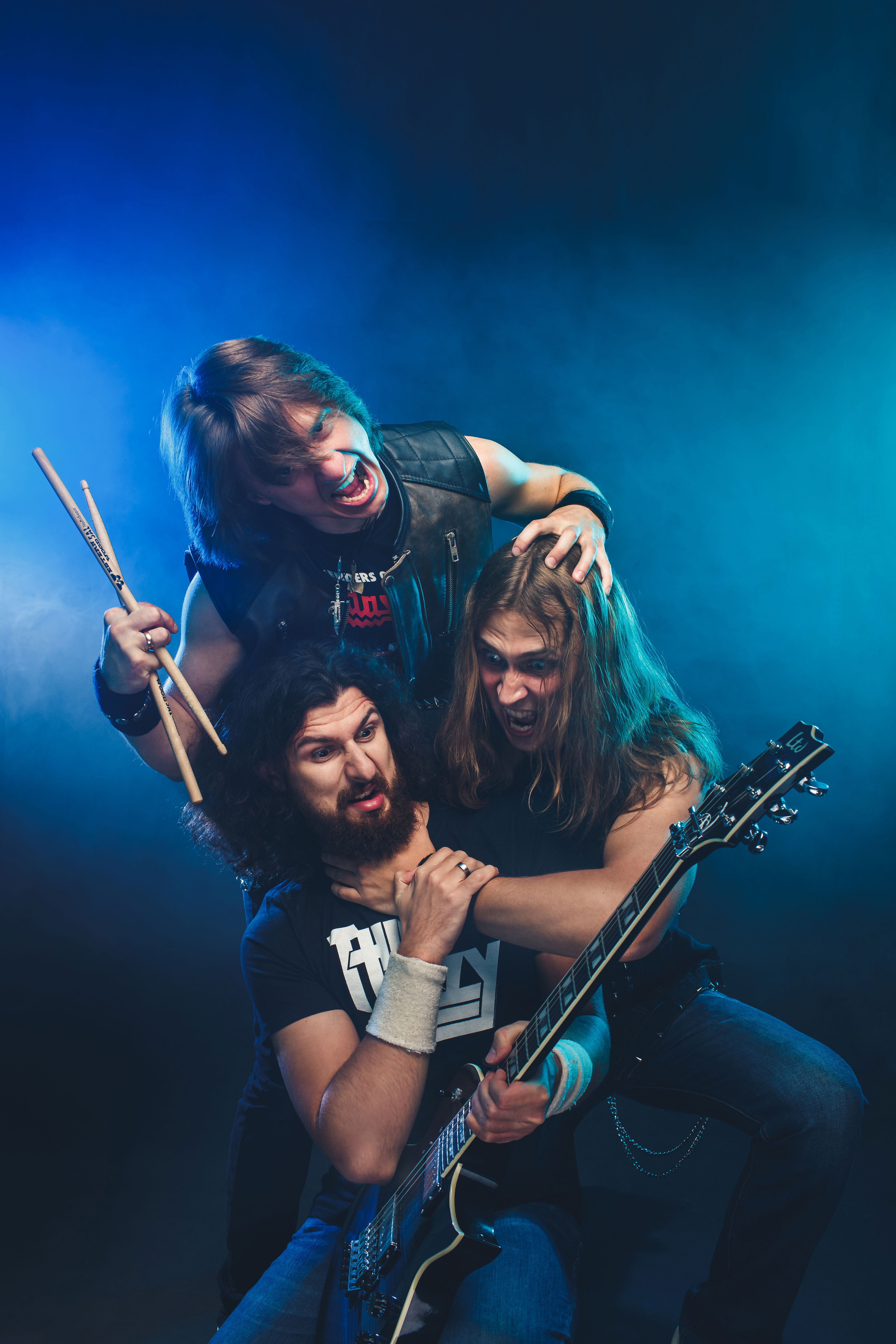 Tell us a few things about the New Underground Metal Scene in Ukraine (Bands, Fanzines, Webzines, Metal Clubs etc.)
Our underground metal scene is pretty rich. Thrash metal is practically undeveloped in our country, bands in this genre can be counted on one hand. Turn Your sight to REABILITATOR and ZOMBIE ATTACK (both from Kiev), and MORTAL VISION from Dnepr). But when it comes to Black metal, there have always been a lot of good bands here. I guess you know about NOKTURNAL MORTUM, LUCIFUGUM, KRODA, DRUDKH but check out ELDERBLOOD and RAVENTALE (one-man band). Also check out HELL:ON pretty good modern metal act. Some of our bands are even under the wing of Napalm Records. I think you are familiar with JINJER, 1914, MOTANKA, STONED JESUS, IGNEA. In fact, in our country there are a lot of worthy bands in different genres and, I think, it will not be superfluous to get to know our metal scene better. As for magazines and fanzines, this direction is practically not developed in our country. There are several print magazines like "Terroraiser", "Atmosfear", "Gothica", fanzines "Screaming Skull", "Encomium". There are also several online music resources. As for the clubs ... Hmm ... This doesn't seem to be any better. There are some decent clubs in more or less big cities, but in general, there are very few of them throughout the country.
Do you know anything about the Hellenic Metal Scene?
Since we, as a band, are already related to Greece, it would be a sin not to know your metal scene. We know a lot of cool bands of different genres in your country from heavy metal to black metal. For example ROTTING CHRIST and VARATHRON, SEPTICFLESH, FIREWIND, INNERWISH etc. Talking about Thrash Metal scene are SUICIDAL ANGELS, BIO-CANCER, EXARSIS and others.
What are your future plans?
We are currently finishing writing material for a new album, which we plan to record and release in 2022. This is the main goal we're working on now. We originally planned to release a new album in 2021, but 2020 and 2021 brought us (and not only us) many unpleasant surprises and obstacles. For example, we had to change our rehearsal studio twice for reasons beyond our control, not to mention life circumstances, illness and a worldwide pandemic that affected everyone. But we hold on tight and keep working and I think the new album will be released in 2022.
Thank you very much for your time & Keep up the good work! The closure is yours.
And we want to thank you for your attention to us. And we would like to wish all readers health, which is so necessary in the external realities, and unbending strength of mind! Listen to good music and support ANMASKER using these links!
https://www.facebook.com/anmasker
https://www.instagram.com/anmasker_official
https://www.youtube.com/channel/UCn5c6zplmZnNfw0-TRiBO4g
https://anmasker.bandcamp.com/album/how-much-is-your-mask
https://band.link/howmuchisyourmask?fbclid=IwAR1Fd3vehPG8ERzxZmjYvD9js-RwG81qnt0tN2JrnJ08djkWmnIkKi9aUEw
By Steve the Filthy Dog.