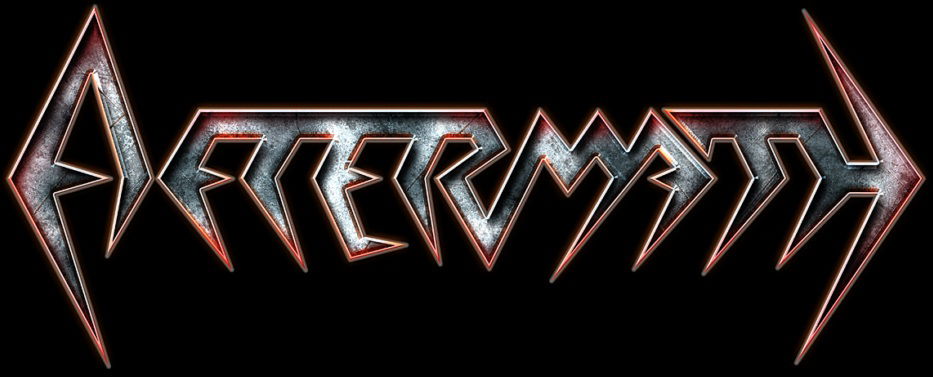 !!!CHICAGO METAL RULEZ!!!
We had a conversation with Kyriakos ''Charlie'' Tsiolis (Vocals). Enjoy!
Welcome to the FILTHY DOGS OF METAL Webzine.
Charlie, please tell us a few things about yourself & when did you start to be a singer? Were you involved in any heavy metal bands before AFTERMATH?
Thanks for the interview. I was actually born in Greece and my parents moved to Chicago when I was 11 months old. I still live in Chicago. I got into Kiss when I was really young like so many other guys that joined bands. I was an Ace fan and wanted to be a guitarist at that time. I didn't want to be a singer until years later sometime around 1983/84 when I heard bands like Venom, Slayer and Metallica. Before that time most Metal singers sounded like DIO, Dickinson or Halford to be a metal it felt like you needed a high pitched voice – that all changed when thrash came along. Ray and I jammed together in a band right before Aftermath, but we never recorded or played a show. So in reality Aftermath was my first band.
The history of AFTERMATH started back in 1985. Charlie, what are your memories from those days, and what were your main influences back then?
That was such an amazing time to be in a band. It was really the beginning of extreme metal and the new genre of thrash. It was special to be there so early on, and we actually played a subgenre of thrash that didn't even have a name yet. It went on to be called "crossover". It was a blend of hardcore and metal. We grew up as metal kids and by the time we were teenagers the traditional metal influences were replaced by the heavier bands. Bands like Slayer, VoiVod, Kreator and DRI and Suicidal Tendencies are what we were listening to at that time.
In 1986, you released your first 4-track demo tape ''Demo #1''. Did you sell it, or did you have it only for promotional purposes (Radio Stations, Magazines, Record Labels etc.)?
We only made 100 of that demo and never planned on selling it. We actually didn't like the sound of it. We didn't think it sounded professional enough. We thought we had some live recordings that had more energy and heavier sounding. It was recorded in 1 day on 2 tracks basically live and one take. We never really thought of it as something that we would ever release we just wanted to hear our songs recorded in a studio.
One year later, in 1987 you released your tape ''Killing The Future'', recorded at Solid Sounds Studios, Hoffman Estates, Illinois. What were your memories from the recordings back then? The cover artwork is very similar (almost the same I would say) to the inner sleeve from the debut album of Tension's ''Breaking Point'' in 1986. How did this thing happen?
By the time we wrote Killing the Future we had decided to be the fastest metal band in the world – that was the goal. We had left all the traditional metal elements from demo 1 behind and were now a real crossover thrash band. The songs were pure speed – so fast that Don Kaye at Kerrang called it too damn fast – he didn't mean it as a compliment but it was too us. When the first Megadeth album was about to be released the rumor was that it was the fastest music ever recorded and we wanted Killing the Future to beat it. We did from a speed standpoint. Phil Bonett at Solid Sound was a great engineer and a musician, he told us let's make it raw not many studio tricks or effects because raw music sounds better years later – effects don't always age well. He did a great job of capturing the energy and attitude. We went from and 2 track recording the year before to a 24 track recording and a real studio and it showed. That was a great time in the studio. We wanted a mascot for the cover of Killing the Future and back then you didn't have all the tools to have a great cover like today – especially without having enough money to pay for one. Our friend worked at a printing company and had a book of artwork that we looked through and we saw the reaper and figured what is a better mascot for a title like Killing the Future. So we added the reaper to the cover. i'm familiar with Tension's Breaking Point – they probably used the same book. We modified the face in 2015 and added our mascot Zoidy to the reaper.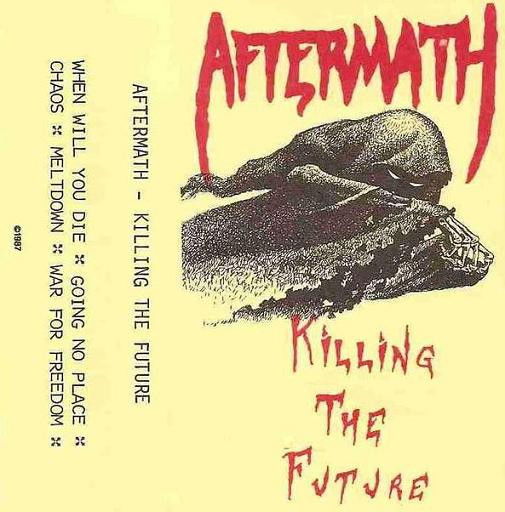 In 1988, a compilation under the title ''Metal Forces Presents...Demolition - Scream Your Brains Out !'' (from the mighty Metal Forces Magazine) was released via Chain Reaction Records. How did this participation occur?
Metal Forces was the bible at that time for thrash metal. Bernard Doe was the editor and they also had some great writers. We sent in the demo for a review only. We hoped that they would actually review it. Then they announced they were putting out a comp from the 5 best underground unsigned thrash bands in the world. I never thought Killing the Future would be selected, but my brother did. We got a call from Bernard and I thought at first it was a crank call. Well it wasn't, he wanted two songs to be included on the comp. It was a major accomplishment for us to make especially since we really respected Metal Forces.
Did you have any proposal for a record deal with Chain Reaction Records or from another record label after the compilation was released?
We didn't get an offer from Chain Reaction, but we did get several offers from some underground labels at that time from being on the comp and from the overall buzz Killing had created in the underground scene. We were not going to sign any deal we felt ripped off the band and none of those deals were what we wanted so we never signed with any label at that time.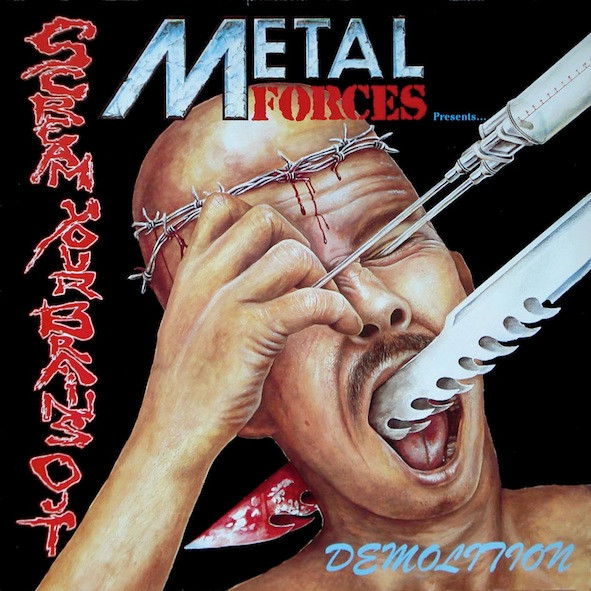 In 1989 you released the cassette ''Words That Echo Fear''. I remember that in the Greek Metal Hammer magazine back then, this tape had taken high ratings and the owner of the Rock City record shop (R.I.P. Vangelis Baltas, he was also written in the Greek Metal Hammer magazine) had spoken about AFTERMATH with the warmest words. What are your memories of those days? Did you receive any letters from Greece & what was the feedback outside the USA?
We really changed styles between Killing and Words. We went from a super fast 4 piece to a dark technical / progressive thrash 5 piece on Words. We added a second guitarist (John Lovette) and a real bass player and the music was really complex and darker. Don Kaye went from disliking us to picking Words as one of the top 10 demos of 1989 in Kerrang. We met Angelo (the LORD) at Rock City and his wife Anna when we were visiting Greece. We actually brought over tons of different band shirts that he sold at the store. Back then GREECE didn't really have the cool rock shirts and we brought them over and Angelo sold them, which paid for our trip to Greece for me and my brother. We hung out with Angelo and Anna a lot during our trips. Angelo is one of my favorite people I have ever met. His death really sucked. We also hung out with Aries who worked at Rock City. It was so cool to see Greece had a metal scene. Because most Greek Americans were not into metal – especially the girls and to see good looking Greek metal girls was so shocking. Angelo and Anna sold over 200 demos of Words that Echo Fear – they were huge fans of that demo. We also received a ton of letters from Greece during the 1980s and we mailed tapes to Greece and all over the world for fans that bought the demo. Those long nights drinking and talking with Angelo and Anna and the rest of the parea were amazing days.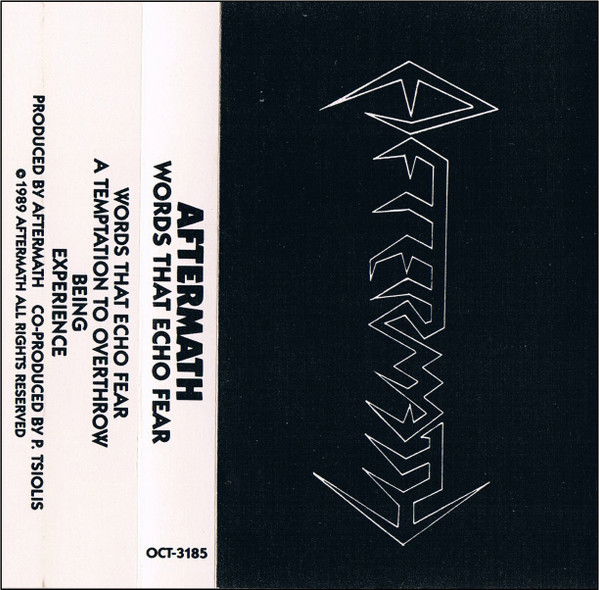 According to Metal Archives, in 1990 you released the 4-track demo ''Roadrunner Demo''. Did you have any proposal from Roadrunner Records back then?
The Words demo got a lot of attention and record label offers. Roadrunner staff really loved that demo also and they offered us a demo deal and paid for the 1990 Roadrunner demo. It seemed like we were going to get signed to them and then something happened. I don't know exactly what it was but someone from Roadrunner in Europe said someone had stopped the deal, but she wouldn't say why or who it was. It had nothing to do with music she said. I think I know who it was just can't prove it.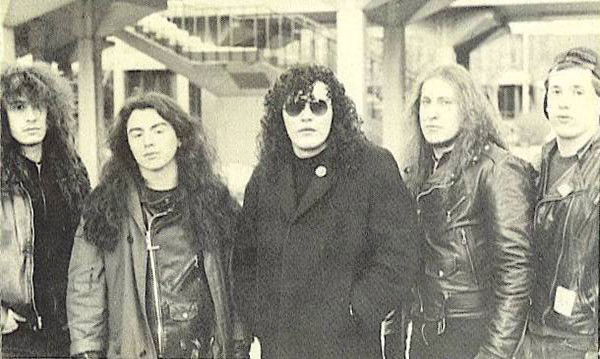 In 1994, you released your first full length studio album ''Eyes Of Tomorrow''. What did the band do those four years? Why did it take you four years to release your first album?
Big Chief Records was a new label with distribution through Warner Brothers and the owner Brad Schiller was given the Roadrunner demo from someone at RR. We were the third band he signed to the label. He loved it and offered us a great deal. It was perfect: a new label with money and major label distribution. We signed the deal, went into the studio in 1990, and Brad's father a multimillionaire in NYC decided to stop funding the cost of the label. The first two bands didn't sell enough to make him a profit. We were in the middle of the recording process and the label stopped any more payments to the studio. It took us 4 years to pay off the bill. The studio wouldn't release the master tapes until it was paid. The album was delayed from being released for 4 years. If Eyes came out in 1990 when it was recorded while thrash was still big things would have been different.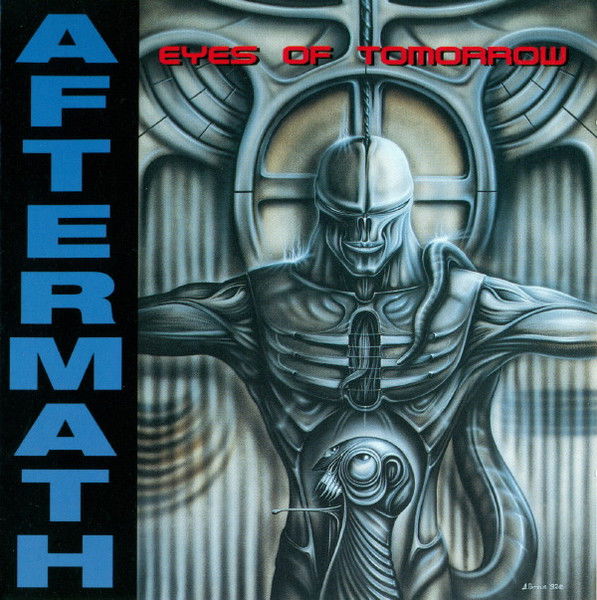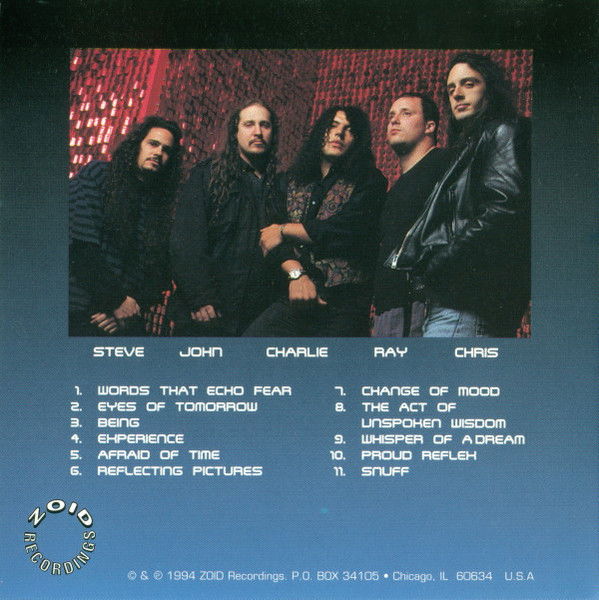 Do you remember any weird or fun times during your live shows, rehearsals or studio recordings and you want to share them with us?
We had a ton of great times in the studio. Lots of smoking weed. Our early rehearsals became legendary – Friday nights in Ray's basement we would play and drink and smoke all night long. One night we had some girls over and Ray was wasted and fell down the stairs naked. Other times there were actual physical fights. The show we did with the Crumbsuckers in Chicago was the craziest pit ever. Those are the first few that came to mind. Those stories aren't even the really crazy ones.
In 1996 you released your promo tape ''Promo '96''. What happened to the band after that release?
We recorded that demo – Demo 96 - basically in a day. Those songs were going to be on the follow up to the Eyes album, but we had to deal with some other shit. We decided to end Aftermath in 1996. Those songs actually were recorded again and released on our alter ego project Mother God Moviestar (self-titled) album released in 1998 on Interscope Records.
Which are your memories of those great Chicago metal bands from the past: PARADOXX / SLAUTER XSTROYES / HAMMERON / DECOY PARIS. Do you remember any unknown underground metal band from your area?
Paradoxx just played a show here last week. They were like Chicago's Iron Maiden back then. They had a big following in Chicago and then thrash came along and they lost their buzz. Same with Hammeron. Denny Vega their bass player played on our Words that Echo Fear demo. Slauter Xstroyes was really original sounding. Don't know much about Decoy Paris. You really went back in time with these bands. Usually writers ask about Zoetrope, Znowhite, Master, Trouble, etc. but you picked some really obscure bands. Chicago had a great metal scene back then and all the bands really had their own sound. Unlike other scenes where you can tell that a band came from a specific scene like the thrash scene in SF or the Florida death metal scene, in Chicago it was way more diverse and all bands had their own sound. I mean we sounded nothing like Master or Cyclone Temple.
Would you like to tell us about the incident with the rapper Dr. Dre?
Not really. But since you asked… We had a trademark for the word Aftermath for music by the United States Trademark and Patent Office. Not many bands did this especially back then. Dr. Dre decided to use Aftermath for his new label name, we sued him in Federal Court, it lasted three days and the piece of shit judge ruled we can coexist even though we owned the federal trademark and we could appeal his decision. We couldn't afford to appeal. Corrupt judge ruled for the rich guy.
After many years with different music projects like Mother God Moviestar & Stripping the Pistol, you are back in 2019 with the album ''There Is Something Wrong''. What was the feedback from your audience as well as from the press?
There is Something Wrong is a dark concept album. As concept albums often do, we had intros and interludes between songs to make the story flow. People either loved that or hated it. There was no in between on that album. I also think that for many listeners that don't like conspiracy theories they had a negative view of the album based on the lyrics. For those that like or believe in being awake and believe their government is capable of lying to, them the lyrics made the album even better. Musically we blended our early crossover style with the more progressive side on that album. It did receive some really great reviews from the press and some bad ones.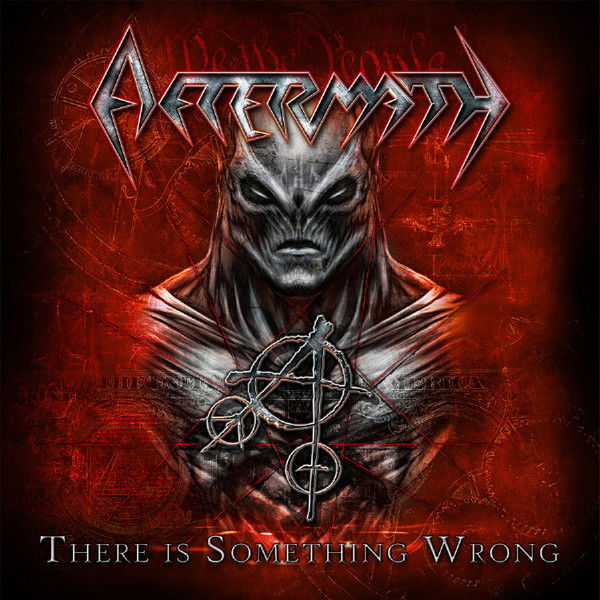 Do you see any differences between the US Metal Market & the EU Metal Market (Labels, Bands, Fans etc)?
There has always been a difference between the tastes with some bands. Manowar is huge in Greece and not at all in the States. Power metal is way bigger in Europe. Fans in Europe are way more into the bands they love, and they know everything about the band and every member. European metal labels back in the day were the best.
A few days ago, you released your new studio album ''No Time to Waste''. Tell us a few things about this project.
I love this album. I listen to it as a fan. It's typical Aftermath in that it's not like the previous records. The lyrics are more positive than the last record but more urgent. The songs are really fun to play at rehearsal and live. It not a thrash record but its heavy. We have real backup vocals in the choruses. As a band, we all feel extremely proud of this album.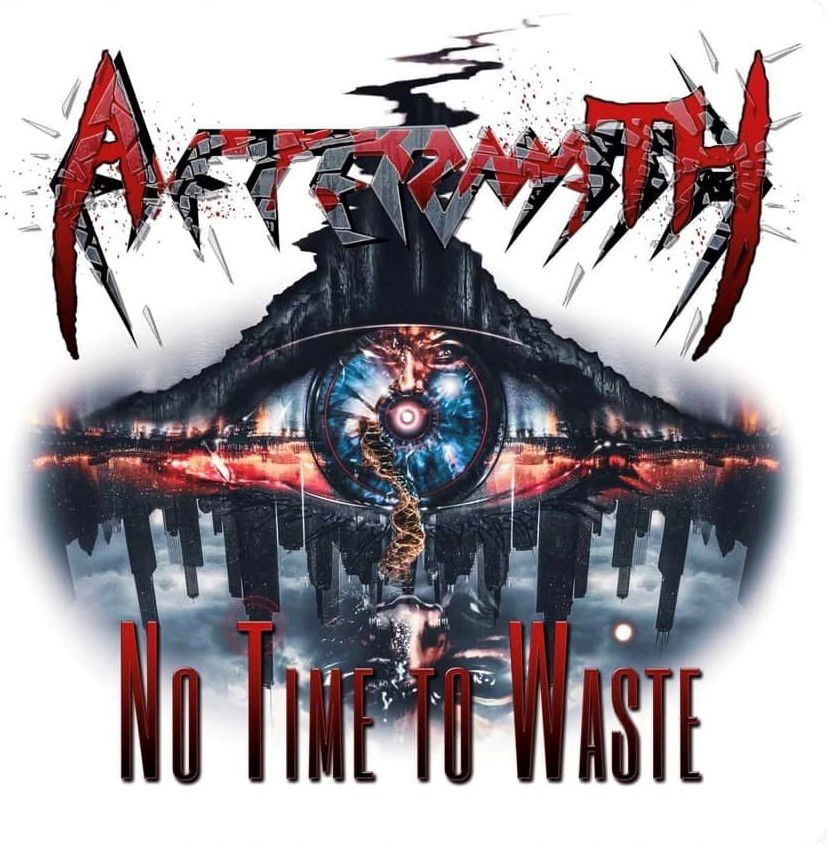 Do you see any differences in today's metal music business in comparison with the music business back in the 80s & the 90s?
The biggest difference is that you can actually get more known today without a label. You need less money to record today and way less to make professional videos, but there are way more bands today. My brother owns the label so we don't have to worry about label politics and making hits. We couldn't function any other way. The biggest difference today is that music seems to be song driven and not album driven. Bands now release singles and that is the focus.
Do you know anything about the Hellenic Metal Scene?
I knew much more before and not as much today. Rotting Christ really put the HELLENIC scene on the international stage. They are a really cool band.
The last 3 years, worldwide, we have faced many dark, strange & new situations in our everyday life (covid, lock-down etc.) Did all of this affect you positively or negatively?
The global reaction to this plandemic only proved to me that everything I feared is coming true. The lyrics on There is Something Wrong were written in 2018 before Covid and lockdowns. Much of that album talked about those types of things in the future and I hoped I was going to be wrong, but now I fear that I was right. Hopefully people are waking up now 3 years later and realizing masks and lockdowns were never about health, but rather government control. If enough people wake up in time to stop the 2030 WEF/UN agenda then something positive can happen and that's what the new album is all about – we can stop this if we all wake up.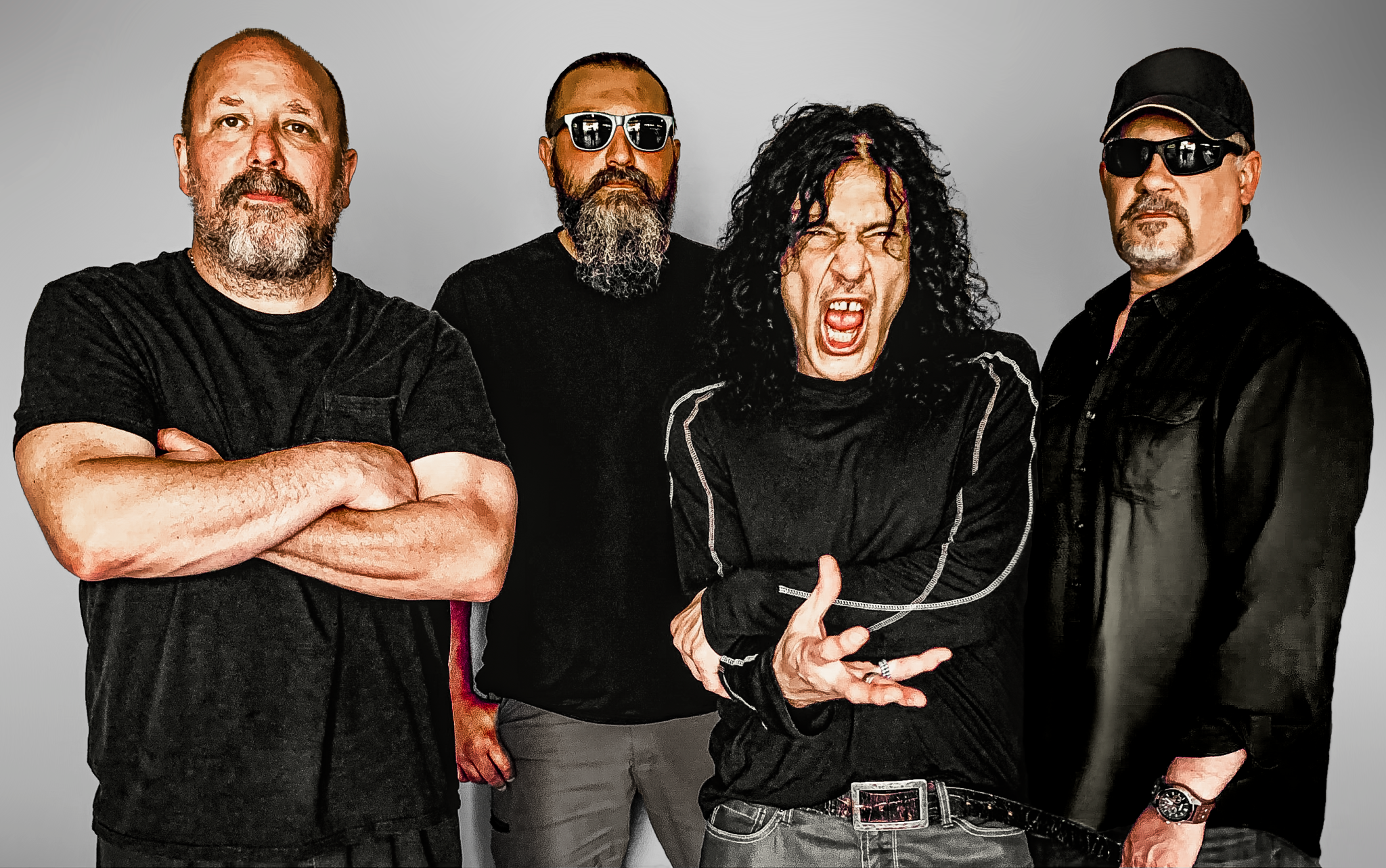 What are your future plans?
We have two shows scheduled for May. A Chicago with a young thrash band called Tyrant and the Milwaukee Metal Fest – the return of MMF. It's the coolest extreme metal festival in the USA. We plan on continuing the promotion of this album and we will start writing some new songs also. Hopefully we can play Greece sometime.
Thank you very much for your time & keep up the good work! The closure is yours.
To all that read this interview thanks and if you get a chance check out the new album. Can't wait to visit Greece again. Stay metal!!!! To Filthy Dogs Magazine thank you for the support. Zito H ELLADA.
By Steve the Filthy Dog.
PS. Many thanks to Markus (https://www.facebook.com/MetalMessage.Global) for this interview (Cheers mate!)
AFTERMATH CONTACT:
https://www.facebook.com/AftermathChicago
https://www.instagram.com/aftermath_band_official/
https://open.spotify.com/artist/2HlaZ7yPsLrQA5zmDU1lch