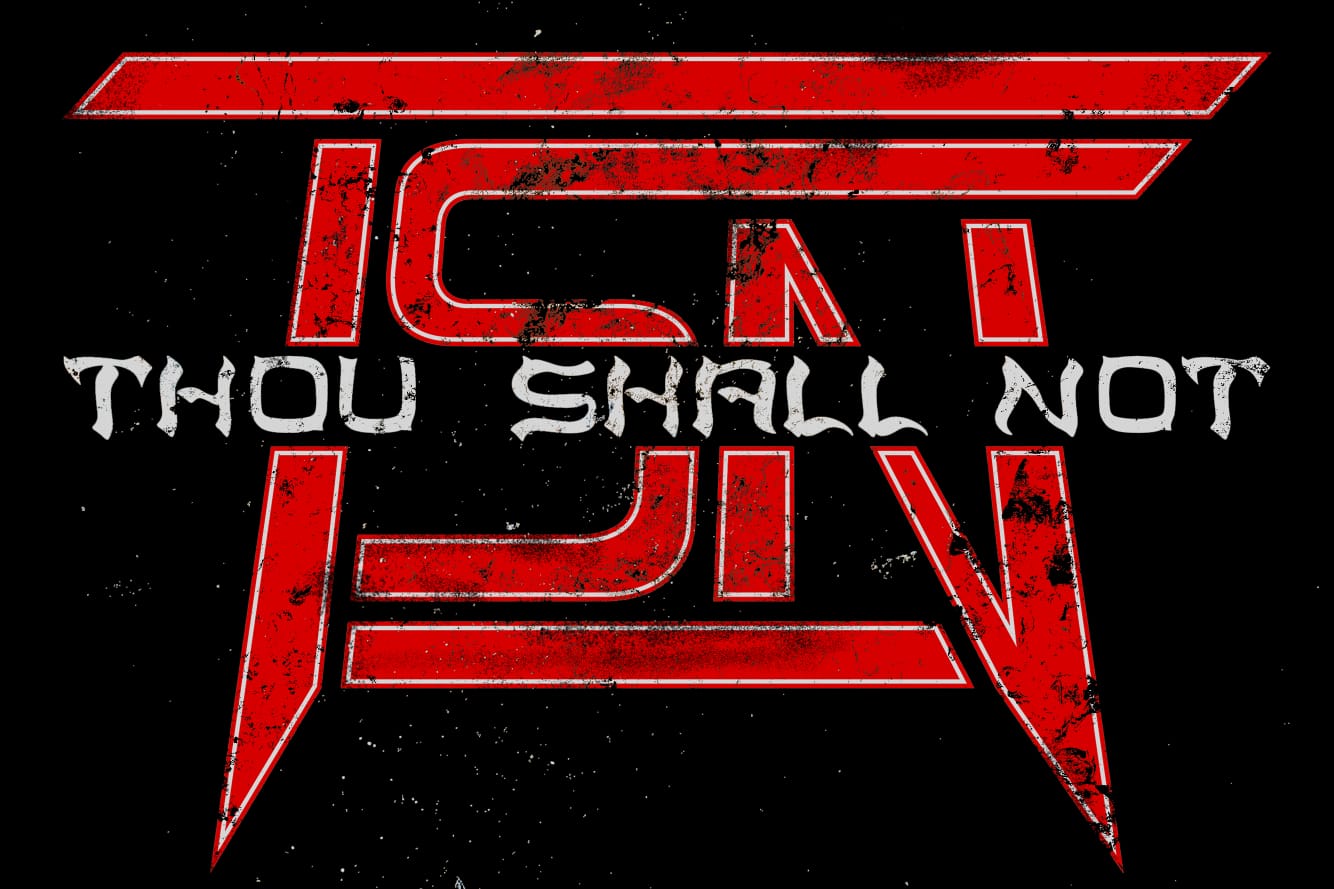 !!!HEAVY METAL FROM BRAZIL!!!
We had a conversation with Luxyahak (Vocals). Enjoy!
Welcome to the FILTHY DOGS OF METAL Webzine.
Tell us a few things about THOU SHALL NOT (Members, Starting Year etc).
Everton Caos Guitarra, Ulysses Freire Baixo, and myself vocals, we are three friends who originated from the underground scene of the nineties, where we played in several bands, in Brazil. From Death Metal to Black Metal, Doom Metal, in the most extreme line. Band Thou Shall Not, starts in 2017 with the intention of making heavy music, which throws us all styles and sounds of Metal. We also had an old school friend, Anderson Brito on drums, who in 2019 started recording the first album Synchronized Abductions, but for personal reasons in 2020, left the band. That's when CJ Dubiella took over the sticks, and ended our debut with brilliance. Being with us until today, our rebellious wild pupil! "Laughter".
You have recently released your album ''I Am the Presence''. What is the feedback from your audience as well as from the press?
For now our public is still small, because now that we are looking for the media to publicize our work. We have two excellent albums when it comes to independent bands. But we are having much more demand, from people interested in knowing who Thou Shall Not is. This is wonderful, we are growing step by step. Yes, we are being sought after by small Labels as well as specialist metal sites like Filthy Dogs of Metal. This is certainly the result of our small commitment to social networks which, if used correctly and freely, become a wonderful instrument of information and knowledge.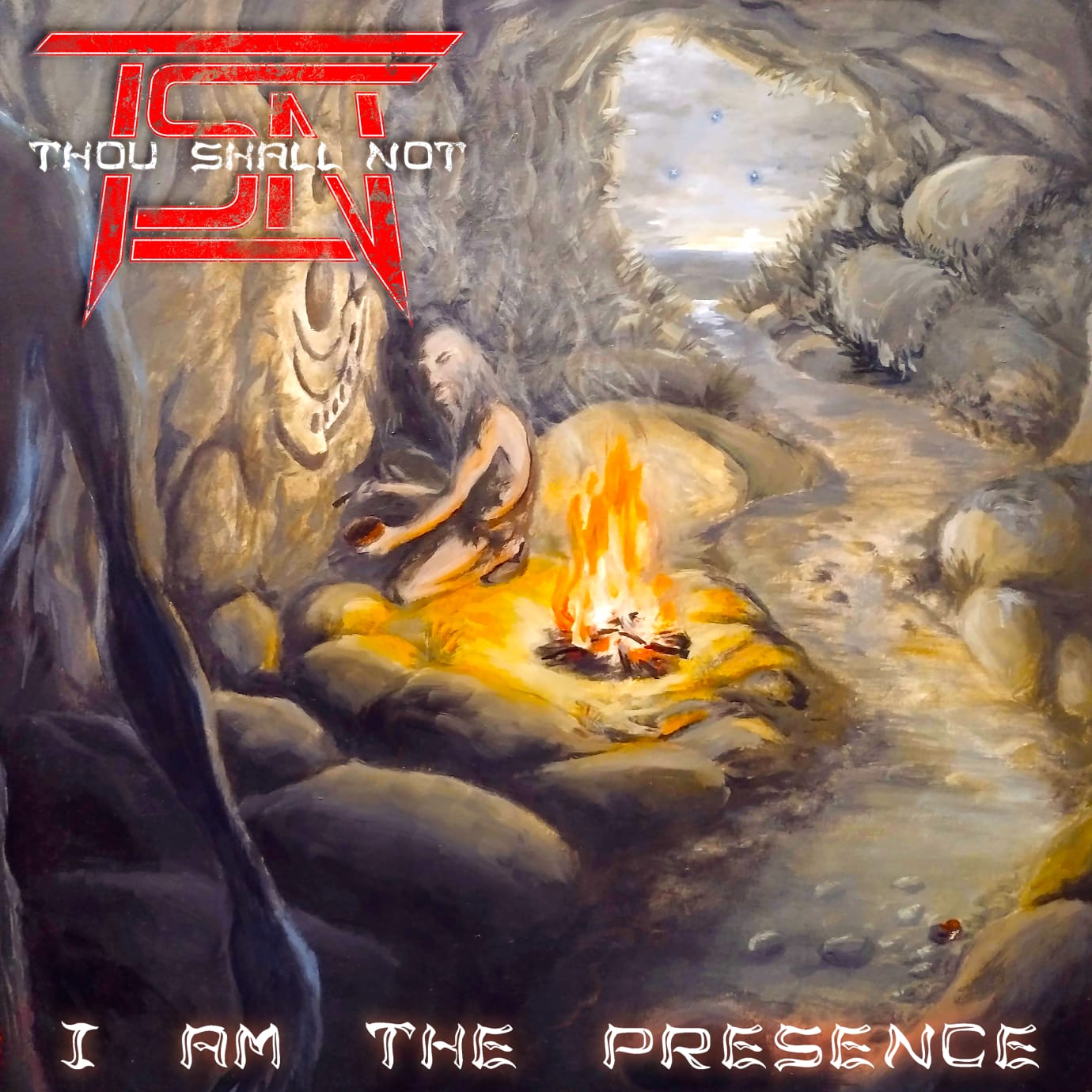 Label or DIY and why?
I see that both paths have their advantages and disadvantages. Doing it for yourself leaves you freer to get it right and to make mistakes too, but in the general context there will always be learning. So it's positive from many points of view. Choosing this path means having discipline and patience, combined with proactivity. Therefore, it is the most time consuming path, even with a little talent and a lot of money, because the public needs to be conquered at every moment, even being in a big Seal. And that leads to competition, which is quite dangerous in the art world in general, if the musician doesn't deliver what is expected, he's out. This universe, in which art should be for art's sake, and lacking wisdom and experience, ends up being contaminated by business.
Thus managing human, material and financial resources is essential when choosing any path. As an underground band, Thou Shall Not takes up a small amount of time in our lives as we have other jobs. And being independent, there is no intervention of any system, in the creation of our musical art, or our lyrical message. I think freedom and independence is priceless. On the other hand, we would love to play at big festivals around the world, present our band as it is, and for that you need to be on a big label. Sign contracts that will change, not in essence, but from that moment on, the path of any metal musician. I think there's a right time to be independent, and there's a right time to be on the big label.
Do you prefer Vinyl, Tape, CD or Digital Format and why is that?
My dad had a huge vinyl collection when we were kids. He loved bossa nova and its artists like Tom Jobim, João Gilberto and Vinícius de Moraes. There were Beatles and Elvis Presley vinyls in his collection, as well as Brazilian country music artists. That's where I started to get interested in music, and then, of course, Rock n' Roll and Metal bands appeared in my childhood universe, brought by the older ones who showed me the path I chose to follow. So, as you can see, vinyl strongly reminds me of my early days, and I love that. It takes me back to the era where time passed more slowly and listening to a band on your record player was a ritual. one stopped to do just that, and appreciate the context.
Tape was something much more practical, it could be heard in a moving car, it didn't have much information, copies of vinyl could be made, but it had its charm and usefulness. Most of the Underground bands I met at that time, came from tape copies that we listened to and exchanged, without much cost. It was also a way for us to make our Demo Tapes, from our bands' rehearsals.
Then the advent of the CD, which in my opinion merged the concept of vinyl and tape, brought much more information, sound quality and practicality to fit in the days where time is increasingly scarce, surviving until our days. Particularly I like to have CD's, the physical material, especially if it's from my own band.
Digital Formats is the current order, giving the information to anyone who wants access to any band that has kept pace with technological updates. Today, people want instantaneous information, to exactly compensate for the lack of time, which the current order itself imposes on humanity. I see that it is valid, that information can become knowledge, seeing that the amount of information absorbed today is absurdly greater than in the time of vinyls and tapes. For underground bands, the emergence of these digital platforms was excellent, it spread to the world, for a long time, their works, which would really be in the old underground, with difficult access and without being accessed, with few exceptions that invested a lot of money, mainly in countries outside of the Europe-USA axis. The Underground of today is more like a tribute to the old days of tapes that traveled the world by mail. Where bands maybe didn't want to be in the mainstream. It was cool to be clandestine, Metal was the expression of rebellion and contestation. Today the Underground is a subdivision of the mainstream, which has become a business. And I'm not saying it's right or wrong, I'm saying that everything evolves and nothing is permanent. I have admiration for all formats, but the one that best fits my life today are digital platforms, despite still acquiring CDs.
Your music style is Heavy Metal. Which are your main influences (Favourite Artists / Bands etc.)
Our influences are diverse, not only within the Metal style. We hear a lot of things outside the genre, even because we believe that the musician reflects in his work what he hears. We clearly have influences from bands from the seventies and eighties, such as Black Sabbath, Deep Purple, Led Zeppelin, Uriah Heep, Rainbow, Judas Priest, as a musical base. But as I said earlier, our intention is to mix several aspects of metal in our music, from traditional Heavy Metal to Black Metal, as well as using original elements from other musical styles, such as Arabic harmonies, and flamenco and of course the musicality of Brazilian roots.
In a second moment, we all come from the Death Metal Boom heard all over the world in the nineties, and this reflects majestically in our work, so we admire bands like Morbid Angel, Cannibal Corpse, Death, Old Sepultura, Dimmu Borgir and many others. Then we have as influences and inspiration, bands like Nevermore, Solitude Aeturnus, Memento Mori, Candlemass, Dream Theater, in an expressively progressive line and Doom and Power Metal.
All members of the band Thou Shall Not listen to different styles outside of Metal. I'm particularly listening to Robert Johnson, Blind Willie Johnson, Charley Patton and Mississippi blues. I enjoy listening to Indian mantras, Gregorian chant, Celtic and Nordic music with chant.
Which things do you think a band should sacrifice in order to succeed? Have you ever sacrificed anything in your life for a better future for your band?
It depends on what you mean by being successful. I think that to be successful is to do your best, to make what you invest your life time happen. Sacrifice is valid as long as it doesn't become an obsession that will harm those who are willing to make it and those who love it. Even because obsession is different from obstinacy. Obstinacy makes you decide for what you want, but with balance and wisdom, but experience will teach you that. Who has never slept on park benches after a show in a faraway city? Everyone who has an underground band has had some kind of problem where they had to make not very pleasant decisions in order to continue. When in my time of obsession, there was nothing else but to be successful as a metal singer, bad decisions brought suffering, and there is the sacrifice, the illusion of living something that was over. To be a Rock Star today is to be in the audience, to be public. The Public is the true Rock Star, because success as it is shaped by the system, no longer supports crazy and inconsequential characters that hypnotize the fans. Today there is only room for a minimum of discipline and professionalism. Success is like ethics, it changes its form according to place and time, and as such it is illusory.
Describe your ideal live show as a performance band. Have you already experienced that?
We've played several shows not only with the band Thou Shall Not, but also with other bands throughout our careers. We did really cool shows with TSN, we shared the stage with important bands from the Brazilian scene, but that ideal show hasn't come yet, but I feel that the time for that to happen is getting close. It's working and letting it happen in the best way and at the right time when we can play on a big stage with professional equipment and teams supporting a big event. Meanwhile, we'll do our best in the shows we're in, whether in a bar with twenty people or in a concert hall.
What attributes do you think that a new Heavy Metal Band should have in order to gain identity and be unique?
I don't think you can get attached to what already exists, or admire an artist so much and end up looking like him. Study and let your imagination flow freely, freeing yourself from standards unconsciously imposed by styles, ideologies or bubbles. Get out of the matrix, break paradoxes and paradigms, escape dogmas and prejudices. Be aware that your art will be what you are, it is a reflection of your interior, often unknown to yourself. Art whatever its expression, and especially music, because we are talking about frequencies that travel through the universe, vibrate, harmonize and manifest themselves, it is completely free. So the artist must absorb knowledge from different sources, because the beauty of having a band is to unite the different sources of knowledge and harmonize them to create an audio visual work that will be unique, regardless of whether you like it or not.
Do you believe that Digital Platforms help the new Heavy Metal Bands? Which, do you think, is the ideal way for a band to promote its work?
As I said before, yes, I believe it helps a band a lot to show themselves to the world stage, and that's why I see that the current Underground is just a term, because nowadays a band only remains in the dark if they want to. With a simple click you can send a link with all your information anywhere in the world. We are on several digital platforms, such as facebook, bandcamp, spotyfy, deezer, youtube, etc. We use facebook more, but we also have bandcamp where information about our albums can be checked, like the lyrics for example. It is worth checking.
Do you see any differences between the Brazilian Metal Market & the EU Metal Market (Labels, Bands, Fans etc)?
Yes, a lot of difference. In Europe there are big festivals crowded with people from all over the world, and conditions to be held, there are big labels and there is interest in new bands, even if there is a performance in small places the band is paid, which is rare in Brazil. So there is the minimum return which allows many bands to continue producing. In Brazil there are few quality festivals, restricted to a few well-known bands, as they already have a certain audience and it is a bubble that has to be burst showing its face. We say in Brazil that there are more bands than fans, for the reason that original metal bands don't have the support to play in bars, like cover bands do. There are no labels that support metal bands, only small labels that distribute locally. If the Band wants its material distributed in Europe, for example, it must have some contact in the continent itself, and see what can happen. Some succeed. By the way, that was a very cruel question! "Laughter".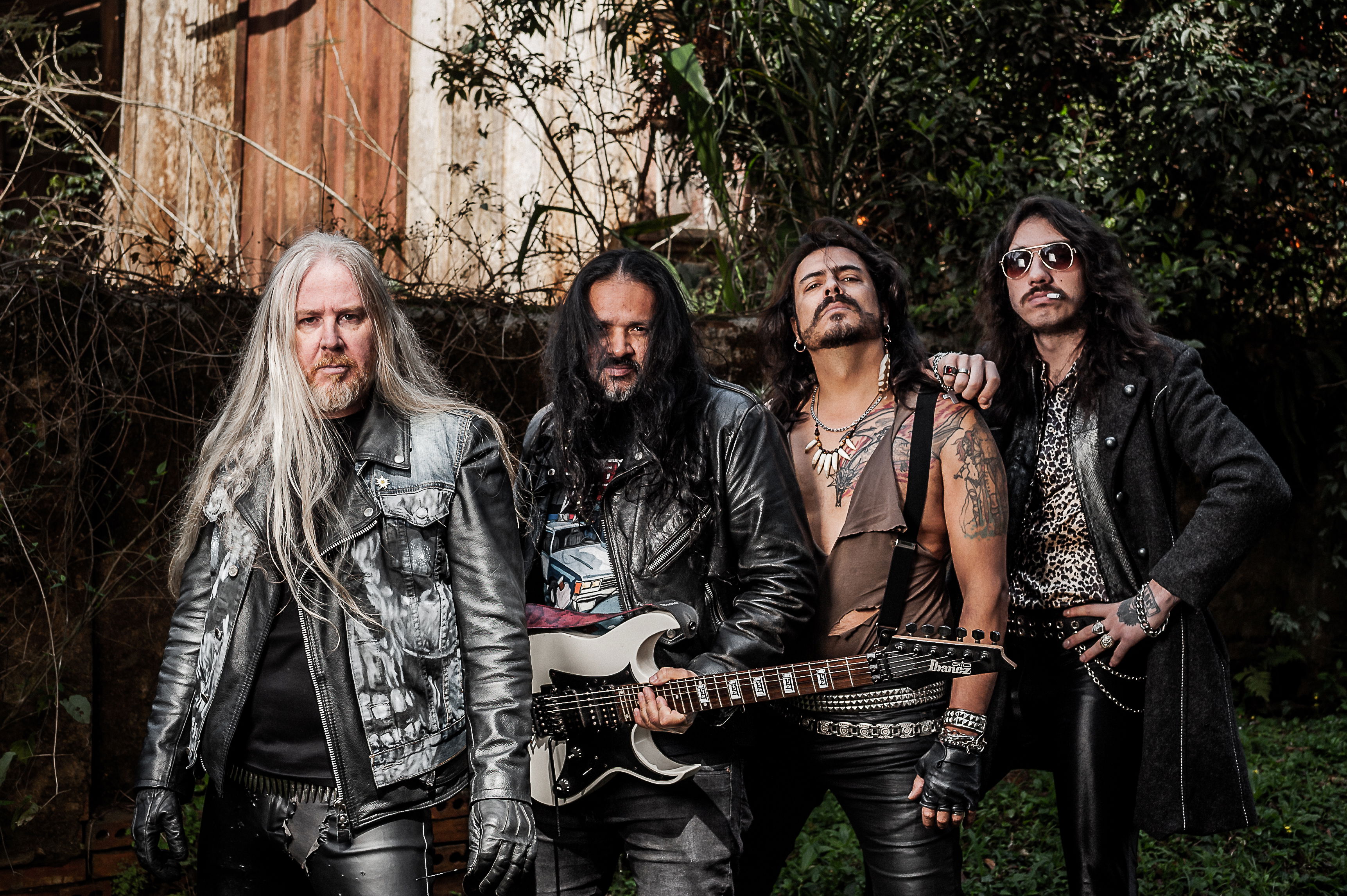 Tell us a few things about the New Underground Metal Scene in Brazil (Bands, Fanzines, Webzines, Metal Clubs etc.)
The New Metal Scene in Brazil is a mixture of old bands and bands formed by people of the new generation, like the band Hellgun from my city, as well as the band Slammer idealized by a very well known face in the Brazilian scene. Ninha Cidade is also an exponent of two important Black Metal bands, Amen Corner and Murder Rape, still active today. Today the most evident band in this scenario is without a doubt Semblant, who have been appearing a lot on the web and on stages in Europe. Also Dragonheart are in the process of releasing their next album. I also like a band from São Paulo called Hevilan whose guitarist is part of the Brazilian band of the great Warrel Dane. I really like the solo work of guitarist Kiko Shred, who also makes up the band Viper. And so many others that I would spend all day writing about them. We have Mosh magazine, the Webzines Heavy Metal On Line and Metal na Lata, these are the ones I remember at the moment.
Do you know anything about the Hellenic Metal Scene?
From old school Black Metal, Rotting Christ, Varathron, Septic Flesh. I particularly admire the work of the guys from Doomocracy, fantastic! And Firewind from Gus, of course.
The last 3 years, worldwide in the world, we have faced many dark, strange & new situations in our everyday life (covid, lock-down etc.) Did all of this affect you positively or negatively?
I think that in a general context, it was positive for learning. Of course, nobody wants a world catastrophe for humanity to open its eyes of spirituality to awaken as a civilization. Many have lost their loved ones and this should not be wished upon anyone. I see that we are heading towards a collapse, not just financial, or coming from nature, but a moral collapse. We've reached a point where we can't grow any more, except technologically, and that makes us even more slaves. We are like self-replicating biological robots programmed to accumulate as much material and titles as possible and then die, we don't live, we just survive. The album I Am the Presence was conceived and recorded in the context of the pandemic and the teaching that remains is that we need to think cosmically, and not fragmentally, in order to make some sense, otherwise we will slowly extinguish ourselves to be useful in other realities in which we will tune in.
What are your future plans?
Keep doing our best, rehearsing, writing for the next album, performing live to keep the flame burning. We have plans to record a video clip in the near future, as well as we are in negotiations to physically, release our two albums initially on CD.
Thank you very much for your time & keep up the good work! The closure is yours.
I thank you from Filthy Dogs of Metal, and I close by inviting everyone to visit us on our social networks by sharing our band Thou Shall Not:
https://open.spotify.com/artist/6iQsztuD3rJLKP9FbukoJk
https://thoushallnotbrazil.bandcamp.com/
https://www.facebook.com/thoushallnotbrazil
By Steve the Filthy Dog.