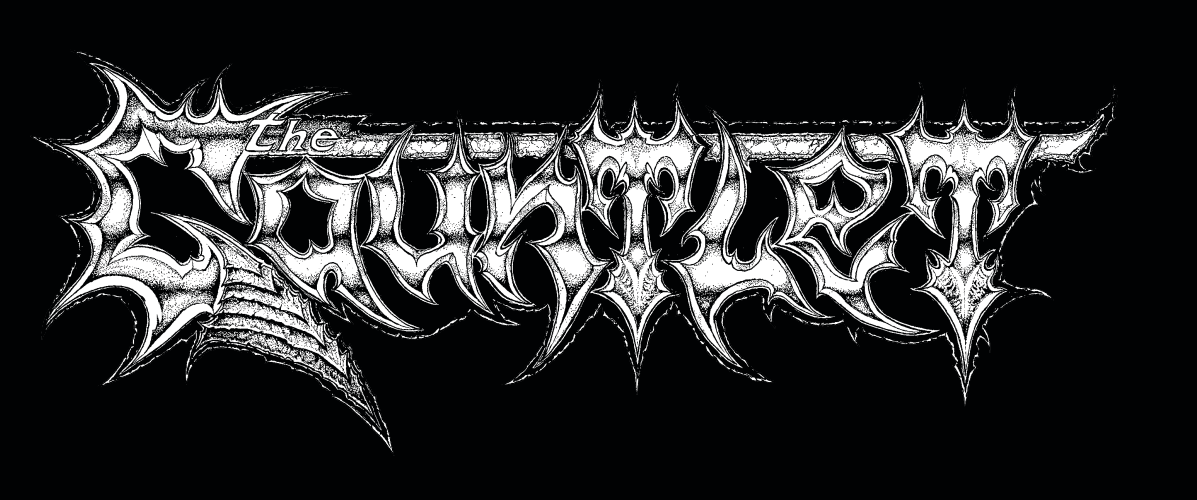 !!!BLACK STEEL FROM THE USA!!!
We had a conversation with Ace. Enjoy!
Welcome to the FILTHY DOGS OF METAL Webzine.
Tell us a few things about THE GAUNTLET (Members, Starting Year etc).
THE GAUNTLET is myself on all instruments. I started THE GAUNTLET back in 2019 when the first songs started to come to me. The project has developed naturally ever since as something to keep me busy when its too cold or snowy to ride.
In 2020 you released your EP ''War and Guilt''. What was the feedback from your audience as well as from the press?
The feedback I am aware of was generally positive. I am not actually sure if "the press" was even aware of it because I did not make any effort to promote it beyond putting the songs up on the internet.
You are going to release your new album ''Dark Steel and Fire''. Tell us a few things about this project.
"Dark Steel and Fire" is the first full length from THE GAUNTLET and I think it captures the whole range of what this project is capable of. I was not trying to do anything that hasn't been done before musically, but I wanted to deliver a heavy and (hopefully) memorable album that also respectfully pays tribute to my influences. This album was over two years in the making, so I am really looking forward to finally seeing it released!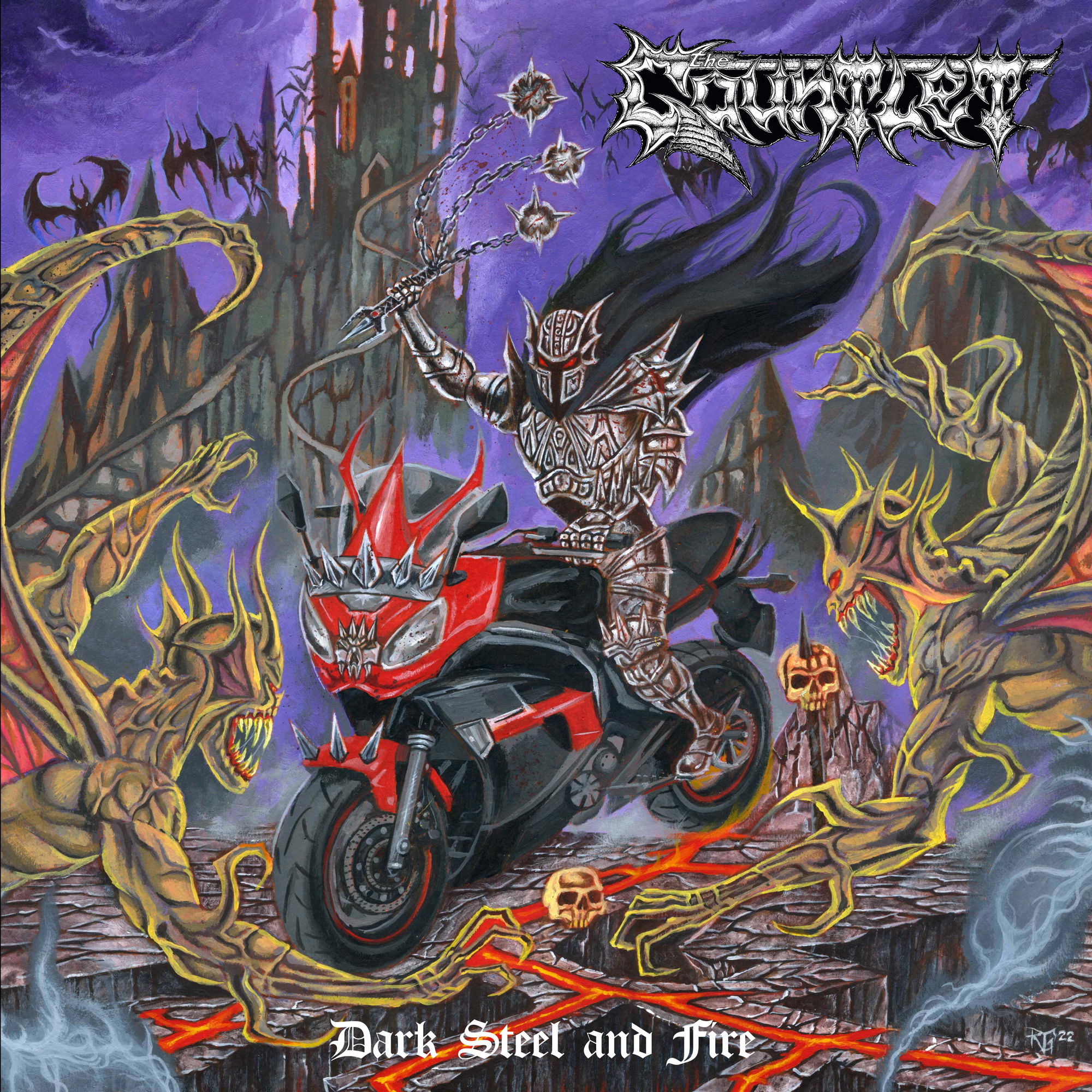 Label or DIY and why?
I like to record everything myself because its much faster. As far as releasing music, I admit that I need help. Eternal Death Records has been an excellent partner in making this album happen and I'd encourage anyone reading this to check out the other diverse and extreme bands being released by Eternal Death. Eternal Death is real cult metal.
Do you prefer Vinyl, Tape, CD or Digital Format and why is that?
I listen to CDs the most and have a wall full of them. I have a small collection of tapes and a slightly smaller collection of LPs, but CDs are my main format. I like that I can listen to a full album without flipping at home or in the car, which is why CDs win out for me. I usually listen to tapes from a Walkman if I'm traveling or on the bike. I'll put LPs on when its time to party. I do not stream or download music and I try to spend as little time on the computer or my phone as possible.
Which are your main influences (Favourite Artists / Bands etc.)
Bathory is my biggest influence for THE GAUNTLET, along with Celtic Frost, Venom, and of course the mighty Manowar.
Which things do you think a Band should sacrifice in order to succeed? Have you ever sacrificed anything in your life for a better future for your Band?
I think success is relative, but for me, time is the biggest investment. I don't feel like THE GAUNTLET has succeeded unless I have produced music that I like, and it takes time to do that. It takes time to write rehearse all of the music for a song that I'm happy with and then even more time to record it. Time has been the biggest thing I've sacrificed for THE GAUNTLET. I'm never happy locking myself in the studio for days when I could be out riding instead, but it must be done!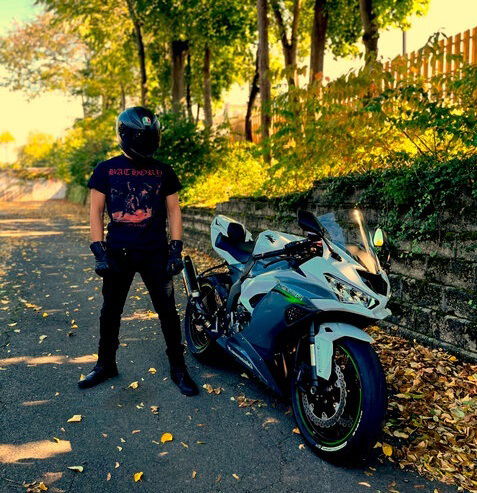 Describe your ideal live show as a performance Band. Have you already experienced that?
Swords, leather, fire, and metal! Since THE GAUNTLET is just me, there have been no shows yet.
How difficult (or easy) is it for a musician to compose himself all the tracks & as the main songwriter what gives you the inspiration to compose songs?
I'm sure everyone writes music differently but I start with the main guitar rhythm and build off of that. It helps that I am also a drummer, so the percussion is intuitive. I can't read music so I have to keep everything in my head. I don't actually know why I am inspired write music it just happens naturally and I go with it!
Which attributes, do you think, that a new Heavy Metal Band should have in order to gain identity and be unique?
I think the most important attribute is commitment to the music itself. The recorded and performed music should be the basis of any metal band's identity. Dressing up in costumes and makeup, or attaching a strange lyrical theme will not cover up weak metal. Costumes and showmanship are also important, but they shouldn't define the identity, the music should.
Do you believe that Digital Platforms help the new Heavy Metal Bands? Which, do you think, is the ideal way for a Band to promote its work?
I think all of the digital platforms can help make music available for fans around the world. I don't stream or download music personally, but I think most people do. I don't think having a big internet presence is important as long as the music is available somewhere.
Tell us a few things about the New Underground Metal Scene in New Jersey (Bands, Fanzines, Webzines, Metal Clubs etc.)
I am not part of a metal scene in New Jersey, so I don't really know.
Do you know anything about the Hellenic Metal Scene?
I don't know about the scene itself, but I really enjoy listening to Varathron, Embrace of Thorns and especially Dead Congregation.
What are your future plans?
After "Dark Steel and Fire" is finally released, I am going to see if any more songs get written this winter. We will have to wait and see!
Thank you very much for your time & Keep up the good work! The closure is yours.
Thanks very much for taking the time to get in touch. Stay true and keep listening to real heavy metal!
By Steve the Filthy Dog.
THE GAUNTLET CONTACT:
https://thegauntletband.bandcamp.com/album/dark-steel-and-fire