!!!HEAVY METAL MANIACS FROM SPAIN!!!
Welcome to the FILTHY DOGS OF METAL Webzine.
Hello, thank you very much! First of all we would like to thank the webzine for their work and for the interest on our band, we feel so glad to be here! Also a big salute to all the readers!
Tell us a few things about STREAMER (Members, Starting Year etc).
Well, the band was born in September 2013 after the split up of the band Spleen Ideal, where Danny Streamer (Guitars), Esteban Master (Guitars) and Jordi Carr (Drums) were playing. After two months José Quiros (Bass) joined and the ex-vocals from The Hi-fi Killers Adri joined too. After several rehearsals in march 2014 a two track demo came out titled Time to Die. After some gigs, in May 2015, Jose left the band and a new and young bassist Cristian Blade joined the band. With that line up we entered the studio and in November 2015 a new EP, Broken Dreams was released and a huge amount of concerts were made during the year and 2016. In April 2017 we entered Moontower Studios to record the first LP, titled Now Or Never. After the release, which had an amazing reception, we had several shows the following years, playing many cities of our country and visiting the UK at Grimm Up North Fest. While rehearsing for the shows we wrote new material to enter Moontower Studios again on November 2019 to record our 2nd LP ''LIGHT OF DEATH'', which was released on June 2021 as we signed with Diabolic Might Records from Germany (a big salute for Jochen and Andy!!)
In 2020 you have released your album ''Light of Death''. What was the Feedback from your audience as well as from the Press?
We had an amazing response! Besides the music, also it came in a time where no shows were made in the country (neither abroad) as a result of the pandemic, and well and of course after a long time of home isolation. We announced the released with the single ''Whiskey, Beers & Flames'' in a very complicated moment for everyone, we were drowning in a 4 month isolation and in that moment lots of people reacted so happy with the news and when it was released it had an amazing feedback both from the audience and from the press. THANK YOU ALL!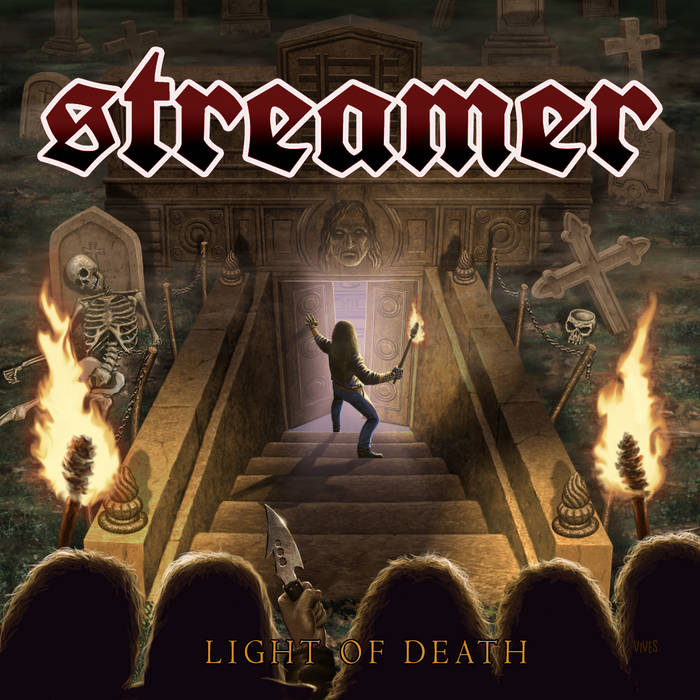 Label or DIY and why?
Why not both! The vinyl edition of our new album Light Of Death has been released by Diabolic Might Records, being our first contract with a label and we are delighted with the result and with the treatment we have. On the other hand the CD edition has been auto-edited, as everything we made before. We actually are so happy with the way we work.
Do you prefer Vinyl, Tape, CD or Digital Format and why is that?
Our favourite one is Vinyl because we consider it the best one, also for the sound and for the inserts and artworks they contain… also because it's the original way! But we think nowadays it's necessary to be in every format, also physical as digital.
Your music style is Heavy Metal. Which are your main influences (Favourite Artists / Bands etc.)
Classic metal from the 80's are our main influences, bands such as Iron Maiden, MSG, Exciter, Running Wild, Motörhead, Kiss, Judas Priest, Manowar… But we have influences from lots of different kinds of music.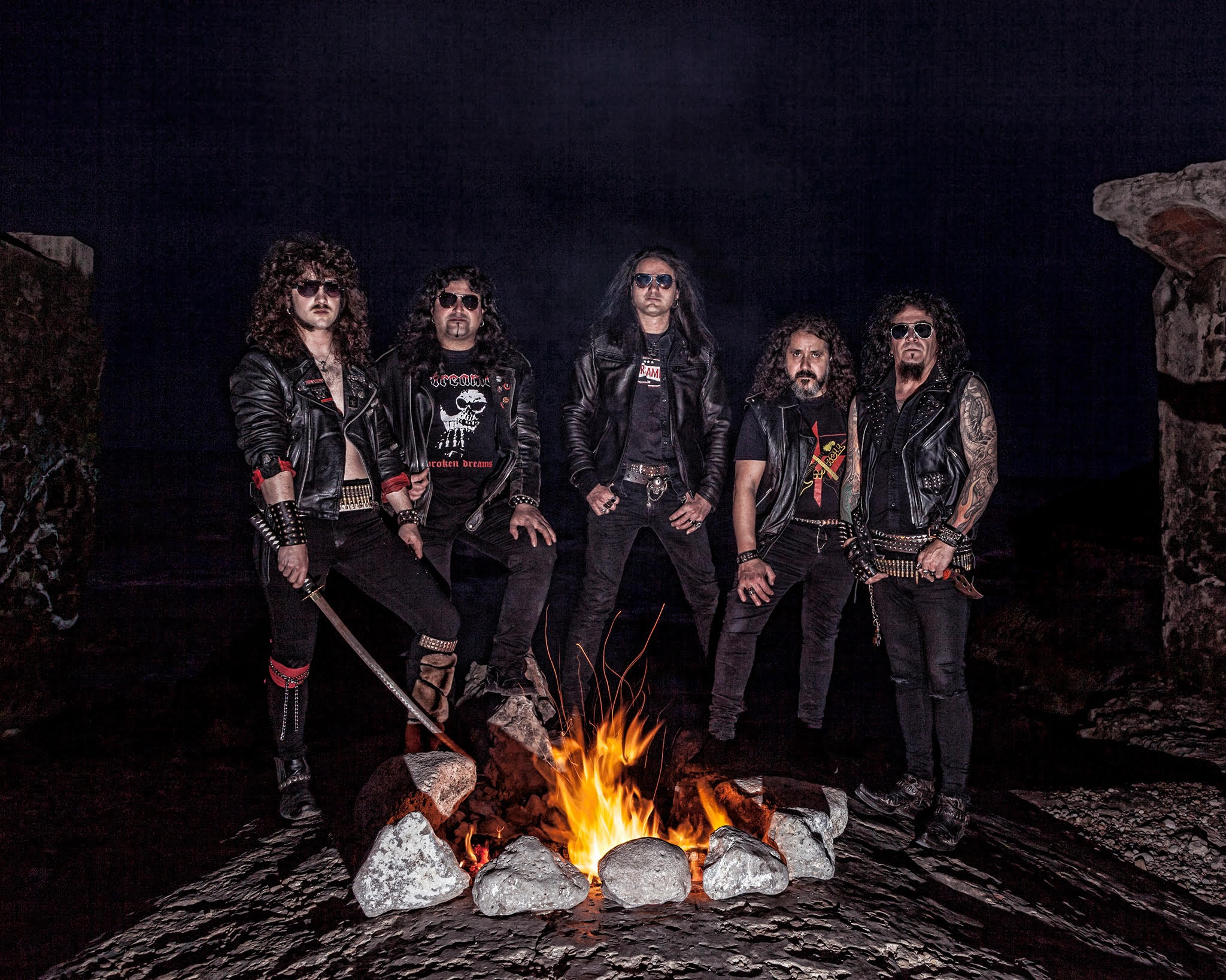 Which things do you think a Band should sacrifice in order to succeed? Have you ever sacrificed anything in your life for a better future for your Band?
Lots of things, but if you really love what you are doing you don't see it as a sacrifice. We spend a lot of time (and money) doing what we really like, but we do this because we are bound with it, for us it is the main thing to do, because we love it. We are like a family and the only sacrifice is doing your best for your brothers.
Describe your ideal live show as a performance Band. Have you already experienced that?
I would say the perfect show is presenting your new material with a full stage set. We really look for the scenery because we think the live presence on a stage is not only music (Though of course is very important). You, as a band, have to create your own ambient, make the stage yours, with your attrezzo, banners anything that you think represents you as a band, because you are telling your story, so you have to be unique, the stage cannot look the same as other bands, you have to work in order so people just looking it knows who is playing. I think the ideal length would be 1h 20m so you can have time to play songs from the new albums and also older tracks. And of course the energy has to be atomic! You just can't stay standing without moving! Sure lot's of times we consider we had perfect conditions for this to happen!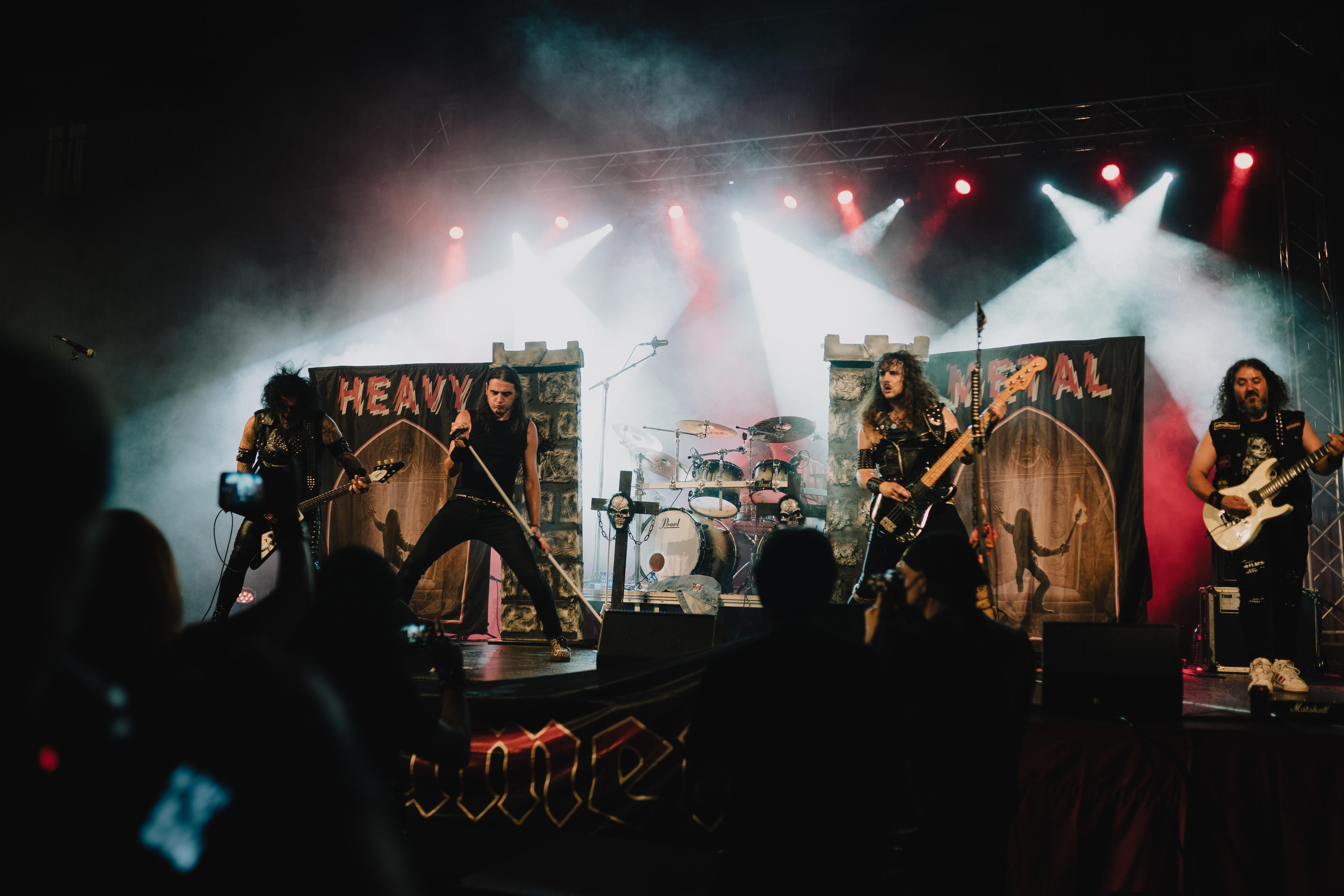 Which attributes, do you think, that a new Heavy Metal Band should have in order to gain identity and be unique?
Play with the heart and with the soul, compose great songs, work hard for the shows and of course move the material properly so the people who love our genre can discover and support the band. Also a very clear concept of the band is very important.
Do you believe that Bandcamp and other Digital Platforms help the new Heavy Metal Bands? Which, do you think, is the ideal way for a Band to promote its work?
Yes sure, as it's people who support our music in those kinds of places, why don't they make them easy for them to discover our music! I think the best way it's to be everywhere and of course play the most places the best.
Tell us a few things about the New Underground Metal Scene in Spain (Bands, Fanzines, Webzines, Metal Clubs etc.)
I think nowaday the scene is strong, there are plenty of superb bands, such as Redshark, Street Lethal, Löanshark, Inverted Cross and many more in the city, and amazing bands in the country such as Witchtower, Iron Curtain, Hitten… I think the Metal Clubs are very important for the survival of the underground scene on live shows, clubs such as Metalcova (Barcelona), Metal Bats (València), Heavy Metal Espectros (Murcia), Mediterranian Metal Maniacs (Alacant) and Pounding Metal (Madrid) are doing their best to keep the flame alive. Eternal Hails!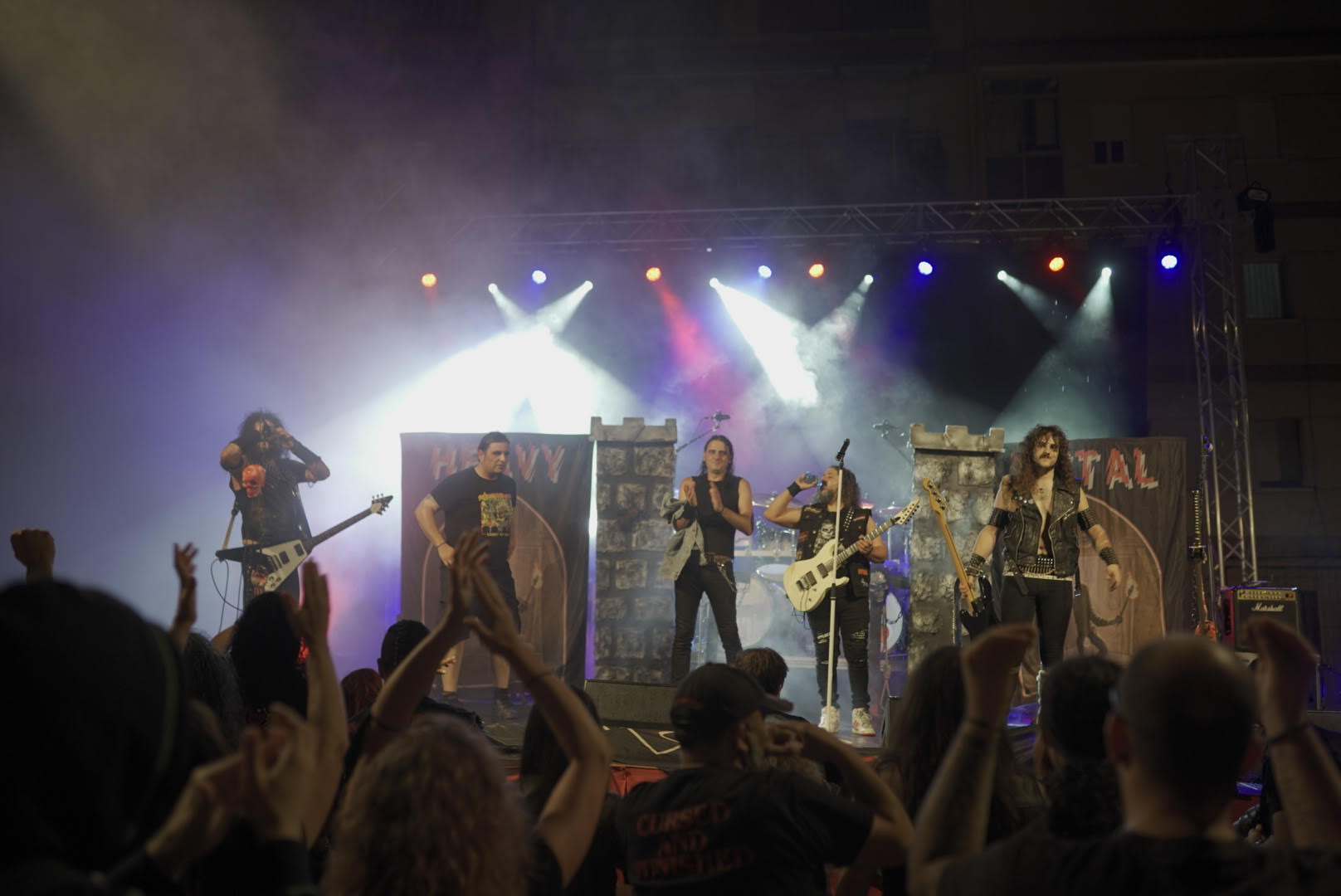 Do you know anything about the Hellenic Metal Scene?
Not so much actually. I don't know many bands. I can say Crush, which I was listening to last week and really enjoyed, would love to know more bands like that! The best thing I know is the Up The Hammers Fest in Athens which I wanna visit as soon as possible!
What are your future plans?
We would love the shows to come back as a regular stuff and finally can tour and present Light Of Death everywhere. But in the time where no shows were made we worked hard composing new songs to record and release our 3rd LP as soon as possible!
Thank you very much for your time & Keep up the good work! The closure is yours.
Thanks to you for the great interview and for the support, we really appreciate it, THANKS!!! LONG LIVE HEAVY METAL!
By Steve the Filthy Dog.
STREAMER CONTACT:
https://www.facebook.com/profile.php?id=100060757627995&fref=ts
https://streamermetal.bandcamp.com/
https://www.instagram.com/streamermetal/
https://streamermetal.bigcartel.com/?fbclid=IwAR3II_DwLULCqr6YcTkCOuh0te2aaJENFMFMQdKAC75Ho7WkXEA1JToYz-M