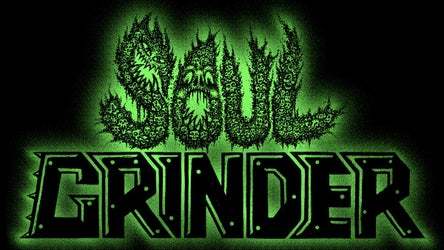 !!!US GRINDER METAL!!!

We had a conversation with April Dimmick aka Prilzor (Vocals / Bass). Enjoy!
Welcome to the FILTHY DOGS OF METAL Webzine.
1. Tell us a few things about SOUL GRINDER (Members, Starting Year etc).
Soul Grinder was formed on July 1, 2016 in Portland, OR.
We are April Dimmick, AKA Prilzor on vocals and bass, Alex Avery on guitar & Kevin Ross on drums.
The three of us are longtime friends, who've worked on music projects together since 2011.

2. You have recently released your new album ''The Prophecy Of Blight''. What is the Feedback from your audience as well as from the Press & how many copies were pressed?

We've been lucky in that the feedback has been 99% positive!
The Prophecy of Blight was featured on Metal Assault and The Portland Mercury, as well as many blog reviews, a few YouTube videos & we're thrilled to have been named on several top metal releases of 2019 lists!
We're pleasantly surprised with how many people liked it and we're ready to give our new fans even more of it!
The Prophecy of Blight was self-released and we had 500 produced on vinyl, 40 of which are slime neon green vinyl records that glow under blacklight!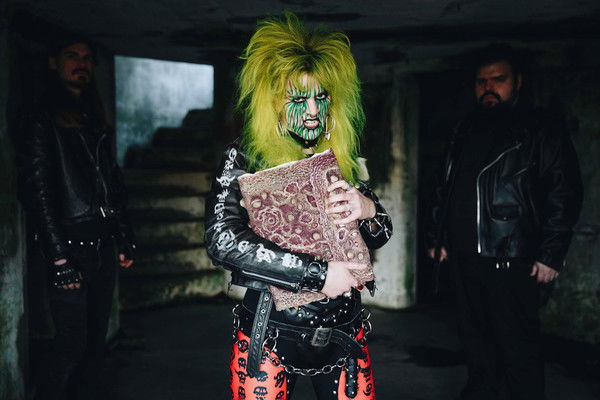 3. Why did you release your new album on your own (Private Release), instead of searching for a label?
I am pretty sure that many labels would like to release your album! So, what would you prefer: Label or DIY and why?

We did everything but the final mixing and mastering ourselves and once we received the files back, we were ready to release it!
We are not opposed to working with a label, we just felt like self-releasing was the best way to go at this point. And thanks to our fans, it was very successful and we're happy we did it!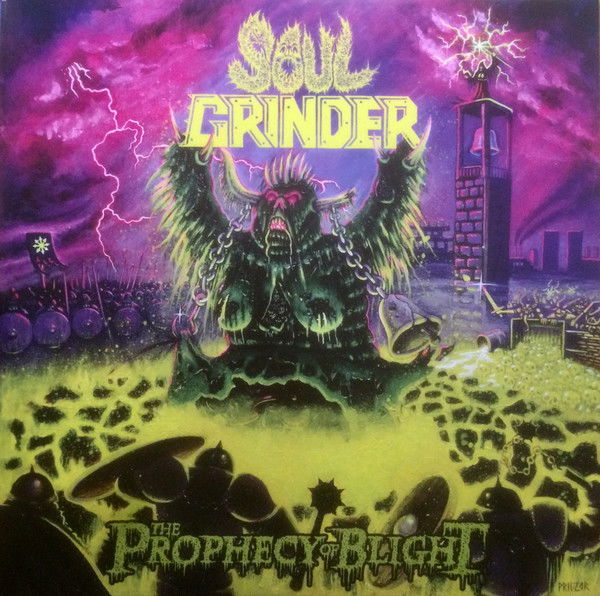 4. Do you prefer Vinyl, Tape, CD or Digital Format and why is that?

Truthfully, digital, and that's really because it's the most accessible format that's available in multiple places.
It's how all of us in the band consume music the most. Vinyl & tape next because those are the coolest physical formats and the most fun to listen to with their raw low fi sounds.
Plus, if all electronics fail, you can spin a vinyl on a record player and still hear sound coming off the grooves. CDs are good to have on hand & great to listen to in the car. Every format has its place!

5. Your music style is Speed Heavy Metal from the 80s. Also, the vocals reminds me a mixture of Leather Leone (CHASTAIN) & Ann Boleyn (HELLION).
Which are your main influences (Favourite Artists / Bands etc.)

You nailed my vocal influences! We have a variety of metal bands thrown into our sound.
We are heavily inspired by Bolt Thrower, Vader, Testament, Slayer, Megadeth, Exodus, Judas Priest, Immolation, Morbid Angel, Neurosis, Destruction, Behemoth,
Opeth, Iron Maiden, Amon Amarth, The Chasm, Crowbar, Death, King Diamond, Candlemass, Satyricon, Kreator, Amorphis, The Plasmatics and even more!

6. April you are the artist behind your cover artwork of your new album. Please, tell us what is the meaning behind this idea & also, your face paint reminds me a lot of John Stewart (R.I.P. - SLAUTER XSTROYES / ENERGY VAMPIRES).
Are you inspired from him?

My vision was to create an album cover that represented the overall feel of the album, something with chaos, war, beasts, untimely catastrophes, magic, doomsday prophets, rot, possession and power.
There are bits in the painting paying homage to a few songs on the album as well.
And I'll have to check these bands out, I have never heard of him before!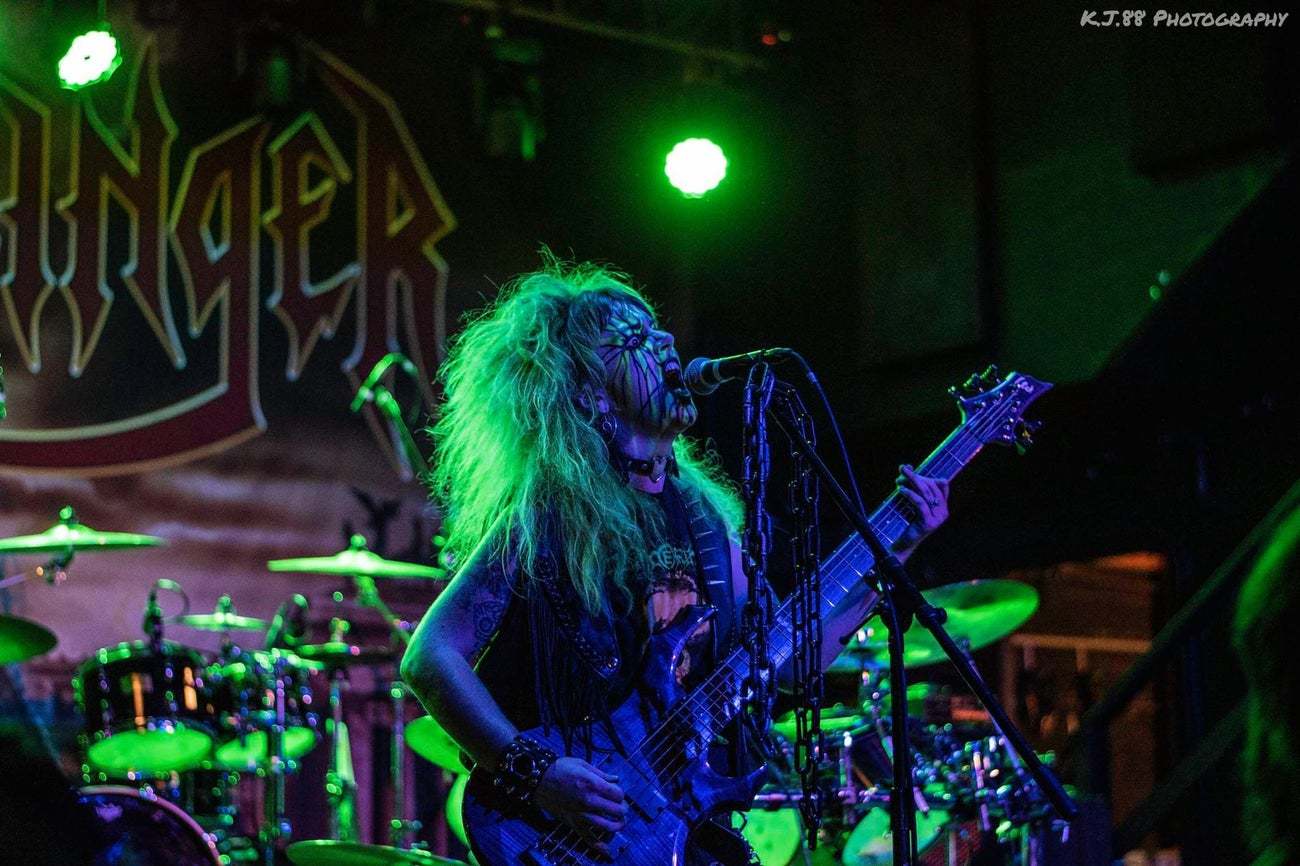 7. Congratulations for your videos. The whole atmosphere is like B-Movies from the 80s. Could you please recommend to our readers some of your favourite movies?

Thank you! Kevin and I are really into campy horror movies and some of our biggest inspirations behind our videos come from Class of Nuke 'Em High, The Toxic Avenger,
The Return of the Living Dead, The Prince of Darkness, The Fog, Rosemary's Baby, The Thing,
Pet Sematary, Trick or Treat (1986), Rocktober Blood, 1990: The Bronx Warriors, Elvira: Mistress of the Dark, Demons, Army of Darkness, Evil Dead & Poltergeist!

8. Which things, do you think, a Band should sacrifice in order to succeed?
Have you ever sacrificed anything in your life for a better future of your Band?

I think having a band is a sacrifice of time, money and attention outside of day jobs.
A real dedication to the band is necessary as so much goes into running a band beyond playing music - we all equally put in so much effort to pull it off the way we do.
It can feel crazy at times, but we keep pushing onward to the next thing!
Well I haven't spilled any blood for the band… yet! Alex moved from South San Francisco to live in our dusty basement in Portland to join the band. I'm glad it worked out!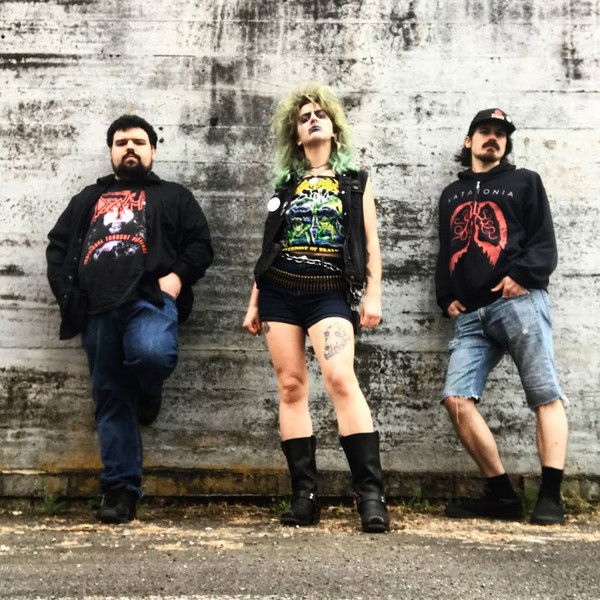 9. Describe your ideal live show as a performance Band. Have you already experienced that?

Ooh I can see it now! There's gonna be slime cannons, skull piles, an army of mutants, and that's just the audience!
People will just have to come out & see for themselves!

10. Which attributes, do you think, that a new Heavy Metal Band should have in order to gain identity and be unique?

I would say don't try and do something someone else has perfected. Be original, be authentic and draw from many sources.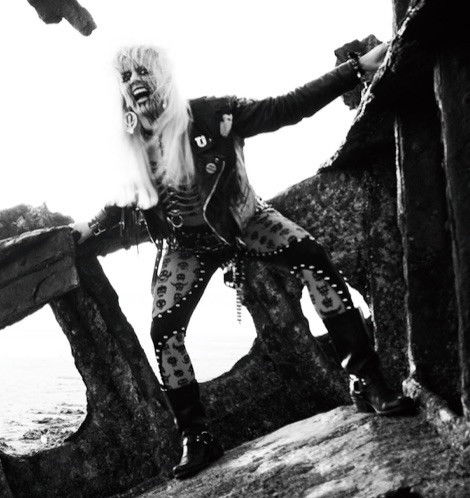 11. Do you believe that Bandcamp and other Digital Platforms help the new Heavy Metal Bands? Which, do you think, is the ideal way for a Band to promote its work?

Bandcamp has been great for us! We also have our music available on most streaming services & YouTube.
I think it's super important for bands to have their music easily accessible online. I discovered 99% of the music I listen to from the internet.
Plus bands can potentially get great exposure & royalties by having music online.
I don't know what the ideal way to promote music is, but we do everything we can to promote our content, like making music videos, touring, connecting with people, collaborating and marketing our music and merch.

12. Do you know anything about the Hellenic Metal Scene?

I have not heard of this! I'll have to investigate!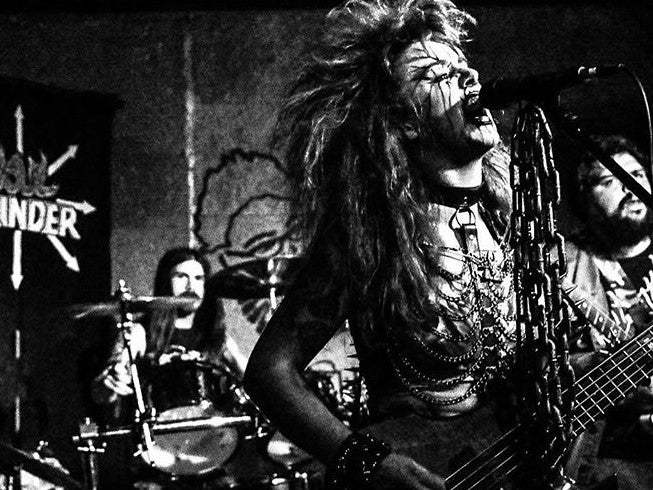 13. What are your future plans?

We will be touring in March on the West Coast and heading out to Metal Immortal Fest in Pittsburgh in June.
We'll have a few songs featured in a new Troma film, Divide & Conquer and we are planning to release new music this year as well.

14. Thank you very much for your time & Keep up the good work! The closure is yours.

Thank you for the interview!
You can check out our new album The Prophecy of Blight here: https://www.youtube.com/watch?v=1VAiA3eKdrc
Our music and merch is available on our website Soulgrinderofficial.com

By Steve the Filthy Dog.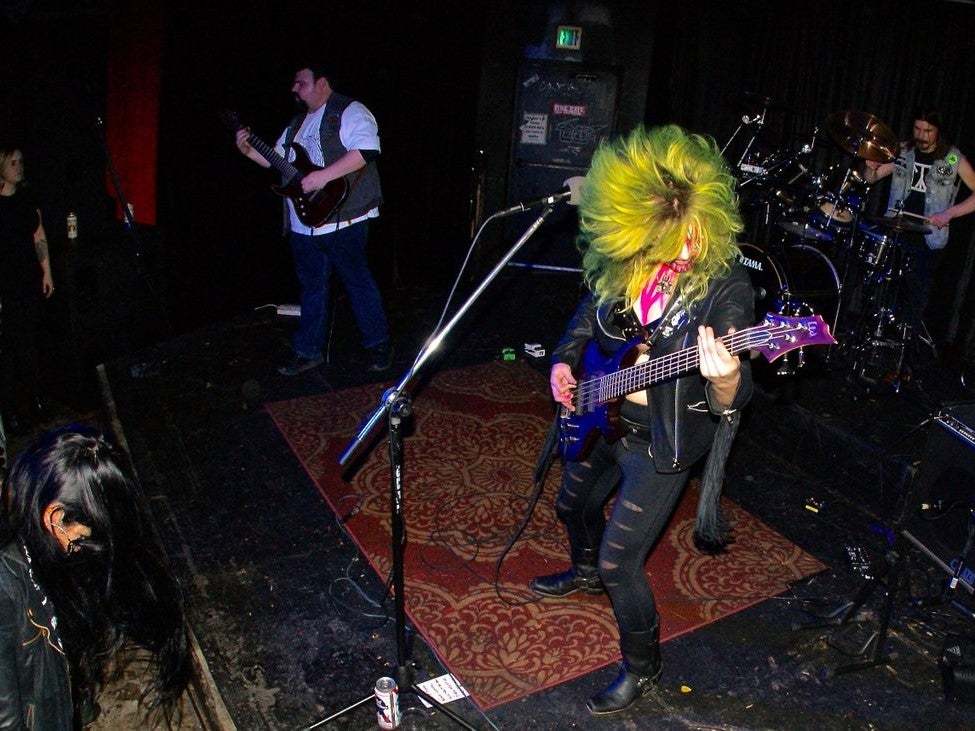 SOUL GRINDER CONTACT:
Bandcamp: https://soulgrinderofficial.bandcamp.com/
Youtube: https://www.youtube.com/channel/UCRSORePGt2e-vFpNFzJQvQA
Facebook: https://www.facebook.com/soulgrinderofficial/?tn-str=k*F
Instagram: https://www.instagram.com/soulgrinderofficial/
Twitter: https://twitter.com/soulgrinderband