!!!CANADIAN EPIC/DOOM METAL!!!
We had a conversation with Sarah & Kevin. Enjoy!
Welcome to the FILTHY DOGS OF METAL Webzine.
1. Tell us a few things about SMOULDER (Members, Starting Year etc).
Sarah: Smoulder originated in 2013 and began with myself on drums and Vincent on guitars and vocals. After several years of jamming, myself increasingly taking over on vocals and a massive relocation, we decided to recruit some friends to play on the demo we'd written and to have myself exclusively focus on vocals and Vincent exclusively focus on guitar. Collin and Kevin joined the band, we recorded the demo, and then suddenly we received A LOT more attention than anticipated. We asked Adam to round out the lineup on bass, then everything that's followed has been utter madness.

2. In 2019 you released your first full-length album ''Times of Obscene Evil and Wild Daring''. What was the Feedback from your audience as well as from the Press?
Kevin: Both the Critical and Fan reaction to our first full-length has been very positive so far. We've heard comments about how this record is how true Epic Doom should sound and have even heard some people say this is their album of the year. We are thrilled by the love we are receiving from all over the globe.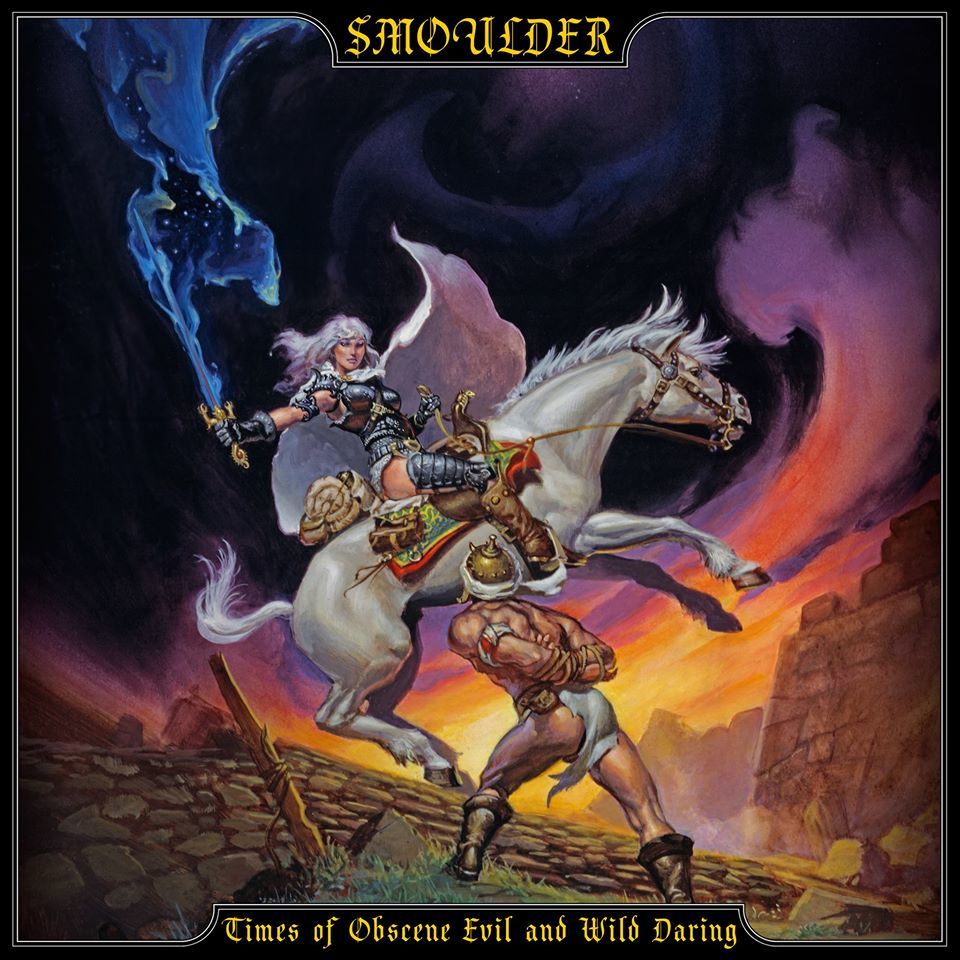 3. You are going to release your new EP ''Dream Quest Ends''. Tell us a few things about this work.
Kevin: Well there will be two original songs and a Manilla Road cover featured on this EP. Both originals were written by me in 2014 for another project, but never were used for any recordings. We decided to resurrect these tunes and tweak them to fit the Smoulder aesthetic. The Manilla Road cover is kind of a tribute to Mark Shelton, and we all love Manilla Road anyways. Overall I think our fans will be pleased with the EP upon release
4. Label or DIY and why?
Kevin: After our success with the Album under Cruz Del Sur, we decided to stick with them for releasing the EP. They've helped grow our influence among the metal community and have probably sold way more copies of the album then we could just on our own.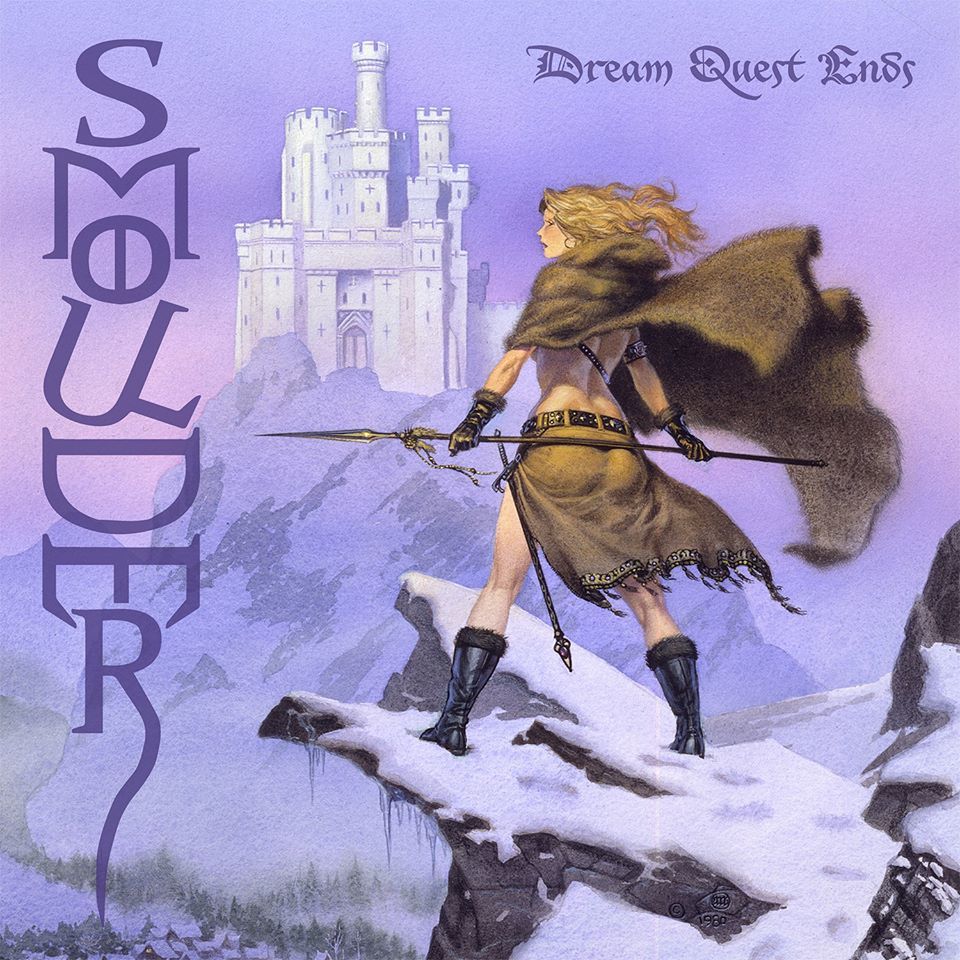 5. Do you prefer Vinyl, Tape, CD or Digital Format and why is that?
Kevin: I think the band as a whole prefers the sound and "old-school" vibe of vinyl, and vinyl definitely meshes well with the band's overall sound. As far as selling goes, we sell music in all of these formats as to reach a broader audience, rather than limit our sales to those who happen to have a record player.
6. Your music style is Doom Metal. Which are your main influences (Favourite Artists / Bands etc.)
Kevin: To name a few: Atlantean Kodex, Solstice, Candlemass, Solitude Aeternus, Tales of Medusa, Eternal Champion, and Cirith Ungol are all bands that influence our songwriting. We try to make our sound as unique as possible, but sometimes it does help to take some inspiration from some of these awesome bands.
7. Which things, do you think, a Band should sacrifice in order to succeed? Have you ever sacrificed anything in your life for a better future of your Band?
Kevin: I think the big thing is we have to all sacrifice some time in order to keep the band afloat. We have to take the time to write songs, record, play shows, package and ship merch etc. With that being said, we make sure the band doesn't completely consume our lives. We all have day jobs, personal relationships, and other things that we need to prioritize sometimes.
8. Describe your ideal live show as a performance Band. Have you already experienced that?
Sarah: We are a bit spoiled - our fourth gig was a festival playing for 1500 people in Germany after hiking a vineyard and that was really intense and enjoyable. Obviously it's pretty fun to play for a massive audience, but every gig has had its perks. The best thing though - hearing people sing along. That happened at Legions of Metal and was incredibly gratifying.
Kevin: For me personally, as long as we put on a solid and fun performance, the crowd is into us, and we get to play with some other cool bands, that's ideal to me. I don't worry too much about making sure the performance is absolutely perfect, but as the drummer, it is important that I help make sure the whole song doesn't fall apart. If I do happen to mess up a part, I just want to make sure I recover quickly so the rest of the band can maintain a solid rhythmic foundation.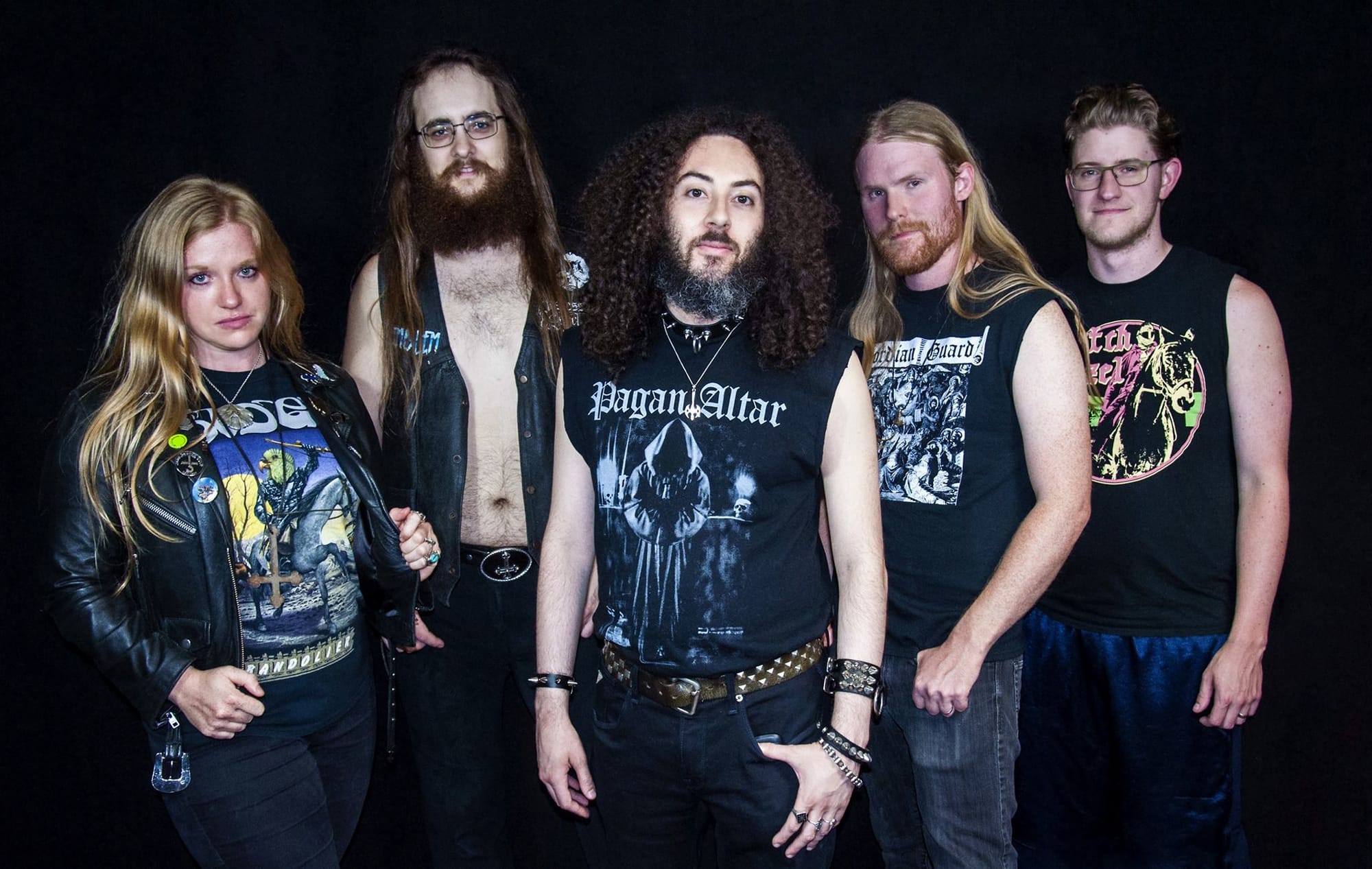 9. Which attributes, do you think, that a new Heavy Metal Band should have in order to gain identity and be unique?
Sarah: I personally think a band will get much further if they have a strong and unified visual, sonic and graphic identity. When someone has a vision and that is clearly communicated in a striking way, it tends to make a band a more complete package.
10. Do you believe that Bandcamp and other Digital Platforms help the new Heavy Metal Bands? Which, do you think, is the ideal way for a Band to promote its work?
Sarah: Bandcamp is hands down the best and most useful tool we've had to promote our work. The tools that the platform offers are incredibly helpful and we've made far and away the most sales through the platform, and they payout within 24-48 hours of sales. I'm quite frankly shocked when metal labels and bands don't use it.
Kevin: The internet is a powerful tool, and It's never been easier for a band to promote themselves on an international level. Most of our growth can be attributed to using many forms of online promotion, such as Bandcamp, Facebook, being featured on podcasts and other Youtube channels, etc.
11. Tell us a few things about the New Underground Heavy Metal Scene in Toronto, Ontario Canada (Bands, Fanzines, Webzines, Metal Clubs etc.)
Sarah: It's quite good, but obviously goes through periods of strength. Right now it's not doing very well because our primary metal club Coalition shut down last year and that was a pretty hard hit. We still have a lot of great venues that host metal, like Monarch Tavern, Bovine Sex Club, the Queen Opera House, and the like. Other than that, the best bands are definitely bands like Exalted Piledriver, Hounskull, Blood Ceremony, Freeways, Possessed Steel, Völur, and many more. In terms of fanzines and webzines…. We don't have too many, sadly!
12. Do you know anything about the Hellenic Metal Scene?
Sarah: It's pretty amazing and seems like it's chock full of maniacs. I'm really excited to play Horns Up and Up the Hammers and Thessaloniki.
13. What are your future plans?
Sarah: More shows, another album…. All in good time!
14. Thank you very much for your time & Keep up the good work! The closure is yours.
Sarah: Thanks so much FILTHY DOGS OF METAL! Stay doomed!
By Steve the Filthy Dog.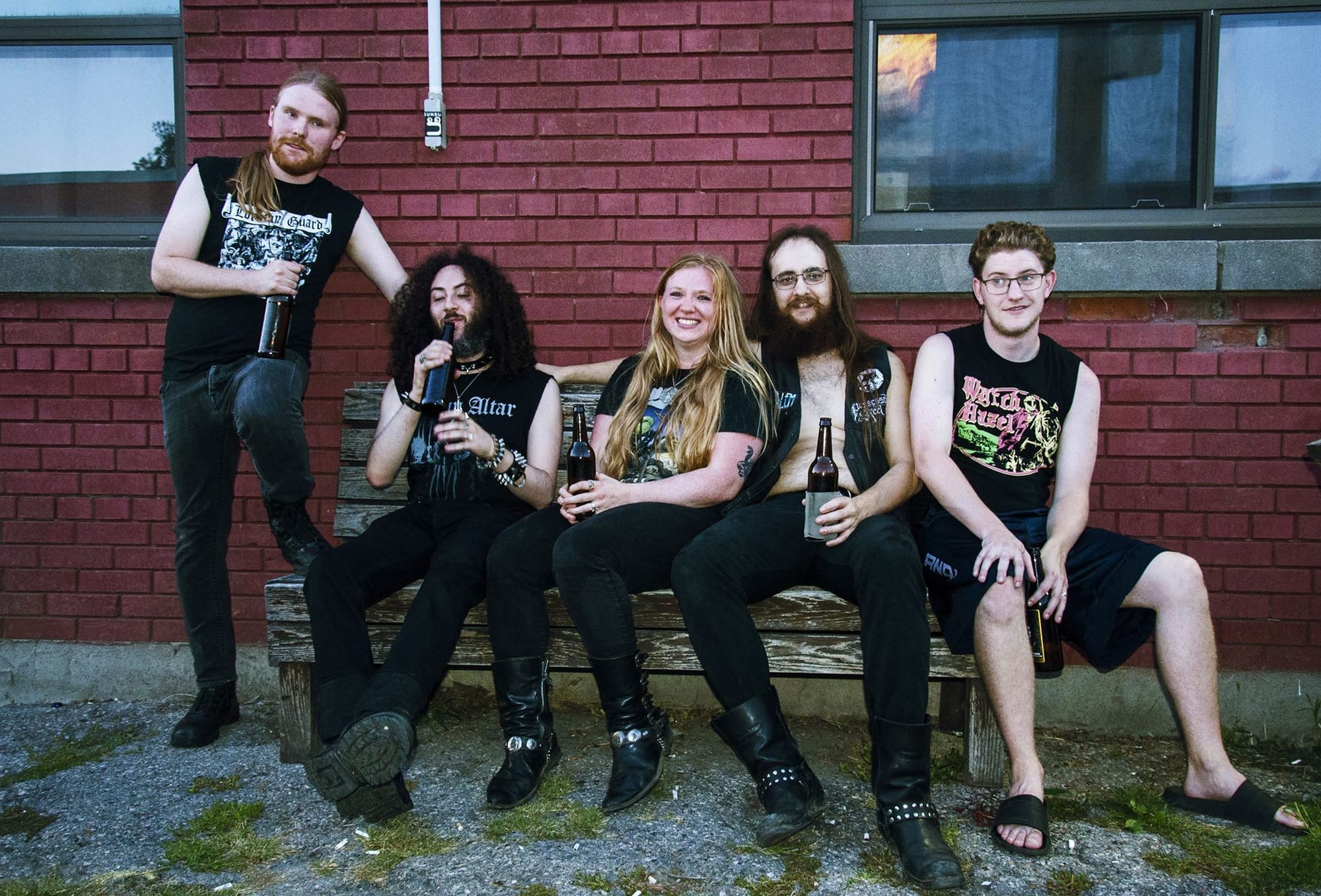 SMOULDER CONTACT:
https://smoulder.bandcamp.com/
https://www.facebook.com/SmoulderDoom/
https://www.instagram.com/smoulder_doom/