!!!SPANISH HEAVY METAL!!!
We had a conversation with Philip Graves (Guitars) . Enjoy!
Welcome to the FILTHY DOGS OF METAL Webzine.
1. Tell us a few things about REDSHARK (Members, Starting Year etc).
Redshark was started in 2012 by Philip Graves (bass/vocals) as "one man band" till Mark Striker (drums) and Javier Bono (guitar) joined the band. After that, we started to play concerts as a three members band. In 2016 we released our first EP "Rain of Destruction" recorded at our rehearsal room, it was not the best work of the band but finally we had to record our first songs. Later, Chris Carrest joined the band as bassist and Philip Graves started to play the guitar to be a four member line up. Currently we decided that Philip Graves leaves the vocals role and recluted our old friend Pau Correas as vocalist.
2. You have recently released your new EP ''Evil Realm''. What is the Feedback from your audience as well as from the Press?
The feedback was very killer! We never thought "Evil Realm" would have had such good reviews. We expected that people would like it but not this much because there are many other good bands and it's very difficult to highlight. Also this great good feedback is thanks to NWOTHM Full Albums Youtube channel, Holspa Metal Youtube channel, many underground webzines or radio shows and the support of many distros and friends, their promotion has been a clue for us.
3. Label or DIY and why?
We prefer label but we didn't want to try to speak with labels because our previous material isn't the better example about our best face of ourselves for getting a label. I think that in order to achieve a good label you need a good presentation of your music and we hadn't got this with "Rain of Destruction (2016)". Now, with "Evil Realm" of course that yes.
4. Do you prefer Vinyl, Tape, CD or Digital Format and why is that?
Sincerely we prefer vinyl format but we can't afford it… For this reason we had to appeal to CD format. Also we like very much the tape because we like two sides format, it was not our idea but luckily the Witchcraft Records label contacted us and they are working to launch tapes.. Anyway currently the format that more reaches people is the digital format but we consider that a finished work doesn't exist till we can touch it with our hands.
5. Your music style is Heavy Speed Metal. Which are your main influences (Favourite Artists / Bands etc.)
Many many many influences… We love a lot of music genres. This EP is very influenced by US Power Metal bands like Metal Church, Savatage, Vicious Rumors, Lääz Rockit… Speed Metal bands like Exciter, Razor, first Helloween, first Running Wild… But each one of us listens so much music. For example I also like Death Metal, Black-Thrash, AOR, Disco, Disco Funk, Southern Rock… Javi is a very fan of 50s Rock'n'Roll, Synthwave, Stoner, Doom…, Pau also likes 90s Punk, Mark likes Modern Metal and Chris likes Black Metal or Sleazy… We aren't closed minds for listening music though we play Speed/Power Metal.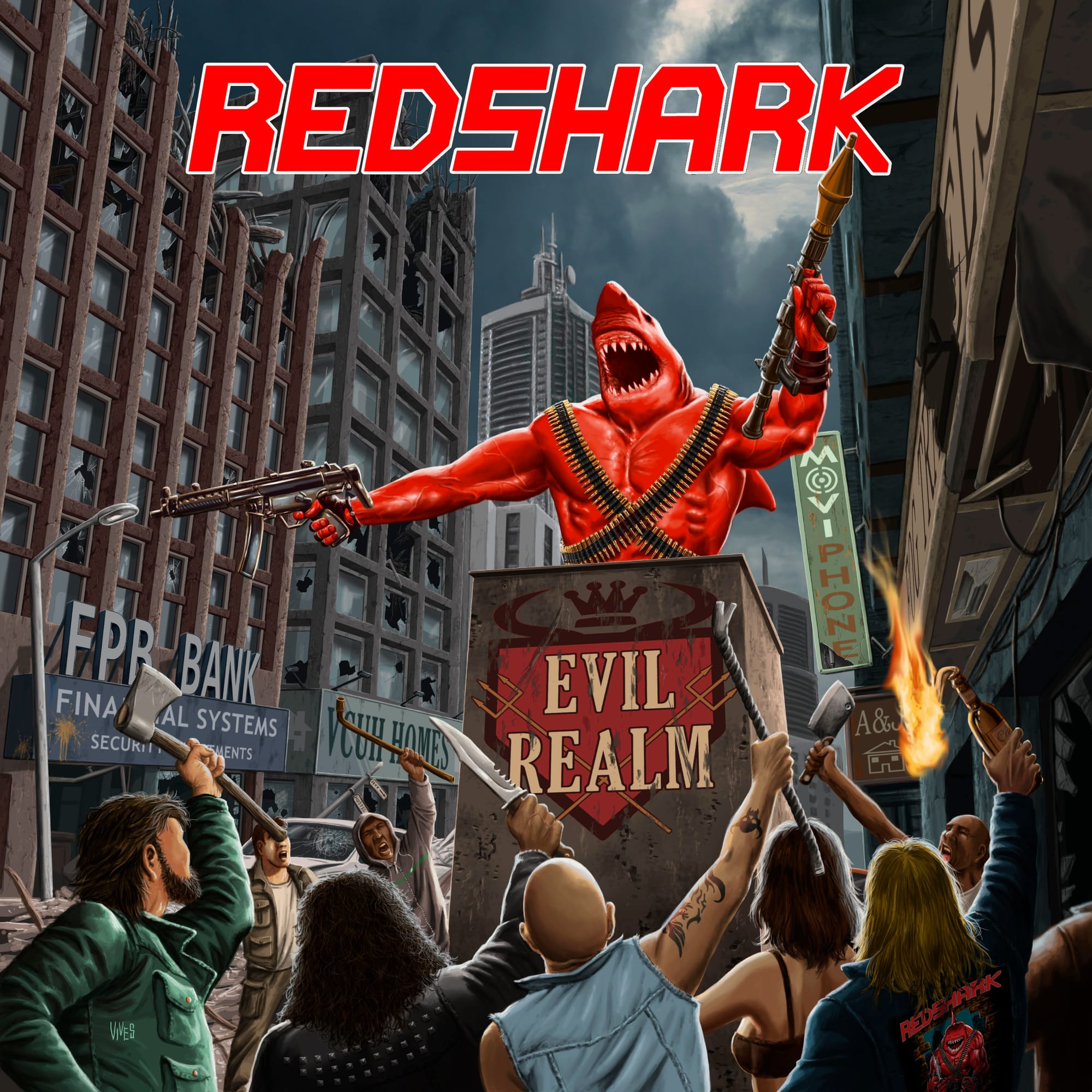 6. Which things, do you think, a Band should sacrifice in order to succeed?
Have you ever sacrificed anything in your life for a better future of your Band?
I think that a band have to sacrifice many free time to rehearsal, compose new songs, record new material, play shows… However I think that if you like playing in a band and your band members are friends this is not a sacrifice. Personally I have sacrificed many time that I would have dedicated to study or work for record new material and I also have rejected work offers because working hours didn't allow me to have time for rehearsal or play concerts. Unfortunately each one of us needs to work for to carry on the band.
7. Describe your ideal live show as a performance Band. Have you already experienced that?
We have been playing live shows since many years and we want to give our best version of us and play the songs with the same energy of records. For us, all shows we do are very important opportunities to demonstrate what we are worth but i prefer to play in front of fifty motivated people than playing in front of thousand static people.
8. Which attributes, do you think, that a new Heavy Metal Band should have in order to gain identity and be unique?
Nowadays it's very difficult to have an own identity, Heavy Metal music exists since fifty years ago, i think that is possible to achieve being unique but it's very difficult. The error that many bands make is to copy the music style of one existing band and i think that they could released more interesting things if they expand their influences and risk more. For example, in Redshark we haven't invented anything new but we try to mix a little bit of each band we are influenced about and try to have our own identity in Heavy Metal.

9. Do you believe that Bandcamp and other Digital Platforms help the new Heavy Metal Bands? Which, do you think, is the ideal way for a Band to promote its work?
Yes and not, the times have changed and we haven't other remedy to adapt to it, it's true that the Digital Platforms helps bands because the people can listen us very easy and thanks to Bandcamp we have had orders of many countries: specially USA, also Germany, France, UK, Italia… But on the other hand the people are more demanding for listen to bands and with platforms like Spotify or Youtube they are also very saturated with so much new bands, new albums and new songs every day. That does that most people wants to listen short songs and very catchy with the better sound production of the world.

10. Tell us a few things about the New Underground Metal Scene in Spain (Bands, Fanzines, Webzines, Metal Clubs etc.)

The underground metal scene in Spain has very good bands of some genres like Witchtower, Iron Curtain, Hitten, Loänshark, Streamer, War Dogs, Frenzy, Street Lethal, Deldrac, Jolly Joker, Ered, Insulters, Redimoni, Death Stalkers… Some Metal Clubs like Metalcova, Pounding Metal, Metal Bats, Mediterranean Metal Maniacs, Heavy Metal Espectros… Awesome fanzines like Gods of Thunder, Gates of Damnation or Slavers are my favourite fanzines and radio shows as Dskalabra2 Metal Radio or Forjando Acero.
11. Do you know anything about the Hellenic Metal Scene?
Yes, I like very much Sacral Rage or Omega for example, and there was a band named Stinger that I also liked very much. Of course, Up the Hammers festival.

12. What are your future plans?
We have two confirmated gigs: March 21st in Zaragoza with Witchtower and Apparition and April 3rd and 4th in Taunus Metal Festival (Oberusel, Germany). Very soon we will announce some more. In the other hand, we are composing new songs for the next work that we hope would be a LP.
13. Thank you very much for your time & Keep up the good work! The closure is yours.
Thanks so much for this interview, we are very grateful for them. The pleasure is mine and all you are invited to listen our music, go to our gigs and we are willing to listen offers for play where we can!
By Steve the Filthy Dog.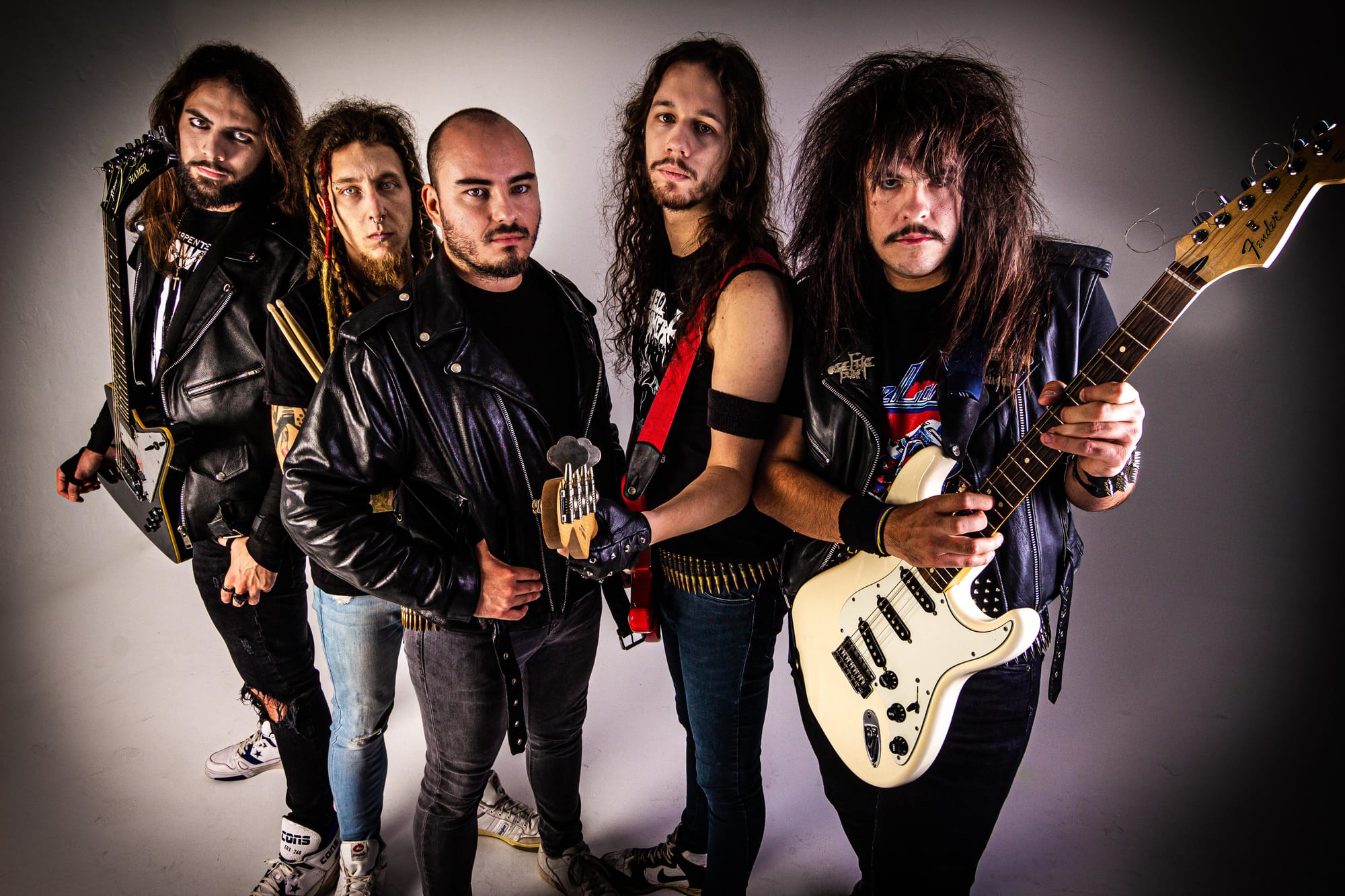 REDSHARK CONTACT:
https://redsharkmetal.bandcamp.com/
https://www.facebook.com/redsharkmetal