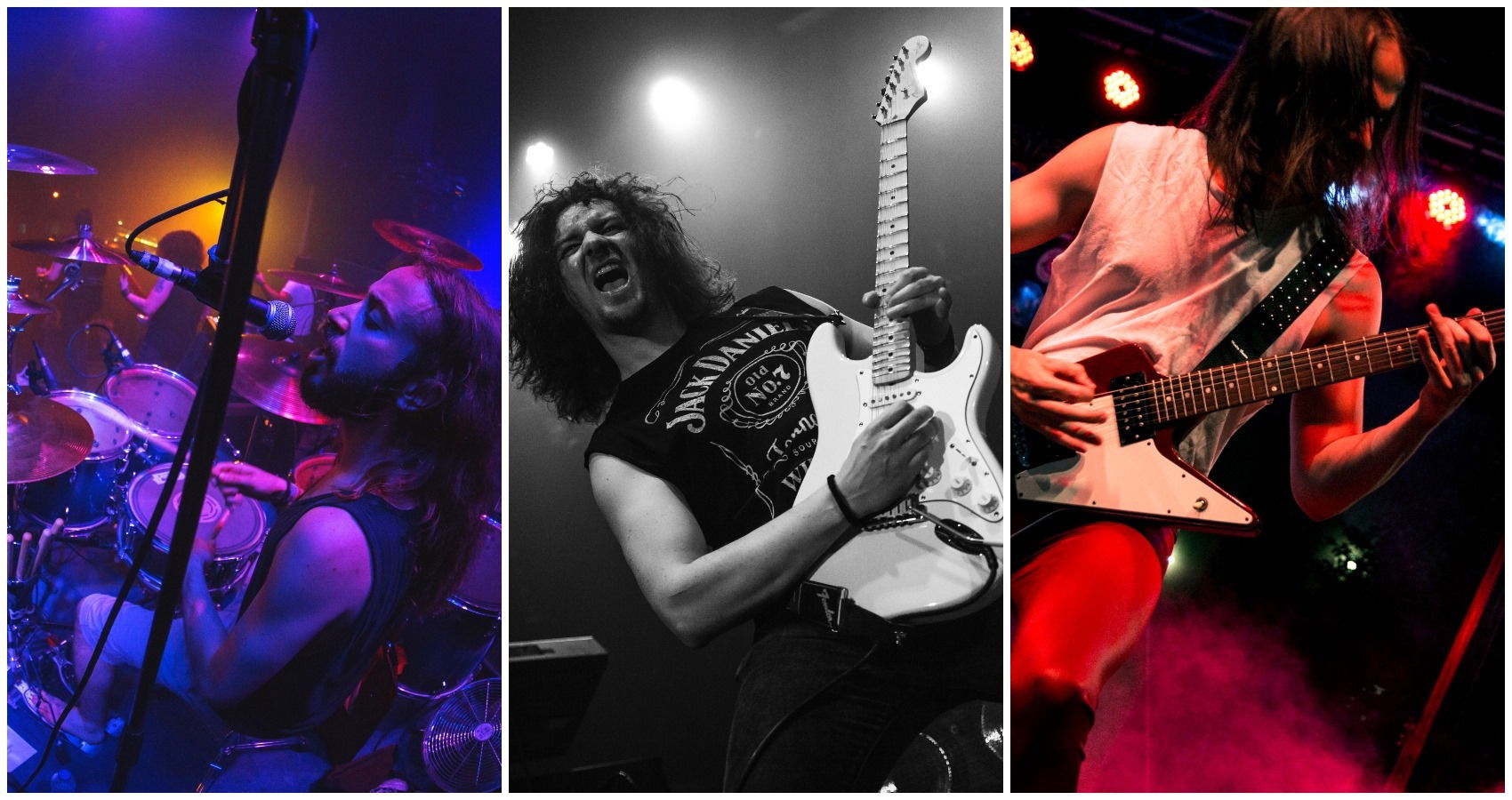 !!!SPANISH HEAVY METAL!!!

We had a conversation with Jaime Susanna (Drums). Enjoy!
Welcome to the FILTHY DOGS OF METAL Webzine.
1. Tell us a few things about RAVE IN FIRE (Members, Starting Year etc).
Rave in Fire was formed in Madrid in late 2015 by Juanjo Negrete, Félix Armadá and me (Jaime Susanna, drummer). Our aim was simple: a heavy metal band. Thereafter, the lineup has suffered many changes. Recently the singer and the bass player are gone. Right now we are Juanjo Negrete and David Insua on the guitars, and me on the drums.
AND! We are starting to work with new members and they are full of surprises. We look forward to introduce them very soon...
2. Your last work was the EP ''Chronicle of a Timeless End''. Have you prepared anything new since then?
Yes, we are working in our first LP and we hope to record it soon. We believe that our new songs have greater complexity and musical maturity. We think the metal community will appreciate them.
3. Label or DIY and why?
The 'Chronicle of a timeless end' EP was self produced, but the label The Fish Factory did the distribution. We don't have any preference in that matter, we only want to do the things our way, with our own sound, methods and style. In the future, if a label wants us, they would have to respect that.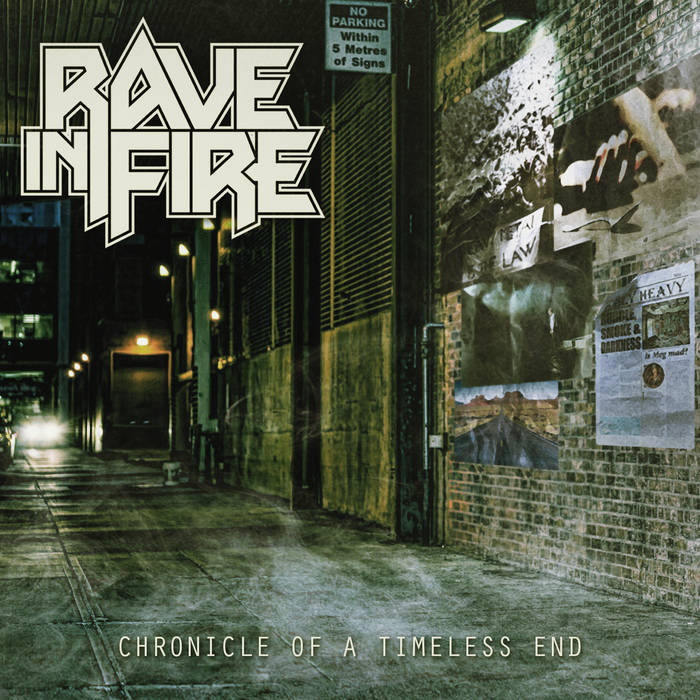 4. Do you prefer Vinyl, Tape, CD or Digital Format and why is that?
Same as before. As a band, we don't have a preference. What we want is that people listen to us, comes to our shows and have a good time with our music. How they listen to Rave in Fire, we don't care much. It's always cool when someone buys a physical album, but we understand that we live the 21st century and the digital platforms are the present and the future of music.

5. Your music style is Heavy Metal. Which are your main influences (Favourite Artists / Bands etc.)
This is a long list hahahaha. We are influenced by the classic heavy metal bands such as Judas Priest, Iron Maiden, Megadeth, Whitesnake, Dio, Black Sabbath… More recent, by the bands of the NWOTHM such as Cauldron, Skull Fist, Enforcer, RAM… We also are fans of other genres like progressive rock, thrash, death, punk and even folk and pop. We are very open minded, though what we do is traditional heavy metal.
6. Which things, do you think, a Band should sacrifice in order to succeed? Have you ever sacrificed anything in your life for a better future of your Band?
This is a complicated question which should be answered by each member. A band needs hard work, specially when it is young. Each musician must think in what he is able to sacrifice for a project. A band is like a girlfriend or a boyfriend, if you're not willing to give up part of your live for love, you don't get to enjoy it. This is the same. As individuals, we have sacrifice many time and money (and some mental health) for this project. Sometimes that effort is rewarded, and sometimes not. We knew that when we started and if we still here is because we love music above anything (except our moms, of course hahahaha).
7. Describe your ideal live show as a performance Band. Have you already experienced that?
What it comes to mind is a circular stage in an open field, so the fan decides which musician he wants to see. That, mixed up with great light, a lot of beer and lots, lots of fire hahahaha. Just an idea. Back to reality, we remember two great gigs. One was in Madrid in the Caracol concert hall with our brothers in arms Siete Almas. And the other one, in the AviRock Festival 2018. Both had great sound, great people and we had a lot of fun.
8. Which attributes, do you think, that a new Heavy Metal Band should have in order to gain identity and be unique?
That's a good question, but I'm afraid we don't have the answer. Heavy metal has more than 50 years and many, many subgenres. It is very difficult to innovate and have your own identity. All in all, what matters is that your music excites, shocks and makes you wanna headbang. That's our only ambition.
9. Do you believe that Bandcamp and other Digital Platforms help the new Heavy Metal Bands? Which, do you think, is the ideal way for a Band to promote its work?
Of course. The internet has opened a lot of possibilities for the bands and we appreciate it. The ideal way… I guess is the one you can reach the fan and he can reach you. Anything that helps with that is perfect.
10. Tell us a few things about the New Underground Metal Scene in Madrid, Spain (Bands, Fanzines, Webzines, Metal Clubs etc.)
Madrid has great metal scene, but in the last years we have lost important bands like Leather Heart or Lizzies (they both took an indefinite pause). But there are bands who still kicking hard like our brothers Siete Almas, Slowburn or Frenzy (they released a great album last year called 'Blind justice'). In other metal genres we can find very cool bands like Rise (thrash), Ignis Anima (epic/power), Tötenwolf (sex, blood and METALPUNK!!)... and many others. In the rest of Spain there are true giants like Angelus Apatrida, Crisix, Mutant, Hitten… To name a few who have overcome the underground scene.
About the media, we have great sites like Hellpress, Mariskal or Rafabasa. Also radio programs like Forjando Acero or Imperio del Metal. They do an amazing work promoting new metal bands and we couldn't be more grateful to all of them.
11. Do you know anything about the Hellenic Metal Scene?
As a drummer, I must say two words: George Kollias. That man is a machine and one of the best drummers in Europe. I also like Suicidal Angels very much, their album 'Bloodbath' is fucking amazing. And, though I'm not a big fan of black metal, Necromantia sounds incredible too.
12. What are your future plans?
We want to release a great heavy metal album. What comes after is a mystery, but we hope it's amazing.
13. Thank you very much for your time & Keep up the good work! The closure is yours.
No, thank you very much for the interview. As I said, thanks to this metal sites we can reach more people from around the world, and that's something amazing. Thanks to all people in Greece that keeps metal alive. We hope someday we can go and play there. We'll be very, very honoured. Best regards from Madrid!
By Steve the Filthy Dog.

RAVE IN FIRE CONTACT:
https://raveinfire.bandcamp.com/releases
https://www.facebook.com/raveinfire/