!!!HORROR HEAVY METAL FROM SPAIN!!!

We had a conversation with Jaime Garcia (Vocals).Enjoy!
Welcome to the FILTHY DOGS OF METAL Webzine.
1. Tell us a few things about PREDICADOR (Members, Starting Year etc).
Predicador (Preacher) was born in 2011 and does so as a Shock Metal band but with Spanish lyrics.What we wanted is to show again a genre that was being forgotten, bringing back, within our possibilities, those live shows of Lizzy Borden, Alice Cooper or King Diamond playing classic heavy metal.Predicador are Alberto Cea (Performancer), Jose A.Rodriguez (Drums), Arturo Alonso (Bass), Victor Torregrosa (Guitar), Jaime Garcia (Vocals).
2. You have recently released your album '' In Tenebris''. What is the feedback from your audience as well as from the press?
We are having great feedback from both the press and fans.We believe that the album is enjoying quite a lot, since people have understood our idea and the message that we want to transmit, highlighting classical heavy metal with live performance, and with dramatized themes, which has always been shock metal.So we are very happy about it!
3. Label or DIY and why?
We have released "In Tenebris" in the same way that we did with "Grave Metallum" our first album, through the Metal Crusaders / Lullaby Records label.We believe that it is a good way to move our work beyond our borders as well and they have always shown great confidence in the work of Predicador and have practically given us complete freedom.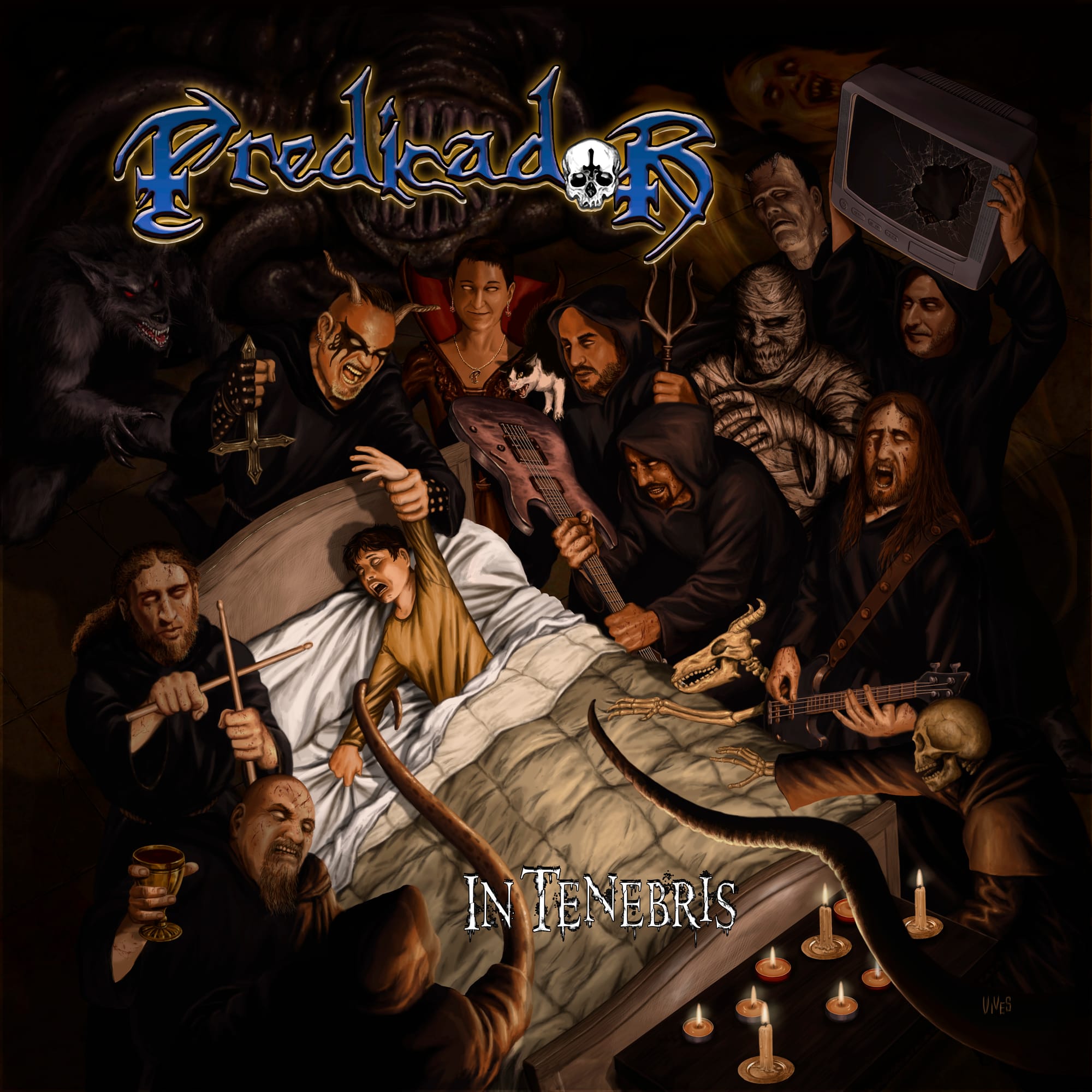 4. Do you prefer Vinyl, Tape, CD or Digital Format and why is that?
Since the first Predicador album we have always worked on CD, although we really like vinyl and we are a generation of having listened to practically all the music of our youth and that marked us, on cassette.We have had a proposal to participate in a split with a song, but we weren't interested at the time ... maybe later if any label has the intention of doing it, maybe we will be encouraged to release "In Tenebris" on vinyl ...ha,ha,ha!!
5. Your music style is Heavy Metal. Which are your main influences (Favourite Artists / Bands etc.)
Each of the five components of Predicador have our own influences, but I think we agree on the idea of what we have heard from all our lives, classic heavy metal, although Jose is absolutely in love with the band Death and thrash metal, like Alberto, and Arturo, Victor and Me (Jaime) are more of classic heavy, speed or power (Maiden, Riot, King Diamond, Pretty Maids and a long list…).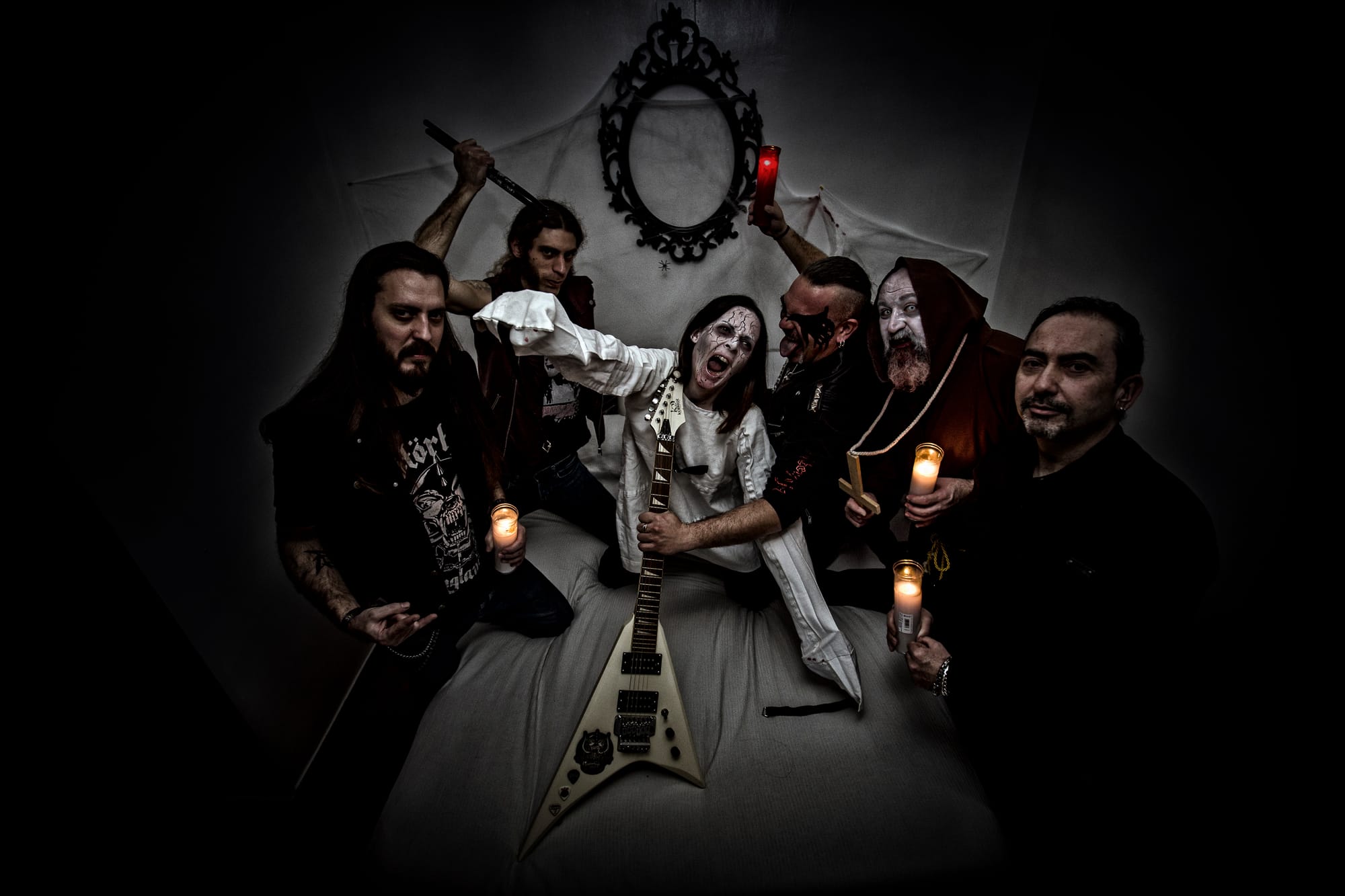 6. Which things, do you think, a Band should sacrifice in order to succeed?
We believe that work is an ingredient that can help achieve success, although we also believe that a very high percentage is luck and having money, perhaps it is somewhat sad, but we think that the world is becoming a wild place and even more so for the type of music that bands like us do, so I don't know to what extent it is worth sacrificing things that matter to you, we believe that we should do what we like and enjoy it and perform well in the present ... let the future come alone ...
Have you ever sacrificed anything in your life for a better future of your Band?
Maybe hours of sleep, so as not to hinder my family life.I have three children and that takes a long time !! ha ha ha ha
7. Describe your ideal live show as a performance Band. Have you already experienced that?
In our current situation ... being able to share the stage with King Diamond, Them, Attic, and the Lizzy Borden of the past ... on a great stage, with great light shows and all the props possible and lots of actors and actresses .. .oh !! that would be great!!
8. Which attributes, do you think, that a new Metal Band should have in order to gain identity and be unique?
Do not get carried away by passing fads and do what you really want and like, I think that people are a little tired of formulas that last very little ...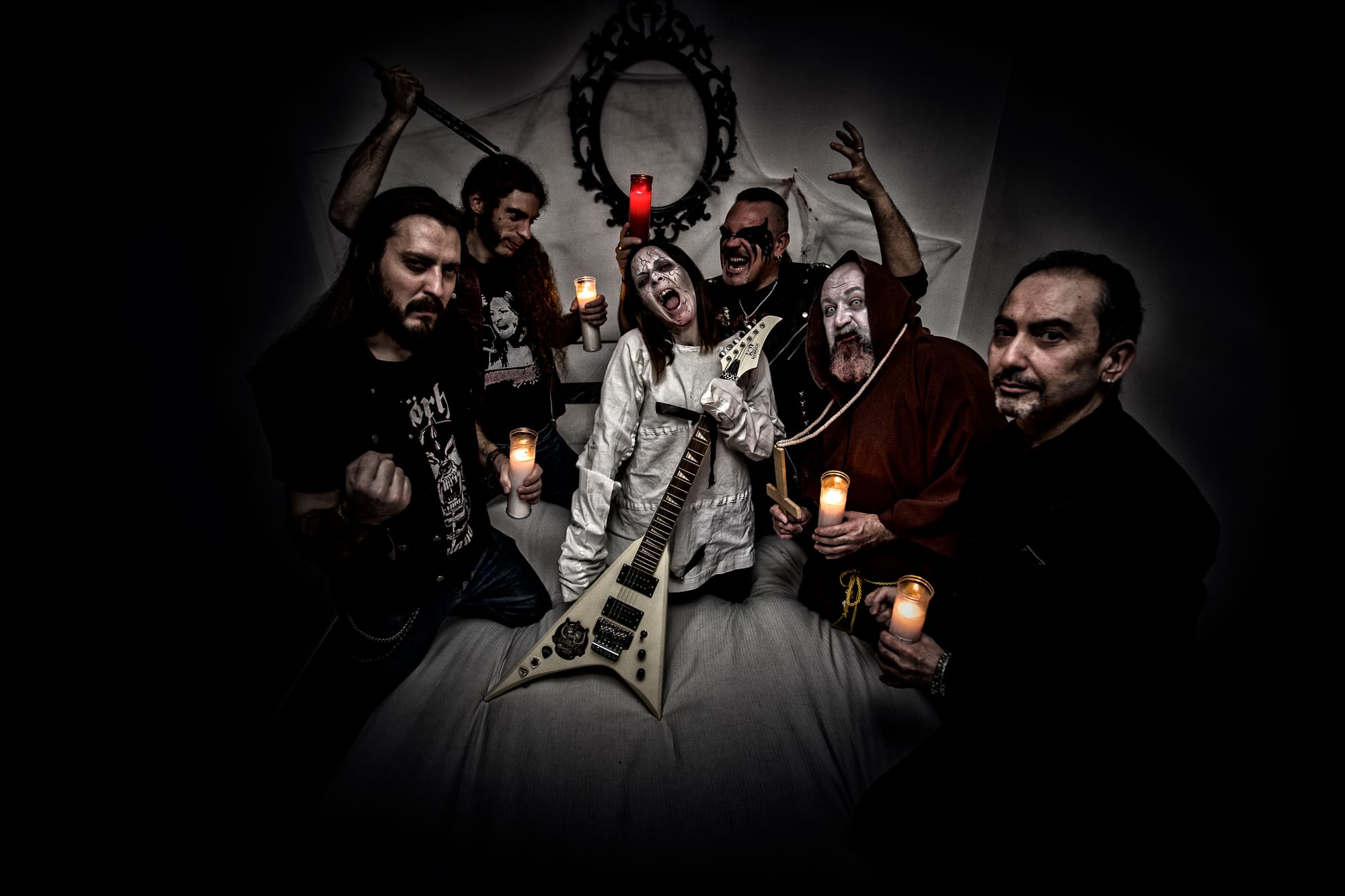 9. Do you believe that Bandcamp and other Digital Platforms help the new Heavy Metal Bands? Which, do you think, is the ideal way for a Band to promote its work?
Honestly, we do not believe that it is the optimal way to do it, moreover, we believe that this type of platform totally depersonalizes music, making it an object to use and throw not, for example, the soundtrack of a life as is the case of our generation, when music was not just sound, it was also a cover, a script, something to touch with your hands, something much more organic than what music now represents.The problem is that these platforms are what there is now and the new generations is the tool they use to listen to music, so if you want your music to be known, you have no choice but to use this "showcase"
10. Tell us a few things about the New Underground Metal Scene in Spain (Bands, Fanzines, Webzines, Metal Clubs etc.)
The truth is that the underground scene in Spain does not stop growing, there are lots of bands and we believe that it is in very good health, perhaps, what is being noticed is that just as there are very good bands, there are also some that do not contribute nothing and they camouflage themselves among the multitude of others that are offering something really good to the scene, but this I think also happens worldwide.In Spain, in terms of written fanzines, that is, on paper, we have Heavy Metal Fire, which also has its web version and that we recommend, as well as Slavers Fanzine, in terms of radio programs, some live and others through podcast, you have Imperio del Metal, in which I collaborate from time to time and is led by Alberto Cea from Predicador and our good friend David Bender, he is also Forjando el Acero radio of Nacho who was the "alma mater" of the association Pounding Metal Union , to which we belonged for a time, Rockzinante, Oscar Sancho program of the spanish group Lujuria,Corsarios del Metal…and the webs, Red Hard And Heavy, todoheavymetal… and there are more programs and webs with an endless list ... from here a greeting to those who left me in the pipeline.
And metal clubs, Metal bats, Metalmeria,Southbangers…and many more. I told you its a healthy scene, with no doubt!!!
11. Do you know anything about the Hellenic Metal Scene?
Well, thanks to these radio programs that I have quoted you, to the clubs, fanzines and websites that I have told you about if we have met some Greek bands that we liked apart from Firewind or Suicidal Angels ...We have also heard a song by Marauder or Ruthless Steel with a girl in front ... but I know little, for what I would really like to know ..
12. What are your future plans?
Make Predicador and "In tenebris" known as much as our modest means are capable and when the pandemic is more controlled and we have more freedom of movement, we would like to be able to share a poster with our heavy metal brothers from all over Europe or Latin America, as well as in our land.
13. Thank you very much for your time & Keep up the good work! The closure is yours
Thank you very much for giving us this opportunity to speak about Predicador to all your Greek fans and for your interest in "In Tenebris". We are proud to be able to share heavy metal with our brothers from the rest of Europe.
Long live, brothers of Filthy Dogs of Metal!!!! and don't forget ... the Preacher loves you ... love the Preacher !!!
By Steve the Filthy Dog.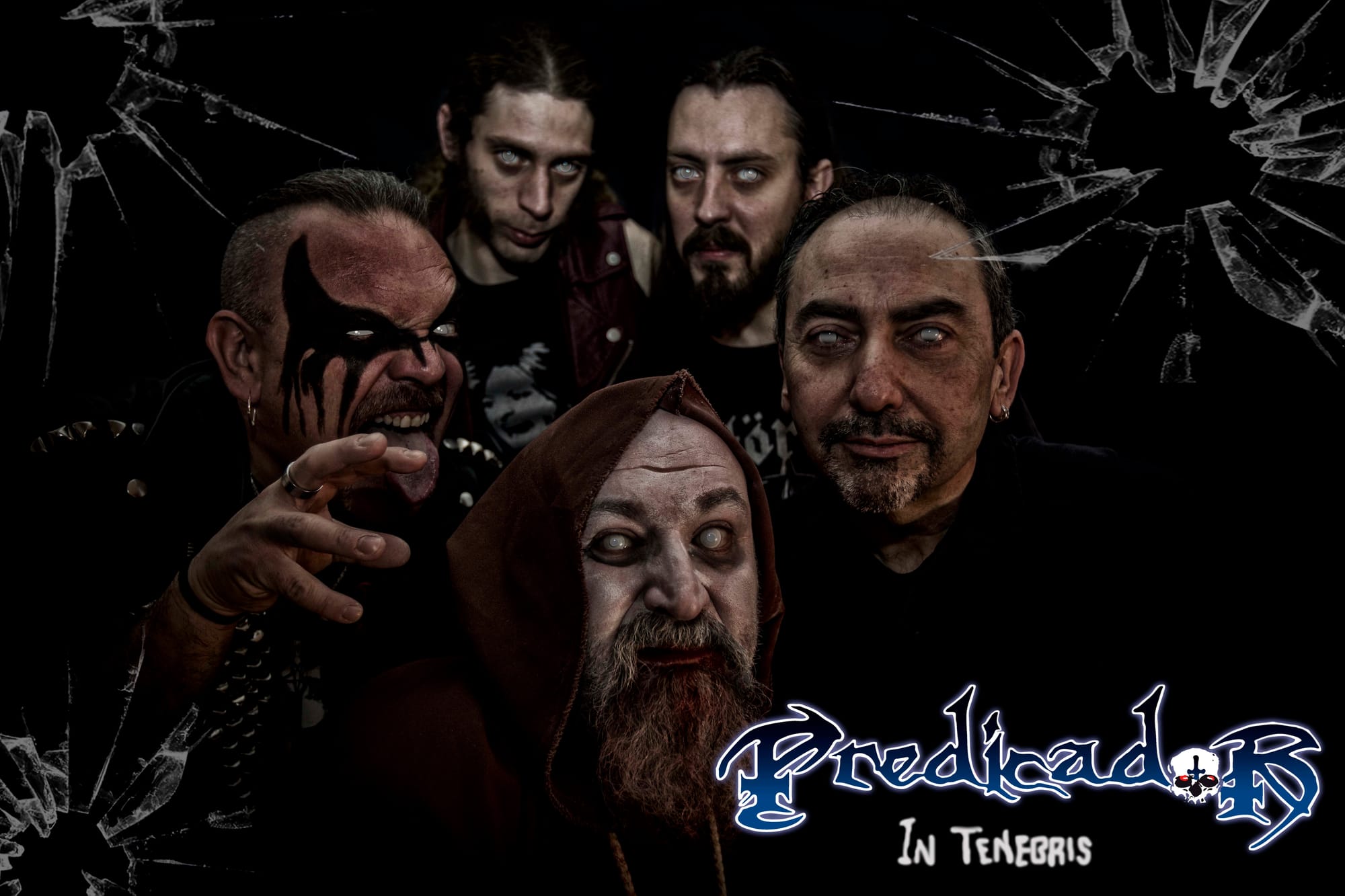 PREDICADOR CONTACT: