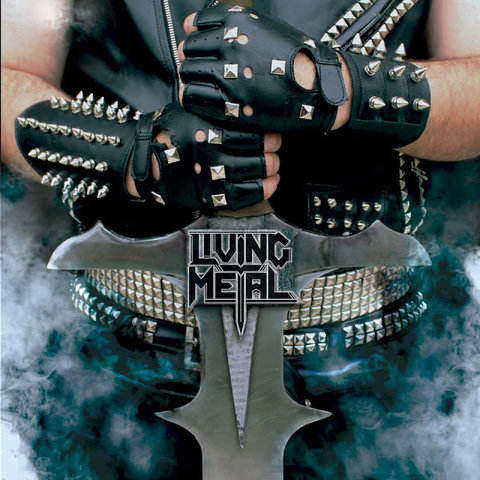 !!!BRAZILIAN TRUE HEAVY METAL!!!
We had a conversation with Pedro Zupo (Vocals).Enjoy!
Welcome to the FILTHY DOGS OF METAL Webzine.
Tell us a few things about LIVING METAL (Members, Starting Year etc).
Hello Guys ! here's Pedro Zupo, Living metal's singer and that' na honor to us to be here talking with you ! we were formed in Brasil on 2018, by Rafael Romanelli, our guitarist, we're Young as band but all of us were for a long time playing in another bands of the brasilian scene. The band should be only a Rafael's project, originally we were Rafael Romanelli on guitars, João Ribeiro on bass , Amilcar Cristopharo from Torture Squad on drums and me on vocals, but we liked so much how we sounded together and Rafael decided to convert the project to a new band, as Amilcar could not play we called our great friend Jean Praelli and also Jonas Soares to the second guitar( a heavy metal band needs twin guitars live !!! hahaha) and here we are now ready to release the first album!
In 2019 you have released your split album ''Living for Torture'' with the TORTURE SQUAD. Have you prepared anything new since then?
For sure ! We released this split with our Brothers from Torture Squad, and also our first EP (on 2018) and the compilation "Hail The World Metal" which have Living metal and another 22 bands from 21 different countries (including a Greek band , our friends from Rhodium).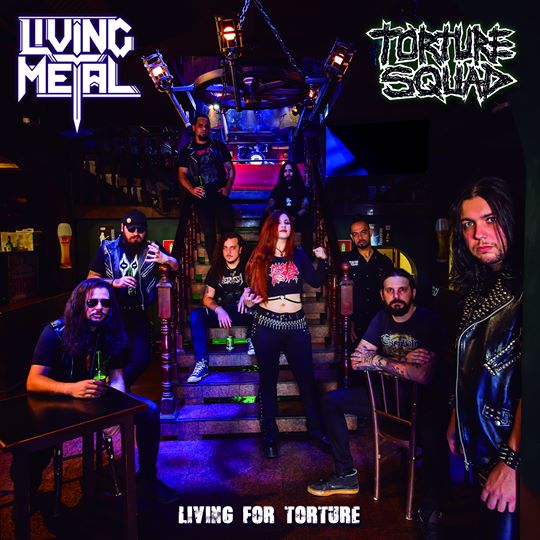 Label or DIY and why?
That depends on ! We prefer a label when the label is not only selling the band's stuffs but is helping the band to reach the headbangers's ears ! We don't like to have a material that our fans cannot have it ! so it's important if the label help us to reach the fans or it will be useless.
Do you prefer Vinyl, Tape, CD or Digital Format and why is that?
Music is created to be listened ! I really enjoy all the formats because each format reach a different kind of metal fan! By myself specially I love LP and CD , I collect them and for me , no matter the quality , nothing will bring me more pleasure than see that disc rotating in a sound system
Your music style is Heavy Metal. Which are your main influences (Favourite Artists / Bands etc.)
We are used to say between us that Heavy metal is everything that sound's like Judas Priest hahahah ! for sure the Priest is a great influence, also Accept , Manowar and iron maiden are great influences to us to ! but we like a lot of not so famous bands , personally I have a big influence from Blitzkrieg and Strana Officina for example.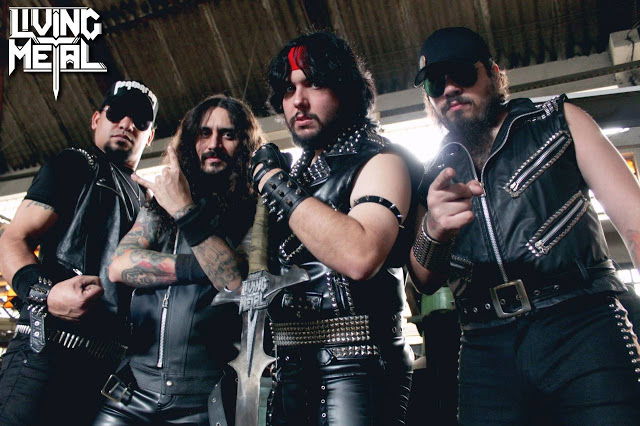 Which things, do you think, a Band should sacrifice in order to succeed?
As AC/DC says , It's a long way to the top if you want Rock n' Roll, we are not only musicians, we are metal fans and we love the music that we play, we are ready to do anything and sacrifice anything to make our music ! We can not only be on our houses waiting the music being built by itself , we must work , work hard ...and when you work hard, you are sacrificing a lot of stuff, specially time with people that you love.
Have you ever sacrificed anything in your life for a better future of your Band?
Yes ! time with our friends and relatives that are not in the band, travels, another work opportunities . but that's our choice , we have chosen the Heavy metal way , and we are happy for this.
Describe your ideal live show as a performance Band. Have you already experienced that?
That's not complicated ! the band must play with all the rage , as we say in Brazil , a band must show " blood in the eyes" , so we just need to play wild and let the crowd crazy ! Metal is that , is simple ... a connection between band and crowd , and we are happy to say that all our shows are made this way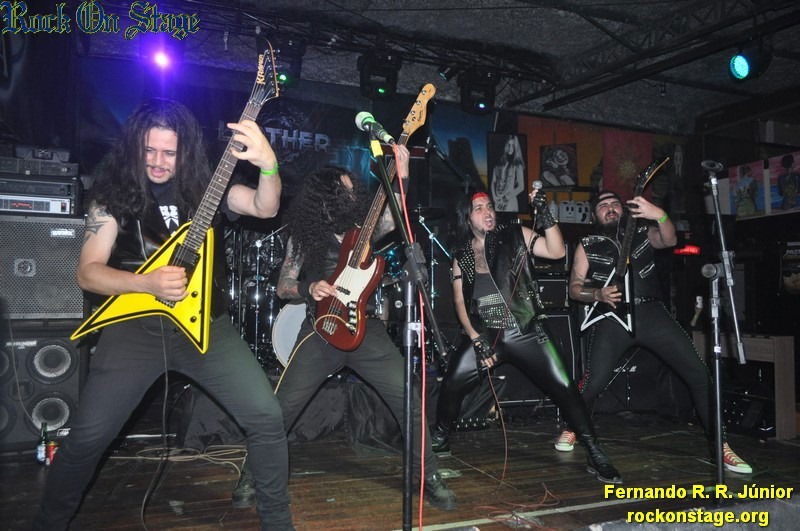 Which attributes, do you think, that a new Heavy Metal Band should have in order to gain identity and be unique?
The band must love the music that will play! if you want to be a heavy metal band you must love heavy metal ! when your heart and your ears are connect to the right place, all the rest will be natural ! just play the music and don't be worried if it's simple ,technical or anything else, play what you love and you will have your identity.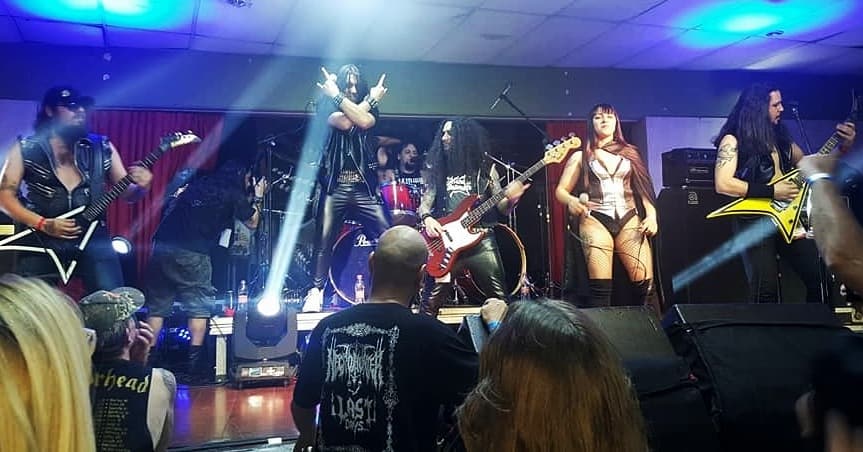 Do you believe that Bandcamp and other Digital Platforms help the new Heavy Metal Bands? Which, do you think, is the ideal way for a Band to promote its work?
Yes ! specially today after the pandemic ! it's too expensive to a fan to buy CD's from a band unknown from another country ! and when the fan have Money he will chose bands that he already know , so it's important to have platforms where the fan can know new bands to have a renovation of the metal scene.
Tell us a few things about the New Underground Metal Scene in Brazil (Bands, Fanzines, Webzines, Metal Clubs etc.)
Brazilians are mad for metal ! We have thousands of bands and they are very commited with the music ! As we are not a rich country it's very difficult to find a band, zine or something that Works only with metal, or survive with it ! Almost all the zines, clubs, bands, labels are from metal fans to metal fans, we have luck on it, the brazilians really love metal !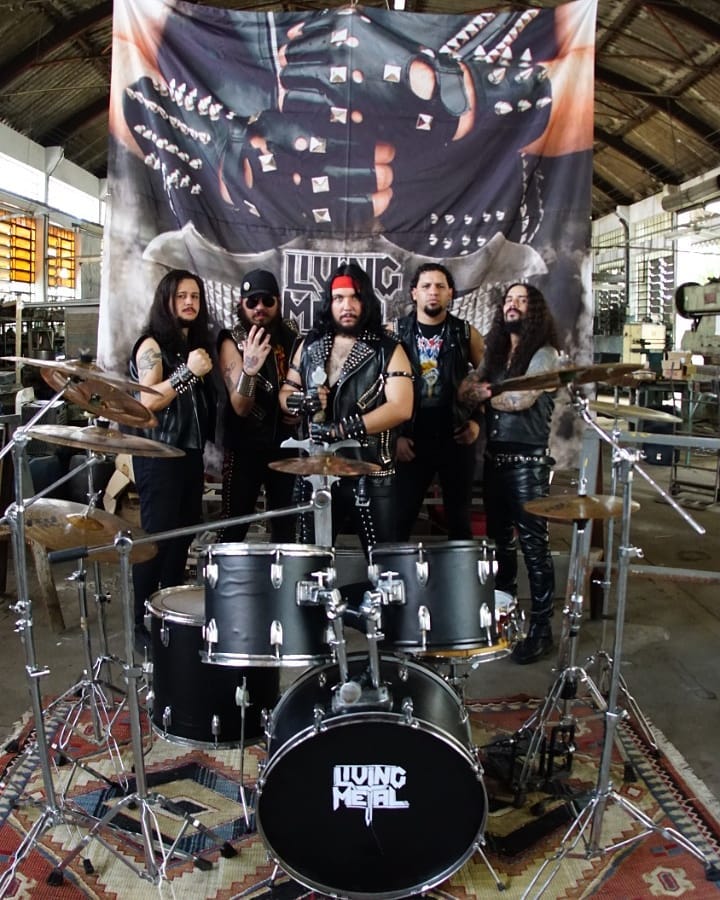 Do you know anything about the Hellenic Metal Scene?
We have some good friends in the Hellenic scene , as we already told we released a compilation with our friends from Rhodium , we also played in a festival with the Greek band Warhammer , and Hercules Giotis (Warhammer's guitar and voice ) is a great friend from us ! Also we have Eleni Nota that is playing with our friends from Nervosa.I like so much the álbum Victory of the band Hercules, and the song "Spectre" from the Greek band Metalmorfosis (band of my friend Nick Banger) is one of my favorites metal songs ever .We'd love to know more Greek bands ! also we'd love work with them and also , maybe play in Greece with them soon!
What are your future plans?
We are now recording our album ! it will be released on 2021 (as the pandemic didn't let us finish it this year) soon we are going to release new songs on our youtube channel and also we are going to have some News to be announced on our instagram and facebook pages (@livingmetal_official). But be ready for it! Our new album is already being recorded and soon will be ready to make some ears bleed hahaha.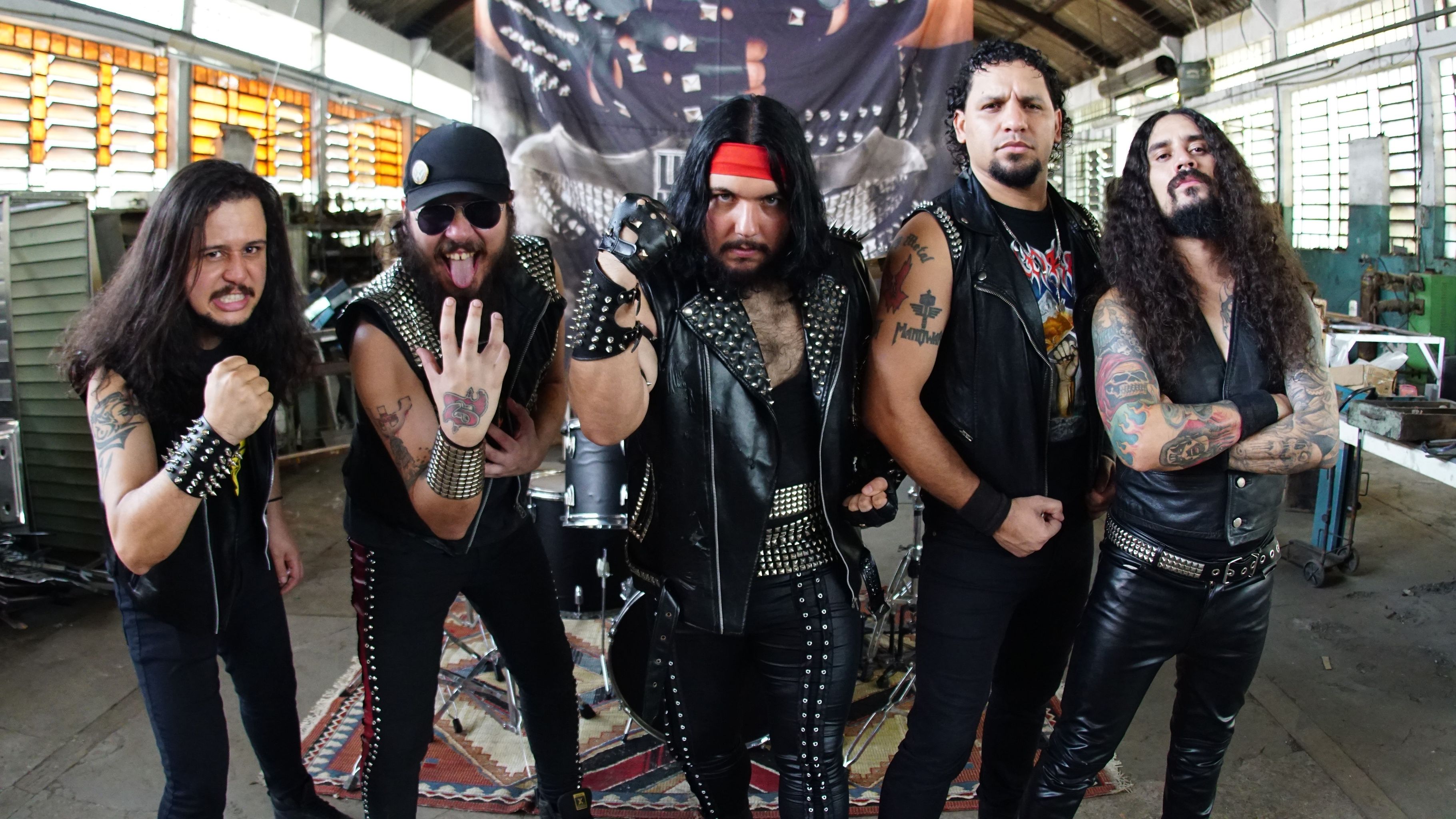 Thank you very much for your time & Keep up the good work! The closure is yours.
I'd like to thank the opportunity to talk about our work and also thank all your kindness ! we hope to be soon in Greece playing for the Greek headbangers! Maybe next year after the album being released ! So stay tuned on our social media! Thanks a lot eharisto!
By Steve the Filthy Dog.
(Many thanks to Nikos Kesidis for recommending me this band.)