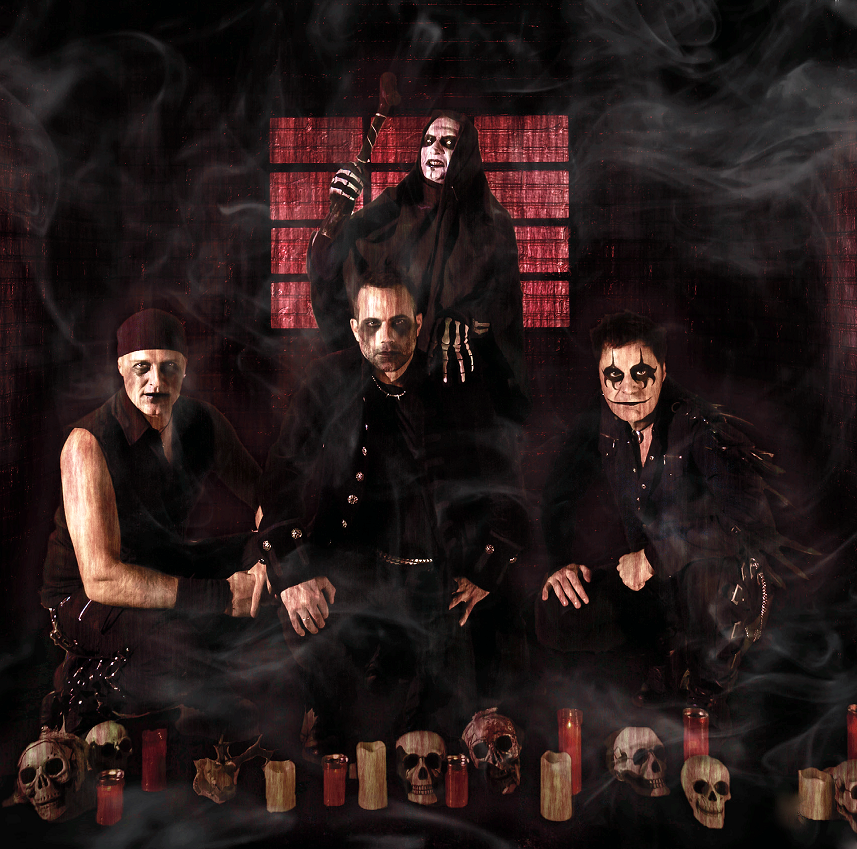 !!!HORROR METAL FROM ITALY!!!
Welcome to the FILTHY DOGS OF METAL Webzine.
Tell us a few things about HELL THEATER (Members, Starting Year etc).
The starting nucleus Hell Theater was formed in 2008 with Victor and Brian, then they find Unh as the drummer and Perenz as the bass player. A year after, the lineup was completed with Bob as guitarist, so we were able to start working on old and new material and record the first EP "Smell of Blood". You can notice that the current lineup of the band is the same of 14 years ago, with the exception of the bass player now covered as guest by our friend Gu.Luh from Norwegian Gorgoroth.The band's name idea came discussing about the band's project: "Hell" expresses the stylistic direction of the band, for image, lyrics and music writing, while "Theater" represents the vision of a horror show, but also in the music itself. We strongly wanted to make something new, to push our own idea of "horror metal".
In 2022 you released your album ''S'Accabadora''. What was the feedback from your audience as well as from the press?
S'Accabadora was released in digital in October 2022 and in physical CD in November 2023, its distribution worldwide is still on the way new. The reaction from the audience was absolutely enthusiastic, in our live shows they look hypnotized our music. Until now all the reviews from magazines are very very good, with an average rating about 80/100, very high and saying that this album is one of the best metal products of the last years. We are very happy and we hope a lot of people will have the opportunity to taste the Hell Theater sound.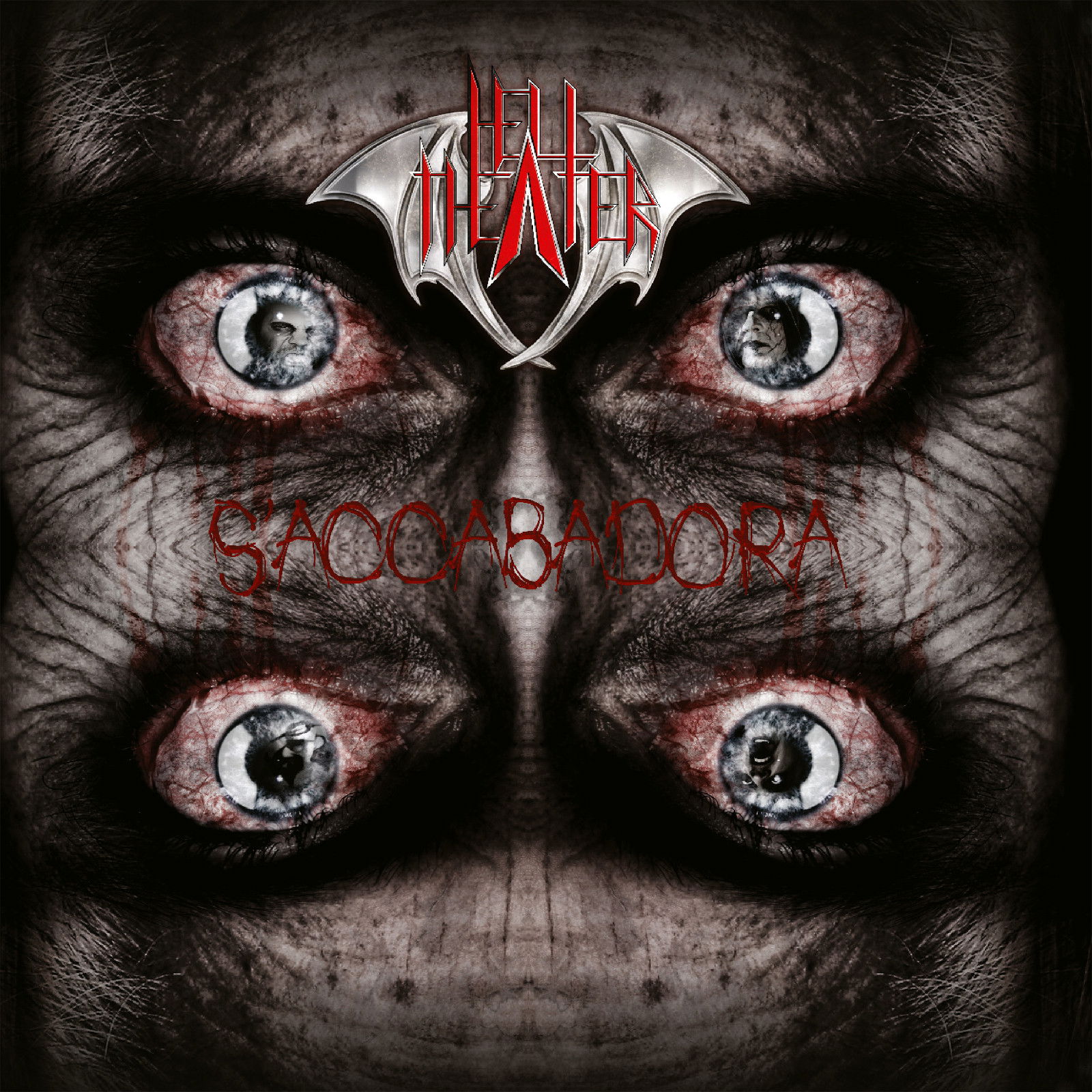 Label or DIY and why?
Both. Similarly to the previous album "Reincarnation of Evil" we have chosen to produce our album by ourselves, with full control of the sound and quality of the product and avoiding that the label put their own standards on us. It's typical to have different bands that sounds the same each other when produced by the same Label… Accordingly to our Label "Worm Hole Death" we gave them the product complete with master and artwork, they were very happy of the result, then they can market it much better than what we can do. The Labels have already all the connections and distribution and marketing channels that we don't have or we don't have the necessary personnel to follow. Maybe it will happen when we will be big as Metallica 😊
Do you prefer Vinyl, Tape, CD or Digital Format and why is that?
Good question that allows also to introduce how we mastered this album. On the two extreme sides we have digital formats that offer a very good 24 bits and 96KHz sampling or more, or even more tracks such as Surround 5.1 or the beautiful Dolby ATMOS… on the other extreme we have compact cassette tapes, that is just a nostalgic operation. All the other media are better, with the only exception or poor-quality MP3s. CD was born "cropped" on high frequencies, and they sound too cold compared with a good vinyl. E.g. I have the needle or my turntable that reaches 48KHz whilst CD reaches at maximum 20KHz with barely 2 samples. SACD tried to correct CD limits, but too late to substitute CDs. There's another literally crazy thing that is happening in the market:Technically CD have 96dB dynamic range, vinyl about 70dB, but all recent CD productions compress the music to its highest limit to make them "sound high" so they lose all the dynamics and violence that CD could offer more that vinyls. On the other hand, vinyls are forced NOT to compress music in the same way otherwise the physical tracks will occupy too much space…So… vinyls have often more dynamics than CD !! That's insane!We tried with S'Accabadora to avoid that crazy compression and do something in the middle.
We are really tired of the latest "plasticky" productions, so perfect, flat, so unnatural, boring and nearly unlistenable. We decided to go totally counter current, focusing to produce an album made to last, using all modern digital technologies too, but maintaining a natural aggressive sound. The watchwords are "music played by musicians", realistic sound, humanity. Digital must serve the music and not the contrary. Obviously, it's not the easiest and cheapest way…Everything recorded was performed by the respective band members, nothing was built on the computer. No easy copy-paste, no easy automatisms to fix the rhythm base, align rhythm instruments and massively auto-tune notes, no "easy" guitar amp/rack simulation plug-ins. The well-known "Melodyne" tuning for vocals has been used for probably 5 seconds in the entire album, who can say it in the all last 10 years records?
Your music style is Heavy/Thrash Metal. Which are your main influences (Favourite Artists / Bands etc.)
We are big fans and "omnivores" of good music. Surely, we grew up with bread and Heavy Metal, declined in its many facets: from the 70s rock of Uriah Heep to the black metal of Marduk, from the contemporary Borknagar to Ghost, but we do not disdain other musical genres, from the German Cosmic Couriers current to folk by Loreena McKennitt, just to name a few.
Which things do you think a Band should sacrifice in order to succeed? Have you ever sacrificed anything in your life for a better future for your Band?
Hard work. We want success, nearly everybody does, and it's a very difficult goal to reach. But we have chosen not to sacrifice our art to appeal to a wider audience. We'd rather live and die trying to produce something new in this stagnant metal scene. We hope that many more people understand this and reward us. That's our sacrifice for them.
Describe your ideal live show as a performance Band. Have you already experienced that?
Not yet. Our shows are currently very energetic and convolving, due mainly to our music and presence. But on the stage scenery and design we are far distant to get what we would like to offer to our audience. We can't describe our ideas, but hope to get it soon!
Which attributes, do you think, that a new Heavy/Thrash Metal Band should have in order to gain identity and be unique?
It's a good thing to learn playing each instrument playing other's songs, but when you switch from performance to creation every musician must always try to dare to do something new without copying what others already did. It's obvious that influences from other bands could have shaped in the time our models and taste, but it's important to always try to do something new.
Do you believe that Digital Platforms help the new Heavy/Thrash Metal Bands? Which, do you think, is the ideal way for a Band to promote its work?
When we released "Reincarnation of Evil", from two Russian websites they counted over 30.000 (illegal) album downloads of it in the first two weeks… they earned 1.5$ for each download, about 45.000€. Sales complete with the scan of the 36 pages booklet. We didn't see a cent from them. On the other side we had big difficulties to find funds to produce this second Album. Did digital help us? No. It's true that Digital Platforms makes very easy for everybody to "potentially" reach all people in the world, and it's a must now. But all the bands mast be aware that's not enough: it requires a lot of marketing energies to emerge from the crowd, that's why a good label can help a lot. In addition, our albums are concept albums, that express all their meaning by hearing songs in their album sequence. Unfortunately this is not the typical way that people hear music from shuffled and casual digital platforms.
Tell us a few things about the New Underground Metal Scene in Italy (Bands, Fanzines, Webzines, Metal Clubs etc.)
Italy has a very poor scene for metal and the more for underground metal. There are good bands, but they face a lot of difficulties to emerge. It's a "job" that doesn't pay and require a very strong will to survive in Italy. We put all our hopes directly in foreign countries in Europe and outside, and in fact the best gigs we performed were outside Italy.
Do you know anything about the Hellenic Metal Scene?
We know that Greece has a good active metal scene, that's why we are willing to perform in Greece as soon as we can!
The last 2 years worldwide we have faced many dark, strange & new situations with our everyday life (covid, lock-down etc.) Did all of this affect you positively or negatively?
Negatively. We might say that "S'ACCABADORA" is a cursed album… We cannot list all the countless misfortunes continuously happened before its release. Within the last of them COVID pandemic stopped us while we were just entering studio recording sessions already planned. Not only, the pandemic also caused the closure of our rehearsal studio and we were unable to find a good replacement! It was really hard for us. In the meantime, our fans were constantly urging us not to give up. Dodging all the problems among all pandemic limitations we were able to end all recordings and start mixing sessions in late 2020. In the meantime, our Mexican label suddenly disappeared (because of COVID?) we still don't know now what happened to its owner! Another hit from our curse. So we needed to find rapidly a label, fortunately WormHoleDeath records was already interested in our product so we have easily found an agreement and started a new co-operation. This comes with a cost… instead of a Digipack A5 we needed to review all the artwork in a simpler Jewel box and less material for the booklet and for our fans.
What are your future plans?
We are planning to perform live, our "preferred dimension" … mainly outside Italy. We need to promote our music and find new people that like our way to make music, it's our oxygen to survive. In the meantime we are composing a new outstanding album which, as always, will adapt to the suggestions and atmospheres of a new story to tell. Anticipation, suspense and twists will not be lacking, as the Hell Theater brand commands
Thank you very much for your time & Keep up the good work! The closure is yours.
Thanks FILTHY DOGS OF METAL and all Hellenic fans, present and future!! Be curious, discover the underground (not only for pleasure, but also for duty) if we want a non-homologated, free and original music scene to exist, as the great rock bands taught us. Every metalhead has a duty to support the underground by buying music to prevent its demise. Stay Hellish !!
By Steve the Filthy Dog.
PS. Many thanks to Carla (http://www.wormholedeath.com/) for this interview (Cheers!)
HELL THEATER CONTACT:
https://www.facebook.com/helltheater
https://www.instagram.com/helltheater/
https://open.spotify.com/artist/29aEfB7CwIt8kWicYevHWq
https://music.apple.com/cr/artist/hell-theater/1553705272
https://www.deezer.com/es/artist/127240802?autoplay=true&deferredFl=1&utm_campaign=artist&utm_source=google&utm_medium=organic