!!!HELLENIC STEEL!!
Welcome to the FILTHY DOGS OF METAL Webzine.
Tell us a few things about HATEFLAMES (Members, Starting Year etc).
The "Hateflames Story" started in June of 2016 when a couple of friends from Athens, Greece, Mike Dervos (on Guitars) and Haris Zourgras (On The Drums) felt the strong desire to express their common Passion for Classic Heavy Metal and Power/ Thrash Metal .In September of 2016 the band was searching for Band Members with The final additions of Panos Paraskevas (Also Active In Axeon As Guitarist) and Giorgos Gritsis (Bass). The Line up of the band was completed in October after some Vocalist auditions Implemented with the addition of Vag Papaiakos (ex- Airged L'amh Doomsday Outbust,Legion (DE)) fulfilling the Vocal Duties. The outcome was the composition of original material in Mike's home studio and the formation of a new band under the name of "HATEFLAMES".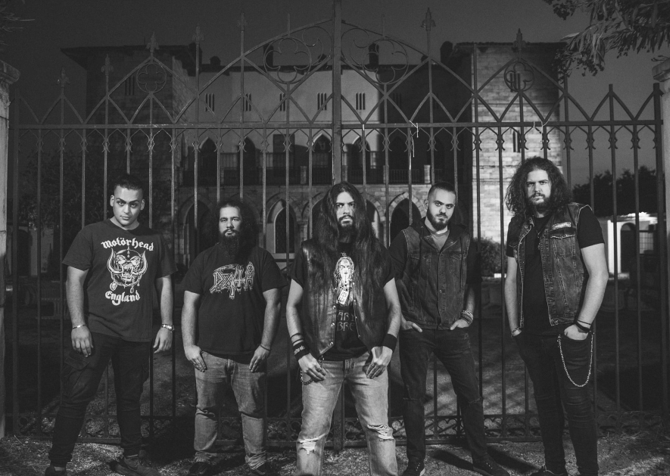 In 2019 you have released your album ''Tomorrow Erased''. What was the Feedback from your audience as well as from the Press?
The feedback for "Tomorrow Erased" has mostly been positive from the global heavy metal community as well as the Greek one, of course there are always some more judgmental comments which we have taken into account and we are working on improving for our next album with full knowledge that we cannot please everyone, but in the end, that is not what we aim for, but to make music that we and people that listen to our genre will enjoy.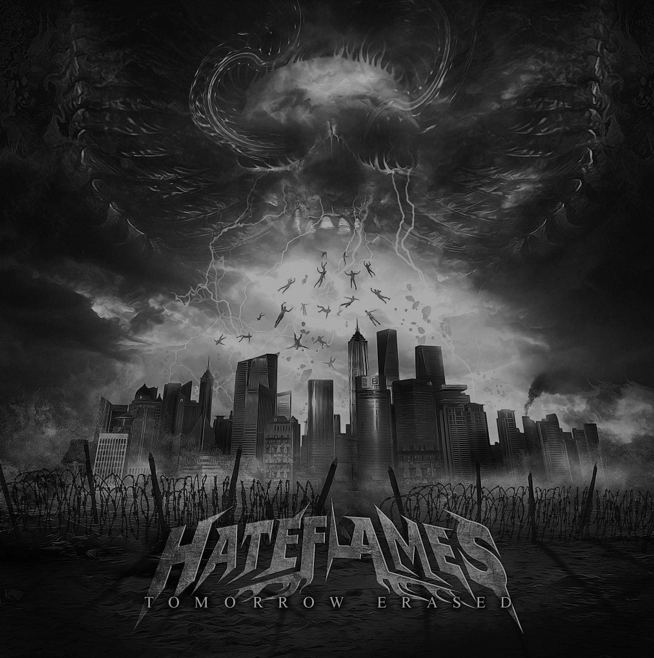 Label or DIY and why?
Well, that depends on the contract, a label would be the better choice in our opinion as long as the contract is suitable. In our case we couldn't land a deal that fit our needs and so we decided to go DIY for our first album and some pluses are the learning of "know how" the music industry works in someways (Pressing, Promotion Distribution) additionally the total overall control of our Release.Though in the future we do hope to go on with a label.
Do you prefer Vinyl, Tape, CD or Digital Format and why is that?
Well, Format is something that comes round and round within the years.The Vinyl back in the 70's-80s was the common physical form of music along with tape in the 90s did came the CD form and during 00's came out the digital form. Nowadays you have the strong return to Vinyl Records. So Vinyl/CD its the format that we do prefer as a band cause its something that can show the work of the band in its entirety (Artwork, lyrical stuff sound in all stereo systems in detail). The end of an era and the start of a new one. Digital format on the other side its preferable for promotional views.
Your music style is Heavy Metal. Which are your main influences (Favourite Artists / Bands etc.)
Mostly oldschool shit. Bands from both the NWOBHM/Classic Heavy Metal and the USPM/Thrash metal scene like Black Sabbath, Judas Priest, Maiden, Saxon, Grim Reaper, Metallica, Anthrax, Iced Earth, Riot, Sanctuary, Crimson Glory, Fates Warning and Helstar just to name a few. That list could go on forever...
Which things, do you think, a Band should sacrifice in order to succeed? Have you ever sacrificed anything in your life for a better future of your Band?
Money. Fortunately or unfortunately the music industry currently requires the musicians to have a relatively high budget and a lot of times you don't know if what you pay for is what you get. Time is also extremely important.
Describe your ideal live show as a performance Band. Have you already experienced that?
Well, describing the perfect show feels complicated, it's more of the way you feel when you're on the stage, looking at the people headbanging to your rhythm and enjoying the songs you've spend all this time working on which in turn makes you enjoy performing on stage that much more! The whole band being fully on sync and even if someone makes a mistake, you can just laugh it off later...In short, yes, we've had several perfect live performances, but we could have even better ones in the future!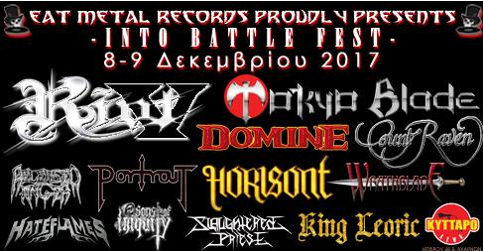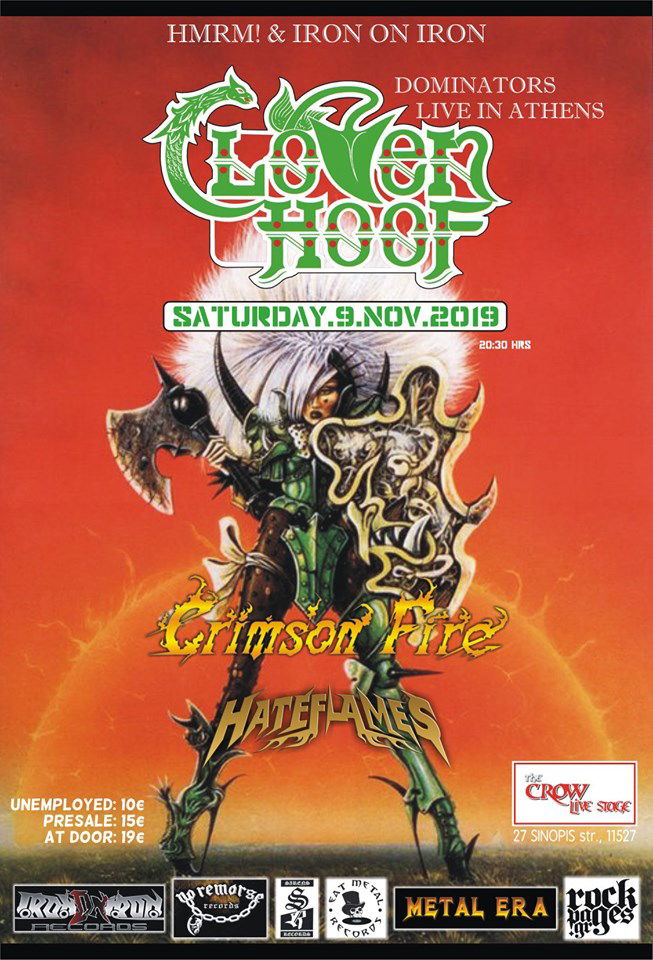 Which attributes, do you think, that a new Heavy Metal Band should have in order to gain identity and be unique?
There is no secret formula to gain an identity. Just listen to the bands you love and play with your heart.
Do you believe that Bandcamp and other Digital Platforms help the new Heavy Metal Bands? Which, do you think, is the ideal way for a Band to promote its work?
Bandcamp is a great platform, you can discover a lot of new music through it. It is an extremely good way of promoting and exposing your work. As for the promotion of a band, Internet is a miracle. From streaming platforms to YouTube, pretty much everyone can find your music nowadays.
Tell us a few things about the New Underground Metal Scene in Greece (Bands, Fanzines, Webzines, Metal Clubs etc.)
Greek Metal scene has a variation of bands in every single type of Metal Movement and better productions overall comparing to heavy metal Music in 80's-90's. Bands such as Paladine, Darklon, Whitetower, Typhus, Menace, Sacral Rage, Exarsis, Serpent-Lord, Solid Faith, Need, Horizons End, Disharmony, Alphastate are a good reference for that. But on the other hand, the communication from bands to bands neither webzines or fans to heavy metal bands lacks of unity.Especially during the times of Covid-19 this should be a lesson for our future selves, to treat each other better from the fans to webzines into bands and the local support must be a strong point of reference for the bands in order to survive in the future.
What are your future plans?
For the time on, we are working on composing material for our sophomore album and partially we are on pre-production stages. Currently There's a Single available for streaming from Our Second step called "Metal Asylum".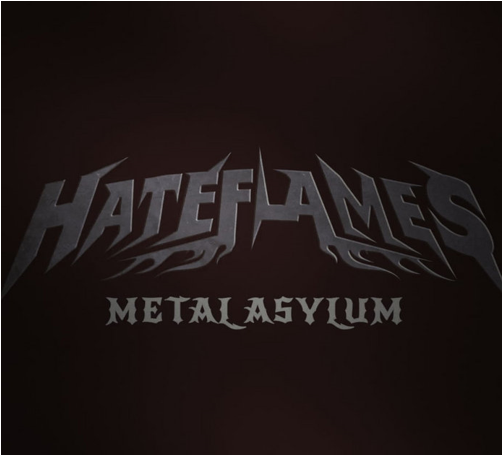 Thank you very much for your time & Keep up the good work! The closure is yours.
Thank you for having us! Listen to heavy metal, drink beers and keep the spirit alive! See y'all soon!
Hateflames Online:
Band Contact: hateflamesbandmetal@gmail.com
OfficialFacebookPage:https://www.facebook.com/Hateflames-594137720787315/
OfficialBandcampStore:https://hateflames-official.bandcamp.com/releases
OfficialYouTubeChannel:https://www.youtube.com/channel/UCfTg5oJXV2nEA_BerJOyPEg
Official Instagram: https://www.instagram.com/hateflamesband
By Steve the Filthy Dog.