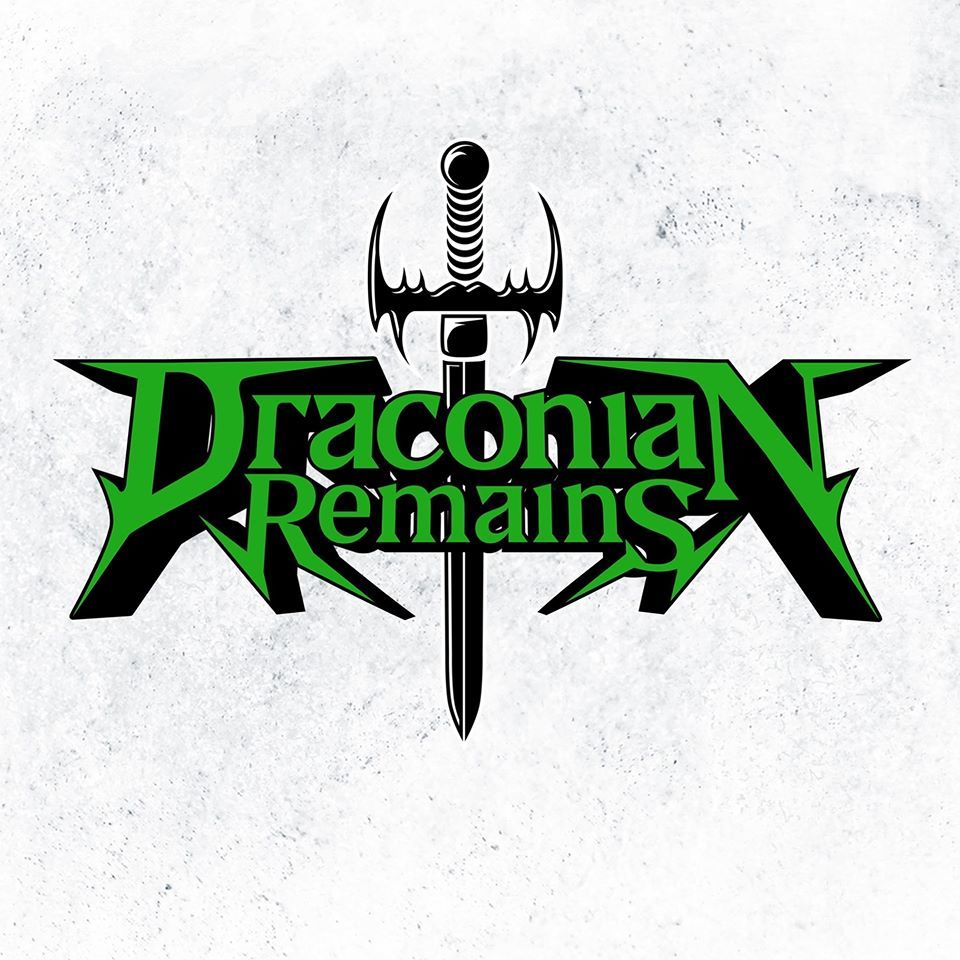 !!!HEAVY METAL FROM GERMANY!!!
We had a conversation with Davin (Guitars).Enjoy!
Welcome to the FILTHY DOGS OF METAL Webzine.
1. Tell us a few things about DRACONIAN REMAINS (Members, Starting Year etc).
We were founded in 2012. Davin was looking for a new main project for his band Endlevel. Endlevel just didn't run into the planned genre for him, so he founded Draconian Remains in 2012 and was looking for new members. He quickly found the "welcome" brother Marcel and Robin. A couple of weeks later the two brought Alex to the rehearsal with Jones, drummer's final level, the line up was complete. Rehearsals and appearances followed. And countless changes of crew. Since 2017 we have been a permanent unit and pretty much the best friends you can have. We are a crazy group.
2. You have recently released your album ''The First Crusade''. What is the feedback from your audience as well as from the press?
The feedback is quite good. We know it is not a HIGH END album, there is still a lot of room for improvement. But so far we have been told at many concerts that we were the highlight. We're really glad. Our friends also say we have made great progress. In our home town of Balingen, we were able to develop a loyal fan crowd. We are proud of our album and will continue to make music. The first few songs for our next album are already finished. Furthermore there will be a lyric video soon. The press is divided. We have already heard and read a lot. Super cover, stale cover, great sound, bad sound. We dont care. We like the part and many others. Clearly there is room for improvement. We will work on it ;-) but we will NEVER always be able to satisfy everyone.
3. Label or DIY and why?
We have no label because we are not ready yet. Second, have no money for it. With a reasonably reasonable music management you can go even further. So our previous opinion. We want a label which band doesn't want that? But we want a label that takes us further and really wants us. Each band can have a label. It's just a question of money. We do not have that. Studios are not free of charge. We want a label that says "yes with our marketing it could be something" We want to be able to live from music. And I think you should always cede your baby as little as possible. Always do everything yourself. It would be more important to have a good booker. Finding appearances is one of the hardest dionge ever. Therefore D.I.Y
4. Do you prefer Vinyl, Tape, CD or Digital Format and why is that?
We prefer the CD's above all the jewel cases. And that's because you can still hold something in your hand. Something that is real. And sometimes there are still interesting things in the booklet.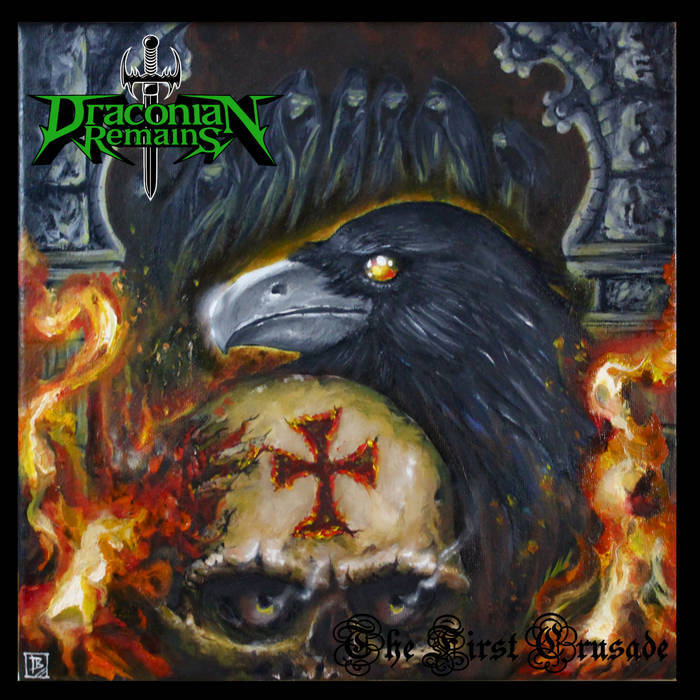 5. Your music style is Heavy Metal. Which are your main influences (Favourite Artists / Bands etc.)
Judas Priest, Accept, Iron Maiden, Saxon, Hammerfall and finally Primal Fear
6. Which things, do you think, a Band should sacrifice in order to succeed?
As hard as it sounds. EVERYTHING! It takes a lot of time to bring everything under one roof. Since the "private" life has to put back a little. Rehearsals, performances, studio sessions. It is never easy to find the balance between friends, family and band. We have a common goal! And that doesn't just fly towards it. This is a goal that you can't just wait and see. For this goal it is necessary to make sacrifices. I don't know exactly where I got the saying from, but I read once "Blood, sweat and tears are necessary to give the music a true soul". And we ARE True
7. Have you ever sacrificed anything in your life for a better future of your Band?
Yes, and the most precious thing that humans can sacrifice. TIME! We don't have unlimited time. At some point, cell division in the body is no longer possible and you die. I have already sacrificed a LOT of time for booking, offers for merch, design, interviews, label discussions, further procedures, songwriting from the practice lessons to be able to play my instrument as I can now, we don't even start. Yes. I sacrifice time. Because my goal is important to me. I've been sitting there for an hour now for the interview even though my construction site needs me. I'm building a house. Set priorities. I do!
8. Describe your ideal live show as a performance Band. Have you already experienced that?
We had easy shows. We had difficult shows. There is no such thing as good or bad Every gig is good! If everything runs smoothly we arrive, build up, sound check, eating, practicing, song hosting, show, party is all easy. Sometimes there are more difficult shows. Where time is getting tight because you are stuck in traffic again, there is a family crisis at home, the technology fails, something breaks, there is no more light in the hall or it just flickers. We are happy who we have shows. We play EVERYTHING and EVERYWHERE on birthdays if you ask. We are happy who we are on stage. That is our life. We belong there.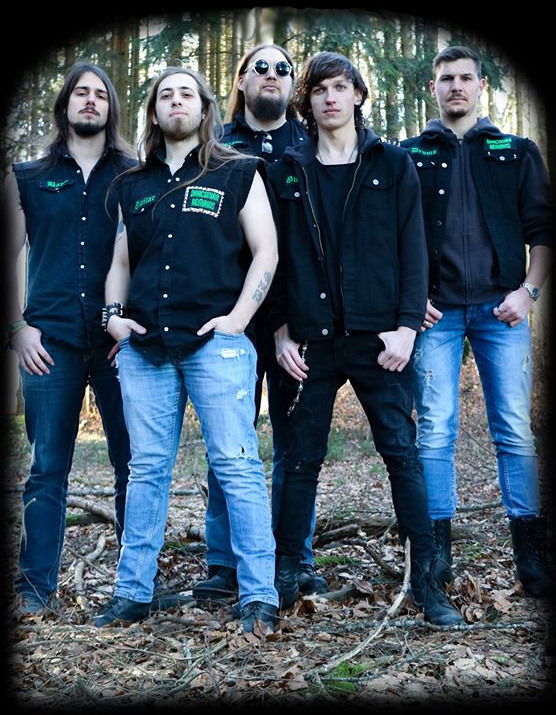 9. Which attributes, do you think, that a new Heavy Metal Band should have in order to gain identity and be unique?
Show strength, show will, make sacrifices. And don't get dressed like so fucking hipsters. Find YOUR SOUND. Don't say " I want to sound like Zakk Wylde " That's never gonna happen unless you just " Copy " his technique. YOU NEED YOUR OWN SOUND! Show everything you can on stage. Don't be shy. Show what you are carved from. But beware! NEVER FORGET WHO YOU ARE! Don't be assholes.
10. Do you believe that Bandcamp and other Digital Platforms help the new Heavy Metal Bands? Which, do you think, is the ideal way for a Band to promote its work?
I'm really overwhelmed sorry. We are EVERYWHERE and everything helps and a little. The site can do better. The site can do better. At Bandcamp we have an online store that doesn't cost us anything. At Backstagepro.de we can exchange gigs. Facebook has a HUGE amount of people. Everything is good, but everything is also bad. I am an analog person. I hate this digital world. But it is necessary. You have to jump on the train or it won't work. So you get to know everything new and work with it.
11. Tell us a few things about the New Underground Metal Scene in Germany (Bands, Fanzines, Webzines, Metal Clubs etc.)
The underground is strong in Germany. Everything is possible. There are so many points of contact for interviews, labels, merch everything. I think the music industry was hardly bigger than it is now and offers so many possibilities to publish yourself. I think it's the perfect time to become an ONLINE BAND right now. Online band? YES! It is harder to get at gigs than that. Many places close because people prefer to sit at home and simply listen to their music on Spotify. This is shit people! Go out! Learn something new supports new bands. Learn something new! We love the classic metal bands too. And we're really happy who they bring a new album. But these deaths you have to get to know new bands as soon as possible. Get out there and explore the underground! Draconian Remains, Defender, Noplies, Endlevel, Traitor, Rebellious Spirit, Get into Gear. These are a few bands from the Zollernalbkreis. HELP US!
12. Do you know anything about the Hellenic Metal Scene?
Unfortunately only a little. we know Emerald Sun. We played with you here in Balingen. And the boys are FUCKING COOL! Great music and incredibly nice guys. I would like to greet Stellios and Pavlos on this train! Maybe you will read the interview!
13. What are your future plans?
Play EVERY GIG we can got! Working on new songs. Earn money to do our Music video and going to Record our second LP.
14. Thank you very much for your time & Keep up the good work! The closure is yours.
What else is there to say? If you still want to know something, just ask us. We are ALWAYS there for ALL people on Facebook. Support newcomer underground bands. Buy the merch. Stream them on your accounts. Help us get to the top. The big ones will all go soon. It remains their music. But your parties in the halls and stadiums are over. We love all of you! WHERE IS THE POWER ?! WHERE IS THE GLORY ?! HEAVY METAL IS OUR STORY !!!!!
Cheers! - Draconian Remains // Davin.
By Steve the Filthy Dog.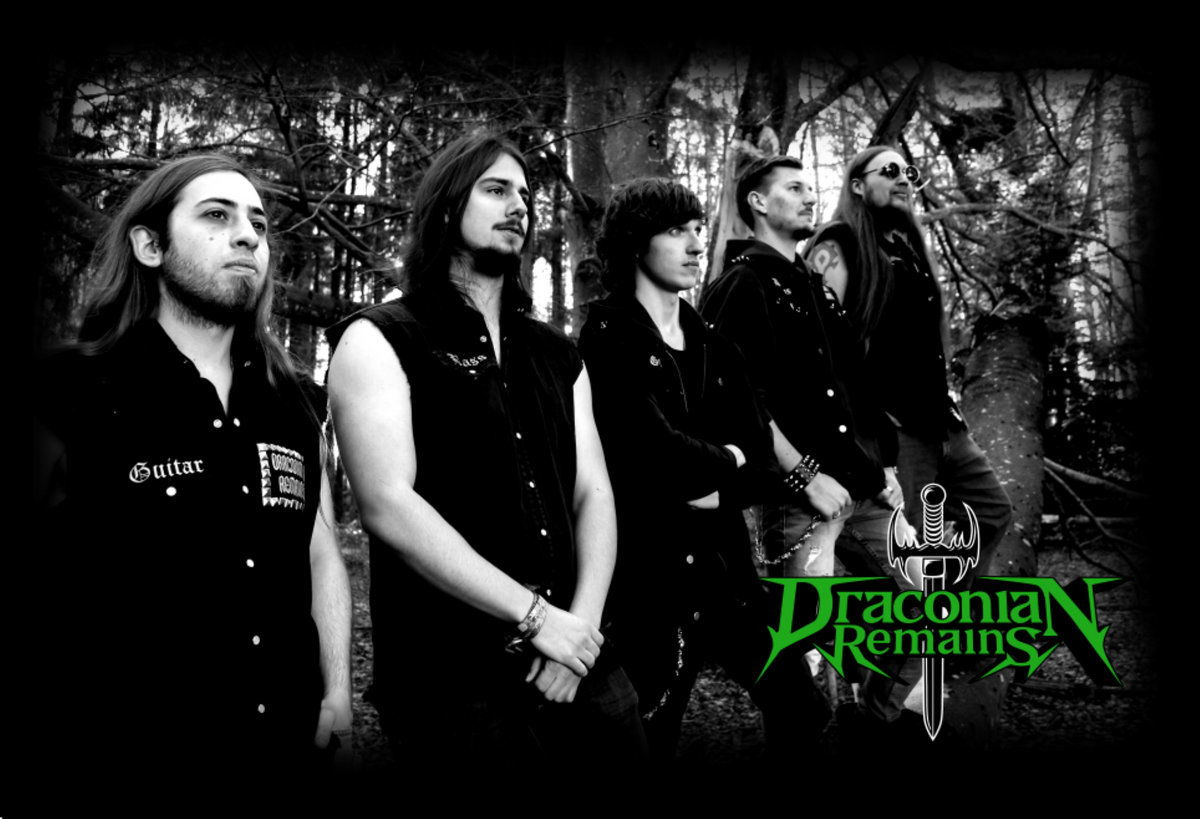 DRACONIAN REMAINS CONTACT:
https://www.backstagepro.de/draconianremains
https://draconian-remains.bandcamp.com/
https://www.facebook.com/DraconianRemains/
https://www.instagram.com/draconian_remains_official/
https://soundcloud.com/draconian-remains