We had a conversation with ALMETAL. Enjoy!
Welcome to the FILTHY DOGS OF METAL Webzine.
1. Tell us a few things about ALMETAL (Members, Starting Year etc).
ALMETAL is a heavy-speed metal band that was born in Quito in 1999. In 2002 he recorded his first 6-track demo entitled "Legend." He has published 3 official albums: 2008 "Primer Golpe", 2012 "Headbanger" and 2017 "Legado de Acero".
His lyrics are focused on everyday issues, respect for friendship and love of music that is part of our lives "Metal."
Almetal has presented shows throughout the country, sharing the stage with bands such as: Almafuerte, Horcas, Satan, Tokyo Blade, Riot V, Enforcer among others. It is currently composed of Luis Guala, Pedro Cajamarca, Antony Lozada, Jimmy Romero.
2. In 2017 you have released your album ''Legado De Acero''. What was the Feedback from your audience as well as from the Press?
It is an album that allowed us to consolidate our audience with both the old followers of the band, as well as with the younger ones.
The album is dedicated to them. It contains themes that remind us of our first years "Same as yesterday", or everyday as "Fire demons" and "This Bar". The "Legacy of Steel" "Forever metal" and "Join" invites to be united and keep alive the flame of heavy metal.
In Ecuador there are not many specialized media, but in the few spaces that exist there has been an excellent critique of this album.
3. Label or DIY and why?
The physical disk contains an image gallery that identifies the lyrical purpose of each theme.
On the cover "Legacy of Steel", we wanted to project the legacy of our heroes, like Lemmy, Dio, Haldford and Ricardo Iorio, through their music. This music being our best inheritance and rejecting false religious and political doctrines.
4. Do you prefer Vinyl, Tape, CD or Digital Format and why is that?
For us, vinyl and tape is the best format, probably because we came from that time, when we exchanged records with our friends, and simply because we are collectors of this genre.
5. Your music style is Thrash Metal. Which are your main influences (Favourite Artists / Bands etc.)
The list of influences is innumerable, Motorhead, Anihilator, Black Sabbath, Rainbow, Dio, Manowar, Metal Church, OverKill, Testament, Megadeth, Argentine metal, Spanish metal, in short, metal from around the world.
A difficult question hahaha. Because of this, our musical style is heavy speed, with some thrash themes. HEAVY METAL!
6. Which things, do you think, a Band should sacrifice in order to succeed?
The May sacrifice that every band makes for fulfilling its goals is TIME.
Have you ever sacrificed anything in your life for a better future of your Band?
The band is part of our lives, and sometimes the hardest thing is to separate family time.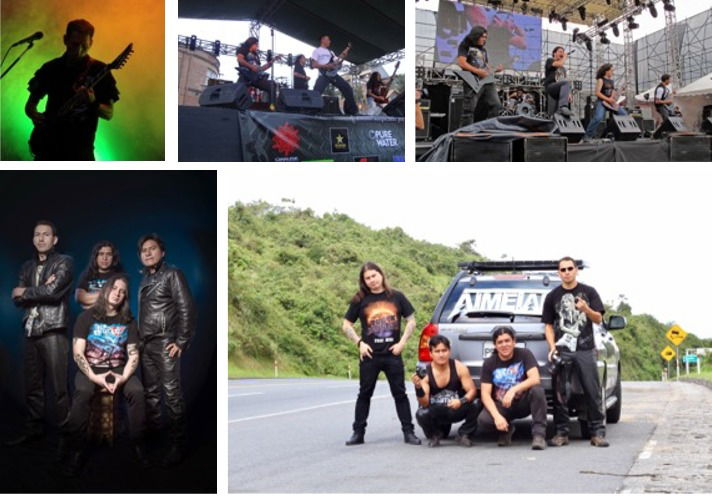 7. Describe your ideal live show as a performance Band. Have you already experienced that?
The ideal show is when everyone sings your songs, understands the message, and begins to be part of your life by following the band to their concerts.
If we have had these experiences, there is still a lot to work, but we are on the road.
8. Which attributes, do you think, that a new Thrash Metal Band should have in order to gain identity and be unique?
Being authentic and contributing lyrically to know the culture of each country can be an opportunity to gain identity and stand out among others.
9. Do you believe that Bandcamp and other Digital Platforms help the new Thrash Metal Bands? Which, do you think, is the ideal way for a Band to promote its work?
Bandcamp, like Spotify and iTunes, are platforms that help bands to promote themselves in many parts of the world, which would hardly be achieved without them.
The problem is that just as there are these platforms there are also millions of bands. We live in times of change, and we have to adapt to them.
10. Tell us a few things about the New Underground Metal Scene in Ecuador (Bands, Fanzines, Webzines, Metal Clubs etc.)
In Ecuador there are few specialized media, in fact that has led us to do things for ourselves,
Antony guitarist of the band has a TELON DE ACERO producer that is an important means of spreading rock in Ecuador, on its website (www .telondeacero.com) there are dozens of Ecuadorian bands in all musical styles within rock.
There are bars that serve as stages, very few metal clubs. Rock and metal in these last 10 years is more developed in outdoor festivals. And the concerts of big bands like Slayer etc, are presented in Colosseum or in the House of Culture, mainly in the city of Quito.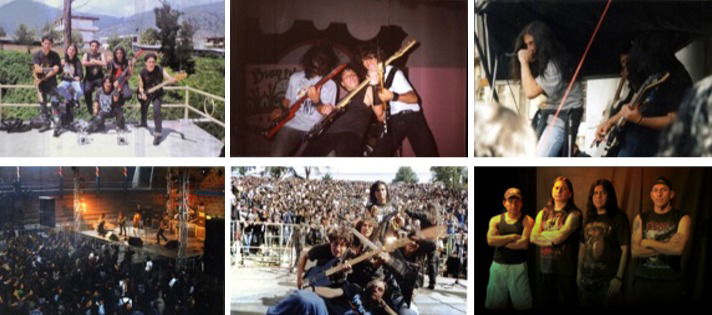 11. Do you know anything about the Hellenic Metal Scene?
Excellent friend bands, Vavel, War Dance, Rotting Christ, Varathron Firewind, War Drume, Cronosphere, which we know here.
12. What are your future plans?
We are composing our fourth album, it will be 10 tracks, next year we will start pre-production, we hope to have it ready by the end of 2020. We have the idea of inviting Latin American vocalists that we hope to achieve gradually.

13. Thank you very much for your time & Keep up the good work! The closure is yours.
It is nice for us to know about you, metal never dies health and long life to metal, thanks for your interview.
By Steve the Filthy Dog.