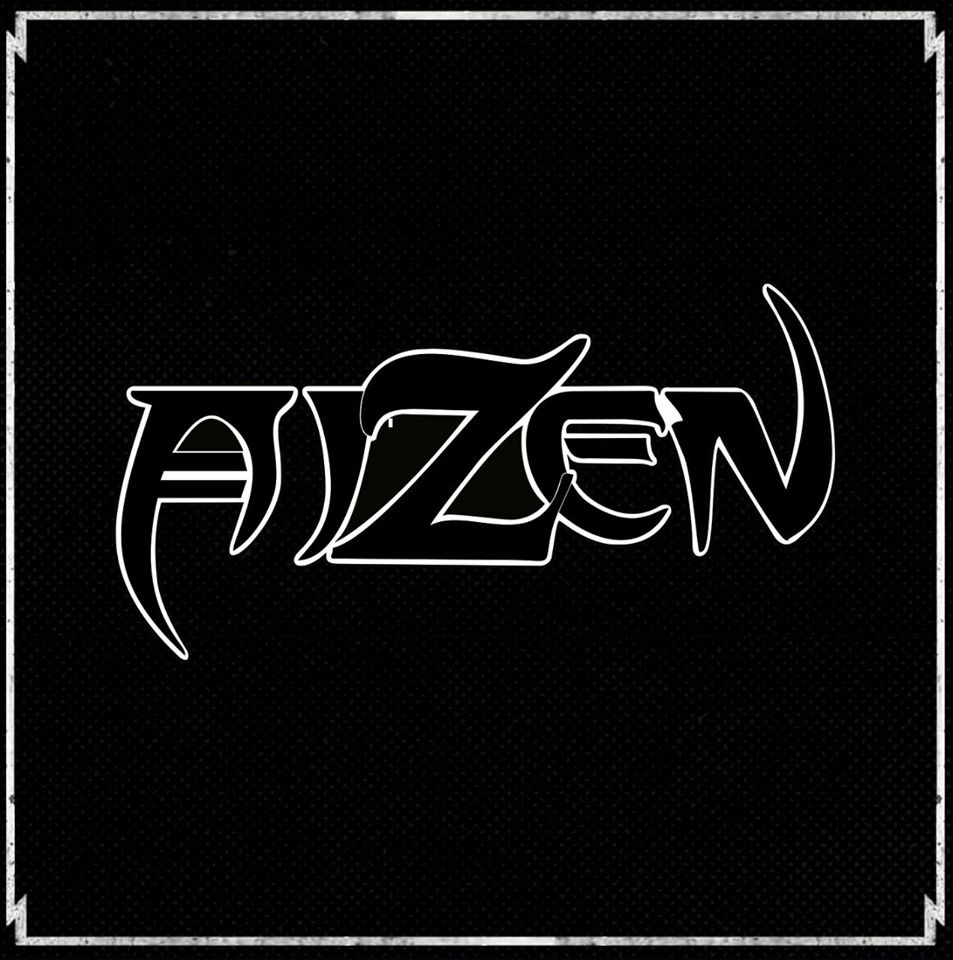 !!!ARGENTINIAN HEAVY METAL!!!
Welcome to the FILTHY DOGS OF METAL Webzine.
Tell us a few things about AIZEN (Members, Starting Year etc).
Aizen was born as a band in 2018, at the beginning of that year, after having been composing for some years, the older members, Gabi franc on lead guitar and lead voice, and Parca on second guitar and backing vocals, and to complete the formation at that time we added to Guillermo Luna on bass, who is currently part of the band, and Maximiliano Diaz on drums.Primarily the project began in 2013 through Parca, seeking to emulate a bit of the sound from bands of the 70's and 80's, forming what would be the first formation, at that time without a name, that failed. After a short time we met with Gabi at the context of recitals and we established a friendship, in which we shared the taste for the same bands and sounds of that decades.We had to go through several musicians who for different reasons could not remain in the band, but between us we take it forward.Currently the formation is: Gabi Franc ( Lead guitar and Lead vocals), Parca ( Second guitar and Backing vocals), Guillermo Luna (bass), Lautaro Trevisan (drums).
You are going to release your demo ''Aizen''. Tell us a few things about this project.
Our first work was released a few weeks ago, it contains 4 songs that are one of the oldest of the band, with the intention that they are registered, and we can, on a personal level, build a path and a sound that identifies us. It was recorded in the studio "Paramo" from the city of Rosario in November of 2018 with the previous formation, with Diego Cippolone on bass and Farid Sanchez on drums.Everything about the recording of voices and mastering was worked within the pandemic context we are going through, since we did not want that the material to be stored without going out onto the streets. The result of it left us satisfied, but we are already working in the next material, with which we want to make several leaps in terms of professionalism, looking for an optimal quality, which captures more the rock essence that surrounds the band.
Label or DIY and why?
We believe that in general, not only speaking for Aizen, the job of a record label is to promote a band without modifying its essence, helping to consider their environment, and looking to target different audiences. So, we see that it is good to work together, as it happened to us with the Argentine label HERRECORDS that gave us his help to launch a first batch of demos in CD format. By helping each other we can cope with the economy of our country that is in a complete crisis and many cannot go out to work. The stamps are necessary, to continue promoting a lot of music and so that the musicians can dedicate themselves more entirely to their work of playing and composing.
Do you prefer Vinyl, Tape, CD or Digital Format and why is that?
We think that vinyl and cassettes are our favorites. We are all very adept to them, we collect and exchange music in all it's formats, and we learn from new bands and lost gems in the time. All formats are worthy! Especially when something it's a first edition hahaha.Going back to vinyl and cassettes, we believe that the preference is for to be able to maintain the essence of the greats, it's not the same to record on tapes and release a vinyl, in most cases, audios are currently ripped from digital sounds, which does not seem bad, but if we talk about the sound, it is the same as buy a CD, only that even so, the essence continues to endure, the ritual of putting on a vinyl is fantastic, see it's covers in full detail, and don't let such a precious format get lost just because it's old. The vinyl is back!
Your music style is Heavy Metal. Which are your main influences (Favourite Artists / Bands etc.)
The group's influences are somewhat varied, despite being fans of heavy rock bands from the 70's and 80's we are quite open musically speaking, but to be more specific, we think that influences such as Judas priest,, Loudness, Dokken, Ratt, Queen, Scorpions and Kiss, can be heard in our music.We think that everything adds up when it comes to creating new things, but that approach towards the 70's and early 80', with proto heavy metal bands with a little less of distortion, but with the necessary amount of attitude!, and some Hard Rock and classic Heavy Metal bands with great catchy riffs.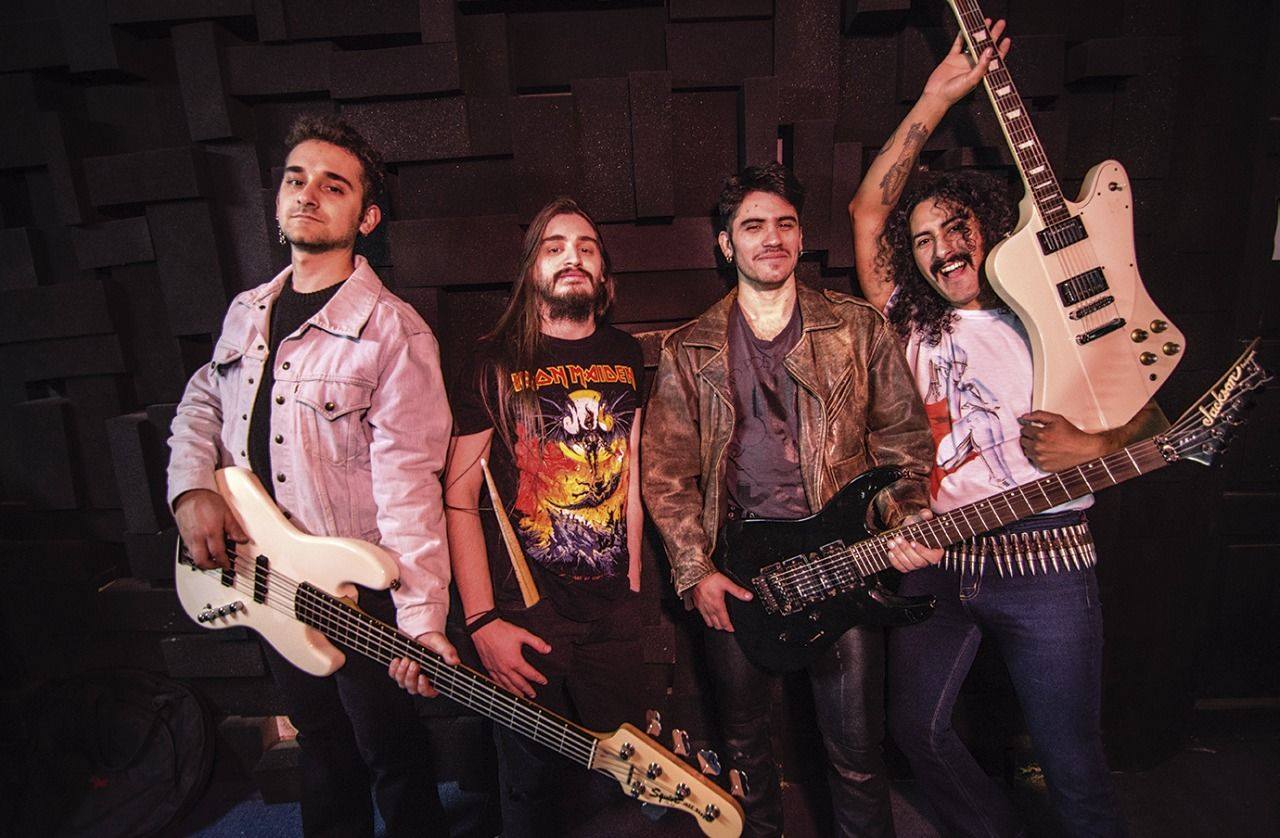 Which things, do you think, a Band should sacrifice in order to succeed? Have you ever sacrificed anything in your life for a better future of your Band?
It may seem obvious, but the fact of dedicating time to a band for some people can be shocking, added to that, none of us can dedicate ourselves only to this project, and we have to work to help our families, and that takes 50% of the time we can spend on artistic things. This isn't our first band, and we know what it is like to leave people on the road for no share that more professional approach. From the beginning, we believe that one should prioritize the music, and based on that, the time that is used it must be sacred, to advance, create, and also serve as personal learning for the musician. Many things come and go, but one's experiences are reflected in his music, and his way of lasting in some way and giving something to the world, shouting truths that bother, or making the marginalized feel part of, those who like us must fight to survive the voragine of the day to day. We believe that there is a total surrender to one's own work, to commit day by day to improve and give the best, and to be resigned to losing money, at least in the reality that we have to live. Everything else arrives, and as long as it reaches the ears of people who know how to value it, our work will have achieved it´s goal.
Describe your ideal live show as a performance Band. Have you already experienced that?
The ideal show would be something like kiss concerts, with fire and explosions everywhere, we don't know where they would fit but they look very good hahaha. We consider that each show, in each place, has something special, the audience is not always the same, sometimes you find very predisposed people, and many others is like playing in front of a wall, then it ends up being something more introspective, enjoying the presentation regardless of the place, and at the end of the day is what we like to do. But one of our goals are to be able to play in a big stage, with several levels and space to run from one place to another, the energy must be always in the show, we don't want to leave any place without our mark!
Which attributes, do you think, that a new Heavy Metal Band should have in order to gain identity and be unique?
It's subjective to talk about personality today, at least within what we do, we don't want to fall into the cliche of saying that everything is already invented, but just as we do this as a small tribute to the music that gave us so much, there are lots of guys with heavy metal flowing through their veins, after listening to such significant records, even talking about new bands. But something that we find interesting to emphasize is that it is good to know how to recognize the limitations of each one as a musician and as a composer. This is a style that it must flow as something more natural, although as we said we believe that Growth on a personal level is important, it is also what helps to get to know each other and be able to deliver something with a more innate quality. Each band is unique and everyone has a lot to deliver, but a lot is at stake for those who inquire, listen, pay attention, and not only live in their little world, and that's perhaps what defines identity, knowing where to point.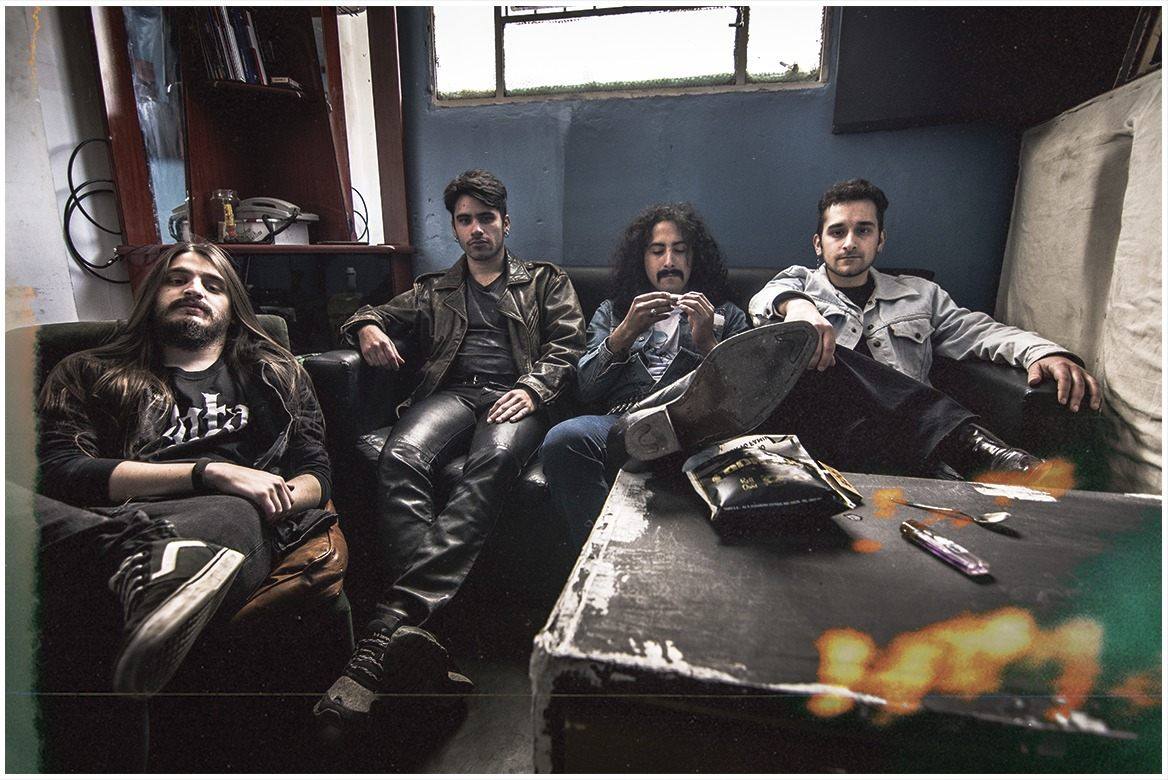 Do you believe that Bandcamp and other Digital Platforms help the new Heavy Metal Bands? Which, do you think, is the ideal way for a Band to promote its work?
Sure! Digital platforms are here to stay, it's not what we really prefer, is great to buying records when it's possible, even of bands that we still don't know, that gives you the expectation of what you are going to find is something new that can change your vision or at least your day. But we also know that not everyone has the same possibilities to buy the physical material, either because it's from a band that is too far away. or because of the economic situation as well.All these tools that we have at our disposal, and that allow us to know bands around the globe and make ourselves known. We think that they all serve the same purpose, but as long as there is the possibility of collaborate by buying the material of your friend's band, you have to do it, it's what keeps the fire alive to want to continue creating, because you know that there is a public, large or small, and you are always in debt to them. Is a matter of being encouraged to show the material in different places and wait for it to be heard.
Tell us a few things about the New Underground Metal Scene in Argentina (Bands, Fanzines, Webzines, Metal Clubs etc.)
Well, currently Argentina is having a fairly large and interesting scene, which turns out to be really varied, geographically we can't locate an area where there are many bands of one genre, because in places where you didn't expect there is always an interesting band that discover. There is also a revival of more heavy / speed bands, with very interesting underground exponents such as Velocidad 22, Metaluria, Mercurio.All of them from the province of Buenos Aires, where there is an impact at the country level that is a little more noticeable or more organized, which leads me to mention S.M.A. (speed metal army for it's acronym), a group of friends, maniacs of the fast sound, who carried out all this movement, to give space for the bands of the style and derivatives, organizing recitals in a closed space, with fairs of fanzines of the zone and underground labels.We also think that it's very important to highlight the work of bands from other provinces, very professional bands that carry out different styles, within our city we would like to highlight Vulvacult, Helldrinkers, Halfaya, that although they are of completely different styles, they move a lot to promote what they do in a professional way, something for which a lot of heart is needed to be able to impulse. As for fanzines there are of all kinds and varied too! To name some of them, "Negro Metal zine", "Enterrado vivo", they are like the ones we have the most in mind at this moment, in addition to being carried out by people who listen to a lot of music!. We just hope that as soon as it can be played live again, they begin to move a little more, in terms of self-management among all, we have a scene nurtured with all kinds of people and bands that pull forward, but this is a call to union, that is what would be missing so that we can be a power in terms of heavy metal refers.The talent is there, you just need to promote it, it's also a way to make a call for attention for many groups can appear.
Do you know anything about the Hellenic Metal Scene?
We don't know too much about the Greek scene here in Argentina, maybe because of the language issue? A few long years ago, we were lucky to have Metalmorfosis from Greece, playing in our city and doing a series of presentations in the area, for Parca, was something that marked a before and after in terms of directing his goal as a musician, at that time although he listened to a lot of classical metal. He was a bass player in a death metal band called Dislexya, and there really were no bands that sound like Metalmorfosis that night, a powerful discharge of heavy sharpened with an essence that distilled the power of heavy / power bands of the 80's, a true journey in time.
What are your future plans?
At the moment we are already preparing a new material with the new formation, Lautaro Trevisan on drums and Guillermo Luna on bass.The idea is to release a new EP, if no more ideas come our way. And try to spread aizen's message to all places where we can go, either digitally, or hopefully being able to give shows in different places, always predisposed to everything that may come.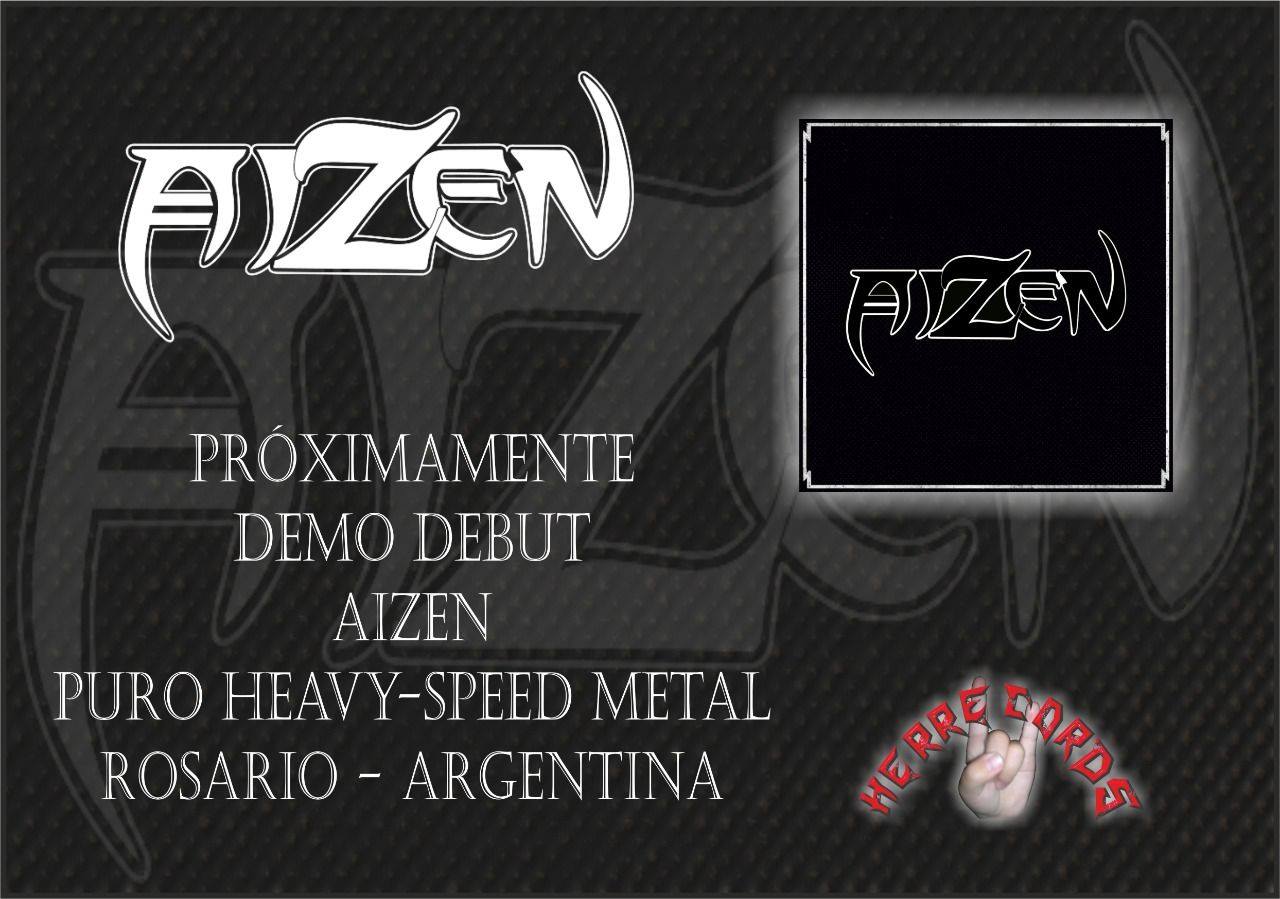 Thank you very much for your time & Keep up the good work! The closure is yours.
First of all we want to thank to the Filthy Dogs webzine and especially to Stavros for their interest in our music, nothing would make sense if there weren't people so heedful to the news on this side of the Atlantic Ocean.If you want to hear some of our material, you can find us on our YouTube channel, Instagram and Facebook as Aizen Classic.
By Steve the Filthy Dog.
AIZEN CONTACT:
https://aizen1.bandcamp.com/releases
https://www.facebook.com/aizen.classic
https://www.instagram.com/aizen_classic/?hl=es-la